What is RFID Technology? (+Use Cases in the Hotel Industry)
By Jordan Hollander
Last updated February 16, 2023
4 min read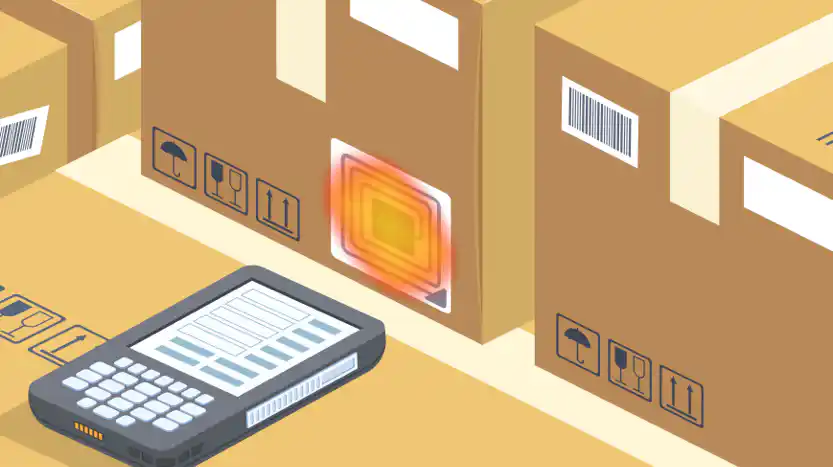 Wondering what RFID technology is? Even if you're not familiar with the acronym, chances are you use RFID technology in your everyday life without even realizing it. RFID is a key component for IOT (internet of things) connectivity.  Do you have a pass for your parking garage or a fob to access the gym? Or maybe you've accidentally triggered the security alarm when leaving a store because the security tag was still attached? These are all examples of RFID in use, but they're not the only use cases for this versatile technology. RFID has real-world applications across many businesses such as industrial supply chain manufacturers, retailers, theme parks, and even cruise lines.  In this article, we'll explain what exactly RFID technology is, study some interesting examples of RFID technology in hospitality businesses, and explore some innovative ways hoteliers can use RFID to deliver better guest experience and operate more efficiently.
What is RFID (Radio Frequency Identification)?
An RFID system is simply a cost- effective technology that uses radio waves to send a signal from a chip to a receiver.  RFID stands for radio-frequency identification, and this type of wireless technology involves two parts: a tag and a receiver. The tag contains a microchip with a unique code, and the receiver contains components to process the signal transmitted by the tag. Tags can be either passive (no battery, activated by the receiver) or active RFID tags (battery-power source, emits a signal that the receiver picks up). RFID tags are very small but can contain a lot of information ranging from identification numbers to pages of text; they are often embedded in merchandise tags, key fobs, name badges, credit cards, and even pets! In a clothing store, for example, an employee could use an RFID reader to scan tag-embedded merchandise to instantly see more information about the item or ring it up at the check-out, similar to how a barcode is used.
There are different types of RFID tags writes the RFID journal, "In general, low-frequency and high-frequency range tags are read from within three feet (1 meter) and UHF RFID tags (ultra-high frequency) are read from 10 to 20 feet. Readers with phased array antennas can increase the read range of semi-passive RFID tags to 60 feet or more."  Read range can also vary depending on environmental factors that effect the strength of radio signals.
Although RFID technology isn't new (it was patented in the 1970s), its popularity has skyrocketed in recent years as the technology became cheaper and more applications were developed. Depending on the type of tags and readers, RFID technology can be adapted to a wide variety of industries. In healthcare, RFID tags are used to keep track of prescription medication to ensure they don't end up in the wrong hands. In-car manufacturing, RFID tags are attached to parts to monitor their progress along the assembly line. And in office buildings, RFID tags allow employees to enter the building or a specific floor with a wave of their name badge while keeping the doors locked to outsiders.
RFID Applications in the Hospitality Industry
It's no surprise that hospitality businesses want to take advantage of RFID technology too, especially when it offers speed, security, and a high-tech touch.  Hotel and travel businesses usually begin by leveraging technologies like RFID for access control systems and asset tracking.  Due to the pandemic, contactless guest journeys have increased uptake of RFID, Bluetooth and NFC (nearfield communication) technology.
Let's explore how Disney, Coachella Music Festival, and Royal Caribbean use RFID technology to enhance their guest experiences.
Disney's MagicBand ticketing solution
Paper tickets for Disneyland are a thing of the past thanks to the RFID-powered "MagicBand" system that Disney rolled out in 2013. The MagicBands are plastic wristbands embedded with an RFID chip that guests can use to enter their room at a Disney resort, gain access to theme park attractions, charge food and beverage purchases to your account, and more. Before MagicBand, guests would need to juggle room keys, theme park tickets, credit cards, and cash, but the MagicBand consolidates all of those functions into one device. Throughout Disney resorts and parks, guests can access surprise features by tapping their MagicBands at specific touch points. Besides pure functionality, Disney also turned the MagicBand into a marketing vehicle; Disney fans can purchase MagicBands in their favorite color or emblazoned with their favorite animated character.
RFID wristbands at Coachella
At a music festival, the last thing you want to do is wait in long lines. And festival organizers are always seeking ways to improve security and catch counterfeit tickets. Seeing an opportunity to meet all of these objectives, Coachella Valley Music & Arts Festival rolled out an RFID wristband solution that allows faster entry into the festival and eliminates the risk of counterfeiting. Coachella even went one step further than smart cards by placing the chips on wristbands.  Festival-goers are issued wristbands embedded with RFID chips that each have a unique identifier, meaning that it's essentially impossible to copy them. Instead of security staff scrutinizing every paper ticket upon entry, attendees simply scan their wristbands at RFID readers at the festival entrances to gain nearly instantaneous access. The readers can process many more attendees per hour compared to the traditional entrance process, which means Coachella's music lovers can get to their favorite stages faster.
How can hotels use RFID technology?
Due to its relatively low cost, ease of use, and potential for operational efficiency, RFID technology can be an attractive solution for hoteliers looking to elevate their guest experience. But how, specifically, can RFID deliver value to your hotel?
Door locks: One of the most popular use cases for RFID technology is guestroom entry. Compared to a traditional keycard, RFID-equipped cards offer hoteliers more control over security. Front desk staff can activate and deactivate cards remotely and review logs to see where and when a card was used. From a guest's perspective, RFID keycards are easier to use than traditional credit card-style keycards (simply wave it in front of the door lock transponder to open the door), and the ability to deactivate lost RFID key cards gives guests peace of mind.  RFID cards can also be more cost-effective in the long term as they don't get demagnetized.

Controlled amenity access: Besides granting entry to guestrooms, hoteliers can also use RFID technology to control access to amenities, parking, event spaces, and more. If a guest did not pay for parking, for example, the front desk agent could deactivate access to the parking garage on the guest's key card. Or if the guest booked a club-level room, access to the executive lounge can be enabled on their key card.

On-site payments: Outlets like restaurants, bars, and spas can use RFID technology to streamline the payment process. If guests have RFID-enabled keycard that contain payment information or room-charge information, guests can simply pay with their keycard. By eliminating cash and credit cards from outlets, the risk of theft or declined transactions decreases and each transaction takes less time.

Inventory management: In addition to key cards, RFID tags can be embedded on physical items in the hotel to assist in inventory management. For example, RFID tags on minibar items can alert hotel staff to low stock rather than tasking housekeeping staff with monitoring stock levels. Or RFID tags attached to employee uniforms or linens can help hotels keep track of laundry processes and know when to order more.

Theft prevention: Most hoteliers have a line item in their budget to account for replacement of stolen items like pillows, hair dryers, and dishes. RFID chips on these frequent "souvenirs" can tell hotel staff when an item has left the building and give them the opportunity to recover the stolen item.
Do you have any questions about RFID technology in hotels? Let us know!