What is the Internet of Things? IoT Devices and the Hotel Industry
By Jordan Hollander
Last updated February 16, 2023
4 min read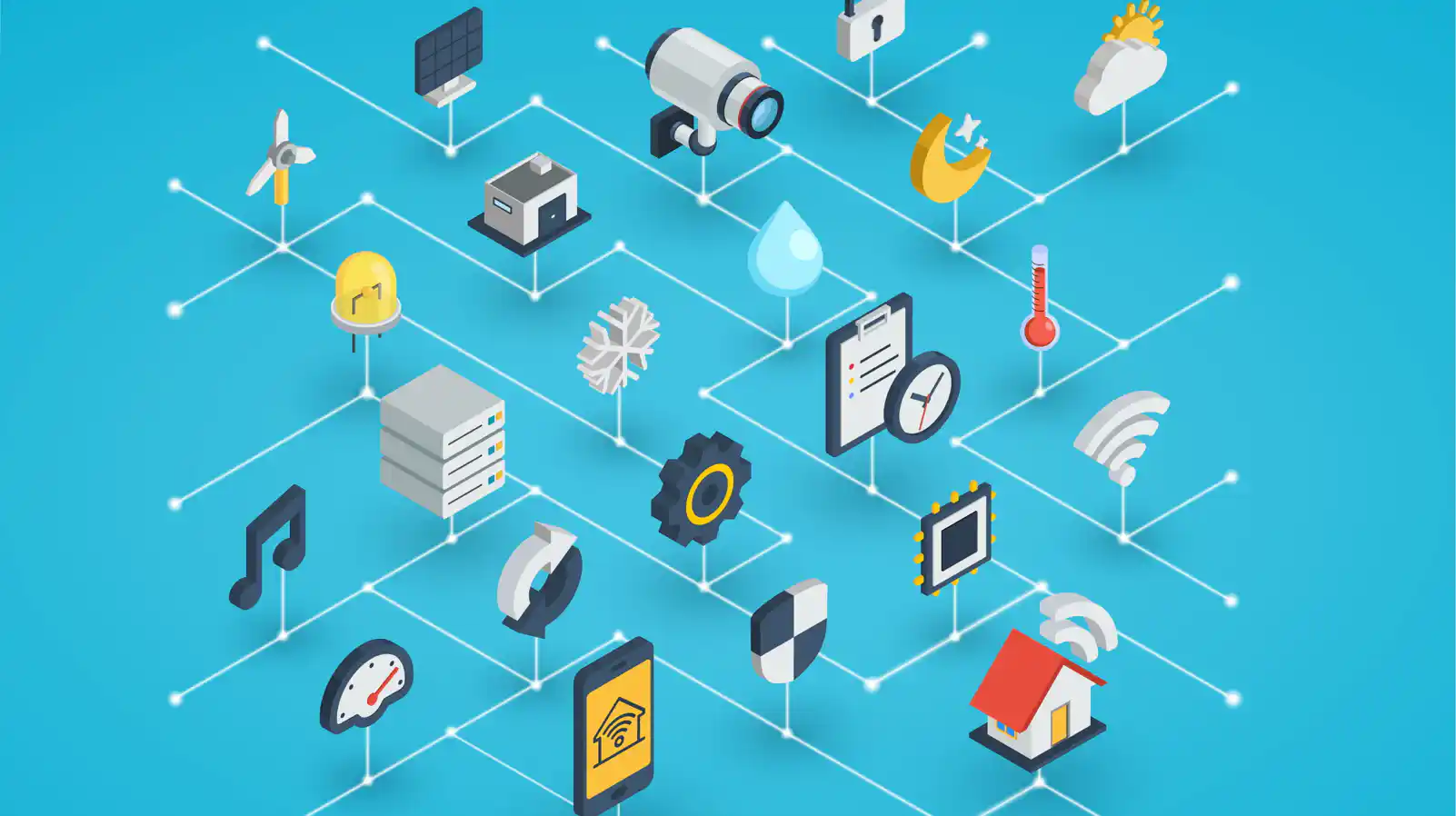 IoT is an acronym that gets thrown around a lot, especially in connection with the likes of 5G, blockchain and big data.  But, few hotel managers really know what the internet of things really means. When we hear about IoT, it frequently sounds like a Jetsons-esque vision of the future: self-driving cars and "smart cities." But, IoT is already here in a big way – especially in the hotel industry. Let's break down what IoT really means and ways hotel properties have already started to implement IoT technology.
What is the Internet of Things? 
The Internet of Things, commonly abbreviated IoT, refers to the ability to connect any device to the internet (or to another device) with a simple on/off switch.
Modern cloud computing, Wi-Fi, and Bluetooth technology leverages real-time connectivity and communication between disparate systems to create ecosystems of devices that interact and power buildings, businesses, and even smart cities.  That's the most basic concept, but it gets more interesting – and more complex – the more you think about it.
By any device, we're really talking about every device: anything from cellphones, coffee makers, washing machines, lamps, and wearable devices to the jet engine of an airplane, connected cars, respirators in healthcare facilities powered by artificial intelligence and machine learning to detect breathing irregularity. IoT applications not only connect these objects to the internet, but also to one another, allowing our devices to communicate, share data, and optimize parts of our daily lives. "The new rule for the future is going to be, 'Anything that can be connected, will be connected,'" explained one expert in Forbes.
How does this work in practice? A small example that you may be familiar with is wearable tech. Smartwatches have evolved an ordinary timekeeper into a piece of equipment that accepts text messages, tracks our exercise, and plays music. A more futuristic version of IoT is the smart home – a device like Google Nest that connects electronics like your security system, thermostat, speakers, and virtual assistant in one system.
McKinsey's analysis found that the number of businesses that use IoT technology has increased from 13% in 2014 to about 25% in 2019. They predict that the number of IoT-connected devices will increase to 43 billion by 2023: "an almost threefold increase from 2018." Virtually every industry will be impacted by IoT, and hospitality is no different.
How is IoT Connectivity Impacting the Hospitality Industry?
In fact, the hotel industry can even be considered an early adopter of IoT technologies despite a common stigma of being slow to adopt new technology. PwC found in its survey that 70% of hotel executives have active IoT projects, far outpacing the average of 48% across survey respondents and just beyond industrial IOT, an industry that's been completely revolutionized by robotic workers and other smart devices connected to wireless networks with little to no human intervention.
The majority of PwC survey respondents say that they're using IoT data and smart devices to anticipate guest needs using personal data, thereby improving the guest experience. For instance, occupancy sensors can tell the housekeeping team when a room has been vacated and are ready for turnover; a luggage cart with a GPS-enabled tracking device can show a guest where their luggage is at any given moment. Check-in becomes seamless when a guest uses their personal device as a mobile room key. Each time a guest uses connected technology, your hotel gets the opportunity to collect data (with permission) about a guest's preferences – allowing you to provide high-quality, personalized service every time.
Hotels are also using IoT to improve operations. Occupancy sensors, again the hero product, can help properties save on utility bills by turning off the lights and regulating the thermostat when no one is in the room. "Technology can predict when a piece of hotel equipment, like an AC unit, will have an issue before it becomes a problem.
We've even seen RFID (radio frequency identification) to track inventory like linens and other soft goods on property. 
That way, hoteliers can avoid the headache of last-minute room shuffles to accommodate a guest with a broken AC," adds one expert. 47% of hotel executives say they are using IoT to reduce operational costs.
And, lastly, IoT devices are able to speak to one another – meaning your property can automate some of the time-consuming manual tasks that eat into staff productivity. There are numerous use cases and applications in the real world.  For example, inventory management automation can be implemented using remote scanners and sensors. Smart equipment alerts your tracking system when an item is low, triggering a reminder to restock or re-order without a staff member needing to perform a regular audit.
Most often, however, IoT in hospitality is used to surprise and delight guests. Here are some popular IoT technologies that hotels have added in recent years.
Examples of IoT in Hospitality
Smart mirrors have already made a splash in the fitness industry, but they're also giving the hotel guest experience an upgrade. Electric mirrors like the remi Smart Mirror and Savvy SmartMirror connect with other devices and give guests a concierge-style service right in the comfort of their room.
The Savvy SmartMirror debuted in  Marriott Autograph Collection's newly opened Sinclair Hotel. This product is built right into the guest room mirror, offering a tablet-style experience where guests can watch channels like HBO, Disney, and ESPN as well as browse information on hotel services, nearby attractions and local weather. Guests can use the mirror to customize music, lights, and video (as well as straighten their tie). The best part: this mirror reduces the building's energy consumption by 30-40%.
Similarly, the remi Smart Mirror, developed by Mirror Image and INTELITY, integrates with a property's PMS and POS to allow for deep guest personalization. Guests can use the menu to access hotel services, browse local area information, and learn about upcoming events and promotions.
Voice devices that have become ubiquitous in our homes have also started showing up in hotel rooms. Volara now offers voice-based guest engagement software designed specifically for hotels. This software is hosted on devices like the Amazon Echo and Google Nest Hub – devices with which many guests are already familiar, easing the adoption of this IoT for hotels. "When paired with Alexa for Business, Volara acts as a virtual concierge and hotel assistant, able to answer questions and requests from hotel guests that in the past often involved picking up a hotel phone," reports VentureBeat.
Last but not least, Samsung has teamed up with ALICE to offer an IoT solution for hotel employees. The partnership's smartwatches aim to improve staff communication, speed up responsiveness to guest requests, and boost customer service scores. Hotel employees wear LTE-enabled smartwatches that send alerts linked to key operations: housekeeping, room service, valet, etc. When an alert comes through, the request is routed to employees in the applicable department. A silent vibration can be ignored, or an employee can respond to the task with a tap, informing the rest of the team that someone has it covered.
These smartwatches will be tested by luxury hotel company Viceroy Hotel Group and promise to be the tip of the iceberg for IoT in hospitality. With the growth of IoT projected to skyrocket in the next five years, we expect virtually every device to be connected and helping your hotel serve guests efficiently.
Did we miss any awesome examples of IOT in hospitality and travel? Let us know via live chat!