RoomOrders: A Simple but Powerful Digital Menu and Ordering System
By Jordan Hollander
Last updated October 28, 2022
6 min read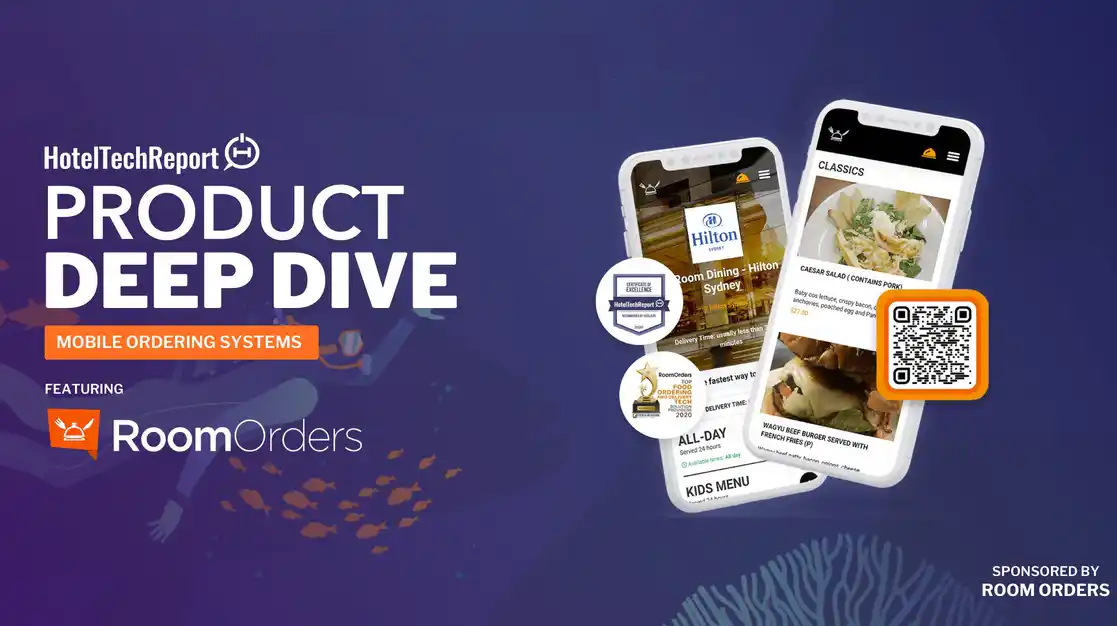 As we transition to a post-COVID world, hospitality businesses of all types are modifying their operations for one big trend: contactless interactions. For food and beverage outlets, software that supports digital menus and online ordering makes contactless interaction easy and intuitive. In fact, this type of software can even increase your average check value and streamline your ordering and delivery processes. If you've never used such software before, choosing a mobile ordering platform might be overwhelming. That's why, in this article, we'll introduce you to the features of RoomOrders so you can decide whether it would be a good fit for your hotel, restaurant, bar, or other F&B business.
How Does RoomOrders Work?
Let's first take a look at RoomOrders from the customer's perspective. How would a customer use it at your restaurant, and what does it look like?
Guests Scan a QR Code to Access a Digital Menu on Their Device
RoomOrder is a web-based app, so customers or guests don't need to download an actual app to access your digital menu or place an order. Instead, a customer can click a link in an email or on a webpage, or they can scan a QR code to quickly open the digital menu on their smartphone. Burton Ockerman, the Director of Restaurants at the Desmond by Doubletree in Malvern, says the QR code feature is one of RoomOrders' best features and is very user-friendly.
Once a customer has opened the digital menu, they'll see your restaurant or hotel's name, logo, and cover image of your choice. Menu sections are clearly defined, such as Food and Drinks. For establishments with international clientele, the RoomOrders platform supports translation into most of the world's widely spoken languages.
Similar to what consumers see in popular apps like Uber Eats and DoorDash, RoomOrders shows guests the average delivery time to set expectations.  Hungry guests are more likely to order when they see short delivery times.
The digital menu is fully customizable - from headings to badges to photos - which we'll discuss later in the article. By default, the layout includes space for large photos, which helps to encourage customers to place orders, assuming your photography makes your menu items look extra delicious!
Mobile Ordering Makes Room Service as Easy as Hailing an Uber
When a customer is ready to order, they can select a delivery time of either "now" (as soon as possible) or a date and time in the future.
To order an item, the customer simply clicks on the item they want, and a box will pop up with some additional options, which the restaurateur can configure. For example, if the customer orders a steak, they might see options like "rare," "medium rare," "medium," and "well done," so they can be confident their steak will be cooked to their liking.
After specifying the quantity and adding any special instructions, the customer will click "add to cart."
The bell icon on the top right corner takes customers to their cart, where they will enter their location (either an area of your hotel/restaurant, like the pool or lobby, or a room number), then click "complete order."
Hoteliers can send RoomOrders a list of all room numbers so the system can validate whether the room number is valid or not. For example, if your hotel has just 8 rooms on each floor, a guest who enters room number "817" will be prompted to correct the room number before the system will let them place an order. But rooms are not the only delivery location a hotel can specify. With RoomOrders' new beach and pool area concept, guests are able to order anywhere on the premises of the hotel, such as a table at the onsite restaurant, a deckchair or cabana on the beach or at the rooftop pool bar. Simply add location to room number, such as deckchair 12, table 6, section B, thus providing seamless ordering opportunities to the guest, wherever they are.
RoomOrders can integrate with point-of-sale systems for payment, but if you don't have a POS or choose not to integrate, customers can charge the order to their hotel room (which most RoomOrders clients opt for) or pay with cash or credit card (via Stripe, which works with Apple Pay and Google Pay).
What Functionality Can Hoteliers Expect in the RoomOrders Dashboard?
The back end of the platform is where you'll manage operations, configure your menu and settings, and analyze performance. The manager version of RoomOrder is available on your web browser, or you can download a smartphone or tablet app.
Easy to Use Order Management with No Training Required
Once a customer places an order, restaurant staff will see it pop up on their Orders dashboard. New orders placed for immediate fulfillment show in "New" status, while orders scheduled for a future date will appear in the "scheduled" section. Staff must click "accept" to confirm new orders. When the order has been delivered to the customer, staff click "complete order" to move it to "Delivered" status. If necessary, staff can cancel orders from this dashboard. The dashboard shows all relevant information about the order, including the items ordered, the guest's location, and timestamps that show when the order was placed and accepted.
Update Your Menu in Seconds - No Need to Call Tech Support
Operators can customize their cover photo, profile photo, and all text content visible on their digital menu. The menu builder is packed with options, so you can create a menu that accurately communicates your brand, menu items, and photography.
You can structure the menu however you want, with flexible headings and sub-sections. A useful feature of RoomOrders is adding time frames to menu sections, which lets you control the availability of menu items that might not be available all day. For example, your breakfast menu can be available between 7am and 10am only. Menus will be visible during their off-hours, but customers cannot place orders for items that are unavailable based on the time frame.
Anastasiia Horashchenko of Hilton's Kyiv property told Hotel Tech Report, "RoomOrders has a very simple backend, which is a great feature for the current ever changing environment. We are able to be more flexible in adjusting to our guests' needs. The frontend that our guests see gives an opportunity to showcase all of our dishes and attract guests with the look of dishes they are about to order."
It's also possible to add special badging (the orange tags in the screenshot below) to help some menu items stand out. Badges could include "Chef's recommendation," "Vegan," or "Gluten Free" text, and more.
In addition to menu titles and text, you can configure add-ons and options for each menu item. RoomOrders offers three choices for these add-ons: extras (like adding chicken or salmon to a salad for an extra charge), selection (a choice between wheat and white bread), or ingredients (if a customer wants to request no onions, for example).
Drive More Incremental Revenue By Programming Relevant Upsells
Both Ockerman and Anastasiia Horashchenko, Assistant F&B Manager at Hilton Kyiv, say that the cross-sell capability is one of RoomOrders' most powerful features. This feature allows you to suggest complementary menu items to customers who order certain dishes. For example, if a customer wants to order a pasta dish, you could suggest a glass of red wine or an order of tiramisu. Cross-selling is proven to increase average check value since many customers find the suggestions too good to pass up.
When building the cross-sell options in the RoomOrders dashboard, you choose between using your top selling items as the cross-sell items, or you can customize cross-sell items for specific dishes, like our pasta example above.
Optimize Menu Offerings with Real-Time Reporting
How do you know if your average order value is growing if you can't measure it? RoomOrders offers a slick dashboard that gives operators insight into a few key metrics: total sales, number of accepted orders, average order value, on-time percentage, and completion percentage - all of which can be seen for specific dates. The dashboard also shows a list of your most frequently ordered items, but there's not much more information about them, like the most popular times of day for orders of certain items. "RoomOrders has been such an easy to use platform for our business especially now, during these unprecedented times. The flexibility of the software has allowed us to make changes and updates to our menu seamlessly", says Mark Grzelak, Manager of the Fin Point Oyster Bar & Grille at the Hilton Boston Downtown/Faneuil Hall.
RoomOrders lets you choose settings that make the most sense for your restaurant or bar. You can turn the gratuity field on or off, choose the default language, and configure tax categories, for example. Other settings include a post-order review request, which sends a survey to customers to request feedback, which is not shared anywhere publicly. You can also build a prompt that asks customers to share their experiences on Facebook.
RoomOrders is a Great Option for Hotels and Restaurants Looking to Go Beyond QR Code Linked PDF Menus
The greatest consumer hospitality brands like Starbucks and Dominos understand the power of mobile ordering as we've previously covered - finally hotels are catching up.  Mobile ordering is proven to increase average order values and drive better guest experiences by delivering the level of convenience we all have at home while staying in a hotel.
RoomOrders packs a lot of value into a light, user-friendly interface. The contactless interface has tangible benefits for a F&B business of any size. As Jeffrey Speelman, the Director of Operations at the Hilton Kyiv, mentions, the digital menu functionality allows his team to save time and money by not needing to print new paper menus every time they make a change to a dish or a price. Both Speelman and Horashchenko say that RoomOrders has a fantastic support team who help in every step of the onboarding process, so even less tech-savvy operators can feel confident using this new kind of software.
Hilton's Jeff Speelman told Hotel Tech Report, "the Room Orders application has options to push upselling when selecting an item which drives up the average check, as well as highlighting and showing attractive photos of dishes.
Besides the fact that the volume of room service orders has significantly increased due to Covid and a price increase of approx 5% was implemented we see a significant increase in our average check.  When comparing our Average check YTD vs previous year we see an increase of 17.9%."
Mobile ordering software is a must-have technology in 2021 for hotels looking to stay ahead of the digital transformation curve and RoomOrders is a great choice for hotels and restaurants that want to deliver a user-friendly, customizable option for guests with a lot of functionality.
This content was created collaboratively by RoomOrders and Hotel Tech Report.