How to Select the Right Restaurant Ordering System at Your Hotel
By Jordan Hollander
Last updated October 28, 2022
5 min read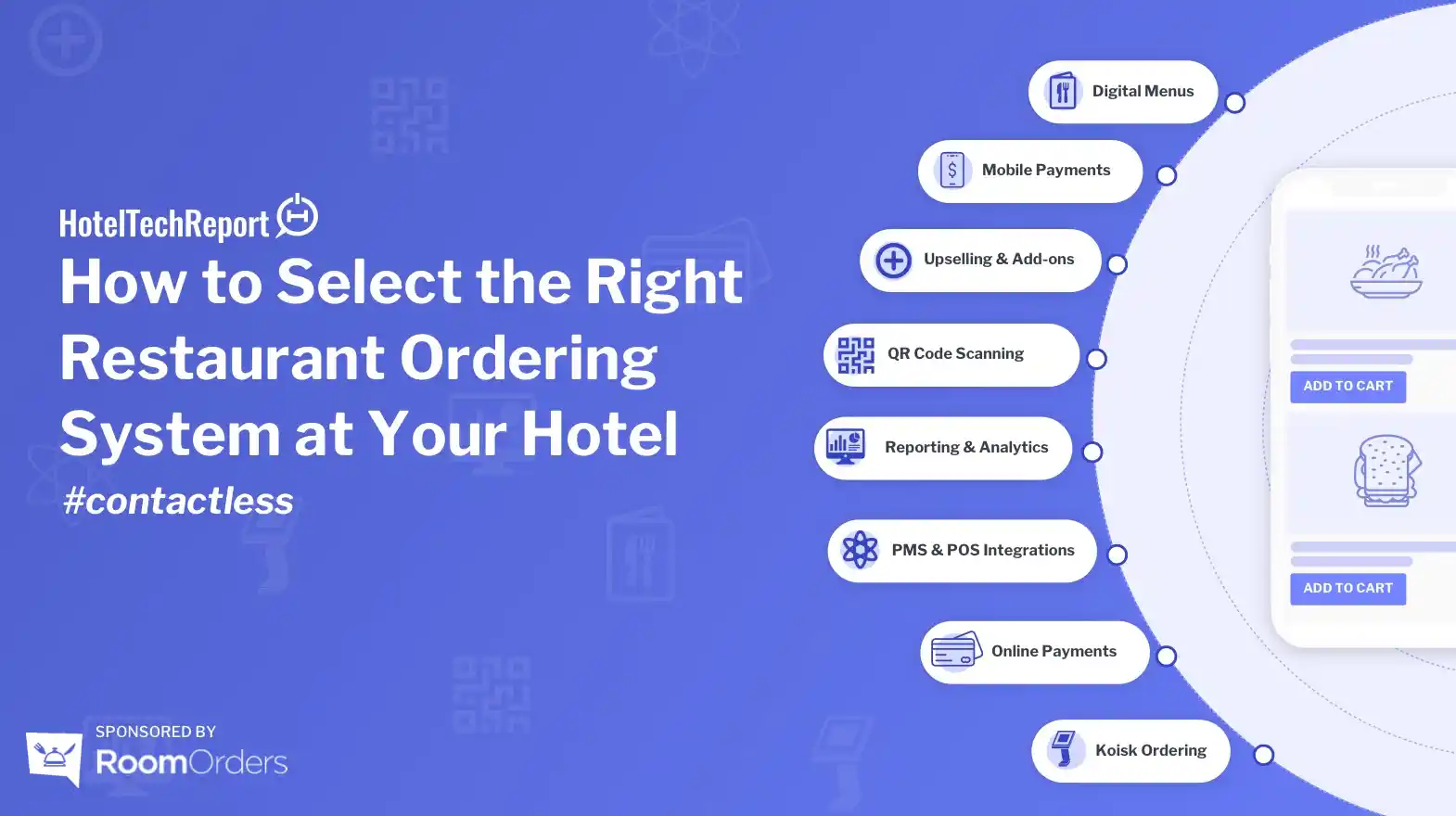 Today's traveler can book their flight, reserve a stay, and even unlock their guest room via apps on their smartphone - but what about ordering a burger at your hotel?  In a recent survey, 47% of travelers say they would be more likely to order room service or dine-in a hotel restaurant if mobile ordering were available.
Overall, guest preferences are increasingly shifting towards contactless options, there's no better time to implement an online ordering system for guests. In fact, 87% of Americans who use food delivery apps say that mobile ordering technology has made their lives easier.  That convenience also translates into direct P&L impact where mobile ordering is proven to boost average order values.  The best part is that the world has gone appless meaning that your guests can place orders directly in your hotel's POS system without ever downloading an ordering app onto their device. Guests anywhere in your hotel's ecosystem should be able to order with a few clicks whether they're at the restaurant, pool, in-room, on the beach, or even the golf course.
While mobile ordering might seem like a no-brainer, choosing the right restaurant or room service ordering system can be a daunting task. In this article, we'll walk you through the essential steps to follow as you research and ultimately implement a system that's best for your unique property. Let's get started!
Develop an Initial Business Case for Online Orders at Your Hotel or Restaurant
Before making changes to your tech stack and SOPs, it's crucial to ensure all key stakeholders are on the same page. The first step in implementing a mobile ordering system is to actually clarify why - and if - you need one. Set up a discussion with anyone involved in the decision, including not only restaurant managers, servers, and the F&B director, but also representatives from the front office (who will undoubtedly need to answer guest questions about the system), the finance team (who will handle a new billing process), and IT (who will help to implement the system). 
"Working more than 100 of the leading hospitality brands like Marriott, Hilton, and Intercontinental we typically find that modern hospitality businesses demand a lightweight solution to sell food and beverage offerings on guests' own devices.  Operators are looking for app-less solutions that don't require downloads and they are demanding rapid low-cost rollouts," says RoomOrders CEO Eugene B. Jones.
In this discussion, you'll want to refine your goal: why do you want a new restaurant ordering? And why now? It's also worthwhile to discuss the pros and cons of your current technology vendors to get a sense of existing pain points and opportunities for improvement.
Want to educate yourself further before speaking with your team members? Check out the 2021 Guide to Mobile Ordering Software.
Set Measurable Goals Prior to Engaging Potential Technology Vendors
How will you know if your mobile ordering system is delivering the results you want? Setting measurable goals is one of the most important steps as you explore mobile ordering at your hotel. Your goals should include a specific target and a timeframe in which you want to reach them. For example, is your primary goal to increase average order value? Maybe you set a goal to grow order value by 50% in the next six months. Perhaps you want to decrease room service response time by 80% over the next quarter. Or you might want to boost overall restaurant order volume by the end of the year.
According to Mr. Jones, RoomOrders increased in-room dining checks by 40% at the Hilton Boston Downtown and 122% at the Hilton Sydney.  It's important to set aggressive yet attainable goals based on the success of similar properties.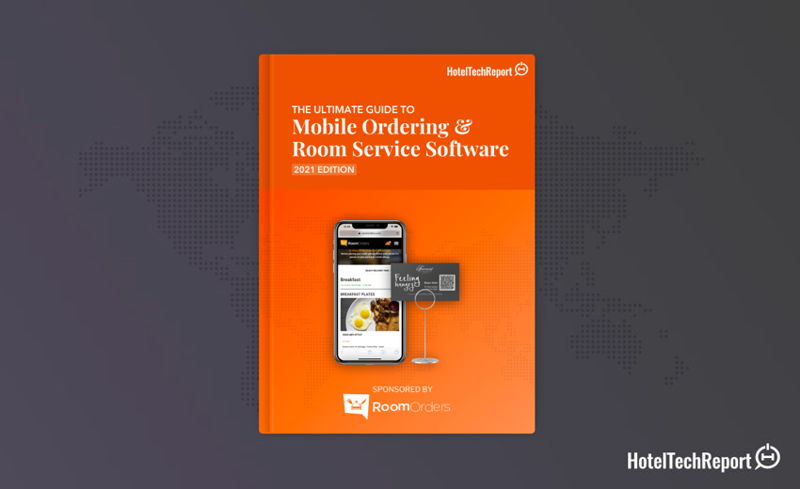 Gather Data to Understand Your Restaurant KPI's Prior to Mobile Ordering
Now that you have your goals, how will you know when you meet them? Before implementing a new system, make sure to gather benchmark data related to the goals you've set. If you plan to increase your average order size, then you'll want to pull a report showing your current average order size - and maybe average order size over the last year or two so you can understand seasonal fluctuations. As you gather this data, create a list of your other software partners (like your PMS or POS) that would require integrations with the new restaurant ordering system. Ideally, data from the restaurant ordering system would flow seamlessly into your existing tech to make reporting a breeze.
Build a Vendor Shortlist of the Best Restaurant Online Ordering Systems
Once you've established the goals you want to reach and have gotten buy-in from all of the relevant teams, the real research begins. By reading user reviews, case studies, and articles written by industry experts, you can get a good picture of the mobile ordering system landscape. You can also uncover some nuggets of information from your own network; hoteliers who have implemented ordering systems for their own restaurants can be great resources to answer any questions and provide references.
"When choosing between vendors you'll want to test ordering functionality to ensure the best possible user experience for guests.  You'll also want to compare business models and forecast fees based on various levels of income.  For some hotels, a flat subscription is preferable and others prefer a per-transaction fee to align incentives.  You'll also want to explore back-office functionality and reporting capabilities to optimize your business mix over time." said Jean Baptiste Pigeon, a 37-year veteran hotelier, who has led IHG branded properties across Europe, Asia, Middle East, and Africa, and now advises RoomOrders.
As you conduct research, you'll find that different systems offer some different features and functionality. It's helpful to create a list of features you want and score them based on importance. With this priority list, you can objectively compare the specs of various systems to determine whether they might be a good fit for your hotel. Features to consider include:
Online menu content management system

Mobile payments

Upselling and add-ons

QR code scanning

Analytics and real-time reporting

PMS and POS integrations

Credit cards and online payments

Mobile app download required

Guest facing ordering experience

Kiosk ordering solution add-ons like iPads or Android tablets
Ready to start your shortlist? Head to our list of the 10 Best Mobile Ordering Software Vendors.
Participate in Demos and Get Price Quotes
Once you've studied up on the category, the best way to determine whether a system is right for your hotel and your needs is to compare different systems. As you narrow down systems of interest, you'll want to schedule demos and see the software tools in action. During demo sessions, keep an eye out for a few things:
User experience: Is the interface user-friendly? Is it easy to learn how to use the system? You certainly don't want your new restaurant ordering system to make your restaurant service slower.  You'll also want to make sure it's easy for guests to order and checkout on their devices.

Data reporting capabilities: What analytical features does the system include? How can you pull reporting that shows your average order value, order volume, response time, and other key metrics? Without reporting, you won't know if you're meeting your goals, so this functionality is critical.

Ease of updating content: How easily can you change the price, description, or photo associated with a menu item? What about controlling which menu items show in certain timeframes through the day? You'll want a system that allows for as much flexibility as you need - and makes it easy to perform updates to keep your menus current.

Customer service: Where do you go for help? Will you receive a dedicated account manager? Is there a 24/7 support hotline you can call? Or is customer support limited to a ticket queue? Based on your hotel's needs, you might want to look for systems with more hands-on support. Look for HotelTechReport's Customer Support Certification badge for confidence that the system offers solid options when you need assistance.
At this stage, you'll also talk about monthly fees to determine which system makes the most sense for your budget. Some systems operate on a monthly subscription model, while others charge a commission (either % of revenue or a flat fee per order). Take the time to model out the pricing for your restaurant over the next year or beyond; how much commission would you pay if you achieve your revenue growth goals? How much would you pay in subscription fees? Knowing how much you'll pay over time can help you make a future-proof decision.
"Our main consideration was the level of commitment and risk involved before we could witness significant improvement in our operations and guest experience," said Food and Beverage Director at the luxurious Hotel Fairmont Rey Juan Carlos I in Barcelona, Angelo Vassallo. "We decided upon a solution [RoomOrders] that offered enterprise software with free implementation, zero investment costs and immediate results, as well as no lock-in contracts." 
Finally, as you close in on that ideal software, make sure to test it out in the wild. Ask for a demo account, then ask real guests to take it for a test drive. By watching guests place orders and listening to their feedback, you can get a sense of the system's true benefits and costs. Do guests find it confusing? Does the system encounter a glitch? Or is it totally effortless? Even the most feature-packed system can hurt your restaurant's performance if it's not truly user-friendly.
Ready to start your search for a restaurant ordering system? Check out our list of the 10 best mobile ordering systems for hotels based on verified reviews from your peers.

This content was created collaboratively by RoomOrders and Hotel Tech Report.