Sustainable Hospitality: 8 Ways to Do Your Part Right Now
By Jordan Hollander
Last updated January 26, 2022
5 min read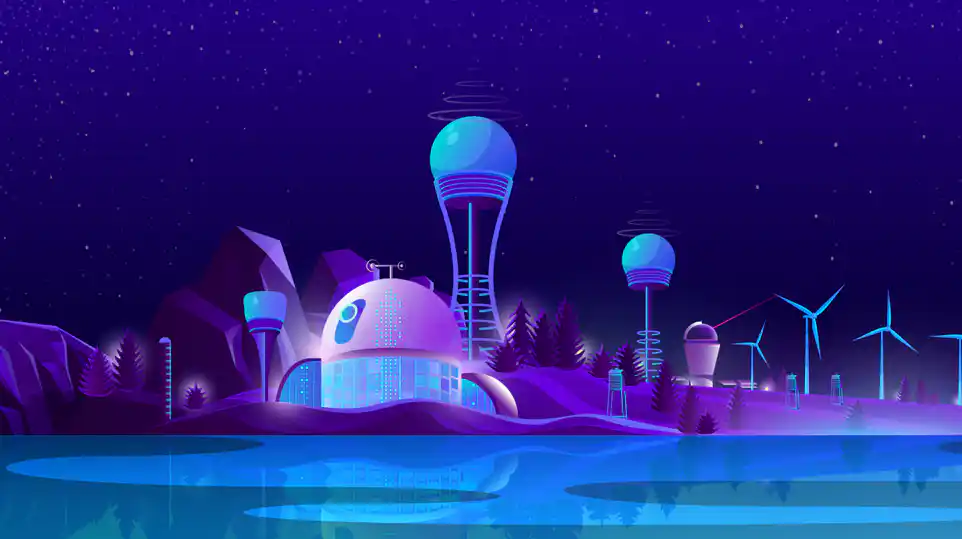 Conscious consumerism is the next big trend – and one that will impact nearly every vertical, from retail to travel to dining. Reports indicate that eco-friendly resorts and sustainable hospitality practices have quickly become the norm, rather than the exception, as consumers worldwide use their purchase power to go green. Conscious consumerism has forced hoteliers to think deeply about sustainable hospitality.
A survey by Booking.com found that 68% of travelers plan on staying in an eco-friendly hotel, a trend that's continued to increase since 2013. Millennials are the main consumer group encouraging companies to be more sustainable, according to Credit Suisse's 2017 Global Investor report. "Companies must deliver good social and environmental performance and engage in sustainable practices or their future growth could be at risk," writes the report's research analyst.
Many hotel brands have already answered the call, bringing more sustainable practices into their operations. Marriott International and other large chains have joined the movement to eliminate the use of plastic straws and other items that never fully decompose. This is the bare minimum: other hotels, hostels, and eco-resorts have implemented smart showers, added solar panels, and have gone so far as to regenerate coral reefs on their property.
Going green pays off in publicity, as well as in bookings. Eco-friendly luxury resorts, like Soneva Resorts in Thailand, get regular publicity from celebrities like Gwenyth Paltrow and publications like Vogue. OTAs and metasearch partners including TripAdvisor, Travelocity, and Hotels.com enable customers to add a "green" search option, filtering listings by how eco-friendliness. Many of these green initiatives to cut down on waste and make your hotel more efficient, a win-win for both consumers and property owners.
Investing in sustainable hospitality is a savvy move for properties of all sizes: and there are a number of ways, both big and small, to get involved. A simple change like adding digital compendiums to get rooms, like SuitePad, can replace paper waste and immediately make your hotel more eco-friendly. Larger investments, like getting LEED-certified, provide excellent talking points and publicity for hotels looking for a more competitive edge. Here are some of our top ways to go green – and save money in the process.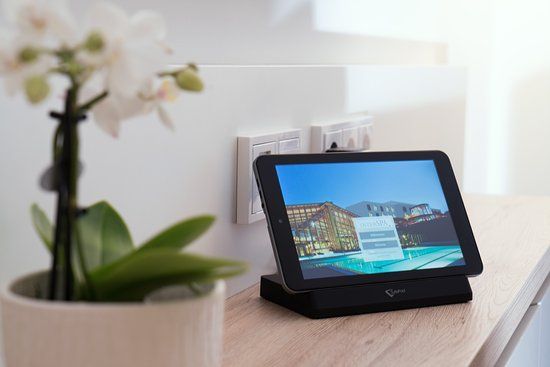 Get rid of paper menus and compendiums
One report found that a hotel guest generates about two pounds of waste per night; paper, plastic, and cardboard account for half that waste. Paper menus, flyers, and in-room directories contribute to a massive amount of waste at most hotels, which is why switching to a digital guest room tablet can have an immediate impact.  Platforms like SuitePad cut down on printing costs and waste while providing a channel for upselling ancillary products and services to drive revenue.
A general manager at one German hotel reported, "As a tech-driven lifestyle brand also taking care of our environment, we love the paperless approach SuitePad is offering to us. This goes for keeping our guests informed in a very dynamic way, communicating with them in real-time once checked in and also enabling them to book additional services."
The Falkensteiner Balance Resort Stegersbach used SuitePad to increase revenue from their spa services by over 50%, sending well-timed notifications and marketing through their digital guest directory to sell an additional 257 treatments in one year – generating €20,774  in the process. Going green with digital directories is a win-win for your bottom line.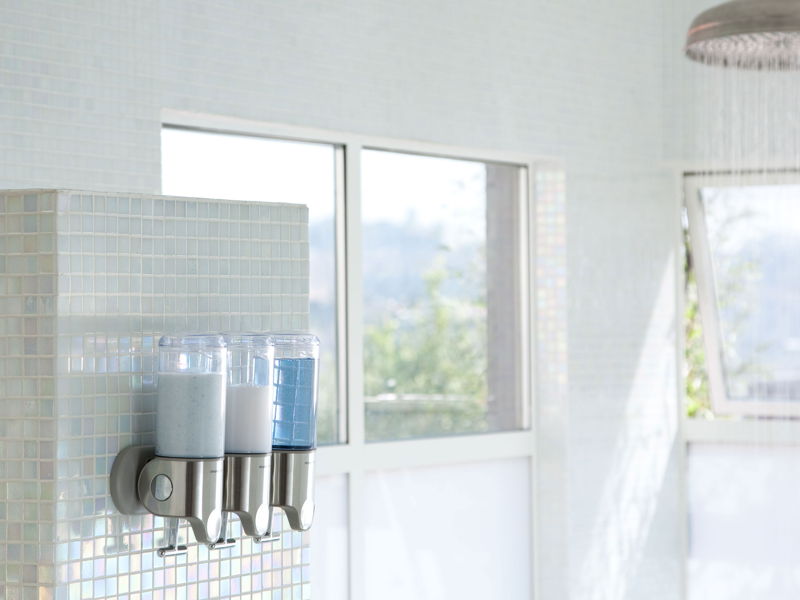 Get rid of disposable shampoo bottles
"Some room amenities such as shampoo, soap, lotion, and coffee can all wreak havoc on the environment. Think about switching to natural and organic toiletries in biodegradable or recyclable packaging. Better yet, consider offering these items in bulk dispensers to cut back on needless waste," recommends one environmental expert.
Small-batch toiletries are expensive and add up to a ton of wasted plastic. This year, some states have taken legislative action to curb the use of small shampoo bottles. California's ban on 1-2oz bottles goes into effect in 2023; New York state and parts of Georgia are considering similar policies. Some hotels, like Marriott International, Hyatt Hotels and IHG, will replace single-use bottles without government intervention. It's a great PR move: Marriott claims that simply by eliminating 500 million small bottles a year, the company will save 1.7 million pounds of plastic from entering landfills. 
Offer guests a way to opt-out of daily cleaning
In-room tablets also empower guests to make their stay greener by forgoing housekeeping. SuitePad offers a Green Option, which guests can select to help preserve the environment. Guests see a notification on their SuitePad tablet asking if they would like to have a cleaner visit their room the next day. They are given the option to accept or decline.
In one case study with a property in Germany, the Green Option led to massive cost-savings as well as sustainability benefits. "To incentivize guests to choose the Green Option, the Esplanade decided to offer guests benefits such a €5 voucher for their restaurant or spa, or a 20% discount on purchases made in their in-house soap factory for using the service. In the first month, the Green Option was booked 115 times. Not only did this mean the environmental footprint of the hotel was dramatically reduced, but it also equated to a total of €1,476.60 made in cost savings," reports SuitePad. 
Use eco-friendly cleaning supplies
There are a number of reasons to switch to eco-friendly cleaning products, not just because it's a requirement to have your property LEED-certified. Green cleaning supplies lead to better air quality in your hotel and are safer for your guests and for your staff. Bio-based cleaning products are a must for hotel properties located on or near the beach. They're also a great PR move.
Limit water waste with a water management system and low flow toilets
Hostelling International USA made headlines this year when it became the first hostel company in the world to implement "smart showers." Smart showers limit showering time to seven minutes. "If each guest showers for 30 seconds less, we save around one million gallons of water each year," reported Hostelling International's marketing director.  The brand has plans to install more than than 750 showers across 50 properties, with colorful LED lights to gently alert guests when their seven minutes are up. 
Water management doesn't need to be so dramatic. There are things you can do to save water that won't impact the guest experience. For example: 
Add a voluntary linen reuse program, like Project Planet Program, to your guest rooms 

Use rainwater harvesting, a greywater system, or air conditioner condensate for your irrigation, toilet flushing, or fire suppression systems. 

Plant drought-resistant plants and use smart landscaping practices to reduce irrigation and gardening water waste

Convert to low flow or dual flush toilets or install toilet-tank fill diverters to save water
The more water you conserve, the less energy your property uses – cutting down on utility costs in the process. 
Conserve energy with motion sensors and efficient light bulbs
LED lightbulbs use 25%-80% less energy than traditional lightbulbs and last 3-25 times longer, according to the US Department of Energy. Just by replacing the bulbs in five fixtures with LED light bulbs, you can save $75 a year. It's a no-brainer for properties of all sizes seeking to save on energy costs. If you have a bigger budget, conserve more energy with motion sensors that can switch off lights when your guests are out for the day. 
Hire an energy consultant to perform an energy audit
"Consult outside sources to evaluate the total system when replacing major mechanical equipment (such as chiller, water tower, etc). Often, this can lead to downsizing and other opportunities to reduce both the initial investment and operating costs," recommends the Global Stewards blog. An energy consultant can weigh in with recommendations that save your hotel in operational costs, as well as improve your sustainability metrics. They will factor in things like the number of rooms, your budget, the guest services you provide, the size of your team, and where your property is located.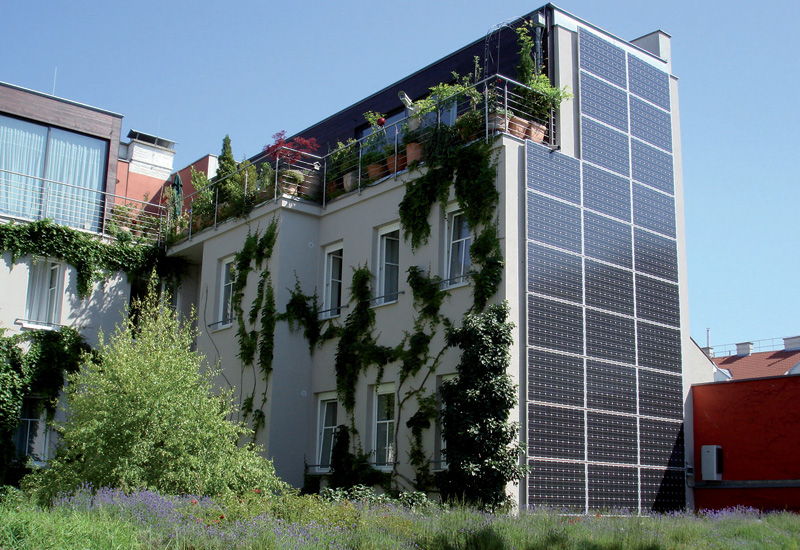 Consider adding solar panels
Two properties recently gained attention for leading the way with their commitment to renewable energy. Kundadoo, a private resort island in the Maldives, added solar panels to its main building: in the process, the eco-resort is now able to fully power the entire island. Meanwhile, in Norway, Svart is scheduled to become the world's first net energy-positive hotel above the polar circle. Svart's solar panels will save excess energy for when the country has longer nights and short days.
If your property is interested in solar panels, now is the time to make a move. Until 2021, the federal solar tax credit will allow hotels to deduct 30% of the cost of installing a solar energy system from its federal taxes. 
--


What green initiatives did we miss? Tell us on Twitter or get in touch to share your best practices for sustainable hospitality.