What is the Right Way to Make a Hotel Website?
By Hotel Tech Report
Last updated January 26, 2022
4 min read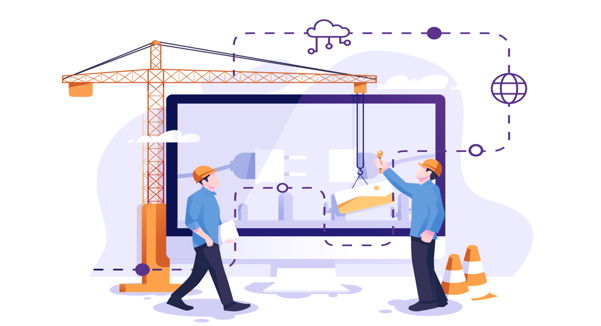 Internet makes our life more practical, bringing oodles of benefits like all-over-the-world communication and information seeking. Have you realized how fast a phone call is, when it reaches another talker on the other side of the world? Not to forget face-to-face meetings via web camera. Technologies are on a such tremendous level that you can get education even without leaving your house.
As it turned out, the world wide web is also profitable for business. Pretty profitable. No matter what kind of business you are about to set up, its online version start up is your another priority. Otherwise, you won't survive and your rivals will eat you alive. Why? Because they have a hotel website and you don't!
A website is a keystone that will help you to earn more, lure a bunch of new customers and multiply your hotel business popularity. When building your own hotel empire, bear in mind that your business must be online.
Taking into account that a hotel website, like any other, has its peculiarities, related to target audience and industry character. The right way of website building and implementation will allow your online hotel business gain true success. Read what steps you should make to guarantee yourself the solid position on the hotel service market.
Design & Image Content
Does your hotel have original branding? If so, your hotel website design is 50% ready. Come up with the web appearance, implementing the color palette that you used previously for your brand. The same look will tie your hotel and its website in a customer's mind. The combination of original design and familiar logo will do the stuff. As a result, a website visitor will know that he or she came to the right place.
Images is the best solution to demonstrate all the advantages of your hotel. What could be better of showing where and how a customer will stay to rest? Aside of the photos exhibition a website gives you also an opportunity to engage clients beforehand due to video content. Make videos that highlight your hotel. Reveal its bright sides. If you have Youtube or Vimeo accounts, don't miss the chance for their promotion.
User-Friendly Navigation
What is the major goal in providing a comfortable stay for each hotel visitor? Making a customer feel oneself home, as soon as he or she crosses the threshold of your inn, agree? The same thing is with your hotel website.
Remember that a user-friendly navigation rocks! Take care of users by giving them the information they are looking for. Structure the content. Create clean and easy-to-find links that will guide visitors through each website page. Don't oblige customers to register. Make the website registration optional. Ease the booking process by minimizing the number of clicks. Put hotel contacts in the foreground. Add breadcrumb trails.
Multi-lingual Functionality
If you dream of a profitable and popular hotel, you should think more globally. A potential hotel visitor is a traveller, probably coming from another country. So a multilingual website is a "must-have" component to widen your inn network. Increase the odds to invite foreign customers, making translations of the website content on most-used world languages.
But website content lingual adaptation is still not enough. Don't forget about the mentality of various countries. Each has its own market distinctiveness. First, learn culture peculiarities and customers' behavior and only then lay your cards on the table.
Search Engine Optimization
There are two ways to find your hotel site on the web. The first one is going through a direct link. The second one - using search engines.
Search engine optimization (SEO) is the package of measures, presupposing your site rankings raising. In simple phrase, if you would like to see your site in the top of search result lists, the optimization is required. Profitable business can't exist without one. The higher rankings your website has, the more traffic it gets. To achieve this you should:
think of keywords that must be literally what your potential client types in a search engine bar, in order to stumble upon your website;

create original text, titles and descriptions to signify website content uniqueness;

set correct URLs to reflect their destination;

mould link network to gain more search engines' trust. Social Media
Social Media is the very special segment of the world wide web. This is not just a revolutionary communication means, but a social phenomenon, affected millions of lives in different ways all around the world.
Such a conception changed also online business practices. New market area has emerged. And you should not miss this chance to grab your own piece of this cake. Social Media giants like Facebook, Twitter, Google+, Youtube and others provide a great many of various tools that will deal with your hotel website promotion.
The finest advice is...Be active around the web! Do action. Represent your hotel network by creating communities, making photos, filming videos, putting ads and banners, drawing prizes, offering specials and other stuff to promote the website of your hotel. Leave as more trails as possible, in order to become more noticeable for search engines.
Mobile Friendliness
A website is literally useless today without a well-made mobile version. Today mobile devices have enough power to be regarded as a competitor of PC. The lion's share of your future website visitors will definitely be smartphone or tablet owners. Using a mobile device is much handier, planning a trip or vacation, agree? Don't underestimate this fact and make your hotel site responsive.
Responsive design is the revolutionary approach in web design, allowing the website layouts' adjustment to any mobile device screen resolution without website content loss. With responsiveness you get a website mobile version that is equal to its desktop counterpart.
Another significant aspect that really matters for mobile version is website loading speed. Don't make your clients waiting, because the respond may be likely negative. Even a few seconds of delay may force a customer to leave your website and never come back.
So how to achieve a fast working website? Simply don't overload it. Create clean minimalistic design with minimum of large images and videos, but maximum attention to the booking process.
Conclusion
Modern lifestyle encouraged business to explore the web and reap the fruits of it. It goes without saying that a hotel without a website won't gain an altitude of ace-high business level. An effective strategy in combination with sound method is the working formula for your hotel website. For more detailed information, you may read this eBook about hotel website creation, where you will find useful tips, including 7 mistakes during the development of a hotel website.