Online Reputation Management Tools & Secrets From TrustYou Founder Ben Jost
Por Jordan Hollander
Última actualización Enero 26, 2022
7 min de lectura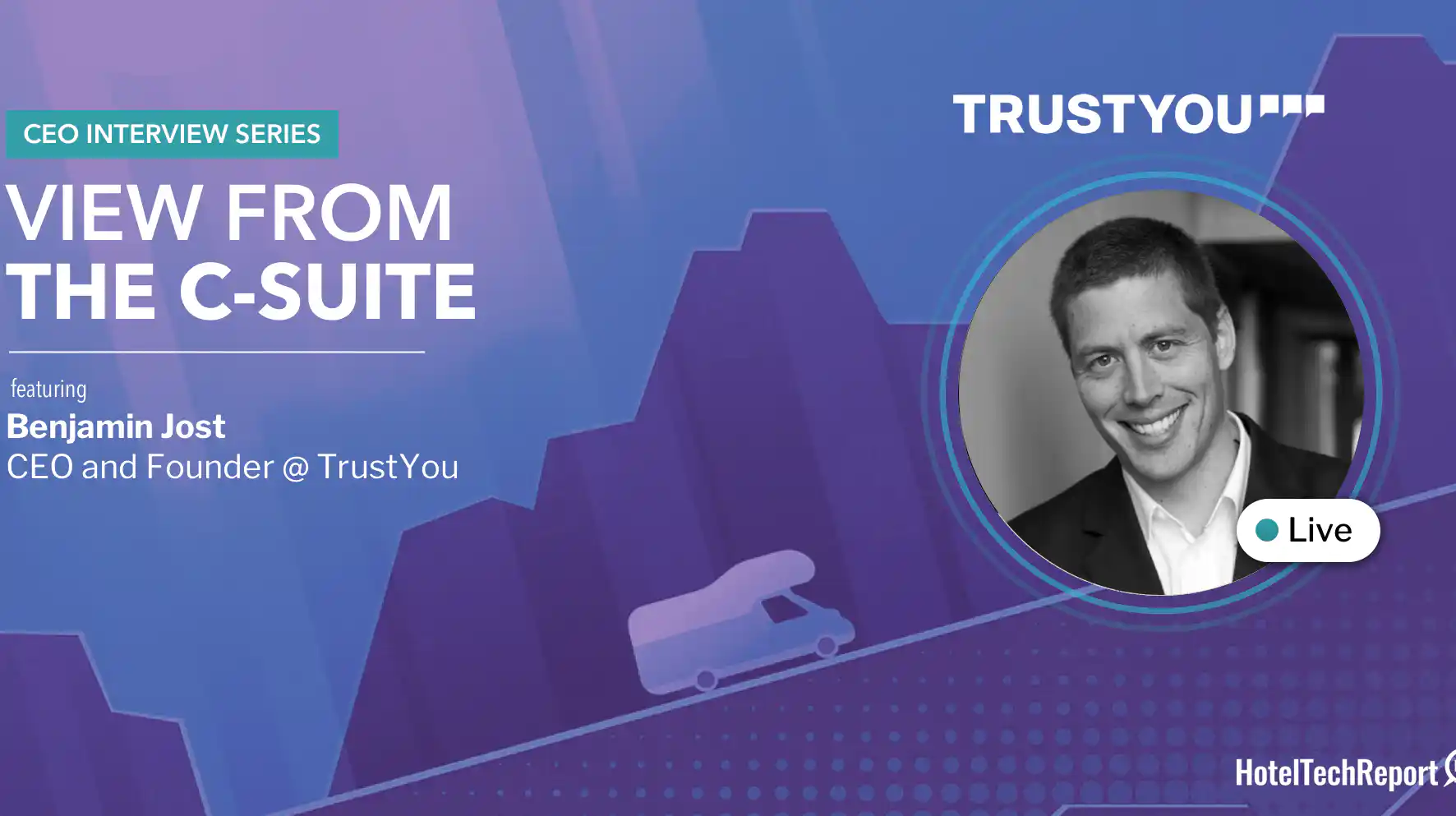 It's not uncommon for tech companies in hospitality to start as B2C brands (business to consumer) then pivot to service hotel businesses instead.  Triptease launched as a TripAdvisor alternative before pivoting to become a direct booking platform.  Similarly, Munich based TrustYou started as a hotel booking website that aggregated reviews from around the web to provide a single trust score for properties around the world before becoming a leading guest feedback and reputation management platform.
Back in 2008, TrustYou founder Ben Jost noticed that online review scores had the ability to make or break hotel performance.  He also noticed that reviews were being spread to more and more websites like TripAdvisor, Google, Facebook, Yelp and Expedia. Jost and co-founder Jakob Reigger hypothesized that if they could consolidate these reviews to provide travelers with a holistic view of a hotel by creating a proprietary aggregate score that they'd be able to leverage their neutral position to become a dominant booking platform.
TrustYou's booking platform experienced some success but Jost and his team noticed that thousands of hotel managers were coming to the site because they wanted to monitor their review performance across multiple channels - this was their 'ah-hah' moment.  With this insight, TrustYou pivoted from a B2C model into B2B (business to business) and the firm's growth exploded.
"I remember 5 years ago we had one slide in our sales deck showing a king and a queen on a throne. The headline said "when price is king, reputation is queen." Maybe it will take another 5 years until we see those both equally presented, but I definitely see it in the future." ~Benjamin Jost
TrustYou has since doubled down on reviews and even demonstrated a commitment to reviews in it's own business winning 2nd place in the 2019 HotelTechAwards beating out more than 100 hotel tech peers.  Everything that TrustYou does tests back to the fundamental question of whether a product or service will enable hotel clients to achieve higher review scores by delivering better service to guests.  That mission has resonated with hoteliers around the world and in 2017 alone the Company analyzed more than 100 million guest reviews and collected more than 4 million survey responses.
TrustYou's guest feedback and reputation platform consists of four main components that work in tandem to gather feedback, manage collection at scale and leverage that feedback to drive more business:
Reviews are critical to the survival of any hotel today and Benjamin Jost believes that trend is only accelerating.  We sat down with him to learn about his vision for TrustYou and to get his perspective on the evolution of reputation management in the broader hotel tech marketplace.
What was your background prior to starting TrustYou?
After studying engineering, I worked for two Venture Capitalists in Paris and Munich. Then I decided to go on an 8 month trip around the world, and when I came back, I started working in corp dev / M&A for a renewable energy company. I think TrustYou ultimately was born from my urge to do something on my own.
Tell us how you founded TrustYou.
My co-founder and old friend Jakob Riegger always had his own businesses from the age of 18, and from the outside, it always looked so cool to be your own boss. I think after working for various bosses in various types of organizations, I wanted to do something on my own, and when Jakob also simultaneously wanted to start something new, we brainstormed what we could do together. So the idea of creating a business together with my co-founder came before the actual idea of TrustYou.
We started as a B2C company, so actually, our very first customers were users who heard about our site and used it. I know all my family used it because I told them to! But it wasn't enough, and we were a typical underfunded, German startup and had no idea how much it would cost to actually compete in the B2C world of travel. So while running out of money we realized that more and more hotels were using our website and were looking up their reputation scores and reviews from across the web on our site. Of course they never booked their own hotel so we didn't earn any money. But that was the starting point of our B2B business. I think it's much easier to earn money in B2B than B2C so kudos for all the B2C companies who succeed in this world.
Wow, I didn't realize that TrustYou started as a consumer facing brand. Can you talk about the B2B business today?
We believe deeply in the power of feedback to build a better product and offer a better service. The only currency that counts to achieve that goal is feedback from your customers. Therefore, hotels need to find a product that helps them collect, understand and market guest feedback (reviews, surveys, messaging) for every customer, via every channel, at any time. I still strongly believe that a hotel's reputation is more important than their room price and for sure a more sustainable competitive strategy.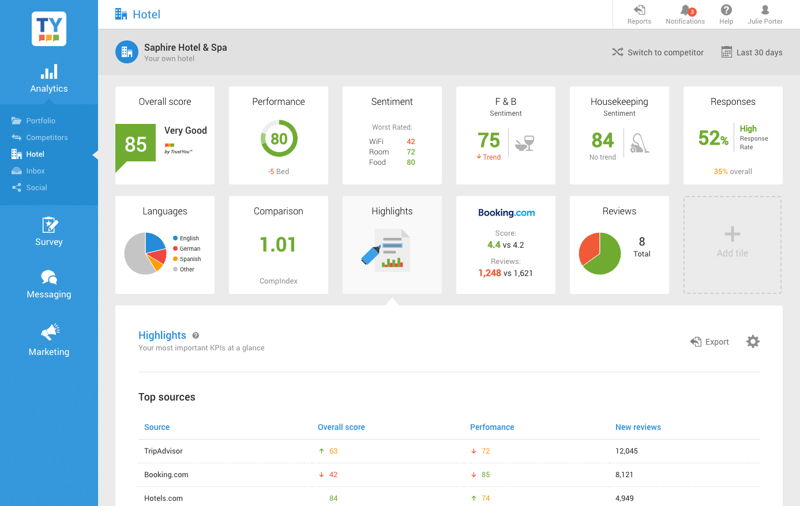 The TrustYou dashboard gives hoteliers real time insights to improve their businesses
Who is one mentor that has really helped you scale TrustYou?
Many people helped me over time. One mentor who was there from the very beginning until today is Philip Wolf, founder of Phocuswright, who still sits on TrustYou's board of advisors. What makes him important to me, next to his great character, is his unvarnished opinion about tough questions and topics. You can surround yourself with people saying yes to everything or with people who point to facts that can be really are uncomfortable to tackle, e.g. cutting costs, hiring people you deem unnecessary at first, etc. And he doesn't let go until you tackle them, which I appreciate. I don't always like it, but I always appreciate it.
What's one commonly held belief that most hoteliers believe to be true that's actually false?
I think the one I most commonly hear is "I know my guests, I don't need software to tell me". Even if you are the type of hotelier who listens to their guests without a survey or reputation management tool, I definitely know you don't measure any KPIs, track your progress over time, share feedback effectively with your team, or know if you'll improve from where you stand today. Additionally, you still don't respond to online reviews, especially the negative ones, and you don't reach the average guest by sending them your own survey, your own questions. Technology does all of that for you, truly helping you listen to your guests, and win against the competition.
What's the most surprising thing you've learned about scaling technology into hotels?
Scaling a business in hospitality requires more manpower than what I would have expected when we started. In the beginning, I thought we would be a self-service technology that hotels would just buy, login to, and use. But we quickly learned that the business would require not only our tooling but also our expertise. We have truly become a service company, as well as a software company, and that requires talented people to support the hoteliers. We're happy to be an extension of our client's team as their dedicated feedback experts.
Are there 1 or 2 companies that have been a particularly good partners for you?
We partner with hundreds of different fantastic companies, so it wouldn't be fair to just name one or two. However, what I would like to see in our industry are more open APIs and more simple connections.  I think this would be very beneficial for our common customers, the hotels, but many tech companies don't operate that way. I wish every tech company in our space would have a section on their website "API for developers" where you can develop solutions on top of their APIs and widgets. I am pushing my company to be open in that way because it just becomes much easier for partners to work with us and new things can be created. For example, I would still love to see rate management companies correlate their data with our data. We have the APIs, just plug them in.  
I would want every rate management company, every IBE, every website builder, every PMS, every CRM to use our APIs and products to build a better product. Review content plugged into different hospitality solutions is already happening on a small scale, but not everyone out there knows how easy and convenient it is and what kind of value add it can provide to their own solutions. We have an entire team dedicated to those needs.
Where do you see TrustYou in 5-years?
I want us to power feedback not only from guests but from other stakeholders as well. I believe we will enable feedback and communication between hotels and guests using messaging apps like Whatsapp, Facebook Messenger, and SMS instead of email. To help service our clients, I would want our platform to act as an AI solution and suggest actions to hotels based their data instead of just presenting it. I also think feedback will move from "3 days after stay" to "real time". And I want TrustYou to spearhead those trends.
How will the online reputation management category change in the next 5-years?
I hope to see guest feedback become a "must-have", where it belongs to a hotel stack like a website or internet booking engine. More and more hotels will have figured out that with a 4.1/5 overall score they can offer a $100 room rate, but with a 4.6/5 score they can charge $150. I remember 5 years ago we had one slide in our sales deck showing a king and a queen on a throne. The headline said "when price is king, reputation is queen." Maybe it will take another 5 years until we see those both equally presented, but I definitely see it in the future.
Does TrustYou have any new products or feature launches that you're particularly excited about?
We just launched a new restaurant analytics product (May 2019) that is seamlessly connected to the hotel's toolset, so for all hotels that run a restaurant in parallel, they can more easily manage their online reputation. Additionally, we have combined our Analytics and Survey with our Messaging product together into one platform so that as a hotel you can manage pre-stay, onsite, or post-stay communication and feedback from one place. Another big launch is coming towards the end of 2019, but I can't talk about it just yet. Stay tuned!
What's one piece of advice that you have for any entrepreneurs looking to get into the hotel tech space?
When seeking funding and putting together your business plan, calculate an amount you think you need, and then double it!
What is the best book you've read lately?
Blitzscaling by Reid Hoffman. It's written by Reid Hoffman, founder of Linkedin and Paypal.  
What is your favorite podcast
My favorite "podcasts" these days are live interactions with my children. Very funny. Topics change every time. No scripts. I love it.
What is one thing that most people don't know about you?
I'm very approachable, and I think anyone who has ever reached out to me knows that. I'm an open book. So if you have questions or need information, I'm always happy to hear it and respond back.