These Are the 6 Most Powerful IDeaS G3 Revenue Management Software Features
By Jordan Hollander
Last updated January 26, 2022
5 min read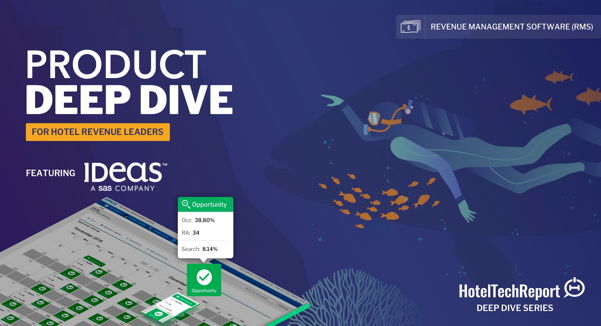 In our Product Deep Dive series, we go deep into one solution to help hoteliers evaluate and assess the best software for their specific situations.
Among the growing number of revenue management tools, IDeaS has established itself as one of the world's top revenue management systems and yield management tools. Its flagship IDeaS G3 RMS processes 100 million revenue-enhancing decisions each day across 1.6 million rooms, translating rich data inputs into a dynamic revenue engine for peak profit performance. Here are 6 of the features of the IDeaS G3 system that we most certainly can't live without.
#1: Demand-based pricing by room type
One of the latest IDeaS G3 RMS features allows revenue managers to yield by room type. For example, let's say the system detects a spike in demand for the "deluxe double" room type. It will automatically increase the price for that room type -- without also boosting prices on other room types.
Yielding by room type unlocks a purer yield management approach, with rates priced according to guest demand and price sensitivity for specific room types, rather than simple attributes or inflexible rules. This reduces the burden of manually yielding across multiple room types, says Angelo Fernandes, SVP for Terranea Resort:
"This technology has enabled us to look at inventory by type or segment and actually make decisions to yield room types uniquely across different channels. Terranea is very unique, with 582 keys and a mix of rooms, suites, villas, casitas, and bungalows. IDeaS helped us understand pricing, availability, and demand for each room in order to optimize profitability."
The demand-based pricing approach gives revenue managers a more accurate, holistic view of a hotel's demand profile. Automation ensures that each room type is priced appropriately for the demand, which yields the most profitable business mix. Sometimes dynamic room-type pricing can be unintuitive, says Fernandes, where smaller rooms are actually priced higher than larger, more premium ones. But it's all based on actual demand rather than instinct or historical performance.
"Effectively, each room type has its own BAR, so we're now selling more rooms at the correct rate, and we're also avoiding overbooking a certain room type and then having to move guests to a bigger room."

 
The IDeaS RMS "at a glance" dashboard
#2: Virtual Revenue Management Service (VRMS)
Most hoteliers feel under-resourced. Yet, smaller properties are naturally at a disadvantage when it comes to resources -- especially independents that find themselves in direct competition with "soft" brands that don't directly rely on their parent company's identity. These brands appeal to a different cohort than the majors, while still taking advantage of the parent's revenue management expertise.
That's not to say that brand-affiliated hotels don't also feel the squeeze when it comes to finding resources to devote to revenue strategy. IDeaS set out to solve this issue for any hotel, with its Virtual Revenue Management Service. VRMS helps hotels accelerate their revenue strategy by assigning an industry revenue expert to work directly with hotel staff—no matter the business objective, resource mix or skill level.
The three phases of VRMS align hotel management and staff around the techniques and habits of a revenue-focused culture. With the end goal of establishing clear standard operating procedures around revenue optimization, VRMS ensure that hotels of all kinds benefit from the revenue management revolution.
#3: Ideal Pricing delivers continuous pricing
Automation is at the core of the IDeaS approach to revenue management. Through artificial intelligence and machine learning, it makes precise revenue management decisions that most revenue managers would never be able to see. Ideal Pricing uses deep market intelligence, such as search penetration, competitor rates, booking trends, and reputation scores, to intelligently forecast demand and power a continuous pricing model.
The automated system prices room types at the ideal rate for a given product and set of guestroom attributes. The ideal pricing model intelligently prices by day or length of stay, while also allowing hotels to price within a range or set specific price levels for certain attributes. Revenue managers can link products to BAR or independently price as agile rates to dynamically flex products based on unique demand and attributes.
The best part of this is that it all happens in real-time and in the background, so revenue managers can focus on tactics and strategy rather than manual data entry. The AI-powered analytics recognize relationships between all rates and segments, continuously making the smartest pricing decisions based on the latest information. With Ideal Pricing, hoteliers achieve peak profitability decoupled from a traditional rates-based framework.
#4: Support before, during, and after implementation
It's a common refrain here at HTR: customer support is always a core consideration when evaluating new partners for your hotel. Poor support can scuttle even the most advanced product; without knowledgeable resources available before, during, and after the implementation, a tool risks failing due to low adoption and minimal integration into existing processes.
IDeaS sees itself as an ally in implementation, and, as a result, provides robust implementation support that supports a hotel's efforts to nurture a sustainable revenue culture. The clear plan is to train staff at the outset, as well as through continuous learning so that everyone has the tactical knowledge necessary to get the most of your chosen software. This includes how to read reports and what actions to take action based on those reports.  
#5: Rate publishing tool
Most hotels realize that all distribution channels are not created equal. For peak profit performance, the highest value booking at the lowest acquisition cost. Individual channel performance, plus overall channel mix, equals the optimal revenue strategy.
To achieve the optimal mix, hotels need a rate publishing tool that consistently and accurately updates rates across all chosen channels. This Functionality is integrated into the workflow, making it simple and easy to publish rates across channels. No more logging into multiple extranets and manually entering the same information multiple places. It's all about working smarter and more strategically.
Hotels also realize that there's a trust issue when it comes to rates appearing equal across channels. Rate parity breeds confidence, and an integrated rate publishing tool empowers hotels to build that confidence through seamless rate management.  
The Demand360 view highlights the competitive market data alongside your hotel's forecast and decisions.
#6: Limited Data Build functionality
Launching a new hotel is both an exciting and challenging time. It's a fresh slate to serve a new segment or expand in an existing market. The freshness also poses a problem for revenue management: Without any historical data, how should a hotel be properly priced in its early days? Pricing affects positioning; getting the pricing wrong can alter demand and consumer perception.
The Limited Data Build feature addresses this existential issue for new hotels. To forecast demand in the early days, IDeaS will clone data from existing hotels with similar business mixes to provide baselines for demand and predicted guest behavior. One new brand in Germany, Me and all, found that the baseline data helped beat its ADR expectations by 15% in the first half year.
"Up until now, one of the biggest problems has been forecasting how a new business will unfold. Normally, we rely heavily on a hotel's historical market data besides examining the public price points of other hotels to get a feel for the market. On this occasion, however, there was a bigger knowledge gap to fill.

-Monika Sand, Corporate Manager Revenue at Lindner Hotels AG
Bonus! Lucky #7: Smart Space
The complexity of managing revenue grows exponentially when adding groups and meetings to the mix. For larger hotel groups, there may be an additional layer of communication between a centralized revenue management team and property-level sales managers.
SmartSpace is a dynamic cloud-based strategy application that provides a revenue-focused visual analysis of meetings-and-events trends and performance. Thanks to more intelligent analysis, hotels can finally optimize revenue on key demand days by using detailed demand profiles to price more strategically.
The SmartSpace Functionality guides hotels on forecasted demand, performance trends, market competitiveness, and pricing strategy.
Through data and visualizations, it provides a guide to pricing decisions, as well as prioritization of RFP responses. Demand-level data can also reveal patterns across many meeting room types, to reveal which rooms are most popular and which were underutilized. These patterns inform the optimal configuration of those event spaces to ensure that supply meets demand. For instance, rarely-used rooms could be combined or repurposed to better suit the needs of today's event and meeting organizers.
"Smart Space makes it a lot easier for us to study our booked and lost business and better prioritize sales team efforts," said Christine. "To be able to pull vast sums of relevant data and see that presented in an intuitive and consumable format is such an advantage. It's the first step of some very exciting progress we're seeing in meetings and events." -Christine Wassell, director of revenue optimization for Radisson Hotel Group