ALICE Front of House: An Integrated Guest Services and Communication Platform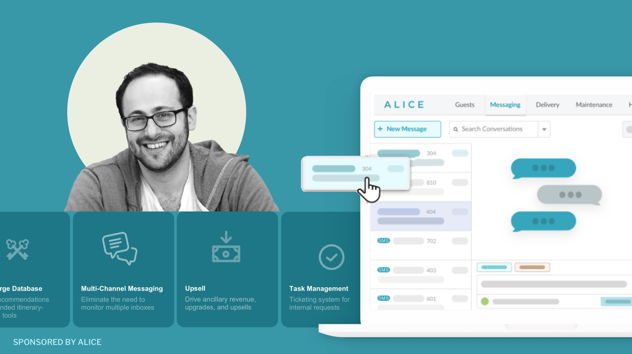 As a hotelier, you know that the process to deliver excellent service is very different today than it was just a few years ago. In the pre-COVID era, perhaps your hotel was buzzing with business travelers, and you had plenty of staff available to assist with any guest request. Contactless service wasn't the norm yet, so your staff had to be hands-on with everything from check-in to check-out. You might have even had a full team of front desk agents, concierges, and PBX operators with clearly defined roles.
Fast forward to today, and your hotel probably looks and feels very different. Business travel hasn't fully rebounded yet, and it might never reach pre-2020 levels. Your hotel is likely relying on a larger share of leisure guests, who can be more demanding than the corporate road warriors. Your team is probably smaller too; many hotels were forced to downsize and streamline roles when the pandemic hit. Now that hoteliers are hiring again, many can't fill their open roles due to workforce shortages. And the way you deliver service has changed. Guests today are less comfortable with face-to-face interaction, so your hotel might be trying to pivot toward contactless, tech-forward solutions for communication and operations.
How can your hotel adapt to and thrive amid these new challenges and expectations? We spoke with ​​Dmitry Koltunov, ALICE's co-founder and Chief Technology Officer, and got a sneak peek into ALICE's new Front of House, an integrated solution for front-of-house staff like front desk agents and concierges. In hotels where staff wear many hats and juggle more tasks than ever, ALICE's new solution can help front office teams deliver five-star service, communicate efficiently, and even drive profitability. How does it work? Let's explore ALICE Front of House.
ALICE Front of House at a Glance
All-in-one communication and task management platform that combines functionality for front desk agents, PBX operators, and concierges in one central place

Messaging tool for social media, SMS, and in-app communication, eliminating the need to monitor multiple inboxes

Ticketing system for internal requests to ensure follow-through

Concierge-style database of local recommendations and branded itinerary-building tools

Logs to understand and track each step in the guest journey

Opportunities to drive ancillary revenue, upgrades, and upsells to increase profitability

Technology to enable staff to deliver high-touch, personalized service in a more efficient manner
All-in-One Solution for Front Office Staff
If your staff handles communication with guests in one (or more) systems, guest requests in another, and concierge activities in yet another system, then you might appreciate the structure of ALICE Front of House. The software combines these three functions into one platform that can manage all front office activities. ALICE Front of House offers functionality for front desk agents, PBX, and concierges, but even if your hotel doesn't have those distinct roles, you'll still find value in it. The system is designed for hotels with limited staff who need to perform a variety of duties throughout their shifts, such as actioning a guest's request for more towels, booking a restaurant reservation, and responding to a text from a future guest..
ALICE recognizes that the front desk experience is evolving, and guests expect to get high-quality service from anywhere in the hotel. And, they expect it to be delivered virtually - not only from a staff member behind the physical front desk. ALICE Front of House is built to free guest services from the confines of the front desk; with this system, front desk staff can fulfill requests submitted from guests' smartphones, respond to social media and SMS messages, and help a guest purchase tour tickets while chatting with them on the pool deck.
Comprehensive Inbox for all Messaging Channels
ALICE Front of House allow your staff to communicate with guests across all channels in one consolidated inbox. The inbox can handle SMS, social media, and messages sent from within the guest-facing ALICE dashboard. Users can see full conversation history allowing conversations to continue seamlessly across shifts and communication channels. Teams don't need to worry about forgetting to respond to a message.
Ticketing System Turn Conversations into Tasks
In studying usage of ALICE's existing guest messaging tool, the team noticed that messages from guests often required follow-up by another department. As Dmitry explains, "guests were no longer simply asking for information about the hotel. A messaging conversation would usually lead to a request being made, and effectively delivering on that request would make or break the guest experience." ALICE Front of House leverages ALICE Service Delivery as a ticketing module for efficient task management and accountability.
For example, if a guest sends a message to request extra coffee pods in their room, the front desk agent who receives that message can create a task for the housekeeping team to deliver the coffee pods to the guest's room. The housekeeping team receives the request and acts on it, and the housekeeper who completed the request marks it as complete in the system. The front desk team can also receive a notification that the task has been completed so they can inform the guest. Without such a system in place, the front desk agent might need to call or radio the housekeeping team about the request, opening an opportunity for human error or miscommunications. ALICE Front of House ensures follow-through and stores task data for reporting purposes, too.
Allow Any Staff Member to Deliver Concierge Services
Although many hotels have scaled down concierge service in the wake of the pandemic, guests still crave tailored service and assistance planning their trips. Dmitry notes that "concierge services in hotels are still in demand, but asynchronous messaging is becoming the new luxury. People still want to feel like they are being cared for, but they do not want that to affect their personal time or space." Guests want to be in control of how and when they interact with staff. They don't want to have to pick up the phone or wait in line at the front desk.
To satisfy these new guest preferences, ALICE Front of House enables any staff member to provide concierge services and lets staff help multiple guests at one time through asynchronous communication. ALICE's Guest Services module houses a database of local recommendations and integrations with OpenTable and Local. This module can also produce branded itineraries, which staff can easily send via the messaging module through the guest's preferred communication channel. By giving staff members the tools to curate a personalized itinerary and communicate with guests how and when they prefer, you can foster deeper relationships with guests and increase overall satisfaction at your property.
Logs Provide Insight into Each Step of the Guest Experience
As you can see from the Guest Messaging, Guest Services, and Service Delivery modules of ALICE Front of House, the guest journey involves many different touchpoints and interactions with several staff members. How can you see a bird's-eye view of the guest's stay? The logs created in ALICE Front of House can give you an accurate picture of the guest experience from beginning to end. Not only is this data important for analytical purposes, like to study how many requests your team completes on a weekly basis, but you can also pinpoint where and why a guest might have had a subpar experience, so that you can improve for future stays.
For instance, if a guest left a negative review after check-out because they were upset that nobody replaced the broken TV in their room, you could review the messages exchanged between the guest and your team and learn that no rooms with the same bed types were available to move the guest to, so your front desk manager offered the guest a $50 F&B credit as compensation for the inconvenience. Without an integrated system to track these types of messages and requests, it would be much harder to find opportunities for improvement and trends in the guest experience.
Revenue-Boosting Tools for Upgrades and Upsells
Responding to guest messages might seem like simple administrative work, but ALICE Front of House shows that you can actually leverage guest messaging as a tool to capture incremental revenue. As demonstrated in their case study with Clarion Hotel The Hub in Oslo, Norway, ALICE proved that strategic use of messages can lead to an uplift not only in revenue, but also in loyalty and review scores. In the midst of the pandemic, The Hub started sending personalized text messages after guests arrived to ask if they needed anything to make their stay more enjoyable. The Hub's team created special add-on packages, like a Date Night package with a bottle of wine and a Lazy Mornings package with breakfast delivery, which guests could purchase. Over the course of the summer months of 2020, after implementing this strategy, The Hub had generated $1.3 million in ancillary revenue through these packages, which were only advertised via SMS.
Deliver High-Touch and Personalized Service
A common misconception about implementing technology in hotels is that technology will totally replace warm, personalized service. Actually, the opposite is true! When hotels use technology like ALICE Front of House, staff can deliver better service because they can manage guest relationships and interactions more efficiently. Dmitry explains that "there is a massive opportunity for hotels in getting this right. Rather than automating the relationship, there is an opportunity to deepen it." By leveraging tools like guest messaging and request assignments, your staff can ensure nothing slips through the cracks and that every guest enjoys seamless service from pre-arrival to post-stay. As you work through staff shortages, budget constraints, and changing guest expectations, technology can also help your staff do more with less. Curious to see how ALICE Front of House can enhance your guest experience? Give it a try today.
This content was created collaboratively by ALICE and Hotel Tech Report