The Storied Life of Conrad Hilton: A Hotel Industry Legend
By Jordan Hollander
Last updated January 26, 2022
1 min read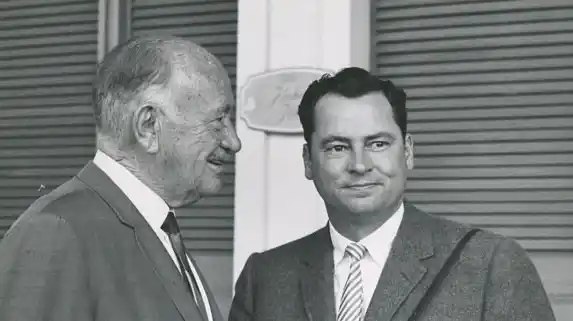 Conrad Hilton, born on December 25, 1887 in San Antonio, New Mexico, was the founder of Hilton Hotels and a hotel industry pioneer. Before starting Hilton Hotels, Hilton worked in his father's general store, served in the army in World War I, and served as a representative in New Mexico's state legislature. His goal upon departing the legislature was to become a banker, but when a deal to purchase a bank didn't work out, Hilton ended up purchasing his first hotel, the Mobley Hotel in Cisco, Texas in 1919. 
Over the next 20 years, Hilton grew his hotel portfolio to include eight properties in Texas. In the 1940s he began expanding outside of Texas, acquiring hotels in Chicago, California, and New York. Some of his most notable acquisitions in this era were the Stevens Hotel (later renamed the Conrad Hilton) in Chicago and the Waldorf-Astoria in New York City. In 1946 he incorporated his business as Hilton Hotels corporation, and in 1948 began the international expansion of Hilton International Company.
Throughout the 1950s and 1960s the Hilton Hotels brand flourished, with famous properties under its flag like the Plaza Hotel in New York City, the Mayflower Hotel in Washington, D.C., more than 50 hotels outside of the United States. Hilton Hotels acquired several other hotel companies, including the Statler Hotel Company in 1954, which was the largest real estate transaction to date. Conrad Hilton was among the first to introduce a star rating system to signal hotel quality, and he also popularized the idea of combining hotels, restaurants, and casinos.
By his death on January 3, 1979 Hilton had amassed a personal fortune of around $1 billion (roughly $3.5 billion today). Conrad's son Baron Hilton, who inherited his father's fortune, announced that he would donate 97% of it to the Conrad N. Hilton Foundation, which seeks to improve the lives of disadvantaged people around the world and awards the annual Conrad N. Hilton Humanitarian Prize.
A century after Hilton purchased that first hotel, Hilton Worldwide now includes a global portfolio of over 6000 hotels, over a dozen brands, and a well known loyalty program (Hilton HHonors). Hilton Worldwide is a publicly traded company (NYSE: HLT) and generated $9.48B in revenue in 2019.
Conrad Hilton's legacy lives on not only through the Hilton Foundation, but also through his passion for education at the Conrad N. Hilton College at University of Houston and the Conrad N. Hilton Library at the Culinary Institute of America.
Interested in learning more about Conrad Hilton's life, career, and legacy? Check out his autobiography, Be My Guest.
Want to learn more about hotel industry leaders? Check out Titans of the Hotel Industry which includes an overview of leaders like Jay Pritzker (Hyatt), J. Willard Marriott (Marriott), Barry Sternlicht (Starwood), Isadore Sharp (Four Seasons), Rich Barton and Brian Chesky (Airbnb)