Who is Brian Chesky?
By Hotel Tech Report
Last updated January 26, 2022
2 min read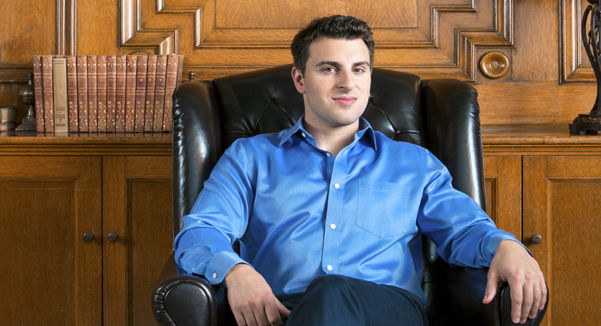 Brian Chesky, born on August 29, 1981 far from Silicon Valley in Niskayuna, New York, is the founder and CEO of Airbnb. While growing up, he was interested in art, architecture, and design, which led him to study industrial design at the Rhode Island School of Design, graduating with a BFA in 2004.
In 2007, while living in San Francisco with his roommate and future Airbnb cofounder Joe Gebbia, who he met at RISD, Chesky noticed that the city's hotel rooms were completely sold out during a conference. Gebbia and Chesky were struggling to pay their rent, so they decided to put a couple of air mattresses in their living room and sell the "Airbed and Breakfast" concept during the conference. Three guests ended up booking on the first weekend.
Chesky and Gebbia recruited their friend Nathan Blecharczyk to join the founding team, and together they perfected the concept, from designing a user-friendly website to doing market research. In 2008 they began pitching the idea to investors, but the investors weren't receptive. Since they couldn't secure outside funding, the three co-founders sold custom cereal boxes before the 2008 presidential election, which gave them a small source of income. A year later, Airbed and Breakfast was invited to join startup accelerator Y Combinator, which gave them credibility and exposure to investors who eventually decided to fund the company.
During 2009 and 2010, after receiving investment from Sequoia Capital, Chesky and his team put their design backgrounds to use and refined the guest experience. They visited hosts in person, redesigned their logo and branding, and changed the company name to Airbnb. The ideal really took off during this period; in 2011 Airbnb was declared a "unicorn" with a valuation of over $1 billion.
Chesky took host and traveler feedback to heart as Airbnb's product continued to evolve. Facing backlash from hosts about property damage caused by Airbnb guests, Chesky put in place a $1 million damage coverage policy that would apply to all properties. As Airbnb became more popular and local governments tried to push the company out, Chesky did whatever he could to make Airbnb comply with local laws so the hosts could continue to rent out their spaces.
Besides revolutionizing the lodging industry and helping to popularize the sharing economy, Chesky and Airbnb are credited with creating a business that revolves around trust. On the Airbnb platform, both hosts and travelers rate each other post-stay, which helps everyone involved overcome the seemingly daunting idea of spending the night in a stranger's home.
Today Airbnb is still a private company, and its 2019 revenue is estimated to be $4 to $5 billion. The COVID-19 pandemic hit Airbnb's business hard; its Q2 revenue was down by nearly two-thirds, and the company laid off 25% of employees. Despite the headwinds, in August 2020 Airbnb submitted the initial paperwork for its IPO and is rumored to go public by the end of the 2020. Chesky still owns a significant share of the company, and his net worth is estimated to be around $3 billion.
Want to learn more about Brian Chesky and the beginnings of Airbnb? Read The Airbnb Story: How Three Ordinary Guys Disrupted an Industry, Made Billions . . . and Created Plenty of Controversy by Leigh Gallagher.
Want to learn more about hotel industry leaders? Check out Titans of the Hotel Industry which includes an overview of leaders like Conrad Hilton (Hilton), Jay Pritzker (Hyatt), J. Willard Marriott (Marriott), Barry Sternlicht (Starwood), Isadore Sharp (Four Seasons), and Rich Barton (Expedia).