The Life of Storied Hotel Tycoon J. Willard Marriott
By Jordan Hollander
Last updated October 12, 2022
1 min read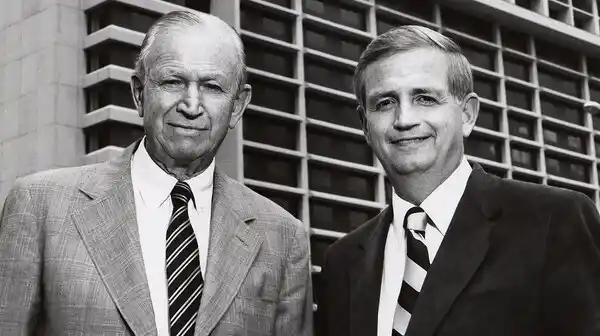 Born in Marriott-Slaterville, Utah on September 17, 1900, John Willard Marriott was an entrepreneur, hotelier, and founder of Marriott Corporation. Marriott grew up on his family's farm in rural Utah and attended college at Weber State University and the University of Utah in Salt Lake City. Marriott's career began not with hotels, but with an A&W Root Beer franchise that he purchased with the intention of expanding the brand in the Washington, D.C. area. He opened the first location in 1927, and after adding hot food to the menu, the restaurants became known as "Hot Shoppes."
Over the next 25 years, Marriott expanded the Hot Shoppes brand throughout the East Coast. Hot Shoppes even provided in-flight catering - a first! - to airplanes departing Washington D.C.'s Hoover Airport. After Hot Shoppes went public in 1957, Marriott shifted his focus to the hotel business, opening the Twin Bridges Motor Hotel in Arlington, Virginia. Together with his son, John Willard "Bill" Marriott, Jr., J. Willard Marriott, Sr. grew the hotel business by acquiring and building dozens of properties over the next decades.
Today, over 60 years after its founding, Marriott International has a portfolio of over 7,000 hotels, including dozens of brands like Courtyard, Fairfield, and Residence Inn. The flagship JW Marriott brand is named after J. Willard Marriott himself. In 2016 Marriott International acquired Starwood Hotels & Resorts, which made Marriott the world's largest hotel company. Marriott International is a publicly traded company (NASDAQ: MAR) and generated $20.97B in revenue in 2019.
Marriott was known for his hands-on leadership style and pursuit of perfection. He had seemingly endless energy, and he never retired even after Bill took over duties as CEO. When he died on August 13, 1985, Marriott left $1.2B to each of his two sons. Marriott was posthumously awarded a Presidential Medal of Freedom by Ronald Reagan in 1988.
J. Willard Marriott's legacy lives on not only through Marriott International, but also through his contributions to education. Marriott made significant donations to Brigham Young University (home to the Marriott Center arena and the Marriott School of Business), the University of Utah (home to the J. Willard Marriott Library), and Weber State University. Marriott was also a lifelong member of the Church of Latter-Day Saints, and he started the tradition of providing a Book of Mormon (in addition to a Bible) in every Marriott hotel room, which continues today.
Want to learn more about J. Willard Marriott, Sr.? Read Without Reservations: How a Family Root Beer Stand Grew Into a Global Hotel Company, written by Bill Marriott and Kathi Ann Brown.
Want to learn more about hotel industry leaders? Check out Titans of the Hotel Industry which includes an overview of leaders like Conrad Hilton (Hilton), Jay Pritzker (Hyatt), Barry Sternlicht (Starwood), Isadore Sharp (Four Seasons), Rich Barton and Brian Chesky (Airbnb)