How GoConcierge's Adam Isrow Built a Global Empire Without Venture Funding or a Marketing Budget
By Jordan Hollander
Last updated January 26, 2022
7 min read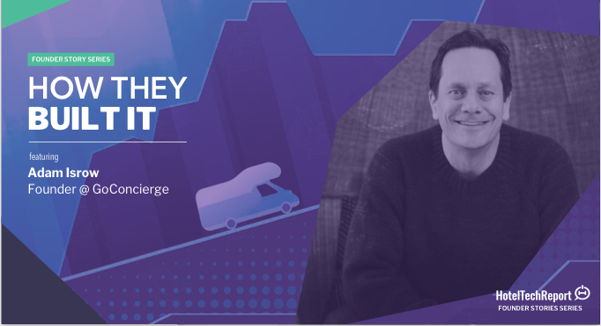 What do you think of when asked to picture the founder of a dot com era startup founded in the year 2000?  I picture an arrogant and sharp elbowed hype man with an inflated ego who's selling the dream of world domination and hockey stick growth.  
Adam Isrow founded GoConcierge in the year 2000 during the heyday of epic dot com busts like Pets.com and Webvan but his story couldn't be more different from his infamous peers.  If you got to trade your boss in for a new one - Adam is the kind of guy that everyone wants to work for. He's humble and soft spoken yet firm and disciplined. While tech founders were out chasing exponential user growth in the early 2000s Adam was focused on the fundamentals.
Webvan stock chart from 1999-2001 shows the quintessential dot com bust
The GoConcierge story sits in stark contrast of companies like Webvan that were founded around the same time.  While his peers were busy seducing investors and big media with glitz - Adam focused on moderate, consistent and steady growth.  His character attracted a strong and loyal team solely focused on the elevated customer service that helped him build the GoConcierge business almost exclusively through word of mouth.
"Everyone wants some magic pill—some life hack—that eliminates the need to do the work. But that does not exist." – Jocko Willink
Adam is not the kind of leader who looks for a magic pill.  His favorite book, Extreme Ownership by Jocko Willink is a navy seal commander's tale of humility, loyalty and discipline - three qualities that deeply characterize Adam's leadership style.
So how did Adam grow GoConcierge to more than 1,000 hotels globally without traditional venture funding?
His background in the hotel industry is a huge piece of the puzzle.  While working in hotels Adam learned humility through dedicating himself to service.  The hospitality industry also taught him a deep sense of empathy that enabled him to develop technology that would become loved by even the least digitally savvy concierges. The teamwork he learned in the front office enabled him to attract and retain a team of loyal high performance contributors.  Adam's story embodies the true spirit of hospitality in every way.
While he personally considers work and service to be rewards in themselves, Adam's years of dedication were recently validated when ALICE bought his firm GoConcierge for millions in 2017.
What was your background prior to starting GoConcierge?
Coming out of undergrad, I wanted both sales and management experience as a foundation to begin my career. Prior to starting GoConcierge, I had worked in hotel operations for a hotel in Los Angeles.  The goal was to turn around each department in the hotel and prepare the hotel for being sold. While overseeing guest services and ultimately the rooms division, I saw how much work the team was doing manually with logbooks and binders.  I thought if we could create a tool with a database of vendors and directions (this was pre Mapquest and Google Maps) and the ability to track activities, that it would enable our team to spend more time and attention on the guests. Just prior to launching GoConcierge, I worked for another technology startup focused on disseminating digital assets in the entertainment industry.  
Once that company was sold, I was still intrigued by the Concierge tracking idea and while going back to earn my MBA during the dot com era, decided to launch GoConcierge.  Hard to believe that was back in 2000 and here we are today.
What made you decide to jump in and start GoConcierge?
After spending several years in hotel operations, I saw first-hand the importance of adding efficiencies where possible.  So much of the day-to-day operation in a hotel is manually driven and at the time, there were very few systems outside of the property management system.  We had created our own tools using Microsoft Access for yield management and also tracking any challenges throughout the operation. One night while talking with my partner, we discussed creating a database for vendors so that we could have a knowledge base of everything our guests were asking.  This way, no matter who was working, we could help the guest right away. I spent the evenings typing directions into each location since there was no Mapquest or Google Maps at the time. I felt it had to be extremely user-friendly and I remember having an amazing gentleman in guest services named, Frank, and he was in his 70's and was not comfortable using a computer.  I remember thinking that if we could get Frank comfortable using this, we were onto something. Fortunately, Frank was able to use it and the team noticed that they were able to do their job better by having more information at their fingertips vs. having to look in logbooks and binders. Plus, I have terrible handwriting and if I wrote something in the logbook, there was a good chance others would not be able to read it.
Adam Isrow sold his business GoConcierge to ALICE in 2017
Who was GoConcierge's first customer?
Our first Customer was a Hyatt Hotel in Los Angeles.  I called several times and spoke to the Rooms Executive at the time and she was intrigued enough to allow me to present to her.  Fortunately for me, she understood the vision and she and her team believed that GoConcierge could enhance their day-to-day operation and ultimately the guest experience.  In addition to providing the application, I also guaranteed that I would provide exceptional support and would exceed expectations. I worked hard to earn trust and have her provide me with an opportunity. I felt if I could just get into a hotel like that, it would add credibility and help me gain additional hotels.  

GoConcierge was acquired by ALICE in 2017 - how do the businesses work together today?
We have created the first operations platform with a goal of going to our customers with a suite of services.  So often in hotels each department purchases their own applications. Therefore they operate as silos and most of the time and don't communicate with each other.  We believe that there is significant value in providing one solution that can add value to multiple departments. The ALICE Platform has various modules including Concierge, Service Delivery, Messaging, Preventative Maintenance and Housekeeping.  Customers can pick and choose what is best for their property and because we have an open API, we can also facilitate integration between various systems.  Having one platform can provide cost savings to the hotel instead of paying setup fees and multiple subscriptions fees for multiple systems.  ALICE Concierge has a customizable database powered by Google Places and tracks all activities arranged for guests, creates personalized confirmation letters, itineraries, communicates with guest and team members via SMS and other platforms.  Using ALICE for service delivery, the property can dispatch requests such as towel delivery, challenges in the room and even manage preventative maintenance. ALICE provides a complete operational solution that will allow your team to provide a very personalized and exceptional guest experience.
ALICE's modern dashboard connects departments seamlessly
What's the biggest misconception that hoteliers have about technology?
Perhaps the most common belief I used to hear was that the Concierge didn't need an application because they could use Excel or their logbooks.  We obviously felt differently especially after spending time behind the desk and seeing the amount of work done manually and the importance of providing a tool to enable the team to be more efficient.  We believe the role of the Concierge should be in the center of the hotel operation since their work touches so many departments and has such a significant impact on the overall guest experience. A good Concierge team does the job so well that they make it look easy.  What is often not recognized or seen is the volume of work being done behind the scenes to deliver such a great guest experience. Investing in a tool allows the team to be more efficient and spend more time and attention on the guests. I believe the reason guests come back now is mostly because of the way the Concierge and other team members make the guests feel when they leave, more so than just having a beautiful hotel.  Without a tool such as ALICE, it is very difficult to be efficient and create that great guest experience.
What's the most surprising thing you've learned about scaling technology into hotels since founding the business?
In hospitality, we are a 24/7 operation and since we have customers around the world, there really is no downtime.  As we have scaled the company, in addition to our application, we remain keenly focused on our environment and optimizing the performance of the application for our users.  This is a major effort and something that requires focus for achieving results today and in the future, domestically and internationally.
If you could partner with any vendor in hotel tech, who would it be and why?
With respect to vendors to partner with, we believe the PMS provides a mutually beneficial opportunity.  The more integration we provide, the better we serve our customers. We are interested in speaking with any PMS that believes there is value in integrating ALICE to enhance its offering
Where do you see ALICE in 5-years?
We envision ALICE being the operations hub for the hotel. We are striving for that now and in the next 5 years, we want to realize our ambition of allowing all hotel staff to work effectively together and while enabling innovation around us. Ultimately, we want to provide a platform that is so widespread and so open that all innovation in the guest space can connect into it and hotel companies can deliver hospitality through it. We believe there should be full transparency where the guests can realize the same type of control and experience they love from other industries.
How will the concierge software space change in the next 5-years?
We believe that that Concierge will need to be connected to all departments throughout the hotel- like the hub of the operation.  Our customers will need as many efficiencies as possible to provide a high-level of service to the guest. We envision the Concierge department will have to be equipped to easily initiate requests for any department on behalf of guests.
Do you have any new products or feature launches of late (or coming soon) that you'd like us to promote to our users?
We are very excited to be developing our Room Assignment feature as part of our Housekeeping module.  We have gained first-hand knowledge from our customers and our team of hospitality experts about what the ideal solution would be and we are actively working on this right now.  Adding this functionality to our platform will allow us to achieve our vision of providing our customers with a complete solution for their operation and specifically, their largest department, Housekeeping.
Is there anything that the community can do to be helpful for you?
We are focused on interacting with other thought leaders to gain insight, share notes and collaborate together. We welcome the opportunity to connect with leaders that have grown and/or are building emerging technology.  We have a speaker series where we bring in leaders with various backgrounds from various industries to speak about successes and failures and learnings along the way. It would be great to have more thought leaders from the community share their experiences with our team.
ALICE won Hotel Tech Report's '2019 Best Places to Work' in Hotel Tech competition
What's one piece of advice that you have for any entrepreneurs looking to get into hotel software?
In any space it's critical to surround yourself with the best possible team.  Specifically within this niche of hospitality technology be sure you fully understand how you can add value and be willing to adjust along the way.  The vision you start with may not be what you finish with. Be agile enough to shift when needed.
What is the best book you've read lately and why?
I really enjoyed reading Extreme Ownership: How Navy Seals Lead and Win by Jocko Willink and Leif Babin.  This is a story about taking ownership and leading by example.  The story is told by two Navy SEALS and their life altering experiences in battle and how those lessons can be applied to both business world and your personal life.
What is your favorite podcast?
I like listening to The Tim Ferris Show and hearing his interviews with both business leaders and athletes.
What is one thing that most people don't know about you?
I did sports broadcasting in college and also am passionate about speaking to groups about my experience of working with the world's finest hotels and Concierges and the impact of consistently delivering exceptional service.