How is The Guestbook Different From Programs Like iPrefer and Stash?
By Jordan Hollander
Last updated January 26, 2022
9 min read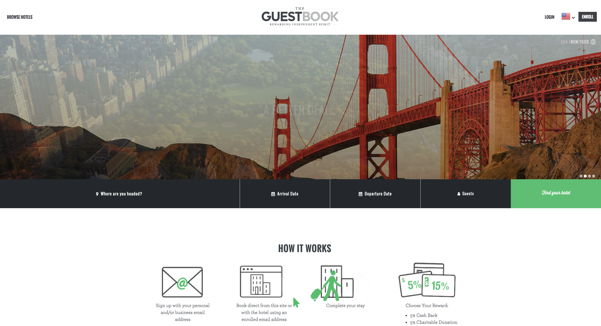 Before signing up with an independent loyalty program it's important for hotels to reflect on why branded loyalty programs like Marriott Bonvoy and Hilton HHonors add value.  These types of loyalty programs incentivize guests to book with a brand by offering experiential and monetary incentives.
Experiential incentives include things like room upgrades, WiFi and late checkout which sway frequent travelers into booking via a loyalty program because they actually get better treatment than the average guest. Monetary incentives enable loyalty program members to experience higher property tiers which also can drive loyalty.  For example, a frequent Marriott Courtyard business traveller can build up points and use them towards a stay at W Hotels where they ordinarily wouldn't have stayed. By staying at a higher tier property within the network that guest now has a haloed perception of the Marriott brand as a whole.
Circa 2010, independent hotels took note of the massive growth in branded loyalty programs and banded together via programs like iPrefer (by Preferred Hotels & Resorts) and Stash Hotel Rewards.
An April 2018 study by Oracle Hospitality (study here) highlights the dynamic that helped such programs grow.  Namely, there is a discrepancy between hotel perceptions of loyalty programs and the reality of such programs.  According to the study, hotel managers believe that 61% of guests sign-up for loyalty programs while in reality only 24% actually do.  Similarly, hotels perceive that 54% of guests will find offers relevant while in reality only 22% of guests believe that offers made by loyalty programs are relevant.
Revinate summarizes data from Oracle's loyalty study
Just because hotels overestimate the value of loyalty programs doesn't mean that they don't add value. Ultimately even small volumes of incremental bookings can still deliver a high ROI so independent hotels should still consider joining an independent loyalty program but should do so with realistic expectations.
Independent loyalty programs that try to mimic branded programs rarely work.  Smart hoteliers know that points are mostly irrelevant when it comes to the world of independents since booking with another property in the network has no impact on loyalty for your own property.  The landing page for Destination Hotels & Resorts' Destination Delivers program is a testament to the death of points for independent hotels:
"This unique loyalty club is filled with perks. Not points."

~ Destination Hotels & Resorts
A 2019 Revinate study shows that groups with more than 50 hotels can sometimes benefit from pursuing points based programs while smaller groups (under 50 properties) rarely benefit from such programs.
When loyalty members receive points towards a program like Marriott Bonvoy their loyalty is building towards Marriott corporate rather than towards an individual property or sub-brand.  The problem with what we call 'independent loyalty 1.0' (e.g. iPrefer and Stash Rewards) is the misconception that loyalty is actually being built towards a specific property.
Where programs such as iPrefer and Stash Rewards are still operating dated points based system models, Guestbook Rewards is a new kind of loyalty program that is more in touch with how today's traveller behaves and books. 
It's worth noting that Preferred Hotels & Resorts has sales infrastructure and relationships with travel advisors that bring material business for it's portfolio.  The firm also provides cost purchasing benefits so while the iPrefer value prop is in our opinion relatively weak there are other facets of the program which are definitely attractive for independent hotels.
Guestbook Rewards understands that driving true guest loyalty to independent properties by giving points to spend at other properties is a near impossible feat. As a result, the Company has positioned itself as a way to increase conversion on hotel websites via offers and cashback.  
Guests choose between three options: 5% cash back, a 5% charitable donation or 15% trip cash that can be used within The Guestbook's network of ~700 hotels.  By offering cashback through a 3rd party, hotel clients are able to circumvent rate parity clauses with OTAs and create their own version of a private offer program like many of the brands have today and leverage exclusive loyalty network pricing to bring in more direct bookings.
Independent hotels should explore the Guestbook because they want to incentivize direct bookings without breaking parity, not because they expect material bookings from The Guestbook's loyalty program member base.  While expectations should be modest the Company now offers a "Guestbook Guarantee" of fully offsetting its fees with new inbound business.  To their credit, The Guestbook recognized this and developed a Chrome Plugin called Gopher which helps internet browsers find the best hotel deals by scanning hotel websites in real time.
According to the Google Chrome store, the Gopher plugin has ~3,600 users so it's unlikely to drive material volume for clients today but has the potential to solve the problem and is a clear demonstration that The Guestbook has a better pulse on technology and internet behavior trends than most of its competitors.  The Guestbook claims that it also has a similar number of users in the Safari App store but Apple doesn't publicize figures.
Gopher has taken queue from a company called Honey which allows shoppers to check prices while shopping ecommerce websites. While the Gopher strategy doesn't seem to have paid off yet for The Guestbook, the Honey plugin has grown to 10M+ users which is a testament to the larger opportunity around online shopper price checking if the team can figure out the right growth strategy over the medium to long term.
Independent hotels that are looking to increase direct bookings can benefit from joining a program like The Guestbook but benefits can vary property by property so it's important for hoteliers to read authentic peer reviews and request unmoderated referrals to properly evaluate the program.
Independent hotels should think of The Guestbook's program as a substitute to a direct booking platform like Stay Wanderful which also offer rewards for booking direct but can be used in tandem with platforms like Triptease. Where The Guestbook has a narrow focus on facilitating offers, platforms like Triptease have a more comprehensive and data driven website conversion optimization approach.  Stay Wanderful sits somewhere in the middle.
We sat down with The Guestbook's Dev Dugal to get his take on where independent loyalty has been and where it's going.  
Dev brings an interesting perspective to the discussion having previously owned his own hospitality business and also having worked in several mid sized hotel organizations before making the leap into hotel software and technology.  Dev advanced quickly in his career by leveraging a unique combination of interpersonal skills and technical adaptability.
As a hotelier, Dev was always a technology maven who constantly sought to implement new technologies and marketing strategies for his hotels.  His story provides a roadmap for competitive hotel marketers seeking to beat out the compset and also for hoteliers with aspirations to leverage their hospitality skills to build a successful career in technology.
Dev is widely regarded in the hotel community as a networking guru and marketing expert so we were lucky to catch up with him in between his jet setting.
The Guestbook's Dev Dugal


Tell us about your career in hotels.
I started my career in hospitality as a barback in some of the busiest bars in LA. Eventually working my way to bartender, manager and eventually opening up my own bar in DTLA in 2006 called The Redwood. The bar business was very exciting but once my wife and I started a family, I sought a different pace of life and not the 3am late nights. So I transitioned to the hotel space in 2008 joining a family owned Hospitality company called Globiwest Hospitality as their VP of Marketing & IT. I was immediately tasked with helping to launch the first independent boutique hotel in Brooklyn called Hotel Le Bleu. Next, joining broughtonHOTELS as VP of Sales & Marketing, I led the marketing vision for 16 hotels on the California coast and Chicago. During both roles, I challenged myself to cross train in Revenue Management, Operations and Finance. More importantly I enjoyed working the Front Desk and Housekeeping to stay grounded to the heart of the hotel. I took a hiatus in 2014 for a few years to start a non-profit focused on building schools in the slums of India and re-entered by joining an amazing team at The Guestbook in 2017.
I consider myself a connector of ideas and people. Hospitality gives me that platform to shine, travel the world and impact businesses. I also gravitate to boutique hotels rather than brands as they allow for much more creativity with an elevated curated experience for the guest.
Some of my most challenging times in hotels were working with Owners to clearly grasp digital marketing concepts. Similar to how people self prescribe diagnosis after reading WebMD, hotel owners often dictated marketing direction with buzzwords like PPC or SEO however, never fully understanding them. This was a consistent battle but I thrived in those challenges and breakthroughs, eventually letting the analytics speak for themselves.
What was one technology that you couldn't live without in your former role in hospitality?
Google Analytics has always been a solid tool to use as a source of analytics. It provides for so much data in one place to see real time the success of integrated strategies. One of the most important tools in the last few years was the CRM tool. It provided a landscape to work within the entire life cycle of the guest experience and the digital touch points were a vital part to success.
When did you first become interested in leveraging technology to become a better hotelier?
I think it started when I had an early stint in Real Estate as an agent. In the early 2000's I saw veteran agents knocking on doors and buying ads in newspapers. I realized leveraging technology was the more efficient way than knocking on doors. So I slowly built up a database of emails to over 15k and sent out a monthly newsletter for lead generation.
With that same logic I noticed that trend in the hotel space in 2008. After the financial crisis, hotels were scrambling for business and heavily relying on the OTAs. With the help of eCommerce and integrated solutions, I knew this was the future for hotels too. I became an avid reader of industry leaders and leveraged the best of breed in marketing practices shortly after.
As a hotelier what was your biggest frustration with technology vendors?
One of my biggest frustrations with technology vendors is the sneaky "Auto Renewal". I got burned by a vendor early in my hotel career and they wouldn't let me out of the contract. Talking to friends in the business I discovered this was a shared pain point.  After that first incident, I made a decision to never let it happen again and continue to share my technique with hoteliers today.
Right after executing an Agreement with any vendor, I immediately send them an email stating my notice to not renew. Literally the day after the ink is dry. The notice indicates that we do not intend to renew and will discuss the option as the renewal period closes in. Most importantly, I have them confirm it in writing over email. This leaves a nice audit trail for anyone on my team and with the vendor should there be a change in management.
What is the biggest misconception that hoteliers have about technology?
Some folks tend to overanalyze technology. I love that we have the ability to A/B test products and solutions. However, some hoteliers never get out of the starting gate. One of my mentors really honed in and taught me about the age-old saying, "Perfection is the enemy of good." He was the first leader that forced me to break previous habits of "getting it right" and simply start. He said to get it "good" and clean up the mess along the way. With this in hand, we were able to test out many new technologies and marketing strategies.
Tell us about your journey from hotelier into technologist?
Funny thing is that I started my career as a computer nerd. I graduated with a Computer Information Systems major in college and spent my early career coding in a cubicle with .NET development and SQL. I started bartending at night to have a break from the tech world. So in a way, technology has always been a part of me before becoming a hotelier. Now I'm able to leverage and have a real passion for connecting those dots to business strategy.
What was the most challenging part of moving from hotels into technology?
For me personally, losing a little of the human touch and pulse of the hotel. With the technology, it's very easy to only have digital relationships. Being a hotelier provided opportunity to be at the Front Desk, walk the property and connect with guests from all around the globe. I miss those elements.
The Guestbook has become the clear independent loyalty leader and disrupted incumbents in a very short period of time - what's driving that growth?
The Guestbook is the first and only Cash Back Loyalty platform for independent and boutique hotels. We work with over 700+ hotels in 65+ countries to increase direct booking conversion on a hotel's website by 20%+. Guests have the availability to earn and redeem either of 3 options; 5% cash back on their stay, donate that 5% to any charity of their choice, or 15% Trip Cash towards a future Guestbook stay at any of our properties around the world. No set-up fee. No commitment. Cancel anytime.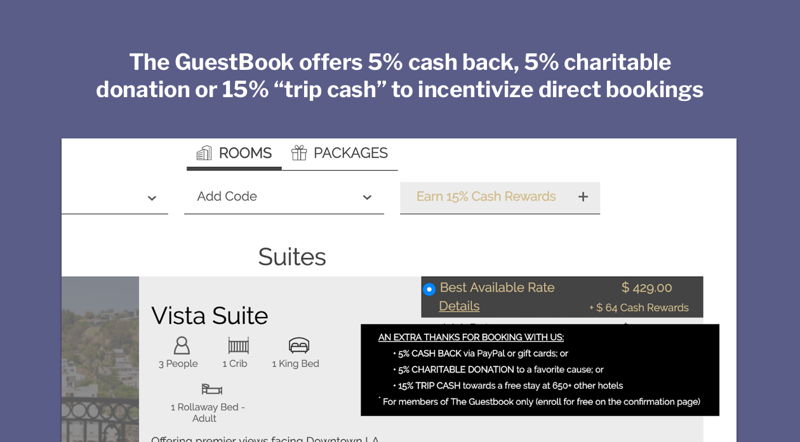 Imagine that you're going to open the hotel of your dreams tomorrow.  What kind of hotel would it be?
Independent boutique, Select-Serve maybe with a lobby bar. I'm a big proponent for Downtown LA and feel there is also opportunity in markets like Oakland. 75-100 rooms paying homage to local street artists. I'm also a big fan of the bed+beverage concept. Bar on the ground floor and maybe 40 keys above into an integrated space. Can't reveal any names just yet as I already have some domains secured. ;-)
What technology would you leverage at your hotel?
Cloud based PMS, robust CRS with significant channel management integration, backed by an easy to use CRM. An AI smart concierge, eventually reducing the dependency on the front desk and of course a rewards platform, The Guestbook!
What's one piece of advice you have for hoteliers who have dreams of working in technology one day?
Read (books, not social media) + source mentors. Mentors have been integral to the trajectory of my career. Balanced with what you learn from books with the real life experience of mentors. Book knowledge + street knowledge.
What's one podcast, newsletter or book that you recommend hoteliers read if they'd like to eventually move into tech?
Glenn Haussman has a series of great podcasts (No Vacancy).  I love reading about direct booking strategies so Triptease blog, OTA Insight newsletters and webinars are underrated. A free interactive webinar with live Q&A is one of my favorite places to learn.
What is your favorite hotel in the world and why?
Currently, I'm digging the CitizenM brand. The simply went against the grain and put the guest experience first. For example, they went with King sized beds when everyone stuck with Queens. Their founder said something to the likes of, "If a car is Tesla, then a hotel is CitizenM". I dig that and their hotels are awesome.
What is the most exciting technology you've seen in the hotel tech space lately?
The team at Go Moment have been working on some neat AI tech with their smart concierge. The tech gets smarter and smarter with more data points and interaction from a guest perspective is seamless.
What is one thing that most people don't know about you?
Recently, I moved our family of four from the comforts of Los Angeles to Spain! We are giving our children an opportunity to be global citizens and honing my skills in being a true digital nomad.  Experiences over things.