Hotel Digital Marketing: Here's How an Agency Can Improve Results
By Hotel Tech Report
Last updated June 01, 2022
7 min read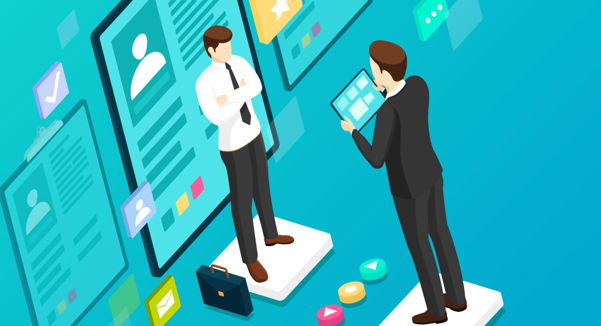 Hotel digital marketing is one of the top ways to drive direct bookings. It's the demand engine that raises awareness about your hotel, and pulls guests directly to your hotel's website. Yet, most hotels lack the ability to fully harness the power of digital marketing. This is mainly due to limited resources -- both time and money.
Digital marketing sounds like a "field of specialty" but it's actually more like 20 different fields. Google is just one such platform that digital marketers need to stay ahead of the curve on and their search algorithm changes 500-600 times each year. That doesn't even factor the changes to products like Google AdWords and Google Hotel Ads. Expecting an on property marketer to fully understand Google search trends alone with all of their other responsibilities is unrealistic, let alone expecting them to be experts at Bing, metasearch, Facebook, Instagram, Pinterest, etc.
Your hotel needs to also have access to CRO (conversion rate optimization) expertise, link building capabilities, content marketing, graphic design, social media marketing and more.
Your on property team is literally competing with billion dollar ad budgets from companies like Booking and Expedia - you need to provide them with the resources to compete effectively or you're leaving thousands of dollars on the table each month. The craziest thing is that even if you find someone who's an expert in all of these areas - they still won't know how they're performing because they're looking at a single property or small portfolio. What is a good website conversion rate? What percentage of your hotel website should be organic vs. paid? What is a good ROAS? All of these questions will be answered in monthly meetings with a great hotel digital marketing agency.
If one thing is clear it's that you should not be sending your on property marketing manager to the fight without the right resources and assistance. There's never enough time in the day, and certainly not enough cash in the marketing piggy bank. While it's not always easy to get more budget, there is one easy way to get more time: turn to a top rated digital marketing agency that will be a true partner and augmentation of your in house marketing function.
How to Optimize for Efficiency
In 2018, Internet advertising revenues in the U.S. totaled $107.5 billion, which was way up over 2017: a 21.8 percent increase, according to a recent report by the Interactive Advertising Bureau. The continued growth in digital marketing mirrors a massive shift in attention: in the U.S., consumers now spend more time on their devices than watching.
The takeaway here is that digital is where the eyeballs are -- and hotels must follow. That means competing with massive OTAs and well-heeled hotel groups for consumer attention. That means navigating a multitude of platforms, both existing and emerging. That means spending time to understand where your audience lives online and then spending money to reach them. It's a massive mountain to climb, and it's something most hotels shouldn't do alone.
How can hotels boost digital marketing spend (and efficiency) with limited budgets and fewer staff to optimize performance? The answer lies in the hands of others: finding a great digital marketing agency that aggregates its expertise from other clients to power a better, more efficient, and ultimately more powerful digital marketing strategy.
Identifying the Right CMS and Assessing Conversion Rate
A hotel's website is fundamental to its ability to drive direct bookings. It's where most travelers have their first encounter with the property, setting the tone for their potential upcoming stay. Ease-of-use in terms of user navigation as well as how efficiently a booking can be made on the site, factor into higher conversion rates. Users want a streamlined process that's frictionless. Information on amenities and packages should be simple to search.
Screen Pilot's approach to hotel website design and development includes the essentials such as graphic design, copywriting and tag management tracking and configuration. The company can also customize a hotel website's look and feel, including unique features such as 360-degree room tours or review sections for specific room categories.
Since Google shifted its focus to how fast websites load on mobile, speed is an important consideration for hotels. Screen Pilot can also optimize a hotel's website for mobile with specialized technology like Google AMP markup. The Screen Pilot team will optimize mobile experiences using tools such as Google Optimize, which allows up to five website options to run simultaneously, without permanently affecting the CMS platform. Leveraging Google Optimize for one hotel client's website lead to an 80 percent increase in booking engine views.
Drive Organic Traffic to Your Hotel Website
Content is paramount to strong SEO. It's also vital to engaging with website users as they move from the top of the funnel down. But effective content must reflect the brand while also closely aligning with the interests of the hotel's target audience and including targeted keywords. It's a delicate balancing act that reaches across a hotel's marketing.
In fact, improving organic SEO is at the center of the Screen Pilot approach, insofar as every facet of the digital marketing engagement exists to both add standalone value and to improve SEO outcomes.
The first step to determine the viability of current SEO strategies is an audit of a hotel's existing website content. Where there's room for improvement, the team has an arsenal of tools: copywriting by brand-specializing journalists, influencer marketing campaigns, interactive content like quizzes and customized itineraries, public relations, user-generated content and others. It all comes together in a single strategy that positions hotels prominently in search engine results pages and, of course, more direct bookings.
Working with a collection of boutique hotels located across the U.S., Screen Pilot created a three-month campaign across multiple channels, focused on interactive content intended to generate brand awareness for the individual properties and pair them with a specific hotel and ultimately, increase year-over-year bookings for that period.
The social media component of the program resulted in over 200 bookings, with a 13 to 1 ratio for return on investment (ROI). PPC, remarketing and awareness display advertising generated 879 bookings and a 16 to 1 ROI ratio.
Evaluate Social Media and Digital Marketing Skills
Screen Pilot's expertise in social and search marketing gives its clients an edge over their competitors. The digital marketing firm is both a Bing Partner and a Google Partner, meaning Screen Pilot is officially a certified expert on each organization's advertising programs and policies, making them well equipped to optimize a hotel's pay-per-click (PPC) campaign. Moreover, Screen Pilot will also add new PPC channels into the mix, depending on client needs and strategy.
Social is also a key component of Screen Pilot's suite of services. An active social media presence has a strong impact on hotels, as it acts as both a marketing tool and a guest engagement platform. A consistent (and constant) presence has become table stakes for any brand that engages with today's traveler.
A 2018 TripAdvisor report found that a hotel's social presence is important to 92% of travel business owners.
Of course, an effective social media presence can only be achieved with a customized strategy that incorporates the most relevant channels to a hotel's target audiences and messaging that will resonate with those users while also communicating brand values. Screen Pilot buys media that supports each client's objectives, incorporating elements such as social media photography, graphic design and influencer outreach.
In addition to crafting social media ad campaigns that drive brand awareness while also prospecting and retargeting users, Screen Pilot, a partner of social media management platform Sprout Social, can manage clients' social media presence and deliver in-depth, monthly reporting and analytics. This also includes keeping up with guest comments and online reviews so that responses are timely and the brand's reputation is safeguarded.
When the company was tasked with creating the social media presence for a new 878-room Orlando resort, Facebook, Twitter, Instagram and Pinterest channels were launched in April 2016. Between then and March 2017, Screen Pilot built a combined following of 2,400 followers, representing an increase of more than 4,000 per cent.
The entire social media campaign resulted in nearly four million organic impressions, more than 15,000 organic engagement and over 80,000 link clicks to the resort's website.
More impressive results that show how valuable an expert ally can be to amplifying your hotel's digital marketing efforts!
When choosing an agency to level up your hotel's digital marketing, be sure to find one that knows hospitality. It's worth paying for that specialization, as this expertise pays off. You'll spend less time training those unfamiliar with the business, and benefit from the learnings the team has from other clients. Prioritize agencies who are on the bleeding edge of hotel marketing tactics. These agencies will have enough experience to know the latest updates in search algorithms and tactics to steal share from OTAs but usually won't be so big that their work is cookie cutter - Screen Pilot fits right into this creative and trusted sweet spot.
Top Hotel Digital Marketing Agency Example - Screen Pilot
Much of Screen Pilot's core team comes from a background in hotels, resorts and restaurants. The relevant backgrounds meant that they not only talk the talk but also walk the walk. This expertise also means that hotels with limited budgets can find an ally: since the team is efficient and knowledgeable, there's less waste and more ability to help hotels of all sizes.
As this Assistant GM from Lakeport said in a review, it's all about finding a "personable" team that's "easy to work with" and "able to produce great results" -- even with a limited budget. That's exactly the type of ally you need when investing more thoughtfully in your hotel's digital marketing strategy!
In the competitive landscape that is the hotel business, partnering with a specialist digital marketing agency can prove a nimble approach. The right agency helps hotels formulate and execute the right digital strategy for a given property or brand. Acting as an extension of the hotel's in-house marketing team, a digital shop can help drive more direct bookings by bringing added levels of objectivity and expertise to the table as well as more progressive insights and advanced technology.
Denver-based Screen Pilot has been with working with hospitality companies of varying sizes for more than a decade. The company scores 4.8 of 5 by Hotel Tech Report users, with 97 percent recommending the business. Unsurprisingly with this level of overwhelmingly positive feedback, Screen Pilot also won Top Rated Digital Marketing Agency at the HotelTechAwards in both 2018 and 2019.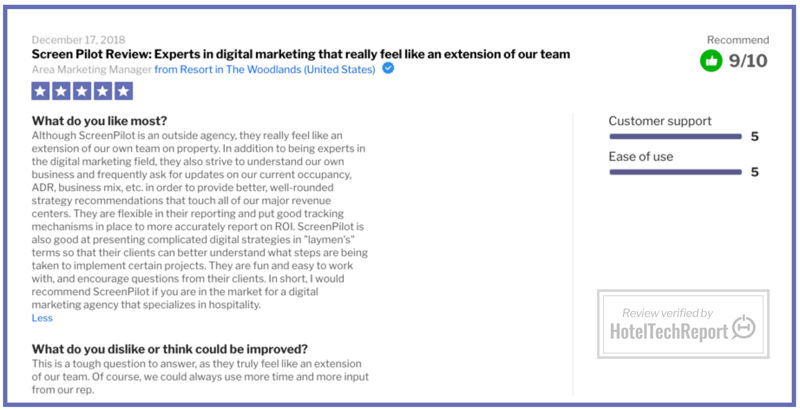 Read more Screen Pilot reviews like this one
While Screen Pilot implements strategies that are customized to the needs of a specific property or hotel group, each digital marketing program delivers measurable results. Following the first 45 days of work with San Jose's Hotel De Anza, total website transactions increased 13.8 percent and associated revenue jumped 11.2 percent. Extend out to 90 days, and website production resulted in increases of 97 percent in revenue, 113 percent in bookings and 116 percent in room nights. Impressive stats that dramatically improved profitability!
To achieve these outcomes, Screen Pilot employs a variety of digital marketing tactics such as search engine optimization, paid advertising, social media and metasearch management. The company excels at the core pillars of website design, content marketing, and social media marketing. For hoteliers considering when to elevate your digital marketing game, here are three signs you may benefit from some expert help.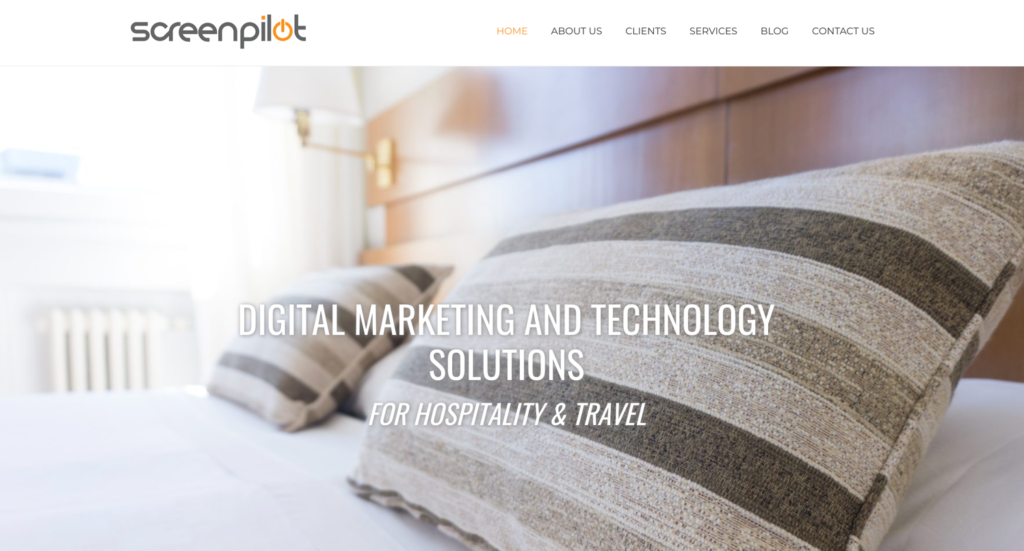 THE PITCH
RATINGS
BEST FOR
74
HT Score
Hotel Tech Score is a composite ranking comprising of key signals such as: user satisfaction, review quantity, review recency, and vendor submitted information to help buyers better understand their products.
Learn More
Screen Pilot is a distinguished collection of strategists and storytellers helping hotels and resorts reach new heights.

Screen Pilot
Digital Marketing Agencies
THE PITCH
RATINGS
74
HT Score
Screen Pilot is a distinguished collection of strategists and storytellers helping hotels and resorts reach new heights.
Learn More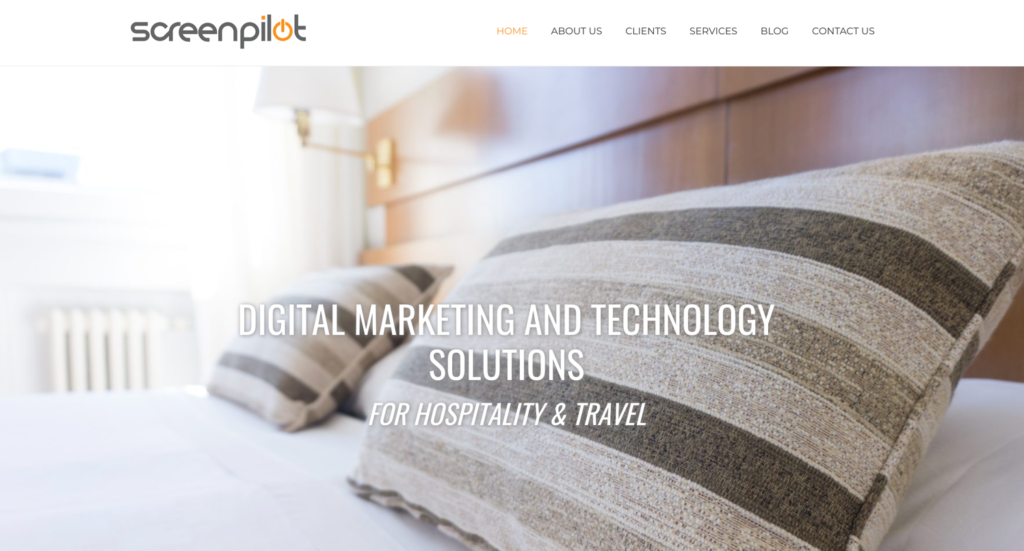 ×