How to Improve Your Hotel's Website Conversion Rate Using CRO
By Jordan Hollander
Last updated June 22, 2022
6 min read
Well done: your hotel's direct marketing plan is driving more traffic to your website than ever before. Your hard work has paid off and you should actually be very proud of building a healthy direct channel. But how are your website conversion rates?
The average hotel website conversion rate hovers around 1.5-2.5% meaning that for every 100 visitors, 1-2 users will convert into bookings.
Next-level hotel marketing mastery requires both demand generation skills and an ability to convert that demand into bookings. You can't just generate the demand at the top of the funnel via metasearch and other PPC advertising, or inbound marketing techniques like blogging and influencer marketing; you need to then convert as many of those prospects into customers as possible.
As you'll book more business with the same amount of spending, your increased capital efficiency falls directly to the bottom line. This means that conversion improvements have a direct impact on your hotel profitability. The best part is that there are affordable tools that have been purpose built to deliver constant improvement and optimization for hotel websites.  Booking engine vendors like Synxis are constantly running A/B tests across thousands of clients to ensure optimal conversion once lookers enter your booking funnel but first you'll need to get them there from your hotel website.
Ready to get started? Here's how to make conversion optimization a key part of your hotel marketing strategy.
The Science of Conversion Rate Optimization (CRO)
CRO stands for conversion rate optimization, and it refers to the process of improving the number of people that complete a desired action on your website or online channels. The most obvious examples are the conversion rates of your website's booking engine, or the number of lookers the turn into bookers. Conversions to revenue are obviously the most visible; you can also optimize conversions at any point throughout the funnel, such as on landing pages, proposals, newsletter sign-ups and third-party advertising.
CRO is actually a theory backed by science. There's a copyrighted formula created by researchers at MECLABS that explains why people "convert," or choose to take a specific action. Here's that formula:
C = 4m + 3v + 2(i-f) – 2a
To calculate C, the probability of conversion, you'll need five variables: the motivation of the user (m), the clarity of the value proposition (v), an incentive to take action (i), as well as the friction (f) and the anxiety (a) that prevents taking action. Notice that the most influential factors are the user's motivation and the clarity of the " what's in it for me" value proposition.  
Therefore, effective CRO starts with a clear and detailed understanding of your target users and their respective motivations. Those motivations should then influence the words, visuals, and overall user experience so that the experience speaks directly to those motivations. You want to make sure that each aspect of the experience is primed for conversion, from the headline all the way down to the color of the "Book Now" button. That's the theory behind conversion optimization --  but what impact will it have on your hotel's marketing efforts?
Why Focusing on Conversion Rate is Important
As you refine your conversion rate optimization skills, you'll see four major benefits:
Improved customer insight. A focus on CRO  requires you to have a deeper understanding of your customers. This is extraordinarily valuable, as it can affect all parts of your business. With successful customer insights driven your CRO strategy, you'll increase the value of each interaction. This makes CRO the linchpin for your marketing strategy, says SEO expert and founder of Moz Rand Fishkin: "CRO is simply a must-have. CRO is the most important marketing activity because it makes every visitor exponentially more valuable."
Better ROI. CRO is the ultimate direct booking tool for hotels. Consistently improving your conversion rates means that you will always be getting more out of your marketing spend. And, since CRO can happen at different stages and at different points in your customer experience, many small improvements magnify.  That's due to the power of compounding: a 5% increase inJust a couple of places in your marketing funnel will lead to greater possibility than just a single Improvement.
Here's a quick example with simple numbers: a hotel has a 10% conversion rate of website traffic to newsletter subscribers and a 5% conversion rate of newsletter subscribers to bookings. So 1000 website visitors equals 100 subscribers and thus 5 bookings.
Doubling both conversion rates would mean 200 subscribers for every 1000 website visitors, resulting in 20 bookings for every 1000 visitors. That's quadruple the original number, and double what it would be if only one conversion rate increased. As you improve conversions across your business, the effects can be exponential! 
Better user experience. CRO also just isn't about making more money. Stronger conversions usually made the customers are finding the information they need when they need it. This creates a better customer experience and expands your property's guest-centric mindset onto your digital experience as well.
Enhanced trust. As long as you aren't exaggerating or flat-out lying to get people to click on an advertisement or some how to see if people on your website, CRO enhances trust.  It shows your potential customers that you are aware of their motivations and are speaking directly to them. about type of connection resonates deeply with guests and creates the perception that you "get" them.
Popular Conversion Rate Software Tools
A proper conversion rate optimization strategy requires a robust suite of tools that enables experimentation, including proper testing of each variable, analysis of the most effective variations, and then automatically delivering the most suitable options. For a quick comparison,  let's look at Optimizely vs. Triptease.
One of the CRO leaders is Optimizely. The popular software brings A/B testing to all of your digital channels. The platform allows you to create a variety of digital experiences, each with variations  After serving up the options to a statistically significant number of users, it analyzes the results and automatically updates accordingly. Optimizely pricing reflects its expanded functionality and can be too unwieldy for hotel marketers.
For software that's hotel-specific, look at HotelTechReport's direct booking tools category. These tools are significantly lower cost than Optimizely and are even more effective at optimizing your hotel website and digital marketing in real-time without needing dedicated developers or engineers. In addition to its optimization tools, the company has invested in customer support to help hotels realize the full potential of the software. This is especially useful for CRO, which requires a blend of creativity and analysis to succeed; customer support is immensely beneficial.
Head-to-head: Optimizely vs Hotelchamp
So which vendor would win in a Head-to-Head battle? Optimizely is a wonderful tool for massive ecommerce firms and software companies; however, it's expensive, complex and requires engineering to fully maximize the software's value.  Further, Optimizely does not connect with booking engines or other hotel data sources.  HTR recommends using a direct booking platform like Hotelchamp that is purpose built for the hotel use case and is fully integrated with key systems like booking engines and website CMS.  In fact, Hotelchamp has developed their own website builder with a native optimization functionality.
Pricing: Optimizely pricing is less competitive than Hotelchamp, which has a monthly subscription tiered by room count. As an industry-focused vendor like Synxis is also incentivized to reinvest revenues into new and improved solutions for its hotel customers.
Features: Booking engines are purpose-built for hotels with custom features that simplify CRO and give hotels exactly what they need without extra functionality to wade through. 
Time investment: Working with a top booking engine provider, they will do all the CRO work for you in the checkout flow so you can focus on your hotel website and using DIY tools like Hotelchamp that integrate with modern booking engines.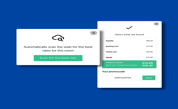 THE PITCH
RATINGS
BEST FOR
86
HT Score
Hotel Tech Score is a composite ranking comprising of key signals such as: user satisfaction, review quantity, review recency, and vendor submitted information to help buyers better understand their products.
Learn More
Tailor your hotel website to your guests. Show them why they should book with you and convert them on your direct channel. Designed for ease of use while giving you in-depth customisation and personalisation options.

Hotelchamp Convert
Direct Booking Tools
THE PITCH
RATINGS
86
HT Score
Tailor your hotel website to your guests. Show them why they should book with you and convert them on your direct channel. Designed for ease of use while giving you in-depth customisation and personalisation options.
Learn More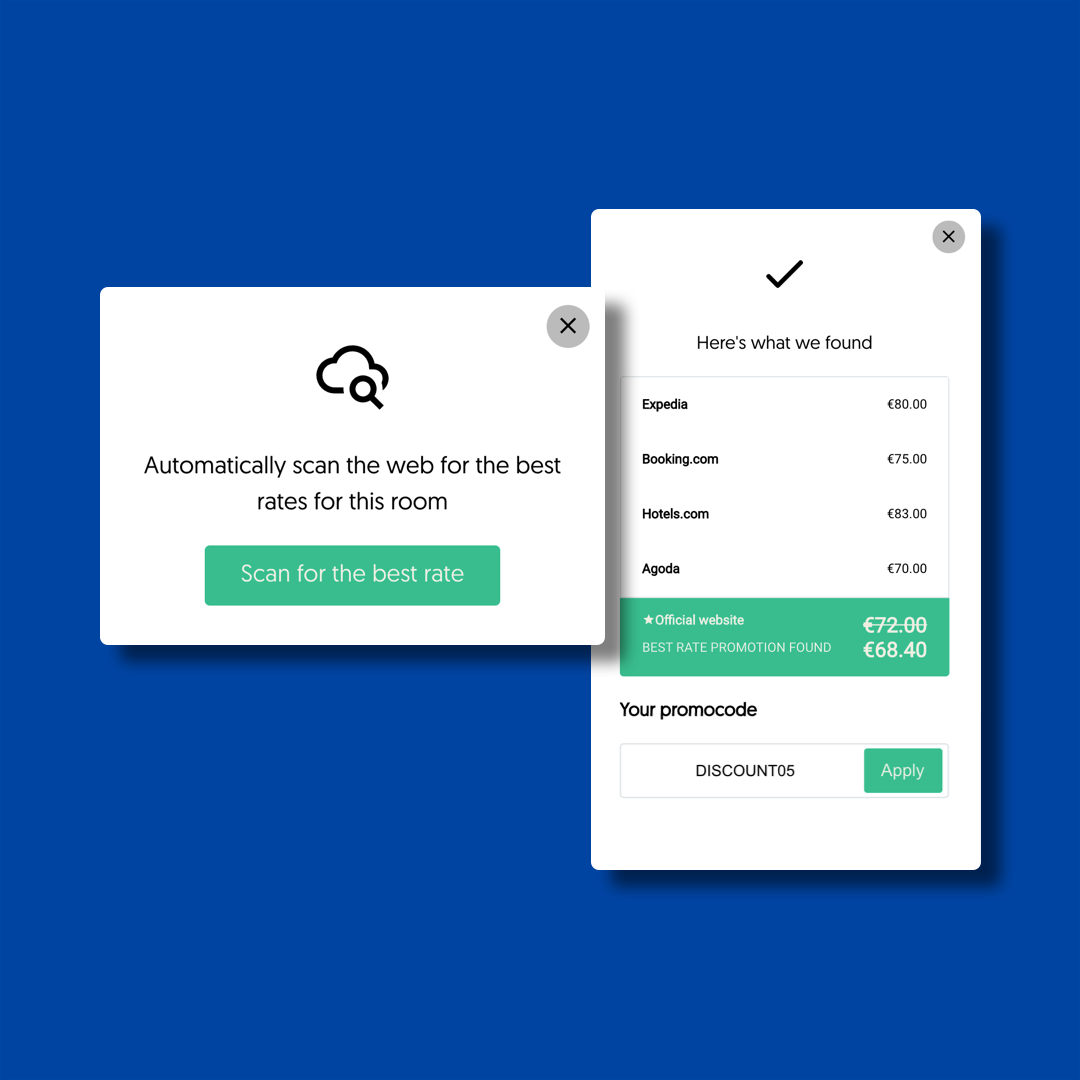 ×
Top Tips For Mastering Your Website's Conversion Rate
Experimentation drives successful CRO. After you choose which metrics you want to influence, try many experiments, analyze the data, and then use those learnings to repeat the process again. It's only when you do all three steps that you're able to fully optimize.
As you start to develop your conversion rate optimization mindset, consider these top tips for mastering CRO.
Get your analytics correct. If your hotel website doesn't have analytics set up, start there. Then, you'll want to create specific goals for each action that you want to optimize, preferably with a direct link to booking value so you can track revenue impact. From there, you can start testing specific points and the user experience and optimize methodically. Without analytics, there's no way to know what works!
Start with highest impact pages. These are the pages that align directly with your goals. For most hotels, this means optimizing the booking engine to convert more organic and paid traffic. You may also consider building different landing pages for paid campaigns, so that the copy and visuals speak directly to the segment's targeted in the advertising. Compared to incremental improvements (such as testing button colors), these will have outsized impact compared to the time invested. 
Experiment at the end of the funnel. Even though revenue goals are the most visible, optimizing at the top of the funnel can be quite overwhelming to start.  Consider moving all the way to the bottom of the funnel and optimizing backwards. These will be smaller numbers that show the impact directly.  Then, as you feel comfortable with the optimization strategy, start moving up the funnel.
Finally, test your assumptions. CRO can be a humbling process. Don't let your fundamental assumptions get in the way of success! Brainstorm ideas of things to test by putting yourself in the shoes of the person consuming the content and try to give them what they need at that specific point in time. Let them show you what works for them. As you experiment with different experiences for certain segments, expand your personalization to adjust for channel, timing, and device. 
Don't forget reviews: TripAdvisor, OTAs. These reviews can prime travelers' mindset prior to clicking through to your website. If they have read enough good reviews, they will have more motivated once they click through. If there aren't as many recent or positive reviews, you'll have to overcome that lingering skepticism to convert them to a guest.
Where To Learn More About CRO?
Conversion rates matter immensely to your hotel's bottom line profitability.  As you start to learn and expand your own knowledge, check out these handy articles as resources for further learning.