The 8 Best Hotel News Sites to Get Your Daily Fix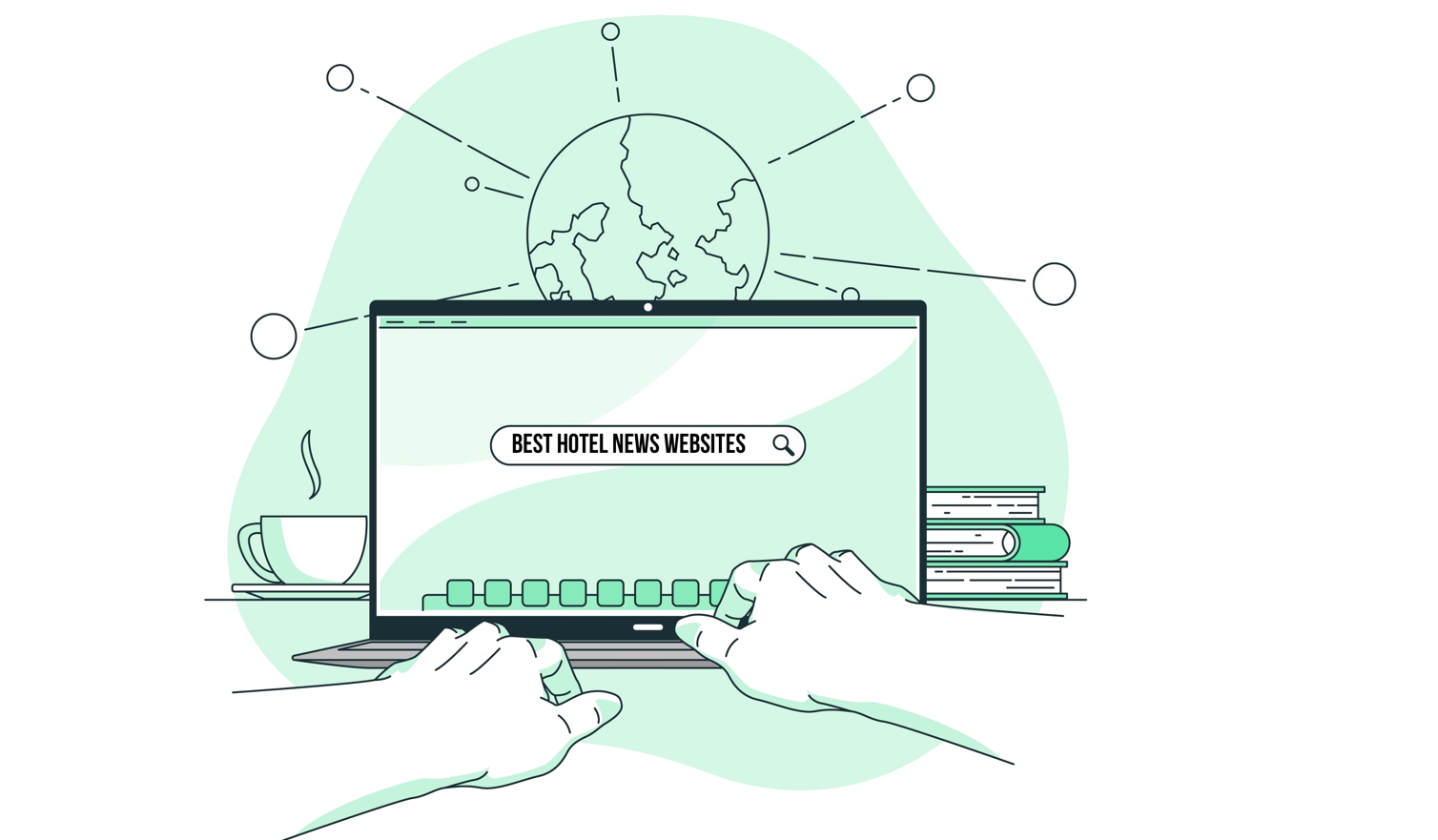 There are only so many hours in a day, so when it comes to staying on top of the latest hospitality industry news and trends, you don't want to waste time. Quality matters. You want to invest your time in news sources with the deepest domain expertise, those that give you timely news as well as deep-dive analysis to keep you informed and prepared.
To help you be most efficient with your media consumption budget, we decided to rank the top hotel new sites. What makes a great hotel news site? First and foremost is industry expertise. You want coverage that's incisive and poignant, getting right to the heart of the matter with a firm grasp on the broader industry trends. You also want clear writing that demonstrates how a topic impacts the industry. Ideally, you also want good storytellers, who can make dry business topics more interesting.
To rank the best hotel news sites, we used the following parameters: editorial quality, domain expertise, publication frequency, quality of the website experience and its Alexa ranking. We also looked primarily at outlets with a significant online presence serving mostly English-speaking audiences.
No doubt this post will be controversial! Of course, these are subjective rankings which do favor larger publications with bigger budgets to deliver quality news and analysis reliably. Even so, these are all reliable sources for your daily hotel news fix. As an industry, we're lucky to have such a broad array of quality resources to help guide us on our professional journeys.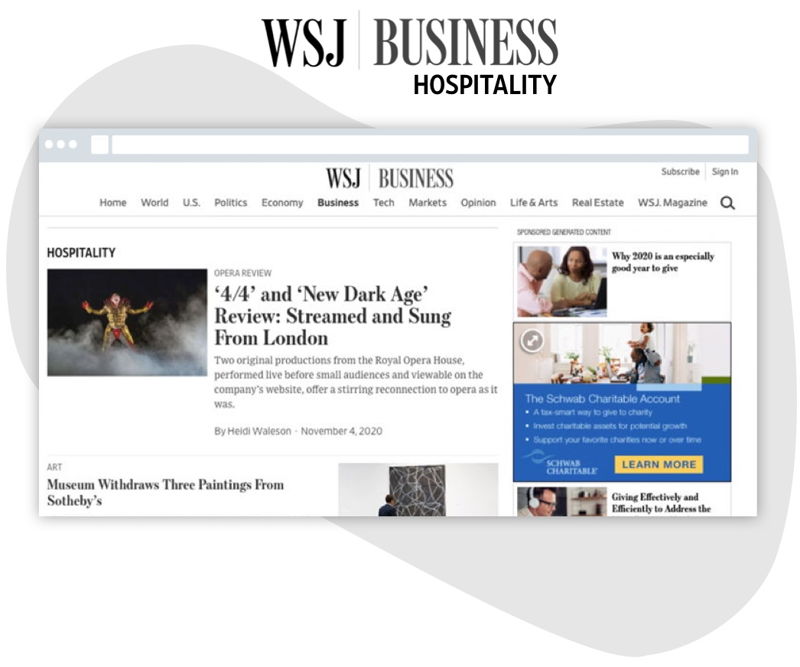 #1: Wall Street Journal
WSJ's covers the business of hospitality through a different lens than the traditional hospitality trade publications. Since the WSJ's audience is broader, and often global, the coverage here often weaves together a variety of angles that aren't always seen elsewhere. That's primarily because its hospitality section includes stories from other parts of the paper, such as Business, Property Report, Real Estate and Homes. So you get a broad perspective on news that's not entirely hospitality but nonetheless relevant.
Editorial quality: 5/5. WSJ journalists are unparalleled in their depth and breadth around all things business -- especially as news relates to the global business ecosystem.
Domain expertise: 4/5. There's no fully dedicated hotels reporter, so the coverage tends to be broader in nature and less industry-centric.
Publication frequency: 5/5. The WSJ's global staff covers breaking news and in-depth pieces in equal measure, providing a real-time firehose of the latest.
Website experience quality: 3/5. Paywalls help maintain the quality and reliability of the content. But they do prevent access for casual readers, so we dinged them one point for that. And another point because the desktop experience can get a bit cluttered (much better on mobile).
Traffic Ranking: #129 in the U.S: 5/5. Note: Obviously this is hard to beat, given the global size and reputation of this publication.
TOTAL SCORE: 22/25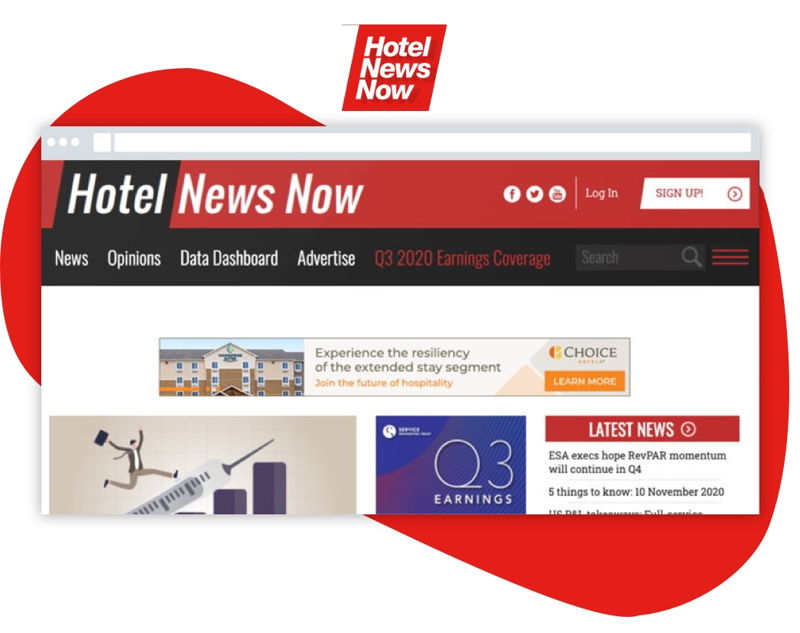 HotelNewsNow
As the editorial arm of data analytics firm STR, HotelNewsNow benefits from its parent company's extensive data and industry expertise. The site is simple and straightforward, with content bucketed into three categories: News, Opinion and Data. There's usually a fourth callout in the navigation bar that highlights a special section, such as earnings roundups or event coverage. For industry watchers, this is a go-to resource that provides news and analysis cleanly and concisely.
Editorial quality: 4/5. The ability to pull from the experts (and data) at STR gives the outlet a leg up over others when it comes to hotel news and analysis. It creates a data-first vibe that sets HNN apart.
Domain expertise: 5/5. In addition to the well-versed editorial staff, there's also a solid stable of guest contributors that are often more substantive than fluff.
Publication frequency: 4/5. The website is refreshed several times per day across its three main sections.
Website experience quality: 5/5. The card-based format is a design best practice that follows through well on mobile. The images make it easy on the eyes and the prominent real estate for the Data Dashboard puts HNN's value proposition front and center. The site is also easy to search, which wins it top marks.
Traffic Ranking: #59,130 in the U.S. 4/5.
TOTAL SCORE: 22/25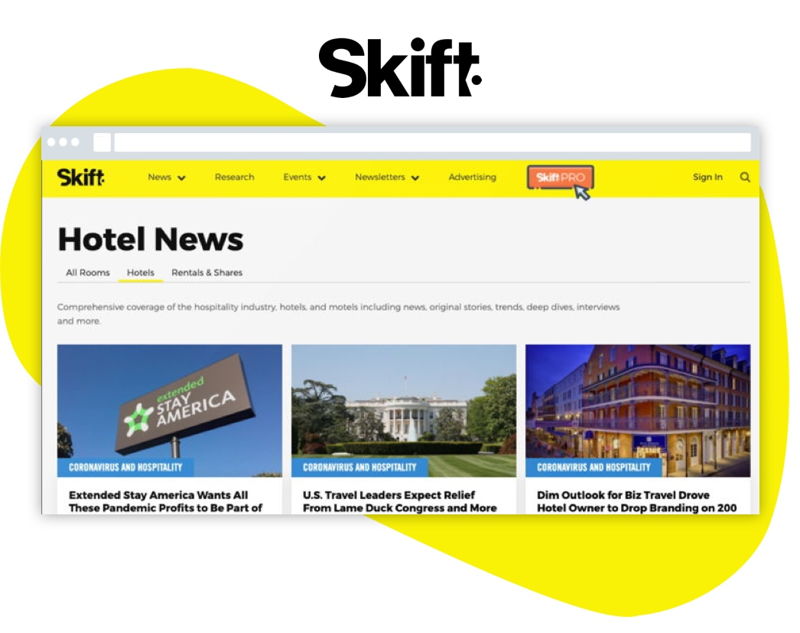 Skift
With recent acquisitions in aviation and events, Skift has become a well-rounded resource across many industry segments. Its coverage is often more ambitious in scope, although it has moved to a tiered paywall during the pandemic. Its hotel coverage is typically a blend of well-reported deep dives and higher-level newsy stories.
Editorial quality: 5/5. The scope of coverage encompasses all aspects of the industry and how everything relates to each other. With reports, newsletters and podcasts, there's a lot of context for what's happening not just in hotels but travel.
Domain expertise: 4/5. Alongside a dedicated hospitality reporter, the publication maintains a deep bench of qualified journalists who are experts in their coverage beats.
Publication frequency: 4/5. Given the focus more on more extensively-reported coverage than other more B2B industry publications, content is published less frequently than the rapid-fire cadence elsewhere. That's also due to the single reporter (rather than a full team covering just hotels).
Website experience quality: 4/5. The website is more modern than most and maintains that experience via mobile as well.
Traffic Ranking: #9,303 in the U.S. 5/5. Skift's traffic reflects its growing stable of brands; it's one of the most-visited sites covering the business of travel.
TOTAL SCORE: 21/25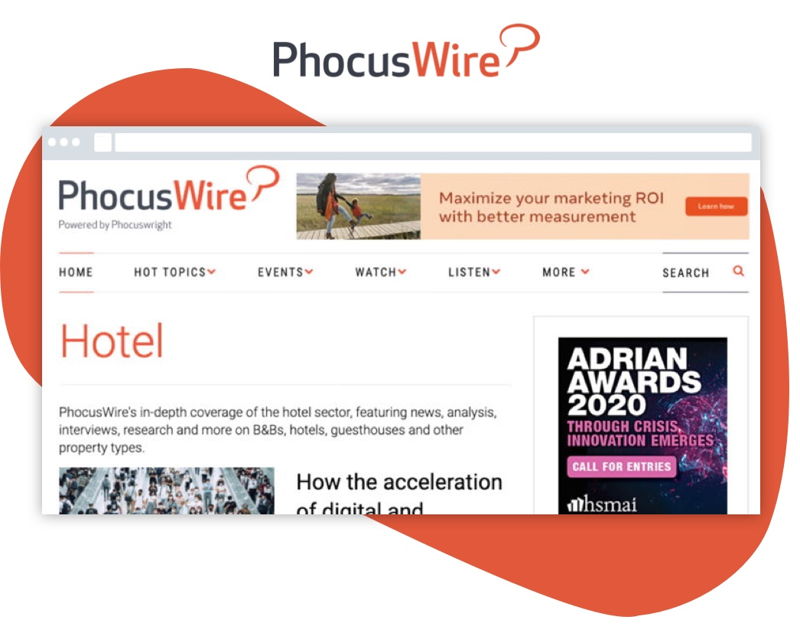 Phocuswire
Phocuswire is the travel technology arm of Phocuswright. The hotel coverage focuses on the impact and application of technology in the industry. There's also extensive coverage of startups and other emerging trends, and, thanks to Phocuswright's network of travel media brands, the coverage has a strong global focus.
Editorial quality: 4/5. Phocuswire's editorial team is well-versed in travel technology and has a broad foundation to build on. The stories range from the deeply-reported to topical quick hits. Videos and podcasts augment written coverage to provide a variety of perspectives.
Domain expertise: 4/5. The focus on the technology side of the business sets it apart. And, although some contributed perspectives aren't as good as others, Phocuswire's acceptance of external opinions broadens its diversity of perspectives.
Publication frequency: 5/5. Frequent updates keep things fresh and relevant.
Website experience quality: 4/5. The website is relatively clear, although there is a lot of information to process within the several sliders. It can sometimes be hard to know where to click first. On mobile, the content is easy-to-scroll and generally avoids invasive ads that plague other outlets.
Traffic Ranking: #25,654 in the U.S: 4/5
TOTAL SCORE: 21/25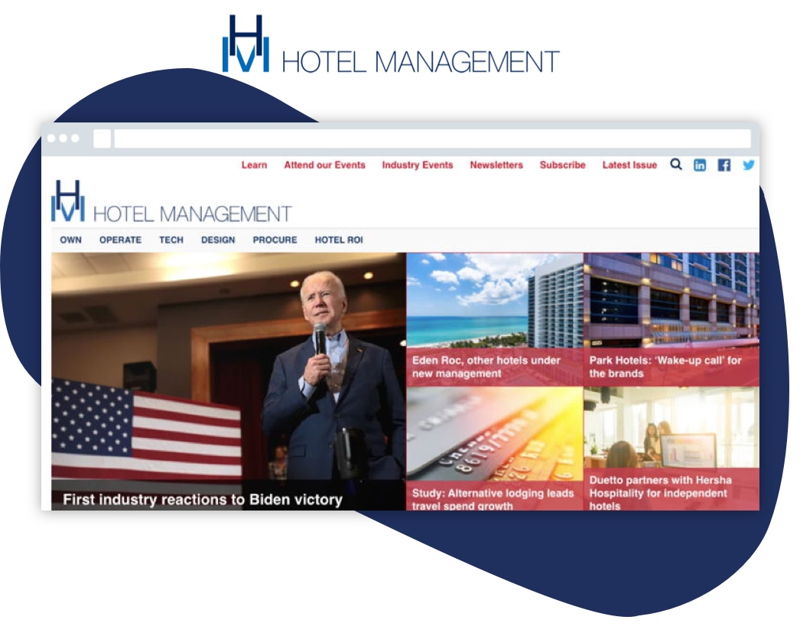 Hotel Management
Hotel Management is part of the global B2B trade company Questex. It focuses on all aspects of the business, including financing, operations, procurement, hotel technology and financial performance. Overall, it's a solid choice for staying on top of the latest hotel news, as well as recent surveys and reports around hotel industry trends.
Editorial quality: 4/5. The stories are definitely more vendor-focused and are more quick-hit updates rather than thematic deep dives.
Domain expertise: 4/5. The editorial team has a long history of covering the hotel industry and use that knowledge to inform their coverage.
Publication frequency: 5/5. Frequent updates on the website and also a monthly digital magazine.
Website experience quality: 4/5. The website is minimalist, focusing on the content with a reasonable amount of ads. This experience mostly follows through on mobile, although ads take up too much space at the top of the smaller screen, pushing content down below the fold. That's less of an issue on larger screens.
Traffic Ranking: 2/5. #65,490 in the U.S.
TOTAL SCORE: 20/25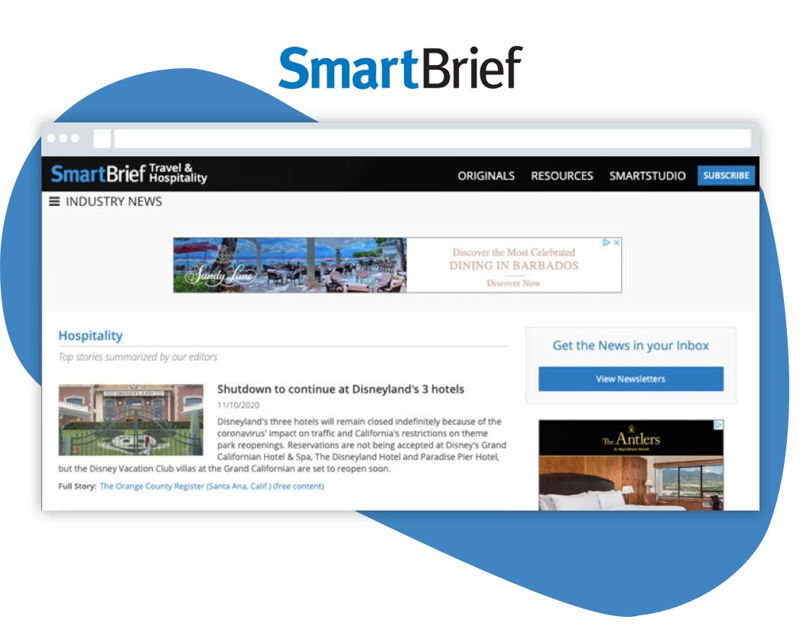 SmartBrief
The Hospitality SmartBrief is an easy and convenient way to stay on top of the latest news and analysis. Each day's new stories are curated and summarized by the editors, which then publish the stories on the website and in an email newsletter. There are also separate newsletters for spa professionals, travel professionals and those in gaming. It's part of a massive 275+ industry coverage map, so they've got this format down.
Editorial quality: 3/5 The editorial curation is superb. It's an efficient way to stay in the loop. But since SmartBrief doesn't create any of its own content, the score is a bit lower in comparison to others. We wanted to be fair given the costs of supporting the editorial quality of the other ranked publications.
Domain expertise: 4/5 The editors do a great job summarizing each news story in a way that surfaces the most important and relevant aspects for their audience of hospitality professionals.
Publication frequency: 4/5 The newsletter goes out daily. Other outlets publish several times per day though, a frequency that gives you more real-time information.
Website experience quality: 4/5 Simple and straightforward, it's less cluttered than others on this list.
Traffic Ranking: #4,587 in the U.S: 4/5 Note: This doesn't tell the whole story, as it includes all industry segments and doesn't reflect the newsletter subscribers.
TOTAL SCORE: 19/25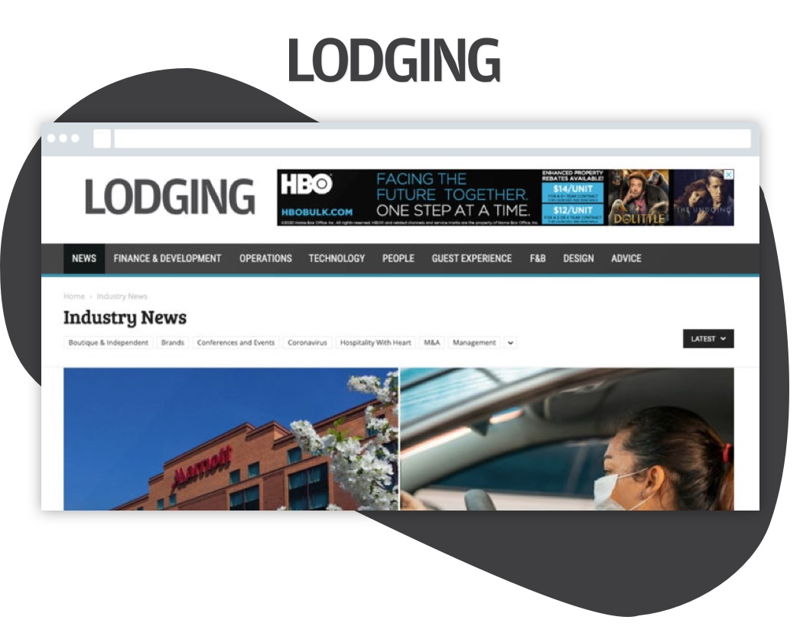 Lodging Magazine
Lodging Magazine is a publication of the AHLA. Its online component features content across a broad array of categories, from finance, guest experience and operations to technology, people and design. There aren't many other publications that cover so many topics with a frequency and quality as this one.
Editorial quality: 4/5 This is a comprehensive resource for all aspects of the hotel business. It's specifically geared towards the hotel professional and not just the vendors serving the industry. Yet, it's heavier on the vendor content so we took off a point.
Domain expertise: 4/5 As the official publication of AHLA, it can lean on all kinds of experts across the industry, as well as others serving the industry. This makes it very authoritative in its field.
Publication frequency: 5/5 There's a lot of content covering many different topics, updated many times a day, and across other mediums, such as podcasts, videos and the namesake magazine.
Website experience quality: 3/5 We know revenue is important but the repetitive advertorial pop-ups can be excessive when browsing across multiple articles in a single session. There are just too many ads!
Traffic Ranking: #151,057 in the U.S: 2/5
TOTAL SCORE: 18/25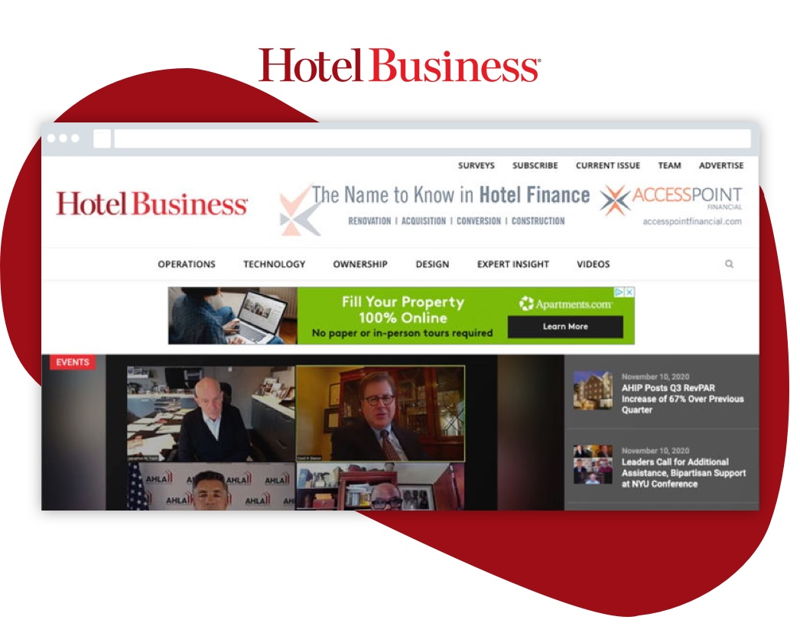 Hotel Business
Hotel Business is another source for hotel owners, investors and operators to find industry-heavy news and insights. Similar to other sites like Lodging and HotelManagement that monetize their content through vendor updates, there's quite a bit of supplier content and high-level industry updates.
Editorial quality: 4/5 There's a good breadth of coverage of news topics, including people moves and supplier features/updates, as well as sharing snippets of relevant business updates and demand data. Longer form articles are reserved for the magazine and then republished.
Domain expertise: 4/5 The team has been working in travel for decades and has a solid understanding of industry fundamentals and how the news impacts the industry moving forward.
Publication frequency: 4/5 Daily updates, plus a regular magazine (with digital edition) and a strong slate of videos.
Website experience quality: 2/5 The website is dated and there are too many ads (a problem for all sites relying on vendor dollars). This makes it cluttered - and that extends to mobile. There's just too much vying for our attention.
Traffic Ranking: #33,041 in the U.S: 4/5
TOTAL SCORE: 18/25
TopHotel.news
TOPHOTELNEWS is a hotel news site that focuses primarily on updates from new hotel projects and chain hotels around the world. The editorial mandate also extends to featuring expert perspectives from hotel owners and operators worldwide. It's a bit more narrow in scope than other hotel news sources yet it's much more design-forward as far as its coverage.
Editorial quality: 2/5 Editorial content is short and mostly newsy (less analysis). Much of the content is supplier news, vendor perspectives and people updates. These are useful signposts for any hotel professional but doesn't quite match the editorial quality of other publications listed here.
Domain expertise: 4/5 TOPHOTELNEWS specializes in hotel development and really shines through when it comes to its content around new hotel openings, design trends and updates on hotel development pipelines.
Publication frequency: 4/5 The content is refreshed frequently, around a few times per day.
Website experience quality: 3/5 On desktop, the auto sliders are distracting and somewhat busy, although the prominent use of images is refreshing. On mobile, the experience could be a bit more focused on speed and putting more information easily accessible without having to click around so much.
Traffic Ranking: #516,698 in the U.S: 1/5 Traffic is much lower than others but this is also serving a specific niche of those in hotel design and development.
TOTAL SCORE: 14/25
--
In addition to these websites you'll also want to make sure you follow your local hotel news channels such as the San Francisco Hotel Counsel or Las Vegas Tourism Bureau or local real estate publications. You'll also want to keep a pulse on the press sections of major chain websites like Hilton, Hyatt, Choice Hotels, IHG, Wyndham and Marriott. It can often be helpful to follow other travel industry websites as areas like flights and meetings may be leading indicators for hotels. Hoteliers can feel very isolated on property so it's important to stay in the know.
COVID-19 has thrust our industry into a new normal and it's more important than ever to stay on top of trending topics that affect reopening and success strategies working in other markets or adjacent verticals. Knowledge is power and staying on top of the latest developments can have a huge impact on how your hotel handles the coronavirus crisis and other rapidly evolving market dynamics such as occupancy and RevPAR trends or even inbound tourism from markets like the Middle East, Asia, and Latin America that impact your United States business.