The 10 Most Important Hotel Tech Stories From Last Year
By Jordan Hollander
Last updated January 26, 2022
12 min read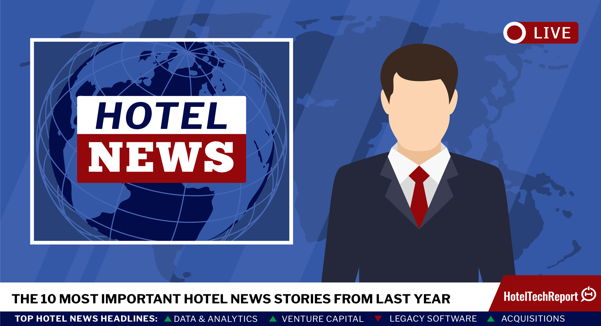 2019 was a big year for hotel news and the hospitality industry as a whole. From OYO's aggressive global expansion to Google's full-fledged hotel search product, there were some significant stories unfolding around the world. 
Given the recent coronavirus scare originating from China, it can be hard to remember that while times like these are extremely painful for our industry - they are still temporary.   The impact of covid-19 on hotel groups, airlines and cruises around the world has been devastating as evidenced by the hotel stock index falling more than 30% in the last 30 days kept by hotel data analytics firm STR.
During the media frenzy around the virus, we wanted to take a step back and reflect on the biggest news stories of last year which we believe will have a long term impact on our industry.
To put these developments into perspective, we've combed through the archives and picked out what we think are the most impactful hotel news stories of last year. To make the cut, we looked for stories that resonated far beyond the news itself. Stories that reflected trends, revealed truths, and highlighted evolving dynamics and the industry's trajectory in the years ahead covered on the top hotel news sites.
So what do these top stories mean for you? Read on to find out what makes each story important, why you should care, and understand the long term implications for the hotel industry. In no particular order, here are the top 10 biggest hotel news stories of 2019. We'll be watching throughout the year to see how these stories set the scene for this year's wave of major hotel news stories.
#1: Google Puts (More) Pressure on TripAdvisor and the OTAs
In 2019, Google's full ambitions came into focus: the company released its full-featured hotel search product, Google Hotel Search. This was huge news because it was an entirely new metasearch channel for hotels to leverage. It also put competitive pressure on the major OTAs. Then, later in the year, Google then put all of its travel products into a single interface, further challenging the OTAs' core brand proposition as a "one stop shop" for all things travel. And it's working: Google Hotels and Flights had 674 million visits in 2019 compared with Expedia's 360 million, Booking's 333 million and Tripadvisor's 207 million.
What makes this such a big story? Google is the dominant global search engine. As a monopoly, it exerts immense leverage over the attention of millions of consumers. The fact that it's going head-to-head with its major advertisers in travel means puts it in direct conflict with not just those advertisers but also with regulators investigating Google's monopoly on search.

What is the overarching trend behind the story? Disintermediation can come from anywhere -- and there's no such thing as a static digital marketing channel. Frenemies are a standard facet in the travel industry, but what happens when a frenemy simply becomes an enemy?  

Why should every hotelier care about this? Existential threats to the OTAs is a good thing for hoteliers. It puts competitive pressure on the duopoly to provide better terms, improve their products, and generally be more responsive to hoteliers' needs. 

What are the implications for the hotel market? This is a fundamental reshuffling of the competitive core of the hotel industry. Hotels now have another marketing channel to leverage and that means that there's a new way to engage consumers and potentially reduce reliance on commision-based intermediaries. However, there's also the chance that Google's dominant position will simply add another formidable force to the equation. As that translates into bookings, Google will exert (even) more power over the industry and raise rates for Hotel Ads. 
#2: SiteMinder Became a Hotel Tech Unicorn
At the tail end of 2019, rumors began that Siteminder's latest round would value it at AUD $1.1 billion. The AUD 100 million round, which closed in early January of this year, indeed pushed the company into unicorn territory -- a rare feat in travel tech, where there are around 34 unicorns out of a global total of 400, per CB Insights. This milestone was reached amidst the backdrop of record-breaking levels of Investments and travel and Hospitality startups: USD 5.7 billion in 2018 and over USD 6 billion in 2019.
What makes this such a big story? Unicorn status confers momentum, legitimacy and a sense of inevitability on a startup. Yet there really aren't that many travel tech unicorns (let alone hotel tech); it's a tough industry to break into and get to sufficient scale, so the fact that SiteMinder got there is a story in and of itself.  Hotels are about 10 years behind but we are entering the era of SaaS and APIs - we anticipate a slew of new hotel tech unicorns to follow.

What is the overarching trend behind the story? Hospitality technology is increasingly seen as a promising sector by investors, who like the margins and resilience of a B2B play. In 2019, hotels also planned to increase their own technology budgets by 54%, with only 8% decreasing. With a growing market, well-funded startups like SiteMinder, with both traction and a global operations, are ideally positioned to thrive.

Why should every hotelier care about what's happening here? As more funds flow to the sector, hotels can expect greater innovation, better pricing, and more choice from their vendors. When companies reach unicorn status, hotels must also learn to shift their thinking and stay up to date with the latest tech.

What are the implications for the hotel market? Higher valuations entice new entrants. And more competition is always a good thing for an industry that often sees competitiveness threatened as power is consolidated into fewer and fewer hands. Another thing: as more technology innovations become available, hotels of all sizes will feel greater pressure to adopt technology to compete effectively.
#3: CoStar Acquired STR
STR has long enjoyed its central status among hoteliers worldwide. Its STR reports (known as star reports) have been benchmarking industry trends for decades. Its companion news site, Hotel News Now, is also a prominent industry resource. This well-groomed reputation led it to be acquired for a whopping USD 450 million in cash by CoStar Group, a real estate data and analytics firm.
What makes this such a big story? It's not often that a major industry resource,  used globally by nearly every hotel, changes hands.  

What is the overarching trend behind the story? The multiple was a big part of the story: STR earned USD 16 million of profit from USD 64 million in revenue in 2019. With a purchase price of USD 450 million, that's a significant multiple on earnings. There's clearly extraordinary value of hospitality data and analytics --  especially in an environment where the next biggest competitor has a single digit share of the market.

Why should every hotelier care about what's happening here? This tie-up could be especially helpful for hoteliers looking to understand the dynamics of hospitality real estate within the context of other retail and office buildings within a market. These insights could reshape how STR products are used by hotels. STR will also be better positioned in Asia, where its saturation is only one-fifth of that in the U.S.

What are the implications for the hotel market? There was the typical hand-wringing and fretting over the impact of the acquisition. While it's too soon to tell what this means for the hotel market, it's hard to imagine that the new owners would quash something so integral to the industry. And it seems like a good fit, as the two brands clearly align on providing actionable data to specific industry segments.
#4: Aimbridge and Interstate Hospitality Merged
Aimbridge, North America's largest independent hotel management firm, merged with and Interstate Hotels & Resorts, an independent multinational hotel operator. Together, the new entity became a global force in third-party hotel management services, with a combined portfolio of over 1,400 branded and independent properties in 49 U.S. states and 20 countries worldwide.
What makes this such a big story? Mergers like this don't come around every day: The deal formed a major global contender in the hotel management space, which employs 60,000 people worldwide. 

What is the overarching trend behind the story? The Aimbridge and Interstate Hospitality tie-up was the the first of two big mergers of the year, both of which created major new players In their respective segments. It's another example of rising pressures on firms to maintain competitiveness through consolidation. 

Why should every hotelier care about what's happening here? Any time two medium-sized players combine to create a much larger competitor, it changes the dynamics. Other hotel operators must pay attention to see how the combined entity manages to deliver benefits from its newly scaled and global platform, as well as how the larger team competes more effectively for business in both existing and new markets. 

What are the implications for the hotel market? The larger hotel operator can  leverage its size to attract even better talent, provide more services, and deliver more value to hotel owners. At the very least, it's another option for asset owners  looking for an operator with global scope.
#5: Eldorado Merged with Caesars
In one of the biggest hospitality deals in recent memory, Eldorado merged with Caesars. In fact, it was Eldorado Resorts that bought Caesars Entertainment, which had been struggling under a mountain of debt. Another notable element of this deal was that it was backed by activist investor Carl Icahn, who is known for shaking up underperforming businesses.
What makes this such a big story? The USD 8.6 billion price tag (plus nearly USD 9 billion in debt) certainly got the world's attention! And the merger also created the largest owner and operator of gaming assets in the United States, which is a major re-centering of industry dynamics. Icahn called this deal "transformational.

What is the overarching trend behind the story? A key trend at play is private equity,  which bought Caesars in a leveraged buyout in 2008 and left it with that mountain of debt that pushed it towards consolidation as a strategic move to maintain competitiveness. Since the newly-enlarged entity can leverage greater strategic, financial, and operational advantages, the economies of scale favor larger operators and encourage further consolidation. The cycle continues! 

Why should every hotelier care about what's happening here? Any hotel that has exposure to markets in which Caesars and Eldorado compete will face stiffer competition from the larger entity. And since the combined company has 60 casino-resorts across 16 states, the impact will be felt far and wide.

What are the implications for the hotel market? As gaming companies become gaming, hospitality, and entertainment conglomerates, it  reshapes expectations from several stakeholders: hotel guests, loyal gamers, investors, and employees all have different perceptions of these larger entities. 
#6: IHG Acquired Six Senses
In early 2019, IHG further expanded its footprint in the luxury segment by acquiring Six Senses for $300 million in cash. The move came on the heels of a 51% majority stake in Regent International, and follows the major Kimpton acquisition back in 2015. This further consolidates IHG's perception as a luxury brand focused on wellness, health and sustainability.
What makes this such a big story? Since acquiring Kimpton IHG has undergone a total luxury makeover. It's successfully acquired its way to becoming one of the top luxury portfolios with properties focused on different subsets of high-end travelers. 

What is the overarching trend behind the story? There are three trends at play here: continued consolidation of brands under IHG, Marriott and Hilton; the expansive impact of private equity in buying and flipping businesses; and the increasing focus on the luxury traveler. 

Why should every hotelier care about what's happening here? Of those three trends above, the growing focus on the high-end of the market.  For years the global economy has experienced what we call a "band stretch" where ultra luxury like Six Senses and ultra economy like OYO (more on that below) have both experienced massive growth but undifferentiated and generic products that deliver questionable value in the middle get squeezed out of existence.  This will continue to put pressure on both independent and branded economy/midscale properties (especially because of their rapid expansion in the last two decades and what we at Hotel Tech Report believe is a massive oversupply).

What are the implications for the hotel market? The USD 60 billion dollar luxury market is alive and well! Hospitality brands that served that segment have proven to be very popular with the developers, investors and asset owners. Landing management contracts thus requires brands that appeal to these investors and most see luxury brands as great investments.
#7: The Rise and Fall of OYO Rooms
OYO's bold global ambitions, coupled with a 20-something founder, was an irresistible story for both mainstream media, hospitality trades, and conference organizers. Yet, amidst this massive global expansion, OYO reported a $355 million loss in 2019 -- more than six times its $52 million loss in 2018. The media began correlating the ballooning losses at the Vision Fund-backed company with the implosion of WeWork, another Vision Fund investment.
What makes this such a big story? OYO's $10 billion valuation puts it in the big leagues, valued at double Wyndham Hotel's market capitalization. The sheer scale, scope, and level of investment makes this a major storyline industry-wide and with mainstream media.

What is the overarching trend behind the story? OYO appears to be another example of a "disruptive" startup coming into a "legacy" industry and facing a wall of challenges that threaten its very existence. These challenges include self-inflicted wounds resulting from a superficial understanding of industry dynamics and hyper-growth over proper fundamentals.

Why should every hotelier care about what's happening here? It's a juicy story! Beyond that drama, OYO now handles 43,000 hotel rooms worldwide. They're a global contender that can reshape local markets wherever they enter.  For example, by empowering independent hotels with modern design and technology, they become more competitive against other local properties. But beware: not all owners are happy with OYO's business practices.

What are the implications for the hotel market? OYO's business model is noteworthy by its uniqueness: for a percentage of revenue that's lower than typical franchising fees, it offers budget properties standardized design, modern technology and other services. Up to this point, independent owners of hotels and motels had no options outside of franchising, which is an expensive investment.  If OYO does implode, there could be serious damage done to independents left without promised support.
#8: Plastics Got Banned and Flights Got Shamed
Rising awareness of the immense impact of plastics on our environment (90% ends up as trash) has led many hotels to accelerate sustainability efforts. Local governments further accelerated these efforts by banning plastics altogether, including several in the U.S. that also banned single-use toiletries at hotels.
"Flight shame" also became a thing this year. as more travelers came to terms with the fact that aviation is a major contributor of carbon emissions. To mitigate that impact, many travelers pledged to eliminate or reduce air travel, which has led to dipping aviation demand in certain countries.
What makes this such a big story? Images of the Great Pacific Garbage Patch have unleashed a new wave of awareness around the impact of plastics on the world. And climate activists have captured worldwide imagination with global walkouts and major demands on reducing global emissions.

What is the overarching trend behind the story? The climate crisis has put sustainability at the forefront of global consciousness. It's no longer possible to ignore the likely industry-wide disruptions caused by climate change.

Why should every hotelier care about what's happening here? With movements like flight shame reaching across cultures, more consumers seek sustainable options when traveling. While it's harder to stop flying, it's easier to stay with hotel brands that put that sustainability ethos front and center. Hotels may be unevenly pressured to help travelers reduce/offset carbon emissions while in-destination, since they can't easily cut out flights.

What are the implications for the hotel market?  Plastic bans and flight shame affect Two major parts of  the hotel business: operations and demand. As Travelers expect more sustainability from their lodging, hotels will have to invest in upgrading properties and providing sustainable amenities and operations. And any reductions and flights means fewer potential guests.
#9: AirBnB Acquired Hotel Tonight
Airbnb closed its acquisition of Hotel Tonight in April of 2019. Prior to HotelTonight, Airbnb had already expanded into in-destination activities, restaurant reservations and luxury vacation homes. The purchase was the first major move to expand its foothold into hotels and add more diversity of supply to its offering.
What makes this such a big story? At an estimated USD 400 million, this was Airbnb's largest acquisition to date, which on its own is newsworthy. But in the context of Airbnb's always-rumored "imminent" IPO, this became even more newsworthy because it signaled Airbnb's ambitions to expand beyond hosted homes and vacation rentals to further "professionalize" its supply before going public.

What is the overarching trend behind the story? Expedia and Booking are up against Airbnb and Google as the titans vie for supremacy in an all out battle to become an "end-to-end" travel platform. HotelTonight was also mobile-first and mostly last-minute, which provided a major leg up for Airbnb to boost its own mobile and last-minute bookings, which are a growing global trend.

Why should every hotelier care about what's happening here? Airbnb's push to become more of an OTA-like platform gives hotels a new distribution channel. As the company becomes more sophisticated with its advertising business, there will also be new revenue/marketing opportunities. Hoteliers must keep a close eye on developments here to stay on top of Airbnb as a reliable and affordable source of demand.

What are the implications for the hotel market? Airbnb has obviously been a major challenge to the traditional hotel business. It captures a significant chunk of travel demand  and this will only increase as Travelers learned that they can start their searches on Airbnb  rather than Google or an OTA. Even so, greater competition among intermediaries is good for everyone. As these major players battle for supply, hotels will have more leverage to negotiate better terms.
#10: Thomas Cook Collapsed
Last but definitely not least was the extraordinary collapse of UK-based Thomas Cook. As one of the oldest travel brands in the world, it was nearly unfathomable that a brand with such heritage could tumble so quickly. And it happened in an environment that was actually expanding: in 2018, 60% of the British population took a holiday abroad, up 3% from the year before. Even as the brand struggled to regain its footing over the past few years, the collapse took many by surprise and became a major story affecting travelers across the globe.
What makes this such a big story? The visuals were stark: passengers stranded around the world, employees without information, local subsidiaries left in the dark. It was one of those catastrophic train wrecks that no one could look away from.

What is the overarching trend behind the story? In addition to a poorly managed merger and excessive debt, Thomas Cook failed to navigate a changing industry. Namely, it didn't adapt well to the internet, continuing to rely on expensive storefronts under-investing and its digital presence. Thomas Cook became a classic case study of a once-formidable company that failed to adapt  as the world changed around it.

Why should every hotelier care about what's happening here? First, there's the lesson around crisis planning: you must be prepared to have a plan for every contingency. Second, there's the lesson about relying too much on a single demand channel. In some countries popular with summer vacationers, such as Greece, Spain and Turkey, Thomas Cook accounted for over 25% of their business. Many other destinations relied on the brand for double-digit percentages of demand. Whenever you start to see a single non-direct channel dominate your channel mix, it's time to consider tweaks to your mix. At the very least, make a contingency plan in case of an unexpected drop in that demand. 

What are the implications for the hotel market? The global industry lost a major source of bookings. It will need to work diligently to recapture that demand and maintain existing relationships between individual destinations and their loyal travelers. The collapse also highlighted the fact that proper technology is essential for maintaining competitiveness in a global marketplace.