How Hotels Can Prepare for a New Influx of Guests
By Sandra Holland
Last updated June 17, 2022
3 min read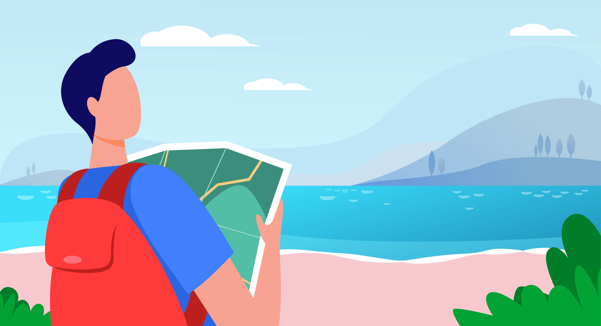 Over the course of several months, airlines have felt a massive surge in travel while guests amp up for a summer of leisure.
And while this may seem like an opportune time to acquire guests and drive revenue, it can also leave hotels feeling inundated with bookings and requests.
Especially with the new wave of labour shortages.
As summer nears and requests continue to grow we've put together key tips on how to navigate a new wave of guests. So you can experience smoother operations and a thriving guest experience.
How To Prepare Your Hotel For An Influx of Guests
Identify touchpoints that matter. Your hotel is compromised of multiple key touchpoints that come together to create the full experience.
In accommodating an influx of guests, it's important to take a look at your journey and identify areas to enhance. These could be moments like check-in, the waiting room for a spa visit, or at the entrance of your restaurant.
Each moment will be different for each hotel, however, understanding these touchpoints can help you anticipate opportunities to address and issues to resolve - all before the employee gets inundated with requests.
Educate and arm your team. Your employees are present in virtually every aspect of the guest experience. Therefore it's important to set expectations and educate employees on ways to improve the experience when there are more guests to tend to.
This can be done by holding regular meetings and showcasing different ways to tackle cleanliness, check-in, requests and more. The idea here is to keep the team organized and equip employees with the knowledge to be proactive.
Automate redundant tasks. Redundant tasks are essential for hotel operations, however, they undoubtedly take away from an employee's valuable time and resources.
Especially with more guests, it's important that your team be readily available and focused on the guest experience without feeling overwhelmed.
In this instance, automated technology should be a top consideration. For instance, a technology that schedules messages or provides actionable data to empower employees to do more with less.
We see this in action, through a common hotel example; the check-in experience.
Historically done at reception when a guest first arrives, check-in is one of the more pivotal moments in the guest experience. Providing a first impression, many hotels are pivoting to include automated or tech-focused ways of checking in. This reduces crowding in your lobby, a lineup at your reception and of course eliminates the need for employees to complete redundant tasks. Employees simply schedule an email a few days prior with a pre-populated link to input their information.
Using tools to simplify redundant tasks allows employees to better the experience and alleviates operational burdens. Further, you can reduce staff at reception and amp up employees where it matters most.
Automate request management. With more guests pouring in, manually managing requests can give rise to an onslaught of challenges. Not only is it prone to error, but can lead to long wait times, inundated employees, errors in service fulfillment, a less-than-personal experience, or never receiving the request at all.
However, with these challenges comes the opportunity to become more proactive. Using automated technology that enables ticket management, guest requests can seamlessly make their way to your staff no matter where they are on-site. In most instances, sophisticated ticket management software will provide a cross-department view of what's in progress and what's awaiting action - for complete transparency and efficiency.
Insight into a personal experience. While an influx of guests can get overwhelming, that doesn't mean the guest experience has to suffer. In fact, in order to maintain your hotel's reputation with a new wave of guests, the experience must be top of mind.
In that, personalization is one of the key ways of driving a great experience. It promotes loyalty by showing your guests you care about their sentiments and preferences.
In fact, in a study conducted by Accenture, "91% of consumers surveyed said they are more likely to shop with brands that provide offers and recommendations that are relevant to them"'. Similarly, "83% of consumers are willing to share their data to create a more personalized experience."
As a tactic, personalization can create strong bonds. It could be as simple as remembering the guest's name or offering a service they've used in the past. However, you can also take it further by proactively asking for their preferences via a survey and leveraging things they've mentioned (number of pillows, water brand preference, room temperature, etc.) for future stays.
Enable effective communication. Communication is everything when it comes to managing new guests - and that doesn't just mean externally.
Not only do guests need to have an effective way to communicate with employees, but employees need to understand what their team is doing and how to ask for help when needed.
In this case, opting for an omnichannel solution with internal messaging capabilities is key. Not only will it provide insight into guest communication preferences, but also allow you to tag and include other departments for visibility. More customers mean a greater chance of miscommunication, so adopting a solution that can provide greater transparency before bookings get out of control, can help you make the most out of a wave of guests.
Flexible Policies. Although we're navigating a space where strict requirements on COVID-19 are lessening, the virus is still prevalent and isolation is still required for those that are sick. Not to mention travel delays are currently on the rise and expected in the future. Offering flexible policies is a show of good faith in your guests. It exudes compassion for personal issues and instills trust.
Although at times operationally, it may be challenging, offering flexible policies reinforces overall care for the guest and their experience.
Final Thoughts
Preparing for an influx of guests can be intimidating at first. Especially if you're experiencing labour shortages.
However, pivoting to effectively master the experience while juggling a handful of new guests is impossible.
By taking the aforementioned steps to map the guest journey, empower your team and communicate effectively, you can proactively manage the influx of guests to streamline operations and provide an unforgettable experience.