What is a PBX Phone System and How Does it Work for Hotels?
By Hotel Tech Report
Last updated January 26, 2022
5 min read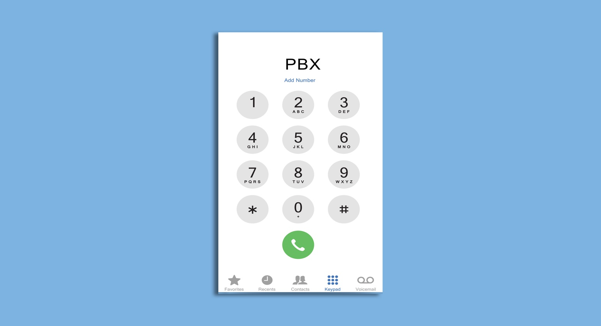 Your hotel's telephone system can be a costly burden or a beneficial asset. Even in a world where guests prefer to bring their own devices and may never pick up an in-room phone, your team will still need to connect with each other and the outside world. In fact, phone calls are still a strong business driver for many hotels!
Whether you're building out a new property or considering a tech upgrade, here's what you need to know about PBX business phone systems for hotels.
What is a PBX Phone System?
A Private Branch Exchange (PBX) is a private telephone network for your property (or company). It's a fancy way to say "business-grade phone system." A PBX enables both internal and external dialing, so users can communicate with each other and the outside world. It provides features like extensions, hold music, call routing, hold queues, call conference and off-hours call management.
Traditional PBX telephony systems were analog, connecting to the Public Switch Telephone Network via buried landlines. We don't recommend these! These systems lock you into either the hardware or the vendor, limiting your options for upgrades and often costing you more money. Plus, there's so much value in going with a modern PBX system that uses digital connectivity to provide business-boosting functionality.
While PBX is a legacy technology that began by leveraging analog switchboards but most hosted PBX systems used by hotels today use digital networking protocols (IP) for internal calling referred to as IP PBX. An alternative to virtual PBX is VoIP, which stands for 'voice over the internet'.
Before we dive into those features and benefits, it's helpful to contextualize the structural advantages of a modern PBX compared to a traditional landline system:
Connectivity: PBX streamlines internal communication. You can connect as many different lines internally as you would like, all without having to pay the per-line cost of traditional connectivity. You'll also enjoy high-definition calls and more options to connect with colleagues and customers, as well as on-property guests.
Reachability: Direct internal communications preserves reachability among colleagues. The system won't route calls to an outside switch and then back into the organization, which makes the system more reliable -- and your colleagues more reachable.
Flexibility. You can add or remove handsets without the burden of long-term costs per phone line. And you can more easily adjust your phone system to changing needs, and upgrade to new features over time.
How Does a PBX Phone System Work?
Modern PBX systems rely on IP (or Internet Protocol) to communicate. IP PBX systems convert IP calls from digital to analog, so that they can be routed through traditional landline connections.
Since the systems use internet broadband to communicate rather than fixed copper landlines, there are more digital features available that align with how we do business today. An IP PBX system uses the same Local Area Network that your property uses to connect its computers, so each phone will connect via Ethernet (rather than phone jack). For older properties, this may require upgrades to Ethernet-enabled phones; most modern phones are capable.
Similar to other elements of your property's connectivity infrastructure, you have two options for your IP PBX, virtual/hosted or on-premise. The virtual option is hosted by your vendor and the on-premise option is located on-site.
The decision between cloud-based and on-premise is guided by cost and complexity. Smaller properties with simpler systems will likely benefit more from virtual systems, which are easier to set up, have low upfront costs, and predictable monthly fees. Larger properties with greater complexity may prefer the proximity and control of on-premise, as the additional setup costs and ongoing maintenance fees are worthwhile tradeoffs for increased access and more customization.
How Hotels Use a PBX Phone System
Even as guests rely more on their mobile phones to communicate with staff, hotel phone systems are the communications backbone for most hospitality operations. From the front desk to the back office and the guest rooms, the system is used across the hotel.
The front desk is the communications hub of the hotel. The phone system allows guests to reach out to the front desk -- and some systems also display the guest's name to the front desk agent, aiding personal greetings. The system also empowers the front desk to set automated reminders (such as wake-up calls) and offload tedious tasks. With a digital operator, the phone system can also route calls to other departments (such as housekeeping and room service) so the front desk can tend to other tasks.
The back office is also a heavy user of the phone system. Your sales team will have dedicated extensions, as well as digital voicemail that can be transcribed directly to email. Your hospitality phone system can also handle faxes so that your team can receive booking confirmations from intermediaries. Staff can set "do not disturb" mode and route phone calls to mobile phones automatically if they are off property.
The guest experience benefits from a modern phone system in multiple ways. Of course, there's the in-room phone that offers a direct line to staff, and most modern systems support multilingual messaging. But there's also a major advantage that's hidden from view: integrations. A legacy landline system performs just a couple of main functions: calls and voicemails. Replacing a limited use system with something that is more flexible means that you can build a communications infrastructure that accommodates guest preferences. For instance, you could extend your property's telecommunications infrastructure to support guest smartphones, extending their coverage while on-property. Other useful integrations: the ability to enter PMS codes from the guest room to update room status and availability, connecting to on-property WiFi for seamless billing.
What to Look For in a PBX Phone System For Hotels
Choosing the best PBX system for your hotel comes down to how you plan to integrate it into your existing communications flow. The best way to think about a hotel phone system is to view it as another application in your technology stock. It should integrate with everything else, allowing you to leverage its full functionality.
Here are a few things to consider:
Integrations: Since IP PBX leverages the internet, it can integrate and interchange between different tools. We recommend doing a quick sketch of different communications flows to understand how you may want to implement IP PBX. One of the biggest use cases is a direct integration with your CRM so that you can log calls and make sure that sales teams are following up quickly with prospects and customers.
Digital Operator: Your PBX system is your digital operator, routing calls and helping guests get to the right person.
Emergency calls: When guests call emergency numbers, the front desk should be immediately notified.
Ring Groups: As you're well aware, things can get busy rather quickly at the front desk and in the back of house. The ability to set up ring groups, which will ring multiple phones until one of them answers, keeps your team on top of guest requests and other essential communications.
Intelligent Call Routing: Intelligent call routing efficiently connects calls to the right person. For example, you may want to schedule call routing so that calls go to one person (like the GM) during business hours and to another person in off-hours (like a Night Manager).
Fax: Many hotels still need access to a fax. A PBX system can accommodate that need, providing inbound and outbound faxing, all integrated into a single telecommunications product.
Voicemail-to-Email: One of the most dramatic productivity boosters provided by a modern PBX system is voicemail to email. The system will transcribe your voicemails into emails, which can then be routed to the appropriate Dept. Or, you could have an external resource (such as a virtual assistant or corporate office) prioritize and assign tasks based on voicemails.
Toll-free Services: If you use a toll-free line for inbound calls, be sure to find a vendor that can adequately support it.
In-room features: Consider whether or not you want to include others, such as a do not disturb mode or automated wake-up calls. Many hospitality PBX phone systems provide functionality that improves the guest experience and eliminates some of your staff's day-to-day responsibilities.
Admin interface: The last thing any of us need is another tool that's complicated to administer. it can be extremely frustrating if you always have to contact the vendor to make small tweaks changes. Look for a browser-based administrative portal or other account admin interface that simplifies self-service. You should be able to add and remove users, monitor usage, and manage your account from a centralized dashboard.
Reporting: Look for full detail call records and accounting so that you have a holistic view of how the system is being used at your property. Detailed reporting keeps you informed and able to optimize the experience for both staff and guests.
Security: Only choose vendors with great reputations. If you go with an IP PBX, which uses your property's internet connectivity, you'll need strong security to prevent unwanted intrusions -- and massive headaches. When it comes to security, trust recommendations from colleagues above everything else. When in doubt, go with your gut!
A modern PBX system can become part of your property's omnichannel communications strategy. It allows you to communicate with guests on their preferred channel and to keep relevant information synced across channels so you can maintain a holistic view of your guests. There's a lot that a digital phone system can unlock for your property!