Hotel Tablets: Here's What to Look For When Buying (+Free Guide)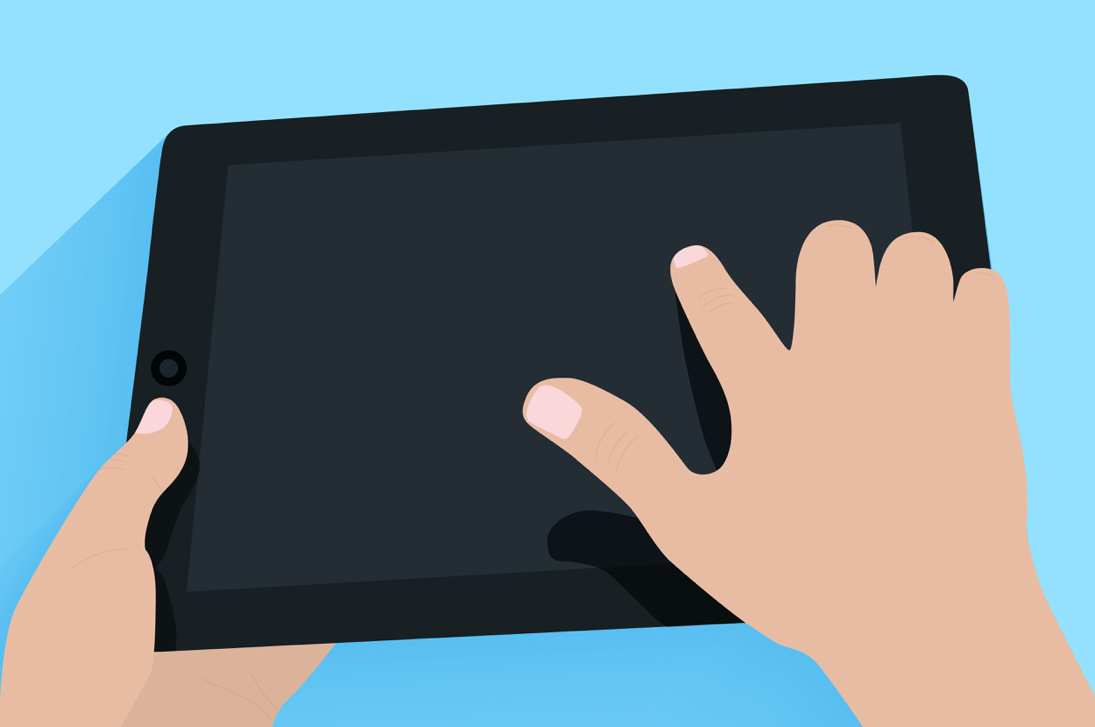 Increasing total revenue per guest is one of the most powerful ways to grow profits at your hotel and hotel technologies like tablets are generally the quickest way to achieve that growth.
There are lots of very hotel technology has trade-offs and limitations.
Hotel apps tend to have low download rates making it hard to drive significant revenue gains with this channel.
Email marketing often gets lost in spam folders so it can be a gamble to reach guests on property.
Text messaging works great but requires opt-in given the current data privacy climate which can limit your marketing list.
Hotel owners looking to upsell guests on property know they need a way to reach as many guests as possible. One of the best ways to do so? In-room tablets.
Core guest needs, like the ability to make requests, order room service, and control in-room entertainment are well-served by guest room tablets. Crave Interactive and other tablet vendors offer a simple, straightforward upgrade to the guest room directory that improves guest satisfaction scores virtually overnight. These tablets are not just fancy digital compendiums: they have enabled hotels to send targeted, automated messages generating $5,000/mo in late checkouts.
Experienced hoteliers utilize in-room tablets to market amenities like bookable spa appointments, F&B offers, and local tours – driving incremental revenue in the process. Despite the many myths that proliferate, guest room tablets are an investment that pays for itself. Here's what you need to know about procuring tablets to upgrade the guest experience.
Benefits of Hotel Tablets
In-room tablets measurably improve the guest experience: properties that work with tablet providers like Crave Interactive can see up to 95% guest engagement rates and 93% positive TripAdvisor reviews. Along with these customer-facing benefits, in-room tablets reduce operational costs and bring in incremental revenue with minimal effort from your team.
Guest room tablets reduce operational costs and help your teams work more efficiently while also helping your property promote sustainable hospitality. Digitized tablets remove the need to print paper and manually distribute flyers under the doors of hundreds of guest rooms. Easily make changes in real-time – to your F&B menu, tour offerings, spa menu, or any other ancillary service. In-room tablets let your team be more responsive and flexible with your on-site offerings.
In-room tablets give guests the ability to discover all the services a hospitality industry business has to offer with a few finger taps. Tablets give your guests an easy way to discover the information they need in an appealing, user-friendly format. Alleviate the burden on your concierge or front desk by giving guests a way to manage their stay and purchase services independently, without picking up the phone or having to download an app.
Self-service lowers barriers to purchase and increases revenue. Some tablet providers, like Crave, offer a way to dynamically price and yield ancillary services depending on demand, generating more revenue in the process. When there's a big game on, send an alert to all tablets for $5 off drinks during half time. If the spa seems empty, offer a coupon for 30% off spa services that day. Guest room tablets deliver these critical messages and show real-time data on who viewed those messages.
Amazon Echo and Sonos have brought digital controls into the homes of mainstream consumers. In-room tablets extend this experience to the travel industry. Guests control lighting, temperature, drapery, privacy, and staff service requests all through the same interface. The tablet should also be equipped to communicate with your housekeeping software, allowing guests to make housekeeping and engineering requests and access in-room entertainment.
The return on investment speaks for itself: while ROI varies based on the size and services of a property, nearly all hotels that have installed in-room tablets report a positive and measurable ROI, typically in excess of 300%.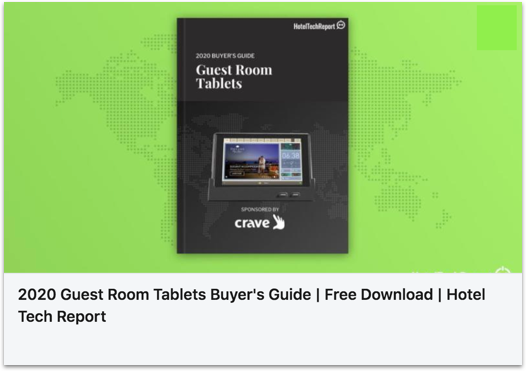 Tablet Technology in Hotel Rooms is a Profit Driver When Used Properly
A report by Skift in 2016 walked back their initial analysis that in-room tablets were "overkill." The capabilities of this year's tablets – and the trends we look forward to in 2020 – make it clear that guest room tablets are here to stay.
Dynamic pricing is something not every tablet vendor offers. Those who do, however, unlock the ability to price items based on need periods and guest profiles. The data gathered through in-room purchases and tablet browsing is invaluable. In the future, we see further proliferation of dynamic pricing, as well as expanded use of in-room offers. Hotel owners who test offers and segmentation methods to their guests can use this data to capture wallet share, offset OTA commissions, and increase profitability.
This year, tablets also capitalized on the voice-activated tech popularized by Amazon, Google, and Apple. Tools like Amazon Echo and Google Home are becoming so integral to consumers' lives that feels abnormal to not have that same technology in hotels. Because these tech leaders are all-in on smart home devices, the cost of hardware is decreasing, providing a window of opportunity for smart hoteliers to digitize rooms at a lower cost.
Tablets have also begun to cut down on the clutter of in-room charging ports, hard-wired phones, smart speakers, nightlights, and TV remotes – without losing functionality. Hotels that integrated sophisticated and fully integrated in room tablet tech can save energy by automatically closing drapes and lowering air-conditioning output when guests leave the room. Tablets offer a meaningful way to lower costs in addition to building revenue.
Hotel Tablets: Key Features & Integrations
There are many features and integrations that tablets can offer, and the bells and whistles you elect to add will depend largely on your budget and property size. In general, though, look for these features and integrations.
Hardware consolidation: the device reduces clutter by offering charging/power ports, smart speakers, and phone capabilities.

Dynamic pricing: the platform changes the price of items based on factors including need period and guest profiles to maximize revenue.

Easy-to-use interface: is the tablet intuitive for guests? Does it have a help button?

Bespoke hardware: only hardware designed for hotels should be considered for in-room tablets (i.e., not Sonos or some other consumer device).

Language support: the tablet should offer multiple languages and live message translation for international travelers.

Reporting and analytics: does the vendor provide data on guest activities that you can use to improve operations?
In-room tablets must also integrate with your existing systems. Look for a product that works with your PMS, point-of-sale, and communicates with your staff via guest messaging or hotel operations software. A restaurant POS integration is critical, as guests can order their room service directly and upselling options are easily added to boost revenue. Likewise, integrate guest messaging services and ticketing request system to better optimize staff, reduce costs and increase guest satisfaction.
How to Select a Hotel Tablet Vendor
Tablets have a bad reputation for being expensive to purchase and implement. And while that may have been true in the past, today's tablets can be categorized under operating expenditures and rented for a lower price.
When vetting different products, keep costs at the forefront of your decision-making process but make sure to properly model revenue gains and expense reductions. A tablet provider that is 2x as expensive might end up being the "cheaper" option if it can bring in 5x the revenue. Tablets such as iPads may be familiar to guests, but they're more expensive per unit compared to companies that manufacture hardware specifically for hotel rooms. Find a vendor who works specifically in the industry to keep your costs down.
Next, make sure your supplier offers remote support, 24/7. They should be able to troubleshoot in case something comes up, as well as update the operating system regularly from a distance. Make sure the tablets are easy to install; some companies will deliver tablets ready to be plugged in and connected to the WiFi. If this is not the case, will the supplier offer their services via the cloud? Can a hotel update their content without interfacing with the support team? It's imperative that hotels can update their own content on the tablet when the need arises.
Lastly, ask the supplier what your property can expect in terms of ROI. Through a combination of in-room cost savings, optimization of staff, and expanded revenue streams, some properties see an ROI of 300%. A vendor should be able to give you a holistic estimate based on the number of rooms at your property, your current operations, and their platform capabilities.
For more on selecting and implementing in-room tablets, download Hotel Tech Report's 2020 Hotel Tablets Buyer's Guide. Read more in our featured reviews and case studies for extra confidence in your purchasing decision.