Why Hasn't Technology Lead to More Productivity Improvement?
By Jordan Hollander
Last updated January 26, 2022
6 min read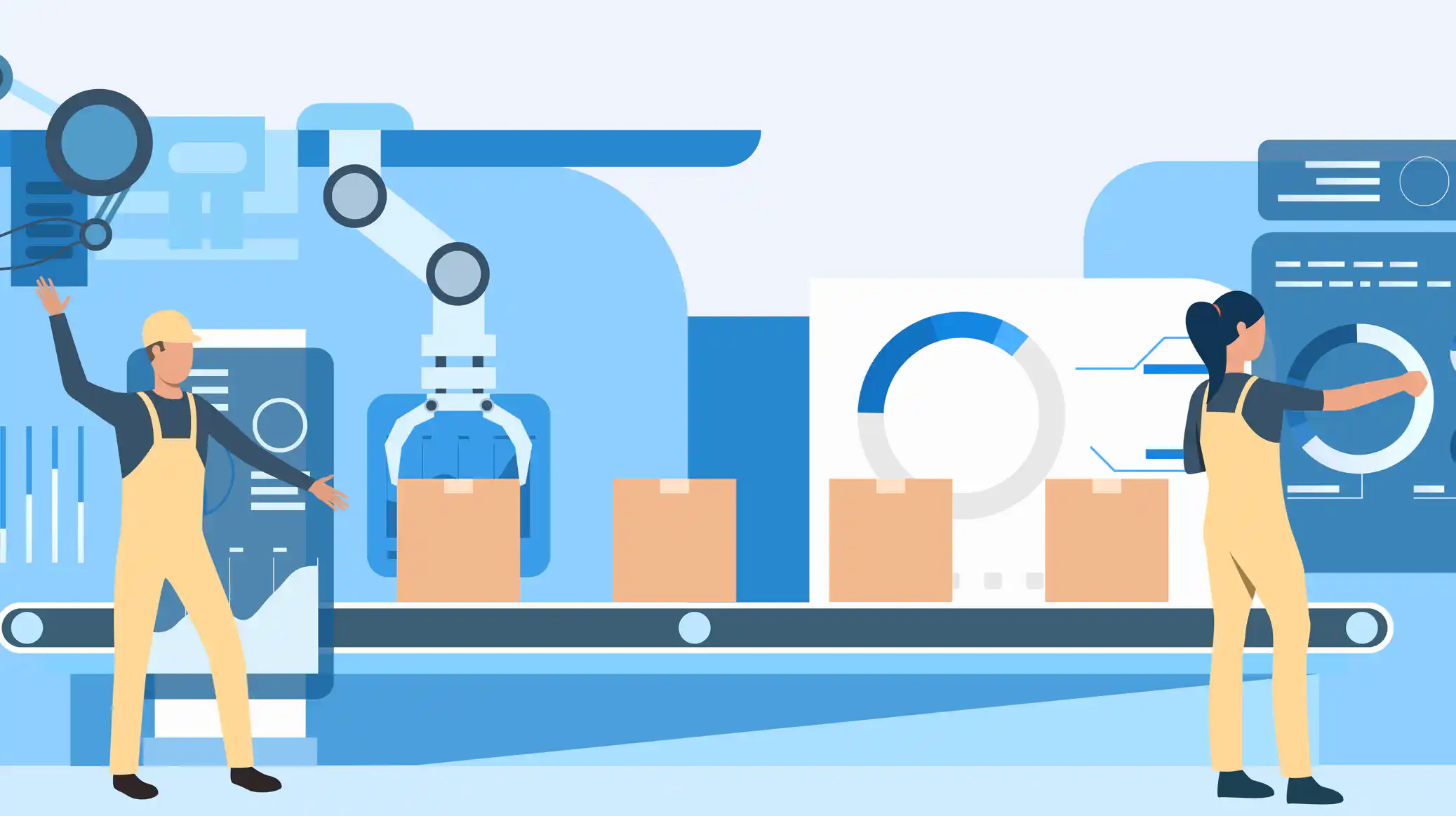 The past decade has focused heavily on digital media innovations, which "occupy a mindshare that's out of proportion to their overall economic importance" (Vox) but haven't lead to large productivity improvements in the economy. The truth is that, while consumer media companies like TikTok and Snapchat have captured consumer eyeballs (and investor capital), they don't necessarily increase the productivity of the average worker. In fact, productivity gains have stalled noticeably in the past ten years when most would expect continuous improvement given more advanced production processes and new technology innovations.
In part, this is due to investors' search for the next unicorn, which usually focused on companies with potential for global monopolies. Investors wanted in on the next big (consumer) thing. Today, however, with just a handful of global companies controlling the lion's share of consumer attention, achieving scale for B2C has become prohibitively expensive.  Social media app Instagram famously created a billion dollar business with just 12 employees.
In pursuit of the next big opportunity, investors are now looking at B2B companies as "the next wave of unicorns." These companies focus narrowly on industry niches with plenty of room to run as far as leveraging technology to improve margins, streamline operations, and reduce inefficiencies.  Think of a product management software like Jira that promotes high productivity with focused to-do lists and time management tools. Ultimately this tech enable teams to complete more work in less time which is why great technology is the key to productivity improvement strategy in B2B.  Higher productivity starts with process improvement and focusing on specific problems that can improve employee productivity.
For hotels looking to buck the historical trend and invest in more technology, this is a welcome evolution. Healthy competition means that hotels don't have to rely on the same legacy companies they've been stuck with for decades. There are now more vendors serving the industry than ever before, which brings prices down and quality up. We're in a Golden Age of Hospitality Technology, where hoteliers have their choice of intelligent solutions that solve real world problems and increase productivity.
One of those problems facing hotels is how to do more with less. In a world of staffing shortages and high turnover, productivity has become a pressing priority. It's also a competitive advantage; if you can run your hotel more efficiently, and thus more profitably, you'll have more pricing flexibility and be more resilient in the face of changing market dynamics. Here's everything you need to know about productivity and its place in today's hotel industry.
What is Productivity?
Productivity is a measure of labor efficiency; it's calculated by comparing the amount of 
goods and services produced with the number of hours needed to produce those goods or services. It's an important business metric as productivity gains fall straight to the bottom line; a more efficient staff makes more profit for the company.
Some measures of productivity in hospitality are:
How long it takes to complete a maintenance request

How many rooms each housekeeper cleans

How many guests your front desk agent checks-in

How much revenue each room makes 

How many covers a restaurant server handles

How long it takes to fulfill a guest request
In each of these cases, optimizing each asset (human or room) boosts productivity (and profitability). And that's where technology comes in: it's the ultimate productivity enhancer. To maintain service standards in spite of these staffing challenges, hotels can now implement staff collaboration tools and property management systems that boost productivity and enhance communication across all departments, These tools, such as Guestline, give hotels a competitive edge in the competition for talent while also making existing staff happier more productive.
So Why Isn't All This Technology Improving Productivity?
Productivity gains have been a feature of the modern economy. As technology filtered its way through the economy, workers were able to do more with less. Businesses benefited from a greater return on their investment and workers faced fewer menial, mechanical tasks. The result was a steady and reliable rise in productivity, powered by the adoption of technology in all aspects of global business.
Elsewhere, global productivity gains have noticeably slowed.  Productivity gains in the industries that employ the most people, such as retail, restaurants and hospitality, have been far less transformational until relatively new innovations like Guestline's cloud PMS have come onto the scene. As we all know from experience, front-line workers in these industries still work much in the same way as they have for decades.
The U.S. economy operates at 18% of its digital potential. The sort of productivity gains that digital technologies should be enabling are not showing up in the broader economy. -McKinsey Digitization Index
For the world's largest industries, such as hospitality, this digital gap has prevented productivity gains from reaching the level of transformation seen in industries such as financial services, media, and professional services - but that is starting to change. Why is that?
Reason #1: Work vs Play
For one, our productivity calculations don't do a good job of accounting for the differences between digital and physical transformation. Our current wave of innovation hasn't impacted productivity in ways that electricity or plumbing did. It also doesn't effectively account for the impact of consumer platforms, such as Snap and TikTok, on how we play versus how we work. As Vox concludes in a well-reported piece on the impact of technology  on productivity, these consumer platforms have captured leisure time without necessarily having a positive impact on productivity elsewhere:
"Technology is changing how we play and relax more than it's changing how we work and produce."
We've also reached a point where the biggest productivity opportunities have been met by technology: factories are mostly automated and the big transformations are complete. These productivity gains have accrued unevenly, focused mostly in industries where automation transformed the very nature of the work (think factories and fields that use technology for performance improvement to reduce costs).
Reason #2: Underinvestment in Technology
While consumer-facing platforms exploded in value, industries like hotels and restaurants have historically underinvested in technology, limiting potential productivity gains. This lackluster transformation appears in the data: according to Gartner's Lodging Technology Study, the industry invested only 3.5% of its revenue into information technology (IT) solutions. This underinvestment is partly due to marketplace dynamics, as much of the tech innovation over the past decade was in consumer-facing technologies.
This underinvestment creates a "digital gap" that is exacerbated by a lower "degree of digital usage" in the hospitality industry, says McKinsey. The research also found that "digital engagement between companies and their suppliers and customers is five times larger in the leading sectors than in others." In other words, industries like hospitality just aren't using digital technologies as effectively as their peers in other industries and aren't unleashing comparative productivity gains which is why they should consider investing in productivity and hotel operations and property management software like Guestline to make their operations more efficient.
Reason #3: The Nature of Work
Historically, technology has made it easier to get work done by increasing the efficiency of workers worldwide.  Automation enables workers to produce more with fewer inputs, while communication and project management tools make each hour more productive. However, these productivity gains have slowed measurably in the last ten years, with the gains especially anemic in the industries that employ the most people, such as retail, restaurants, and hospitality.
The nature of the work affects productivity. These industries often higher lower-skilled workers at lower rates, which makes investing in productivity-enhancing Technologies less appealing. Also the nature of work is manual in ways that make automation difficult.  It's really challenging to have a robot make the bed, for example. In addition, these are customer-facing roles, defined by high-touch human interactions that defy automation. 
How To Increase Productivity At Your Hotel
Digitization and productivity are closely linked. Over the last 20 years, the top digitally-enabled sectors enjoyed a 2-3x increase in productivity and profit margins over their peers. And those that lag on the digitization front also have lower productivity performance, which is why hotels must act now to increase productivity in the workplace.
One of the toughest questions is where to invest first? Between revenue management systems, housekeeping management software, business intelligence tools and a dozen other hospitality technology categories listed on Hotel Tech Report, there are many ways to improve productivity at your hotel.
Many hotels start with staff collaboration tools which improve productivity, accuracy, and communication across departments: maintenance techs will prioritize projects more efficiently; housekeeping managers will manage shifts more efficiently; your front desk will deliver better service room cleaning schedules; and your general manager will benefit from actionable reports that benchmark performance over time.
Whichever technology you start with, it's advisable to have a method for establishing a productivity mindset at your hotel. You need to do three things: make productivity a priority, identify bottlenecks and invest in the right tools.
Prioritize. It may take some convincing to show management and staff why productivity matters. After all, monitoring productivity can come across as Big Brother. Focus specifically on how it will make work like better for staff while also improving the guest experience. Most workers are frustrated by inefficiencies, so focus on the "why" and win allies. 

Identify.  With organizational buy-in, you can now turn to identifying the biggest bottlenecks. Look for two things: issues that directly impact the guest and behind-the-scenes interactions between staff. Eliminating bottlenecks in those two areas will have the highest impact. Once you've identified the areas for improvement, align everyone around the right metrics: rooms cleaned per hour, guests served per shift, average guest request response time, ancillary revenue per room 

Invest. To avoid further disruption from companies like Sonder and AirBnB, hotels must get better at buying and investing in technology. As you evaluate vendors, refer back to your specific bottlenecks and ask each vendor how their solution helps solve those. Then, invest the time and money in a pilot to trial the most promising solutions. You can then evaluate performance and base your investment decisions off actual data.
Hospitality may have traditionally lagged other industries in adopting productivity-related technologies, but things have changed. "Boring" B2B unicorns are finally delivering the greater productivity gains seen in other industries. With a proper approach to evaluate, purchase, and implement software, supported by a modest budget, your hotel will capture the upside of greater productivity: happier guests, more satisfied staff (with better work life balance), and more profitable resource allocation.
These efficiency gains simply make your hotel better, across the board. And, as a powerful ally in building productivity-driven profits, these tools help you build a culture of incremental improvements, helping your hotel get just a little better each day. Over time, this means major gains -- and a healthy return on your technology investment.