Sonder Stock: This is Not a Tech Company
By Jordan Hollander
Last updated June 10, 2022
8 min read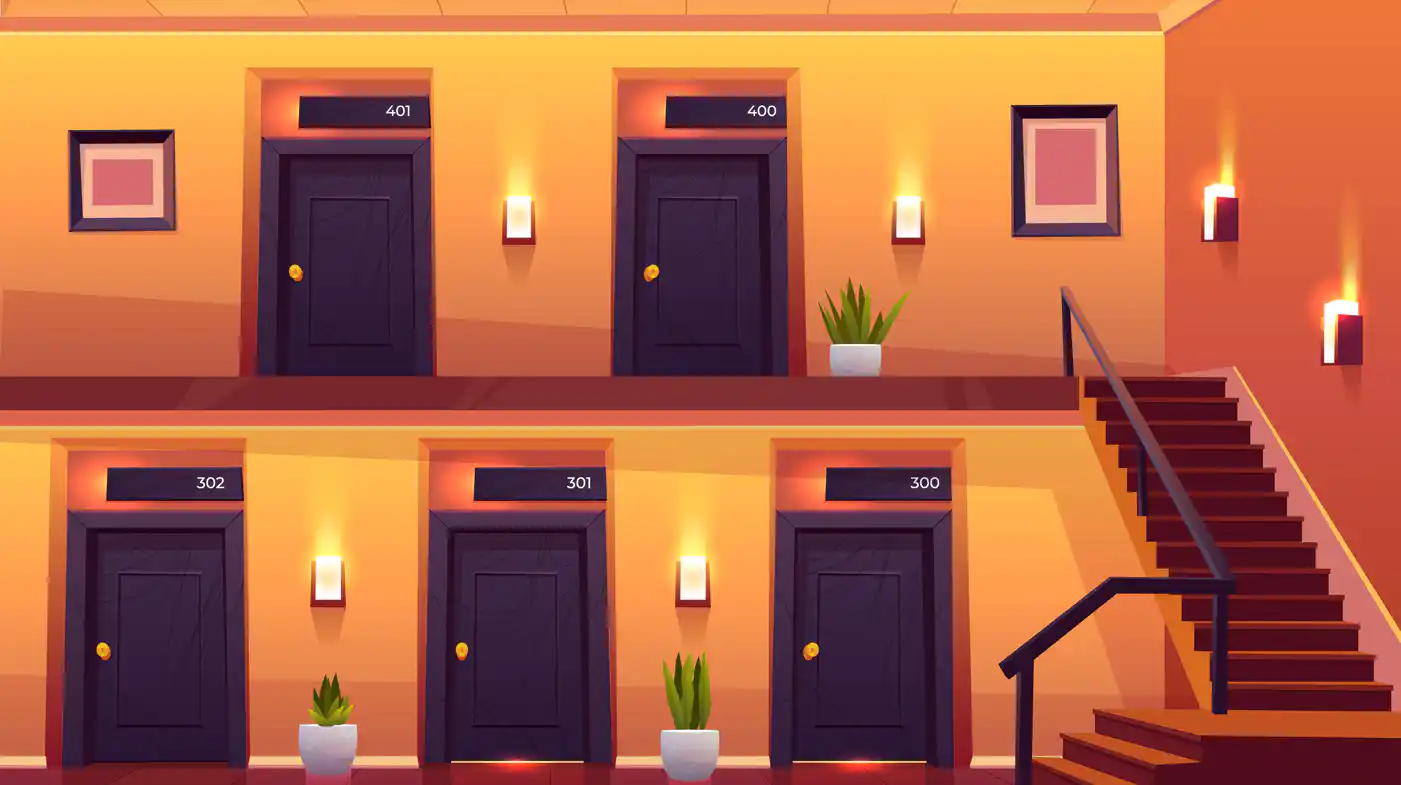 This article was originally published on 9/28/19
Some time ago, I wrote a piece called The WeWork Effect in Hospitality.  In that article I argued that the public perception around the alternative accomodations market is misinformed and that those perceptions have been fueled by venture capitalists drunk on irrational exuberance. Venture capital is a critical part of society and progress. The problem isn't venture capital, it's excess. As with most things in life, excess can turn even positivity into toxicity. Sonder's recent announcement about it's foray into the traditional hotel business is just the latest support for this argument.
An excess of venture capital has encouraged entrepreneurs to seek out tech valuations for real estate companies and it's going to have devastating effects on the industry that they're allegedly "disrupting".
Up until recently, VCs could do no wrong in the eyes of the public but after after a series of high profile flops like WeWork and Uber, institutional public equity investors have removed the emerald glasses.
The problem is that many of the overfunded businesses today are trying to disrupt hyper competitive markets but few (if any) actually have a true point of differentiation.  Most of these businesses are shifting share and not creating real value by growing the market or making it more efficient.
Uber is a controversial company right now but the value it's created for consumers is undeniable.  The societal impact of Uber on metropolitan areas and drivers is still up for debate but at the very least it has provided an unprecedented level of convenience for consumers which means it's worth the risk of blowing up the traditional market in my opinion.  Uber also has the potential to decrease car ownership over the long haul which has a positive environmental impact.
Most of these so called 'alternative accommodations' players are neither adding unique value nor are they delivering material innovations to the hotel industry like Uber has within transportation.  They are undercutting prices and killing hotel industry jobs.  This would actually be ok if they were delivering innovation because they'd be making travel more accessible to consumers in a sustainable way but my sense is that isn't the case and I share why below.  Many of these companies lack a basic understanding with regards to the history of the hospitality industry.
VCs jam hundreds of millions or even billions of dollars into their startup coffers thinking that money itself is enough of a competitive moat. Entrepreneurs then pray that their startups will identify a long term competitive advantage before the game of musical chairs is up and they walk away from their billion dollar companies with nothing after liquidation preferences and dilution.  Perhaps that's why WeWork founder Adam Neumann cashed out to the tune of $700M.   Unfortunately these kinds of companies almost never have enough incentive to dig deep and find their competitive advantage because they feel sheltered by venture cash on their balance sheets and are encouraged by the mainstream media telling them that they can do no wrong.
These massive funding rounds usually start out as a positive since they allow those businesses to scale up quickly and attract talent.  It turns dark pretty quickly though. Those massive funding rounds create unreasonable growth expectations that often aren't supported by the markets these companies operate in when they employ sustainable business models.  These expectations can only be achieved through questionable business practices. Just recently Softbank backed OYO had its CEO booked on cheating charges for not making payments to supplier partners.  Even more recently, it's been reported that early OYO investors are trying to take money off the table which is generally viewed as a bearish signal for their opinion of where the business is going having seen confidential figures.  This is just one example of poor decision making while chasing growth at all costs.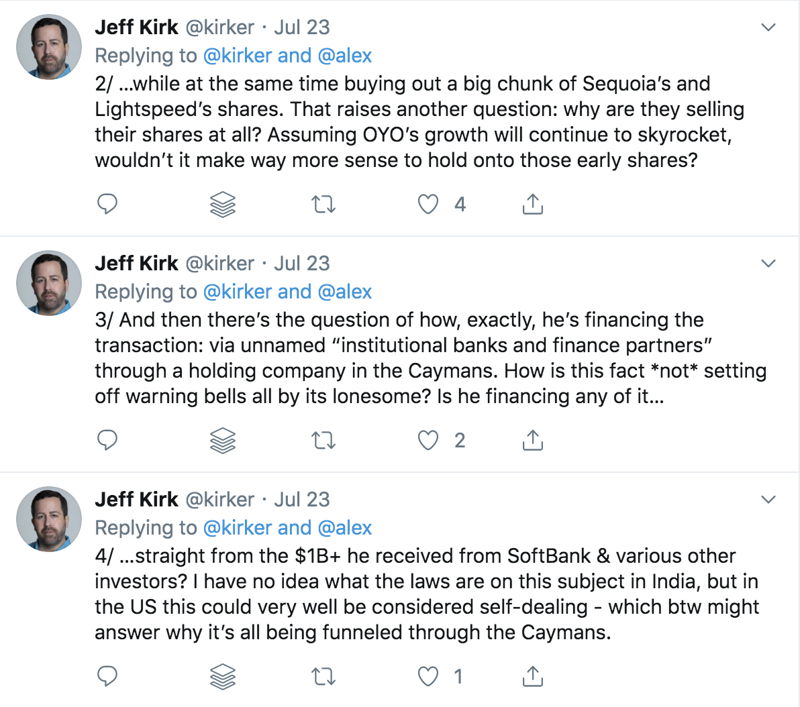 Twitter commentary on rumors of OYO's recent self dealings
Long term liabilities and short term assets
Regus has operated in the coworking space for decades and has an attractive franchise business model.  While franchising doesn't allow the Regus business to scale as quickly as a firm like WeWork that assumes long term liabilities on its balance sheet in pursuit of blitzscaling, it has allowed Regus to become a viable business that will be around for years to come.  Sonder is in exactly the same place as WeWork and now they're trying to steer away from disaster by getting into hotels and specifically the management/franchise business.
Equity Properties founder and real estate mogul Sam Zell said it best, "We've seen companies do this a million times before, take on long term liabilities and short term assets.  Look at what that did to the Savings and Loan business in a downturn. It was a disaster.  In the end, this craze will be no different."
The latest announcement that Sonder is getting into the traditional hotel business is just the latest evidence of this issue.
"We have seen how bad the reception was for WeWork doing leases and how it eats into profitability, especially in the initial phase when the company signs all these leases." ~Mandeep Singh, Bloomberg Intelligence
"What happens to the New York and Chicago commercial-real-estate markets where WeWork was the biggest and the second-biggest tenants? What happens to IPOs? The reverberations here are going to be pretty dramatic." ~NYU Professor Scott Galloway
Sonder effectively went out to investors and said "See what WeWork is doing in office, we're going to do that in hotels." Investors ate that up until recently.  As it turns out, Sonder's core business model is actually worse than Marriott's.  Even more absurd than comparing to WeWork, Sonder went as far as to liken itself to Amazon in its Series D pitch deck but Amazon and Sonder have nothing in common.
In it's Series D pitch deck Sonder claimed that it's the "Amazon of Hotels", is a gross mischaracterization of the business
Expectations dropping and Sonder is changing its business model
Sonder's 2018 revenue hit $100M and at that time the firm was forecasting $400M in 2019.  Then in July of 2019 the firm raised a $225M Series D projecting $313M in forward 12-months revenue (2019/2020) meaning that it was nowhere close to hitting the number it previously forecasted.  Sonder founder Francis Davidson then went on to tell Bloomberg that his firm would be larger than Marriott by 2025.  Even if Sonder achieves more rooms than Marriott by 2025, which is a long shot when expanding into "small hotels off the beaten path", Sonder is unlikely to come close to Marriott's $5.28B of revenue in 2019 growing at 3% YOY.
So not only are revenue expectations dropping but multiples are compressing at a rapid clip in public markets after WeWork got brought down to earth.  This is a perfect storm for companies like Sonder especially as they approach IPO and begin to court public market investors. In response to the recent WeWork fiasco, Sonder announced its bold new vision for the future of the hotel industry: create more hotels.
Marriott, like Regus operates on a franchise business model.  The entire hotel industry started going "asset light" in the late 90s and early 2000s understanding that franchising is a better business since it can grow without huge sums of capital and can withstand a downturn by not holding real estate on its balance sheet while valuations are dropping.  Here we are 20 years later and Sonder has finally caught on. So now that Sonder is moving to operate in the same business as Marriott, what's its point of differentiation?
Well, it depends who you ask.  If you ask Sonder they'll tell you something like what founder Francis Davidson told Bloomberg:
"Sonder can charge 20% less than a four-star hotel, using technology to reduce costs and provide guests with a seamless on-app check-in, keyless entry and a mobile concierge. Our big edge over hotels is that their model hasn't evolved in the last 40 years. Sonder's units are typically found in neighborhoods that major hotels don't usually occupy."
None of the technology Sonder has built is new, these services have been installed in hotels for years and are widely available at a low cost
Companies like Sonder often try to sell real estate at tech multiples. After all who wouldn't want to sell on an aggressive revenue multiple instead of modest EBITDA multipliers based on real profits?  The racket is simple, sell real estate then talk about your proprietary tech and voila you've got a billion dollar company.  The reality is that sophisticated investors in rational markets see beyond the sales pitch.  If a company's sales come from hotel rooms it gets a hotel room multiplier.  Some desperate hotel companies have tried to play the same game.  When Red Lion realized that hotel owners no longer wanted to have the Red Lion flag on their properties, they tried to tell a tech company story to investors so they could offset slowed growth in the franchise business with the illusion of a tech company future for the faltering hotel chain.
To summarize in Sonder's own words, they claim three "differentiators" from hotels:
Sonder has unique technology: No it doesn't

The hotel model hasn't changed in 40 years: Yes, it has. And no, this isn't a point of differentiation.

Sonder units are in different neighborhoods than hotels: This is not defensible and if it is so great, why is Sonder now getting into traditional hotels?
Hotels already have mobile check-in via app, keyless entry and mobile concierge.  How exactly does a mobile concierge enable a hotel to charge 20% less than competitors even if it is unique?
To the point that the hotel model hasn't changed in 40 years - that couldn't be further from the truth as the hotel industry shifted to asset light.  Back in the 1990s hotel companies like Marriott, Hyatt and Hilton owned real estate - that's not the case today.  While asset light isn't as sexy for the media to talk about as a 'virtual concierge' it's actually a massive innovation that completely changed the trajectory of hospitality.  The best part is that this innovation is real, not "virtually real".
Davidson's last point is that Sonder operates in unique neighborhoods.  Could you imagine the CEO of Burger King getting asked on an analyst call "How are you different from McDonalds?" to which he replies, "We are in different neighborhoods than McDonalds."  It would never happen. Further, by using its venture capital to make a traditional hotel push Sonder itself is admitting that it thinks these neighborhoods and assets are attractive.
"After raising $225 million in a funding round in July, valuing the company at more than $1 billion, Sonder decided to veer away from its traditional short-term rental model and elbow its way into the hotel industry." ~Bloomberg
So is Sonder a vacation rental business, a hotel business or a tech company?
VCs, Sonder and mainstream media might not realize it today, but Sonder is a hotel company and if it reaches scale it could seriously hurt the economics of the industry that it wants to play in by irrationally undercutting prices without providing substantial innovation.
Sonder has undeniably built a great brand and the founders are truly talented individuals.  Nothing can be taken away from operators who have created something of such massive scale in such a short period of time.  Despite all of the public criticism lately I say the same about WeWork founder Adam Neumann.
My only hope is that the mainstream media and investors stop pretending these companies are something that they're not.  We need to stop killing markets without bringing material innovations to offset less favorable economics.  If Sonder came out as a hotel company, traded at hotel company valuations and just plain ran better hotels than old school operators it would be a huge win for the industry but the path it's pursuing is dangerous for it's employees, investors and the industry as a whole.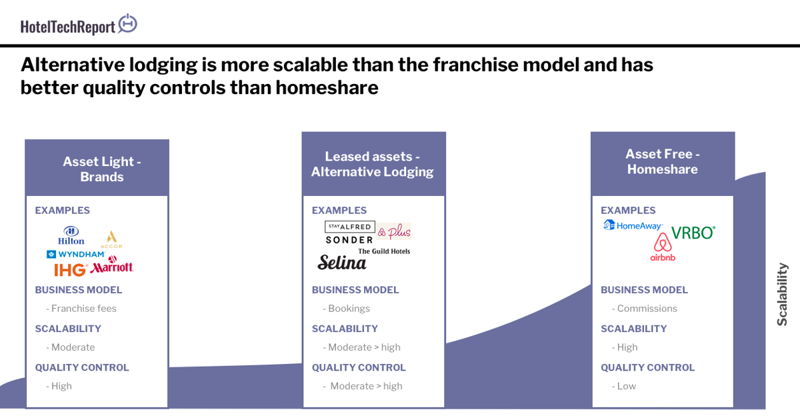 Alternative lodging sits between branded hotels and homeshare
Sonder is entering markets and undercutting hotels not because it has a better model or technology but because it has cash in the bank from venture capitalists.  When that capital dries up and investors focus their attention on the next shiny object, the hotel market will have been negatively impacted for no reason at all.
Sonder will have taken from the industry without giving back. Companies like Sonder are not revolutionizing hotels, they are hotels.  If they succeed in the end, they're likely to destroy hotel industry jobs (one of the biggest employers globally) and industry economics.  Ultimately consumers may benefit from cheaper rooms in the short term, but over time hotels will go out of business because they can't compete, hotel development will be less attractive for investors because margins will be compressed and in the end consumers will end up paying more over the long haul.
My unsolicited advice to Sonder and its peers
Pick a path.  Either: (a) Double down on hotels and focus on building the best hotel brand around or (b) Focus on building a great vacation rentals business with consistent high quality units and become AirBnB's most important channel partner. 
Focusing on both just to scale for the sake of scaling is dangerous and the implications will burn not just your late stage shareholders but the industry that you are supposedly trying make a positive impact on.
Think deeply about your impact on the communities that you operate in.  What happens to all of those leases when your investors decide they no longer want to foot the bill? What happens to all those hotels who laid off staff or even shut down because markets were oversupplied with unreasonably cheap inventory?  Innovation takes risk and that's ok, but if you're not really innovating but keep telling people that you are - a lot of people will get hurt.