This is Why Hotel Brands Shouldn't Build Tech in House
By Jordan Hollander
Last updated June 10, 2022
8 min read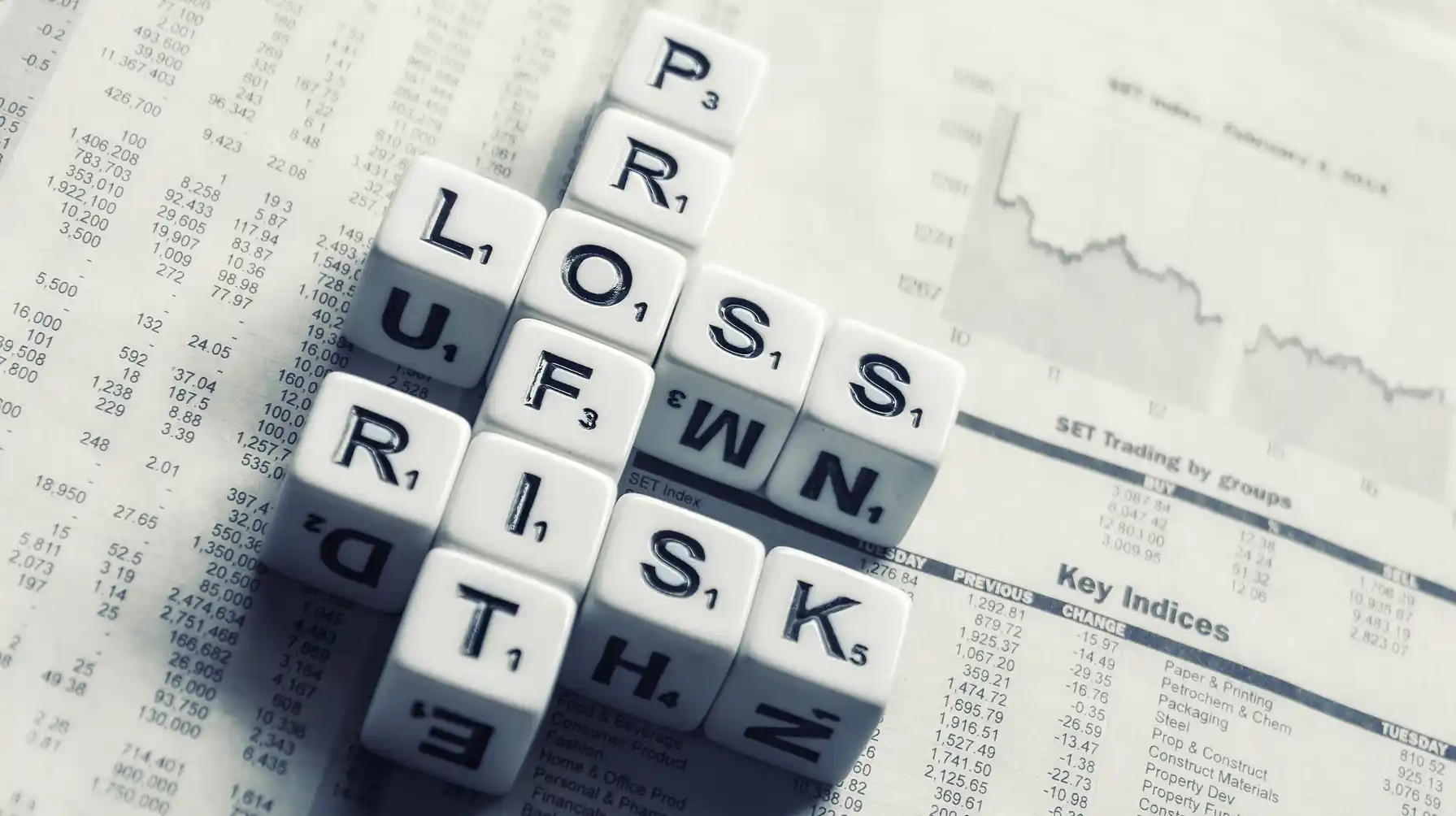 When enterprise companies spend loads of money on technology they usually think about building tech in house so they can have more control over development and ultimately save money.  Sometimes this equation favors building tech in house and other times it does not. Several high profile failures in the hotel industry include a collaboration amongst all major hotel groups to create an online booking platform called Room Key which was eventually shuttered.  We'll discuss this initiative and more in detail below.
Even venture funded neo-hotel brands like Sonder fell into this trap.  Sonder's stock price has fallen more than 85% since its IPO and the business is burning $83M/quarter trying to be a tech company instead of operating as a hotel group with tech procurement and integration as a core competency.
Most sophisticated enterprise companies (think Nike and McDonalds) understand that they are not tech companies so they effectively outsource their tech R&D spend to 3rd parties that are focused on innovation.  Could McDonalds build software to help franchisees manage their listings? Yes, but they partner with Yext.  Nike could definitely build prototyping software in house for its digital products, but it chooses to partner with InVision.  Firms like Nike and McDonalds have become innovators by being experts at identifying trends and partnering with top tech companies to meet their core business goals.
So the question is, if McDonalds and Nike outsource their respective technology needs - should hospitality companies really be building tech in house?
We believe that when hotel brands try to build tech in house it ultimately brings them into precarious waters, here's why:
1. They lack the resources to compete with pure play technology companies
2. Hotel brands usually underestimate the ongoing effort required to maintain and scale a technology business (let alone multiple business lines and products)
Hospitality Companies Don't Have the Resources to Compete with Tech Companies
Charles Schwab is a massive financial institution worth more than $60B.  The firm could easily build custom marketing automation solutions for the business but they choose to work with with Marketo because they know that Marketo will be able to innovate over the long run.  Even Citrix and Microsoft, technology companies themselves, use Marketo's marketing technology so that they can focus on their core businesses.
IDeaS, a popular revenue management software company and it's parent company SAS just announced a 3-year plan to invest $1B in artificial intelligence.  SAS is a company that deeply understands the power of focus and investing in its core competencies.
"If I want to host a SaaS application, I choose a cloud host. If I want to manufacture a consumer product, I partner with a company like Foxconn. If I need delivery for my restaurant I work with a delivery company. Yet, brands without a technology focus still believe it will be cheaper and more effective to build their own software internally when history has shown us, time after time, that these projects will be over budget, unsustainable, and competitively weaker than the professional tech products in the market." ~Adam Harris, CEO, Cloudbeds
The median publicly traded software company spends 23% of revenue on R&D with many high growth firms spending 50% of revenue.  It's hard to imagine that even Marriott could afford the spend levels to develop one competitive product let alone multiple product lines that compete with a myriad of different specialist software businesses.
Sophisticated Enterprise Companies Buy into the Future of a Tech Product as Much as the Present
Technology requires immense amounts of capital to scale and increasing investments to remain competitive.  Technology requires even more upkeep than hotels. Where hotels build up their capital reserves and renovate roughly every 5-7 years, tech companies are constantly "renovating" their products daily through product sprints.  When enterprise companies "buy" tech they are partnering with tech companies for the future as much as selecting products for the present.
The reason that the SaaS business model (recurring subscriptions) aligns value so well between buyers and sellers is because the product is constantly being reinvented so it forces tech companies to maintain their end of the bargain.  When you sign up for SaaS (software as a service) you are not only signing up for the product today but you're buying into its roadmap for the future. Hotel companies that try to build tech in house are rarely prepared for the constant investment required to maintain let alone scale products and keep up with the ongoing massive investment, iteration and innovation of tech firms.
So what does history tell us about hotel companies who have miscalibrated this decision?
Starwood was bought by Marriott for $13B and itself has taken huge losses on technology investments when they were no longer able to invest enough to remain competitive. According to Starwood's (now Marriott) 2015 10K filing, the firm took a $6M charge for "technology related costs and expenses that were no longer deemed recoverable."  Go back further to Starwood's 2013 annual filing for stockholders and you'll find a $19M charge related to "technology related expenses" that the firm "decided to absorb" because they couldn't collect from managed and franchise properties.
When we draw the analogy between maintaining software and maintaining a hotel, Starwood was effectively unable to properly renovate its technology and investors paid for it.  Every hotelier knows what happens when you let a property go too long without renovation and the same happens when software isn't maintained properly.
Similar to Starwood building tech in house and having trouble maintaining the infrastructure, Choice created Skytouch PMS internally with the vision of transforming the tech market and has similarly struggled.
"In 2014, it [Skytouch] generated a net loss to the company of up to $20 million. Investors have pressured Choice to either make SkyTouch profitable, sell it, or close it down."
Choice stopped reporting the results of its Skytouch division and now includes those results within its "Corporate & Other" expense line (pg. 102 of Choice 2018 10K filing). So while Choice no longer gives updates on how Skytouch is doing - it is highly inprobable that a company like Choice would decide to include the business unit as an expense line if that unit was doing well.  In addition to the Skytouch debacle, we've also heard that Choice is winding down its Choice Labs innovation division.  Accor, too, recently reported a $288M write-off on tech investments such as AirBnB competitor Onefinestay and concierge service John Paul.
Accor even tried to sell it's distribution to independents and shuttered the project after 2 years, here's what happened in the words of Accor's own spokesperson.
"This initiative is no longer relevant in regards to the Group's strategy and its new profile as per today.  Results are below expectations"
Accor wanted to plug independents into its massive distribution which in theory could add a ton of value if executed well and even that didn't work.
Even when all the big hotel groups banded together to build the online booking platform Room Key they failed (Choice, Hilton, Hyatt, InterContinental, Marriott, Wyndham) - isn't it time that hotel companies learned this lesson?
Even Booking.com had to shut down it's hotel software operations after some high profile acquisitions - a testament to how tough the business really is.
Hotel Brands Shouldn't Build Tech, They Should Get Better at Buying It
The lesson here is clear - hotel brands need to focus on what they do best.  They should leverage their scale and clout to secure great service and attention from tech partners. It's up to franchisees and investors to ensure that operators stay focused.
Hotel brands have insanely complex businesses managing many stakeholders who often have conflicting interests.  The business of running a hotel is a huge feat both operationally and from a revenue/distribution perspective.
"Because the skepticism exists and because tech can take long, hoteliers reach the wrong conclusion. They decide to build instead of buy. I have witnessed a transformation in travel tech. Increasingly, hotels are embracing the rules of comparative advantage and are embracing tech where they can move fast, learn fast and benefit quickly." ~Alexandra Zubko (former IHG Lead Strategist)
Because of these factors, hotel companies who want to succeed in the digital age should be experts at technology procurement and management.  Historically hotel brands have been very weak when it comes to technology procurement and management so many have tried to compensate for that weakness by building tech products in house. Unfortunately this strategy often leads to write-offs, burning piles of cash and consequently the executives who lead these disastrous projects being pushed out.
"Great technology products enable a valuable job to be done to be easily performed with maximum success and consistent results. With the blistering pace at which the world is changing, our expectations change. That means jobs to be done change. And that means software needs to rapidly iterate and evolve. That is why the world is headed to simple, modular solutions that can nail jobs to be done as they evolve. The smartest brands know that to create compelling and lasting technology advantage, it's now about identifying and bringing best-in-class interoperable solutions together into powerful system that gives lasting advantage.  From a cost, resource, time to market and life time value perspective, you'll waste literally millions of dollars even before calculating the opportunity cost. Brands need to get amazing at hand-picking and investing in their strategic technology partners who are proven to design, build and iterate the purpose-built software hotels require, so they can then focus on delighting guests, growing locations and enhancing the value of their networks for franchisees."

~Marc Heyneker, CEO @ Revinate

 
Large enterprise brands have some clear motivations:
(1) They want to expand to more and more hotels worldwide, and be able to do so quickly and efficiently. That means needing a consistent stack of solid technology that can be deployed, enabled and operationalized to run and add those hotels to the overall system.
(2) They want to proudly position their Technology Stacks and enabled programs as unique value-adds that differentiate their Brand and their Brand value. So they can both convince Owners why they're better, and monetize and justify their Brand fees in an age where consumer preference for brands is in decline.
This sometimes gives large enterprises the false sense of belief that they need to build their own. In fact, building your own puts both goals in jeopardy, almost immediately. These multi-million dollar, multi-year, multi-faceted technology projects become sinkholes for capital investment, anchors to business progress and optimization, and turn into tough write-downs as we saw in the examples above.
Hotel brands should instead be focused on rethinking their technology organizations to be better buyers and managers.  Corporate hotel purchasing units have historically focused on price negotiations and monopolistic software customization (i.e. product roadmap hijacking) but in order for brands to thrive in today's hyper competitive markets they are in need of a massive strategy shift.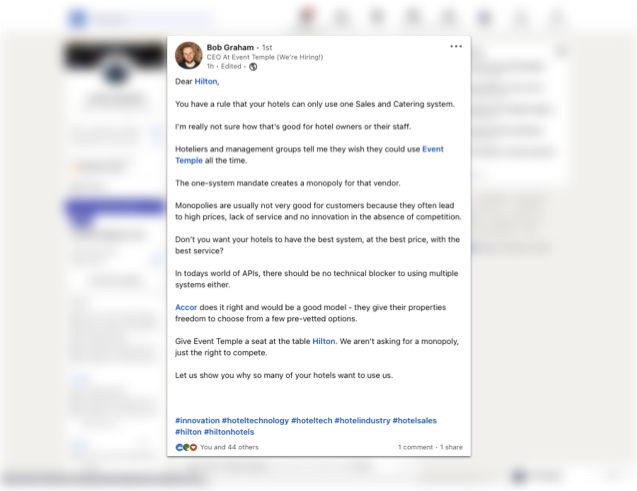 The way hotel brands purchase tech today is antiquated and has stifled innovation for decades - it's time for change.
Red Lion Hotels Corporation is one such company that has taken a deep look at how it buys technology and optimizes its tech stack. Red Lion Hotels Corporation CIO John Edwards shared his firm's approach to technology vendor selection with Hotel Tech Report.
"At RLHC, we have been able to establish ourselves as leaders in hospitality innovation by focusing on what we do best: finding the right technology partners to create solutions that meet our hotel's needs. We believe that is the fastest way to change the technical landscape in our industry.  RLabs and Canvas Integrated Systems were created to house our already existing technology and innovation solutions, which provide customized best-in-class solutions for our hotels. Our tech stack includes well known industry solutions such as IDeaS, Opera, & WindSurfer as well as new industry solutions such as Monscierge and HAPI."
Digitally savvy hotel owners want technological choice and they want the procurement benefits that brands command with scale.  The brand development teams that win in the digital age will be the ones who are able to deliver choice to owners around which technology vendors to use, the scale that comes with warehousing and leveraging data from that warehouse and the cost benefits that come from bundled negotiations with vendors.
Recommendations to Hotel Brands Who Want Tech to Be a Core Differentiator
1. Map out clear technology systems required to deliver on core business goals and all potential providers
2. Lay foundational infrastructure for open systems and clean data
3. Set aside designated resources for technology management. Hotel groups should maintain a vendor CRM and dedicated staff for managing vendor relationships. This staff should also be tasked with collecting market insights and sharing new technological developments as well as vendor status updates on a regular basis with leadership.
4. Set clear and tangible KPIs with each vendor that must be met in order to retain the contract (e.g. customer support response time) Create clear roadmaps for switching systems in the event that suppliers do not deliver on KPIs
5. Invest in tech startups that fit your strategic criteria above! Highgate (invested in Stay Wanderful, Travel Tripper, LodgIQ, OTA Insight) and CitizenM (invested in Snapshot, exited to Shiji) have been incredibly successful executing on this strategy. They put strategic money to work then derisk their investments by giving those startups proof of concept in their properties.
6. For hotel companies that don't have the resources to start a fund internally like them there are great strategic venture capital firms that are focused on real estate and can do the heavy lifting for you - check out Metaprop VC and Fifth Wall Ventures. Investing enables you to gain access to innovation and lend your expertise without snuffing out the creativity. Leadership is about investing in great people and trusting them to do the work, not about micromanaging every aspect of the process yourself.
7. Design scalable processes to constantly beta test competitive products in the market and identify new products that can drive core business goals.