How to Leverage Collaboration Tools in Your Hotel Business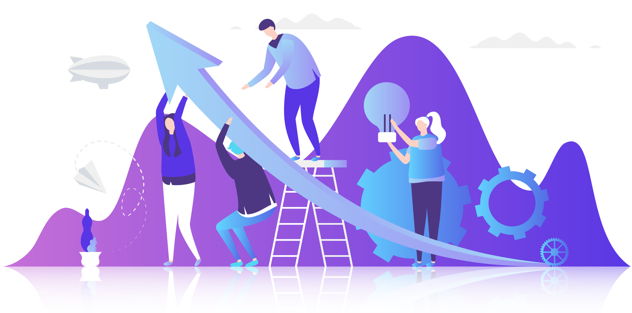 There's no silver bullet to fix every issue at your hotel property, but if there were, it might look a lot like a staff collaboration tool.
Service optimization depends in large part on managing hotel staff in different parts of the property, at different times, working on different tasks and collaborating on complex projects. Historically, service optimization was a hydra of checklists, manuals, staff training, two-way radios, and memos. Staff collaboration – and, consequently, service optimization – has evolved thanks to software like HotSOS.
Our research shows that collaboration software can reduce unnecessary phone calls and ineffective processes – thereby saving hotels up to three minutes per guest request. For every 1,500 guest requests, hotels can save in the ballpark of $1500, or $1/request, simply by implementing service optimization software. HotSOS and other collaboration tools offset high employee turnover by storing your key SOPs and other documents in the cloud and making them accessible to employees wherever they are in a hotel (or off property). Most importantly, they help your operations team run like a well-oiled machine through seamless communication and task tracking.
Service optimization software is now critical for hoteliers seeking to improve operational efficiency, deliver five-star guest experiences, and increase RevPAR. Here's what you need to know about procuring staff collaboration software.
Why every hotel needs collaboration tools
Hotels with staff collaboration tools reap the benefits of improved operational efficiency, better guest experiences, and increased revenue per available room.
Where hotels used to rely on paper checklists and uncoordinated teams working in silos throughout the property, hotel operations software streamlines staff and processes more efficiently while also promoting sustainable hospitality. A cloud-based hotel operations platform like HotSOS align your team through a single platform, providing a way to manage tasks and delegate throughout the day. Decision-making becomes more transparent, leading to better results and higher employee engagement.
By offering transparency, a collaboration tool empowers your team to deliver a great guest experience. Digitizing communication keeps all employees up to date on a property's shifting priorities as guests check-in, enjoy their stay, and depart at different times. Teams can share ideas, tackle challenges, and delegate effectively in structured workflows. Guest needs, requests, and complaints reach the ears of the right people to solve the issue quickly.
And, lastly, a service optimization platform offers knowledge continuity and standardization in service. HotSOS provides a way to document standard operating procedures and an employee handbook in one place, so employees can refer to policies and procedures from any device at any time. Provide continuity between shift changes, new employees, and between different property locations.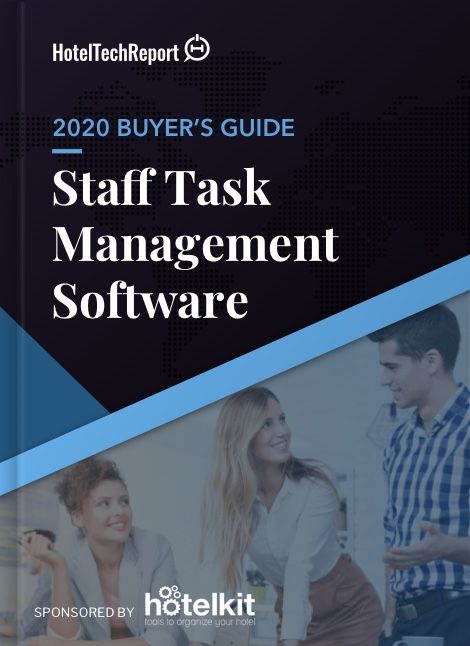 The 2020 Hotelier's Guide to Collaboration Tools: Download Here
Hospitality trends impacting collaboration tools: staff turnover, globalization and quality standards
This year, collaboration tools have become even more powerful, adding on some exciting new capabilities. 2019 was the year of messaging, mobile, and consumerization of the enterprise.
The top hotel collaboration tools improve communications between hotel staff and guests by introducing text and chat capabilities. With real-time guest messaging from in-room tablets or mobile apps, hotel teams need the ability to coordinate quickly and effectively. Tools like Slack and Intercom are already popular at hotel properties, and we expect to see industry-specific software continue to innovate in this area.
Today's guest is more mobile-first than ever before. Guests prefer to receive text updates more than most forms of communication. More than 83% of millennial consumers said they text more than they talk on their smartphones. The "mobilization of everything" applies to staff collaboration tools as well. Hotel teams are increasingly comfortable with mobile technology in the workplace.
And, lastly, the consumerization of IT means that unless a software tool is intuitive, your hotel staff will be slow to adopt it. The consumerization of IT is a trend coined by Gartner to describe how employees approach workplace devices and technologies from the point of view of a consumer. When tools and technologies at your hotel are outdated or considered "old school," it's less likely that your hotel team will use those tools – leading to no productivity gain. There's a clear imperative to upgrade your service optimization and communication tools to help your team work better.
Where are staff collaboration tools evolving next? We predict that employee turnover, globalization, and quality standards will define the next iteration of service optimization platforms.
Employee turnover in the hotel industry is shockingly high. By one estimate, "the hotel and motel industry alone experiences an employee turnover rate of 73.8%––exponentially higher than the annual average of 10-15%." Retaining the right people within your organization is becoming more and more difficult, and collaboration tools are vital to maintaining institutional knowledge.

Globalization and the rise of diverse teams means staff collaboration tools need to be equipped to manage communication issues as they arise. Highly diverse teams, such as housekeeping, must overcome language barriers and miscommunication due to cultural differences.

Finally, we expect that 2020 will see much higher quality standards and guest expectations. Guests will only be more demanding, seeking out personalized experiences and high-tech add-ons in addition to high-quality standards. Service optimization platforms must provide efficient internal communication and quality management.
Where does this leave hoteliers? Hotels without collaboration software will fall behind and struggle in a world with rising employee turnover rates and increasingly global teams.
Selecting a staff collaboration tool for your hotel
There are dozens of great staff collaboration tools on the market. Knowing what to look for as you select a platform for your hotel is half the battle. These are just a few of the key benefits a service optimization tool like HotSOS will cover:
Task checklists: to manage daily routines and assign clear responsibilities.

Task traceability: to add accountability and ensure timely completion of tasks.

In-app translation: to help multilingual staff collaborate.

Alerts & notifications: to prevent costly mistakes and missed deadlines.

Reporting & analytics: to help spot trends, escalate issues and identify opportunities to improve.

SOP handbook: to store a hotel's hub of knowledge.

Shift handovers: for clear communication between shifts.

Integrated messaging ability: for seamless messaging across departments and with guests
Your staff collaboration tool must integrate with your PMS and, if you have them, in-room tablets, as well as any other guest messaging tools you use. Vet every vendor to make sure they have the integrations you need to set your team up for success.
Getting started with collaboration software
Collaboration software should be intuitive and easy to learn to offset the high staff turnover rates in your industry. It should be straightforward enough for even your most technically-challenged staff member to understand.
Hotels change management companies all the time, so look for a software tool that can adapt and scale with you – without having to adapt to another plan. The software should support all your stakeholders, not just those in an operational role. And, last but not least, it's imperative to ask your vendor how their tool can show measurable success: in RevPAR, in guest satisfaction, and operational efficiency. For more information, download our buyers guide for a deep dive on vendors, pricing, and our top recommended tools for service optimization.