How to Become an Expert at Hotel Retargeting Ads
By Jordan Hollander
Last updated January 26, 2022
5 min read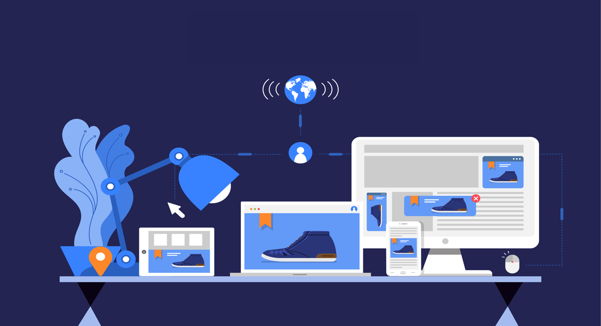 Consider the statistic that 90% of guests who book through an OTA visit your hotel's website at some point during their booking journey. Despite the time and effort you put into optimizing your website and implementing a great conversion strategy, you're still losing direct bookings to OTAs even after guests have been to your hotel website. Why?
Sometimes, when a guest visits your website, they're just starting to do research and price the various options on the market. They aren't ready to click the "book now" button, despite how good your site looks. This is where retargeting can make the difference between bringing the customer back to your site and losing out to an OTA. To increase direct bookings, you need retargeting to be able to meet guest intent and showcase the value of your hotel around the web.
Retargeting is one of the most profitable marketing channels because you're targeting your own proprietary audience and driving them to your direct channel vs. third party hotel booking sites that often charge high commissions.. It's an excellent way to make sure your ads have the most impact: you're showing ads and offers to people who are already aware of – and even interested in – your brand. Getting retargeting right can take a ton of time and effort unless you have the right industry-specific tool in your arsenal. 
What is Retargeting?
Retargeting is a marketing practice that specifically targets visitors to your website who have browsed, but not purchased. It's widely accepted that only 2% of shoppers complete a purchase during their first visit to an online store. Retargeting aims to bring back the other 98% of viewers to capture a higher percentage of sales. This approach has a higher ROI than most other marketing initiatives because you're using your budget to convert users who are already interested in your hotel and have demonstrated purchase intent.
Using a piece of code, retargeting tracks someone who visited your site and shows them ads related to your brand at a later point in time. There are two main ways to run a retargeting campaign. 
Pixel-based retargeting: the most common form of re-targeting, when someone visits your hotel's page, a piece of JavaScript (also known as a pixel or cookie) is placed on their browser. The cookie notifies retargeting platforms to serve ads after the user leaves your site. Retargeting platforms can serve ads tailored to what the user viewed on your page; for instance, if a visitor viewed suites and family-friendly rooms, a retargeting platform can show ads for family getaways. 

List-based retargeting: if you have someone's contact information, you can use it to show them specific retargeting ads on a social media network. Upload your list of email addresses to the retargeting campaign. Then, the platform matches your emails to users on that network and serves ads just to them. This method is a highly specific way to target potential customers, but only works if someone uses the same email address on social media as the one stored in your database.
List-based retargeting might sound good – why wouldn't you want to target people your sales team has initiated contact with? But experts warn that few people use the same email address in business as in social media. One study found that "match rates can vary from 70-80% down to as low as 20-30% for some platforms, so you'll need a fairly large list to make this type of retargeting effective." 
Why is Retargeting so Profitable?
By some estimates, retargeting can be 2x more profitable than regular ad campaigns. Retargeting generates more online sales by keeping your brand front and center. Continuously serving ads to digital "window shoppers" encourages users to come back when they're ready to buy. Every time your customer sees your retargeting ads, your brand gains traction and more recognition. High click-through rates and increased conversions are typical with retargeting campaigns: these metrics underscore the value of good branding and repeated exposure.
Triptease's new retargeting tool uses search data, parity, and behavioral data points to avoid targeting a visitor who's search dates are in the past, or to avoid bidding to advertise when your page doesn't offer the best price available online. It also updates the creative and ad copy to show offers most likely to appeal to an undecided guest. Someone planning a golf weekend away will see a different retargeting campaign than a business traveler looking for an event venue. 
The value of retargeting is in reaching users who are in the middle of their customer journey – people who haven't made up their mind about booking with your hotel (or any of your competitors, for that matter). Rather than diverting scarce ad dollars on users who have already made up their mind hotels are wise to focus on those still have an open mind and are more likely to convert because they're already aware of (and have showed interest in) your brand.
How to Run Highly-Effective Retargeting Campaigns  
The mechanics of placing retargeting ads are best managed by a platform like Triptease. 
"If we know a guest has arrived on the booking engine from metasearch, we show them a message based on the details of their search. If we know they're high-value, we might highlight one of the hotel's upsell offers. If they leave the site without booking but they've displayed signs that they're interested, we'll adjust our retargeting bids to make sure they're reminded of the hotel later," describes Charlie Osmond, Triptease's founder.
There's a limit, however, to how much exposure a visitor should have to your retargeting campaigns. "Frequency capping" limits the number of ads you show a particular audience. This practice can make the difference between engaging a customer and spamming them. Industry experts found that capping impressions at two to three per ad group is the right number, but test to find the best level for your property.
Retargeting campaigns consist of display ads with images, video, enticing copy, and a CTA to capture an audience's attention. The best retargeting ads include: 
A headline that relates to what the user was browsing on your hotel site  (e.g., "Activities for the whole family")

Relevant visuals: an animation, image, or video that shows your property as it relates to what the user wants (e.g., a picture of a family jumping into your property's pool)

A call-to-action that stands out: make the button eye-catching with personalized, actionable text (e.g., Book for your family now)

Live price comparison: Triptease Retargeting pulls a live price comparison to guests based on their unique search, wherever they are on the web.
Personalization is key in running an effective retargeting campaign. Most retargeting campaigns allow you to segment your audience by either behavior, time, or whether or not they are an existing customer. It takes some time to find the right retargeting strategy for your property – here's how to get started. 
Retargeting Strategies in the Hotel Industry
Targeting website viewers is just one potential strategy that's popular in the hotel industry. The ways to retarget potential guests are categorized by how a viewer interacts with your property – through your website, through email, or through social media, for instance.
Email retargeting triggers ads to customers who have opened your email campaign. The tracking pixel is added to your email so that anyone who opens the message will later see display ads for your hotel elsewhere on the internet.
Contextual retargeting gives your hotel the ability to cross-promote with similar businesses in the hospitality industry. For instance, if a visitor leaves your site and goes to book a flight, your ad will be shown on the airline's page. It's a more sophisticated way to retarget a customer based on behavior and interests.
Social retargeting delivers ads to visitors who browsed your website and then left for a social media channel like Facebook or Twitter. According to Net Affinity, "About 54 percent of marketers believe that 'social retargeting was a better use of resources than mobile, search or even email retargeting.' In addition, it leads to more than double the conversions!"
Lastly, search retargeting seeks to reach new customers who may be interested in your hotel by targeting specific keywords. For instance, if someone searches "hotel New Orleans" your campaign may be one of the promoted results or display ads – even though someone has never visited your website.
How and when you choose any of these retargeting options depends on where the customer is in their purchase decision-making process – and recognizing a customer's conversion potential is where a tool like Triptease brings the most value. Triptease combines data from all parts of the booking journey to allow you to send the optimal retargeting messaging.
"If we know a guest has arrived on the booking engine from metasearch, we show them a message based on the details of their search. If we know they're high-value, we might highlight one of the hotel's upsell offers. If they leave the site without booking but they've displayed signs that they're interested, we'll adjust our retargeting bids to make sure they're reminded of the hotel later," says Osmond.
Retargeting is easy to do, but very complex to do right. Work with a partner like Triptease that can ensure that you have experts running your campaigns to maximize results.