Email Marketing For Hotels: Should You Use Mailchimp?
By Hotel Tech Report
Last updated January 26, 2022
4 min read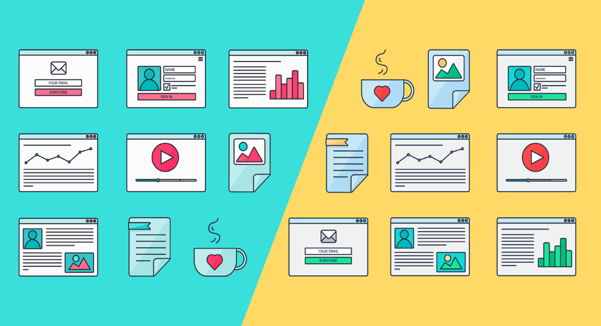 Email marketing is one of the most powerful ways to reach customers, according to research by Hubspot and a recent report from the New York Times. Their research shows that email campaigns generate $38 for every $1 spent: an ROI of 3,800% that makes email easily one of the best performing marketing tools at your disposal. In the competitive hotel industry, email is critical for building 1:1 relationships with guests that lead to repeat bookings and guest loyalty.
Hotel email marketing requires an analytical and creative mindset combined with great software tools.  You'll need to be well versed in metrics like open rates, subscriber churn, click-through rates, deliverability, subject line A/B testing and more.  Email marketing strategy also requires savvy digital marketing skills and social media like creativity (e.g. an eye for design and catchy headlines).  
Email open rates and conversion rates depend on both the analytical side (i.e. are you segmenting a quality list?) and also the creative content (e.g. are you able to craft special offers that are attractive for that segment?).  Great email marketers don't forget that hotel guests are not just numbers, they're people.  The customer journey in today's hospitality industry is incredibly complex and email remains one of the best ways to reach prospects whether they're business travelers looking for high-quality meeting space or honeymooners ready for that special getaway.
There are many general email campaign tools on the market, with MailChimp being one of the more popular options. While these tools offer standard email marketing capabilities that can improve your hotel's marketing ROI, a industry-focused hotel CRM and email marketing platform that is specialized for the hospitality industry delivers better results, guest insight, and increased revenue. Here's why.
The Landscape of Email Marketing for Hotels
Email marketing is one of the most powerful ways to build relationships with your guests and is a key hotel marketing channel.
First and foremost, it's one of the few channels that hotels own; by growing and maintaining your email list – and using this customer touchpoint thoughtfully – hotels reap the benefits of reputation management, more direct bookings, increased customer loyalty, and lower marketing costs. When email campaigns are backed by thoughtful, data-driven strategy, hotel owners can capture higher ROI by redirecting spend from platforms like Google and Facebook.
Great email marketing requires four ingredients: 
Segmentation: using detailed attributes beyond gender or age, such as loyalty, lifetime spend, frequency of stay, or recency of stay. 

Relevant messaging: send content that is relevant as measured by an increase in conversions or a decrease in unsubscribes. 

Timely automation: when the guest receives the email is everything. Data analysis from Revinate shows that 98% of all upsell revenue came from pre-arrival emails; create relevant campaigns and automatically send them at key moments in the guest journey (before check-in, for example). 

Benchmarking and guest insight: use a tool that can evaluate your campaigns' performance based on geography, segment, and email type to constantly iterate and improve.
Setting up your email campaigns takes the right tools – specifically, the right customer relationship management software that blends marketing automation with other integrations and in-person, text, and online customer touchpoints. Hotels seeking a quick and straightforward marketing tool might consider MailChimp to achieve their marketing goals – yet they would be missing out on the better capabilities of an email marketing tool built to handle the needs of the hospitality industry.
Mailchimp Pricing and Usability are Attractive for Hotels
MailChimp is a good alternative for hotels seeking a simple, effective email marketing tool separate from their CRM platform. MailChimp boasts 15 million customers who send over a billion emails each day. It's easy to set up and use, quick to learn and includes the core features that hotel owners need to run their email marketing efficiently (automation, A/B testing, and segmentation, etc.).
The biggest benefits to working with MailChimp include:
Budget-friendly: depending on your needs, MailChimp is affordable with plans ranging from $0 - $300/month. 

User-friendly: MailChimp's templates and drag-and-drop editor tool make it easy to design stylish, mobile-friendly emails that get opened (no HTML experience necessary). 

Low learning curve: this cloud-based platform is accessible from any hotel property, with no complicated download/install process. MailChimp is accessible via mobile, tablet, and on any browser. 
As a general email marketing tool, MailChimp is a solid option. But for the hotel industry, where proper segmentation requires a direct 2-way PMS integration, use a CRM and marketing automation tool that can go the distance.
Winner: Mailchimp Alternatives Designed for the Hotel Industry
MailChimp clearly accomplishes a lot in a very user- and wallet-friendly platform, yet there are a few areas where the tool falls short. Hotels are better served by combination email marketing and hotel CRM system such as Revinate. Revinate blends CRM and marketing automation to target promotions and to improve the on-property guest experience. Top rated hotel crm systems pick up where MailChimp falls short on segmentation, automation, and benchmarking.
MailChimp's limitations lie in the platform's inability to get super-targeted with hotel industry specific data. MailChimp can't interface with a hotel's property management system; that makes it nearly impossible to properly segment an audience. Revinate uses your hotel's PMS to segment customer attributes and behavior for better relevancy in each e-mail message. Likewise, MailChimp can't automate segmentation; as data points like RFM (recency, frequency, monetary value) and LOS (length of stay) change, your email campaigns will become irrelevant unless you pair your email marketing tool directly to your PMS. Revinate can update your customer segments using stay history, campaign engagement, post-stay surveys, and total lifetime value.
Lastly, syncing your email marketing tool to your PMS gives you better reports. When working in MailChimp, you lose the ability to directly attribute revenue to specific campaigns or segments. The upsell reporting tool in Revinate delivers insight on your upselling efforts by tracking revenue per upgrade. Users reported 73% higher revenue per recipient by working with a tool like Revinate via smart segmented campaigns.
MailChimp is a fine option for single property (under 10-rooms) hotel owners seeking to run their own email marketing campaigns for the first time at a very basic level. However, linking your email marketing tool with data from your CRM and PMS is without a doubt a better strategy. Hotels see higher upsell revenue, better engagement, and improved customer loyalty by working with a tool tailor-made for the hospitality industry.  Dedicated platforms like Revinate also provide coaching and guidance from industry experts, benchmarks to help you assess your progress and are constantly developing new features designed specifically for the needs of modern hoteliers such as multi-property reporting functionality and revenue attribution dashboards.
Wrapping it Up
Hotel email marketing campaigns remain one of the best ways to bring back past guests, drive engagement in loyalty programs and even promote room upgrades to those already on property.  They are also one of the best ROI marketing channels because hotels don't need to deploy spend to access them.  Whether it's pushing certain profitable room types or driving more hotel website traffic - any hotel with over 20 rooms should put a high priority on this high ROI marketing channel.