The Best Hotel Booking Sites of 2023: Cheap Deals, Quirky Pads and More!
By Jordan Hollander
Last updated November 29, 2022
15 min read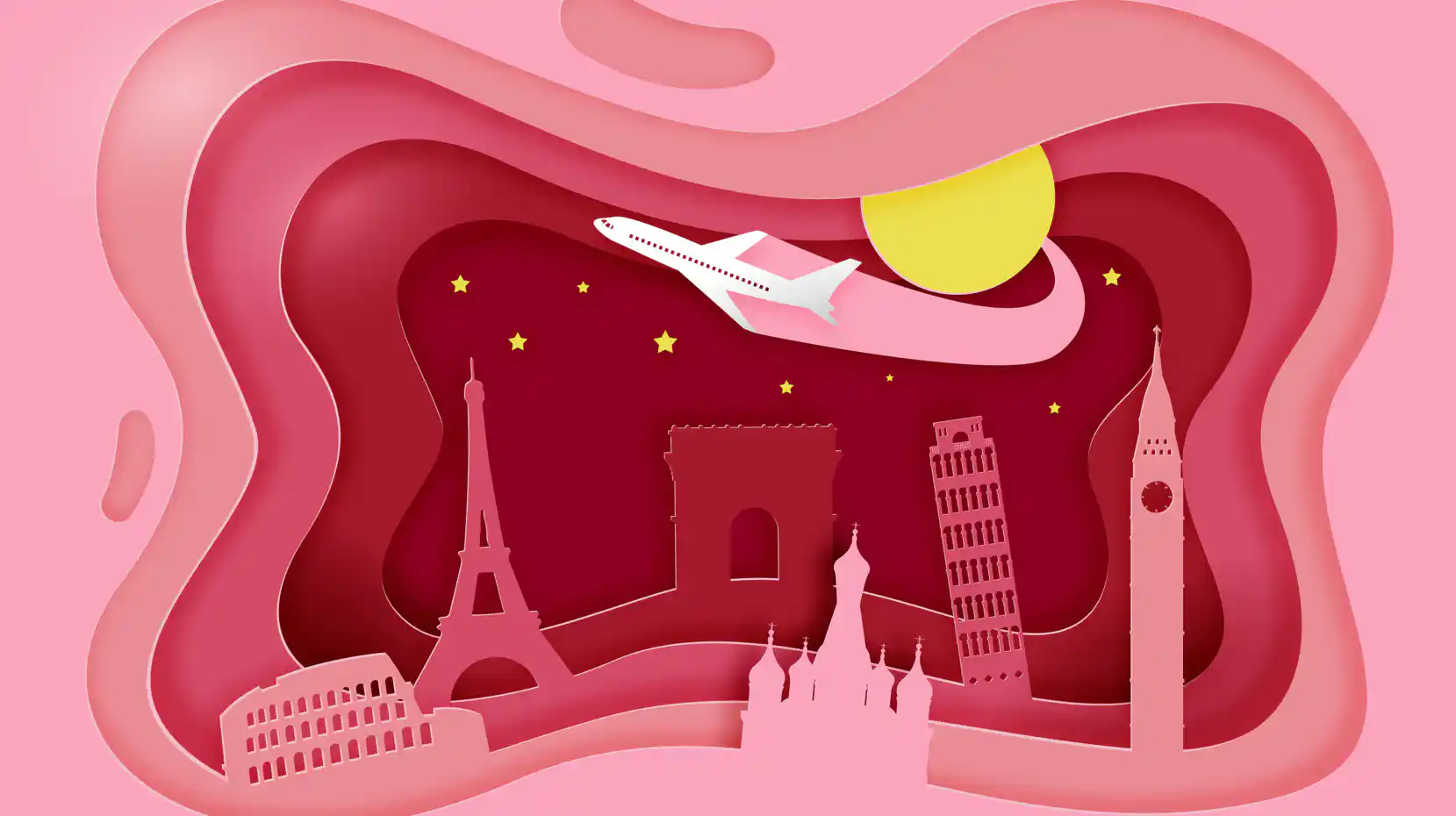 Are you feeling as couped up as we are with this Coronavirus quarantine? Looking for inspiration and deals to plan your revenge trip when the world opens back up again?
Nothing beats that rush when you book a killer hotel deal! With the number of hotel booking sites multiplying at a rapid pace, it can be difficult to know where to find the best deals - and without getting scammed. In this article, we'll introduce you to several types of hotel booking sites, including online travel agencies, comparison or "meta-search" sites, branded hotel sites, innovative booking sites, flash sales and "mystery hotel" deals, and some sites offering unique accommodations. By the end of this page, you'll know several sites where you can find the best deals for the kind of travel that's in your future.
Ultimately finding the best hotel booking website will mean different things to different people.  Even a single person may define "best" differently for different types of trips. Are you looking for the most sophisticated search engine that makes  your hotel search fast and painless? Google would likely be considered a top contender.  Maybe you're looking for cheap hotels to stay at on your next business trip to San Francisco where you'd prefer Kayak.  Maybe you need an all suites hotel in Las Vegas for a bachelor party or an all-in package for your family to Disneyland Orlando with car rental, activities and more.
In this article we'll break down 'best' into 5 categories to make it easy for you to find what you're looking for on different types of trips:
Let's dive in!
Online Travel Agencies
If making hotel reservations were like online shopping, then the online travel agencies are the Amazon of the hotel industry. These mega-sites contain millions of listings for hotels, vacation rentals, and everything in between. If you travel frequently, some OTAs even offer loyalty programs which can bring you even more perks and discounts.
Booking.com
If you've ever searched for hotels online, chances are you've come across Booking.com. This massive hotel booking site is the largest in the world, with over 28 million properties listed. You can find everything from luxury hotels to hostels to apartment rentals on Booking.com. In the search results, you can quickly see the property's guest review score, the cheapest room type, and the total reservation price - unlike some other sites which only show the nightly rate. At most Booking.com properties, you pay directly at the hotel when you arrive.
Unique feature: Sheer volume of properties
Region: Worldwide
Loyalty program: Through Booking's Genius program, you get extra discounts after staying at two properties within two years, and after five stays, you get perks like room upgrades and free breakfast.
Did you know? Booking.com is the most popular travel website in the world, with hundreds of millions of visitors per month!
Expedia
Expedia can be considered your one-stop-shop for travel. You can book not only hotels on the site, but also flights, rental cars, cruises, and activities. Hotels can join Expedia's frequent flash sales, and travelers can often get extra discounts with promo codes around major holidays, including Black Friday and Cyber Monday. Expedia is one of the few sites that offers package deals (a bundle of flight, hotel, and/or rental car reservations), which often include significant discounts.
Unique feature: Package deals
Region: Worldwide
Loyalty program: Expedia Rewards members get access to members-only discounts and collect points on every booking. Members can redeem points for free stays, and higher-tier members enjoy perks like room upgrades and free amenities.
Did you know? Expedia owns Orbitz and Travelocity, so you'll see exactly the same properties and rates on those sites.
Hotels.com
Hotels.com is part of the Expedia Group, so you'll find the same hotels (and hostels, vacation rentals, etc.) on this site, but the real difference lies in the loyalty program. Sign up for a free Hotels.com Rewards account to get one free night for every 10 nights you stay. The value of your free night is an average of the 10 paid nights, and the location, brand, or star rating doesn't matter. It's a great way to get free nights at independent hotels, especially if you travel a lot! 
Unique feature: Loyalty program
Region: Worldwide, but most popular in the US and Canada
Loyalty program: Stay 10 nights, get one free. Membership is free.
Did you know? The Hotels.com spokesperson is Captain Obvious.
Agoda
If you're traveling in the US or Europe, you have a plethora of booking sites at your fingertips. In Asia, however, especially in less popular and rural areas, Agoda is often your only option. Agoda has over 2 million listings, which can be hotels, resorts, hostels, homestays, and vacation rentals. Check the "Today's Deals" page for promo codes valid for extra discounts.
Unique feature: Volume of properties in Asian markets
Region: Most popular in Asia
Loyalty program: The PointsMAX program lets you pair your airline loyalty program (like AAdvantage) and earn miles after each Agoda stay.
Did you know? Agoda's website and mobile app are translated into 38 languages.
Hotel Booking Comparison Sites
With so many booking sites, it could take hours for you to compare the prices for one hotel on all of them. Comparison sites, also known as meta-search sites, do the heavy lifting for you and pull the rates from various OTAs into one place. You can then click the link for the website with the cheapest rate and book directly through that site.
Kayak
Even though Booking.com owns Kayak, you can use Kayak to compare prices for hotels, rental cars, and flights on dozens, if not hundreds, of different websites. If you're watching a specific flight or hotels over specific dates, you can sign up for a price alert and receive an email when rates increase or decrease.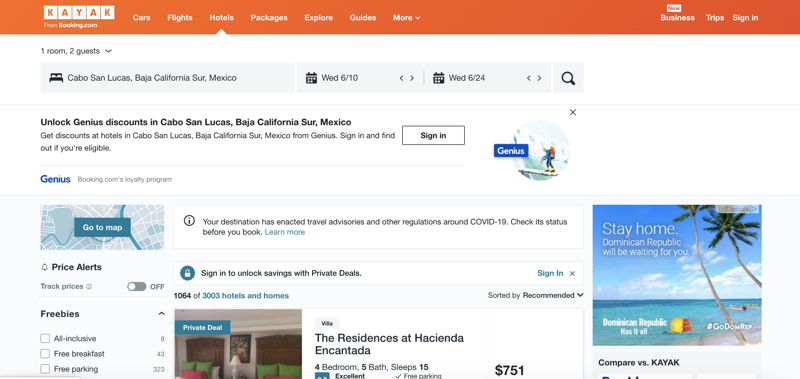 Unique feature: Price comparisons for hotels and flights
Region: Worldwide, but most popular in the US
Loyalty program: None
Did you know? Kayak's "Deals" page sells discounted tours and concert tickets.
HotelsCombined
Another popular meta-search site is HotelsCombined, which - you guessed it - combines the search results from all the big booking sites into one consolidated hotel list. After plugging in dates and a destination, you can filter the results by star rating, guest review score, neighborhood, brand, amenities, and more.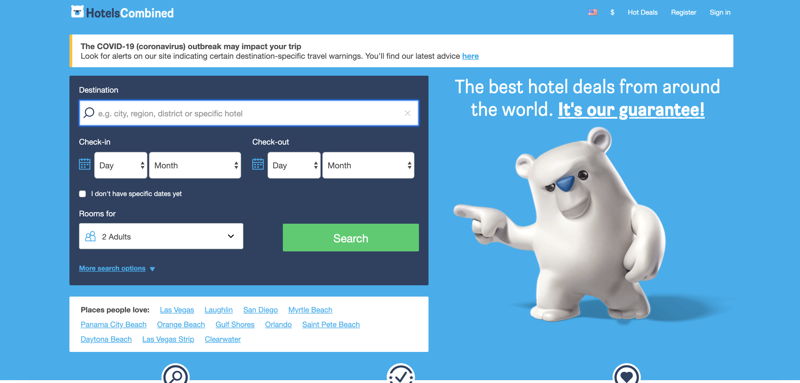 Unique feature: Price comparisons for hotels, flights 
Region: Worldwide
Loyalty program: None
Did you know? Over 400 million travelers used HotelsCombined last year.
Trivago
If you're searching for the best deals on hotels, Trivago is a good place to look. The site compares over 1.8 million hotels and pulls in prices from over 400 different websites. You can filter your search results by star rating, review score, and amenities, and you can see average hotel prices per day to find cheaper days of the week or month.
Unique feature: The calendar highlights cheaper and more expensive dates.
Region: Worldwide
Loyalty program: None
Did you know? Trivago doesn't just shop hotels, but also hostels and vacation rentals.
Tripadvisor
Though you may know Tripadvisor best as a review site, it's also a travel booking and comparison site. On each hotel listing, above the reviews section, you'll see rates for that hotel on all of the big OTAs and, usually, the hotel's own website. Tripadvisor lists not only hotels, but you can also book vacation rentals, tours, activities, and restaurant reservations.
Unique feature: Easy to find added-value offers, like free breakfast
Region: Worldwide
Loyalty program: None
Did you know? Tripadvisor highlights the cheapest dates for a given hotel so you can find the best deals.
Google
Is there anything you can't find on Google? As a newer player in the travel game, many people don't know that Google can reveal some good hotel deals. You can find hotels on Google in two ways: a simple Google search for "hotels in ___" and through Google Maps. Google's hotel listings contain all of the hotel's Google Maps info, like contact information, photos, and guest reviews, and the listings also show prices and links to book at various sites, often including the hotel's own website.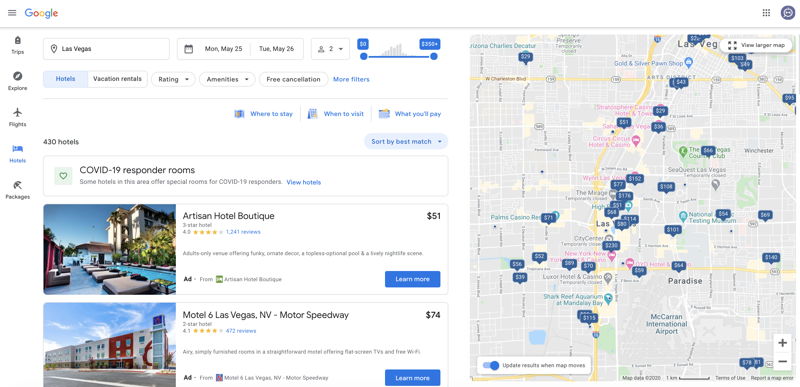 Unique feature: Google Maps data, including reviews and photos.
Region: Worldwide
Loyalty program: None
Did you know? Some hotels have Google Street View 3D tours.
Hotel Brand Booking Websites
Do you crave quality, consistency, and lots of loyalty perks? The world's global hotel chains offer a lot of value to frequent travelers through their loyalty programs, which are free to join and often offer members-only rates and benefits. The three chains below offer a myriad of different brands ranging from budget to ultra-luxury with properties around the world. These are just a few brands of the many across the globe, but they offer some of the best loyalty programs and property portfolios.
Hilton HHonors
As one of the world's most well known chains, Hilton Worldwide has a portfolio of over 6000 hotels in 120 countries. The Hilton umbrella includes brands like Hilton Garden Inn, Hampton Inn, Embassy Suites, and Waldorf Astoria, and you can book all Hilton hotels on the brand's main website or app. When you create a free Hilton HHonors account, you'll receive access to special member discounts and get free WiFi at all Hilton properties.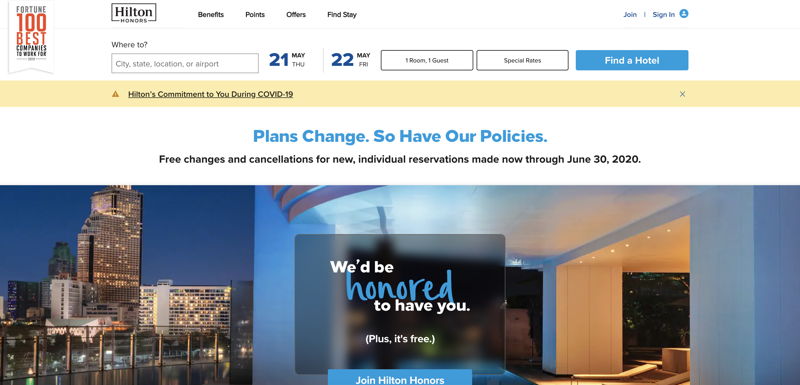 Unique feature: All HHonors members can use digital check-in to choose their own room.
Region: Worldwide
Loyalty program: HHonors tiers include Member, Silver, Gold, and Diamond, and all members accumulate points which can be redeemed for free nights.
Did you know? Gold and Diamond members receive free breakfast at all Hilton properties.
Marriott Bonvoy
Marriott International comes in at #3 in the list of largest hotel chains in the world, and the company has over 7000 properties in its portfolio. After Marriott's merger with Starwood in 2015, the company's portfolio grew to include a whopping 30 brands, including Courtyard, Four Points, Moxy, Sheraton, Westin, and Ritz-Carlton. Marriott's website and mobile apps allow you to book all 30 brands in the same place.
Unique feature: Elite members staying at least 10 nights per year receive late checkout at all Marriott properties.
Region: Worldwide
Loyalty program: Marriott's Bonvoy program has six tiers from standard Member to Ambassador Elite.
Did you know? If you stay 250 nights at Marriott properties and earn Elite status for 5 years, you get Elite status for life.
World of Hyatt
Though Hyatt's portfolio size pales in comparison to Marriott and Hilton, World of Hyatt members enjoy some pretty incredible perks at the company's roughly 900 hotels around the world. Hyatt's brands include Hyatt Place, Hyatt Centric, Andaz, Hyatt Regency, and Park Hyatt, and you can book them all on Hyatt's website and apps. Hyatt also has several "independent collections," such as Joie de Vivre, which include boutique hotels with no Hyatt branding.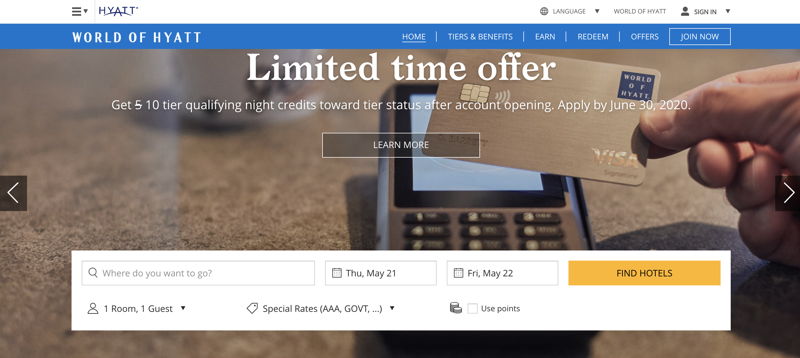 Unique feature: World of Hyatt members enjoy perks at Exhale Spas, American Airlines, and Small Luxury Hotels of the World.
Region: Worldwide
Loyalty program: World of Hyatt's membership tiers include Member, Discoverist (10 nights/year), Explorist (30 nights/year), and Globalist (60 nights/year).
Did you know? Globalist members get free breakfast or executive lounge access at every Hyatt property.
Innovative Hotel Booking Site Concepts
Looking for something a little different? These specialized sites go beyond what the traditional OTAs offer. You'll find sites that focus on specific types of hotels - or even specific hotel amenities - as well as platforms that utilize technology to deliver better prices than you can find elsewhere. Some even offer hidden, members-only deals that you must sign in to view. Take your deal-hacking to the next level with these disrupters.
Roomer Travel
Have you ever needed to cancel a non-refundable hotel reservation? In most cases, you can't get your money back, but you can post your reservation on Roomer. This site offers discounted stays at hotels around the world - but be warned, the dates are very specific and you can usually only choose from one room type. If you get lucky and the dates align with your travel dates, then you're in luck!
Unique feature: Reselling hotel reservations that other people can't use.
Region: Worldwide
Loyalty program: None
Did you know? Though the original booker couldn't get a refund from the hotel, some of Roomer's offers are refundable when you book through the Roomer site.
Splitty Travel
This money-saving site uses technology to hack other travel sites and find the best deals. Splitty's technology combines multiple offers at the same hotel to secure a lower-priced reservation. How, you ask? Maybe you're searching for a 4-night stay in Dallas, and the cheapest room at Hotel ABC is $75, but it's only available for the first 3 nights. Because it's not available for your entire stay, the other sites won't show it in their search results. Instead, they'll show a $120 room that is available for the whole stay. Splitty, however, can create a "split" reservation for you that includes a combination of the $75 and $120 rooms - as an example.
Unique feature: Creative rate-hacking technology.
Region: Worldwide
Loyalty program: None
Did you know? Sometimes Splitty's technology will reveal available combinations of rooms or rates at hotels that appear sold out on other sites.
Secret Escapes
This members-only deal site offers great discounts on luxury hotels and resorts around the world. Well, that sounds too good to be true. What's the catch? The sales are only available for a limited time (a couple days, usually), and the travel date ranges are often limited too. But if your travel dates are flexible, you can find fantastic deals. Browse the site's upcoming offers and if you see one that looks interesting, you can get an email reminder when the sale goes live.
Unique feature: Limited-time-only sales on luxury properties.
Region: Worldwide
Loyalty program: None, but you must create an account in order to see deals and book.
Did you know? Some of Secret Escapes' offers include airfare.
Pruvo
Have you ever bought a new pair of shoes only to learn they went on sale a week later? The same thing happens with hotels; prices can decrease between the time you booked and the time you check in, and Pruvo helps you take advantage of these price drops. When you book a room with a free cancellation policy on any booking site (like Expedia or Booking.com), you can email your confirmation to Pruvo and they'll keep an eye on your hotel's rates. If prices drop, you'll get an email with instructions for booking that cheaper rate. Best of all, Pruvo's service is free!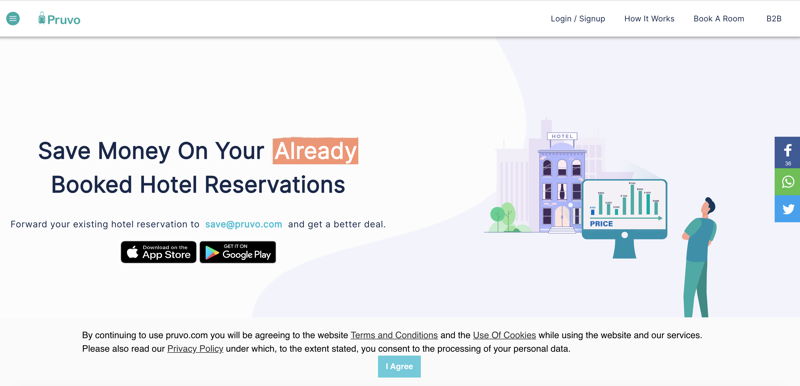 Unique feature: Save money back after you book.
Region: Worldwide
Loyalty program: None
Did you know? Install Pruvo's Chrome extension so you don't need to manually email your reservation confirmations.
HotelTonight
If you're the type of traveler who waits to book a hotel until you've arrived at the airport, then HotelTonight is the app for you. HotelTonight offers discounted rates at just a handful of properties, so you don't get stuck with analysis paralysis. The deepest discounts are usually on last-minute reservations, though you can book months in advance if that's your style. The company puts hotels into categories like "Basic," "Hip," and "High Roller," to make your decision even easier.
Unique feature: Best deals on same-day reservations.
Region: Worldwide
Loyalty program: Get extra discounts, credits, and amenities through the HT Perks program. The more you spend, the better the benefits.
Did you know? The "Daily Deal" gives you an extra discount at one property - but you need to book it within 15 minutes.
Dayuse
Day trips, red-eye flights, meetings, photoshoots - there are many reasons why you could need a hotel room just for a day. But until Dayuse came along, you usually had to book the room for the night in order to get access for the couple of hours you need. Dayuse allows you to book rooms at over 5,000 hotels in 25 countries for prices up to 75% off the nightly rate. Some hotels even include pool, spa, or fitness center access.
Unique feature: Deep discounts for daytime-only hotel rooms.
Region: Select countries around the world.
Loyalty program: None
Did you know? Some Dayuse hotels offer time slots so you only pay for the hours you need.
ResortPass
Nothing says "vacation" like reclining in a lounge chair, drink in hand, on a palm tree-lined pool deck at a swanky resort. But what if your budget doesn't include the room rate at that swanky resort? ResortPass offers day passes to pools, spas, and other amenities at over 400 high-end hotels so you can enjoy the vacation vibes at a serious discount. ResortPass is perfect for locals and vacation rental guests too.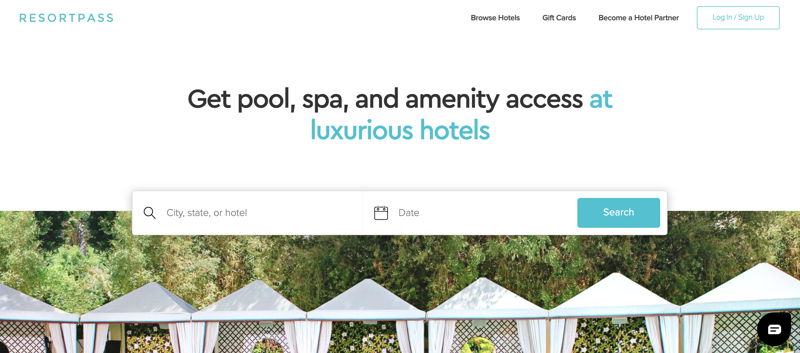 Unique feature: Access to luxury hotel amenities without paying the nightly rate.
Region: Mostly US, but some properties in Mexico and the Caribbean.
Loyalty program: None
Did you know? You can earn a 10% discount by tagging ResortPass in a social media post.
Hopper
Some studies say the best day of the week to book travel is Tuesday, but maybe the greatest savings for your hotel pop up on a Friday - you never know! Hopper is the closest thing we have to a glimpse into the future of hotel rates. The app uses high-tech price monitoring algorithms to notify you when prices drop on the hotels or flights you're tracking.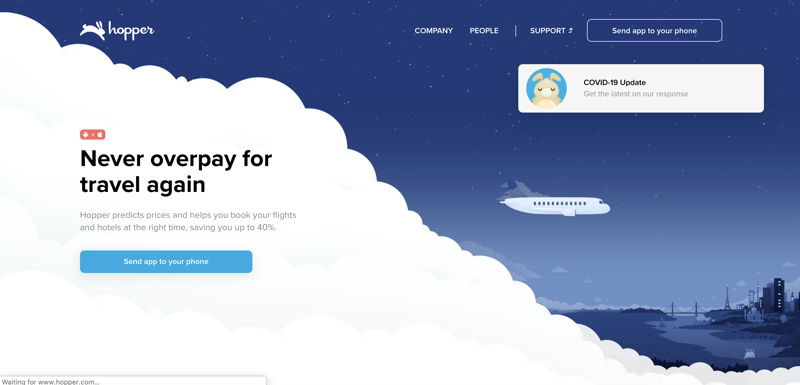 Unique feature: Price alerts for flights and hotels.
Region: Worldwide
Loyalty program: None
Did you know? Over 30 million travelers have used Hopper.
Mr. and Mrs. Smith
For fans of high-end boutique hotels, Mr. and Mrs. Smith is a dream come true. You won't find any big box-style chain hotels on this site - only unique, independent hotels that offer five-star service. These are hotels you'd pick for a honeymoon or special occasion trip. Mr. and Mrs. Smith's team handpicks and reviews hotels for the site, so you can be sure that every property offers quality and value. Members-only perks include extra discounts, free amenities, and access to the company's concierge team.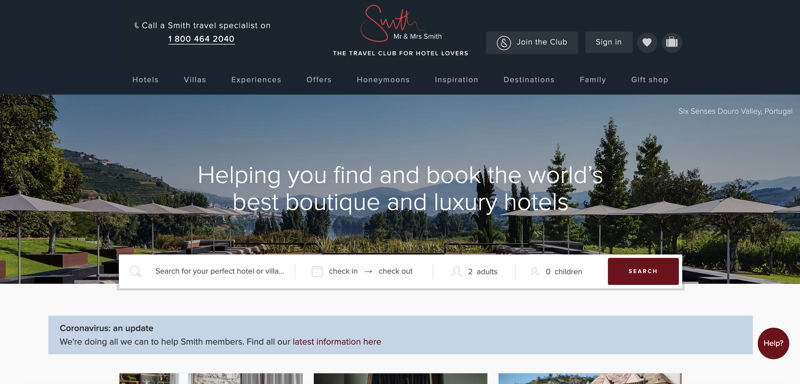 Unique feature: Exclusive perks and discounts and luxurious boutique hotels.
Region: Worldwide
Loyalty program: The basic BlackSmith membership is free, but SilverSmith and GoldSmith tiers come at a monthly cost, though they include perks like room upgrades and airport lounge access.
Did you know? Some of Mr. and Mrs. Smith's perks include free dinners or hundreds of dollars in resort credit.
Tablet Hotels
Another site designed for boutique hotel lovers, Tablet offers deals on unique hotels around the world. The site lists properties included in the MICHELIN Guide, so you know they're all highly rated for quality, service, and amenities. Tablet Plus members can enjoy extra discounts, late check-outs, room upgrades, and more.
Unique feature: Only the best hotels are listed on Tablet - if guest reviews fall short, the hotel is removed from the site.
Region: Worldwide
Loyalty program: Access to Tablet's hotel deals is free, but the Tablet Plus program offers deeper discounts and extra perks for $99 per year.
Did you know? Tablet's online magazine, The Agenda, contains high-quality articles that will surely inspire you to travel.
Best Hotel Booking Sites to Find Deals
Trying to save cash? These hotel booking sites are designed to get you the best deals possible. If you're looking for certain amenities, a fixed location, or a specific set of dates, these sites might not deliver, but if you're flexible, you can find impressive savings.
Hotwire
Have you ever booked a hotel without knowing the name, the exact location, or what kind of room you'll get? If you dare to roll the dice on Hotwire's "Hot Rate" hotels, you just might be rewarded. Hotels in this program offer significant discounts (think 40 or 50% off), but with a catch: Hotwire does not reveal the name of the hotel until you've confirmed your reservation. 
Unique feature: "Mystery hotel" offers.
Region: Primarily US
Loyalty program: None
Did you know? Hotwire's Hot Rate hotels do disclose some amenities, so you'll know if your hotel has free parking, a pool, or a gym.
Groupon
If you're searching for a cheap vacation with no particular dates or locations in mind, Groupon can be a gold mine. The site offers hotel stays or vacation packages for destinations around the country (and sometimes Mexico and the Caribbean), but the terms and conditions usually include fixed dates or restrictions. Make your decision quick, though, because the offers are often only available for a limited time.
Unique feature: Deep discounts on only select participating hotels.
Region: United States, Caribbean, Mexico
Loyalty program: None
Did you know? You can search by "interest" rather than destination, so if you're looking for a romantic vacation to nowhere in particular, for example, you can discover someplace new.
TravelZoo
TravelZoo is like the clearance rack at your favorite store: it has a mix of everything, prices are deeply discounted, and sometimes you can find an absolute gem. TravelZoo offers over 2,000 travel products - including cruises, airfare, hotels, and packages - at significantly reduced rates. Most offers are only valid for a specific set of dates, so if your travel is flexible, you can get the best value.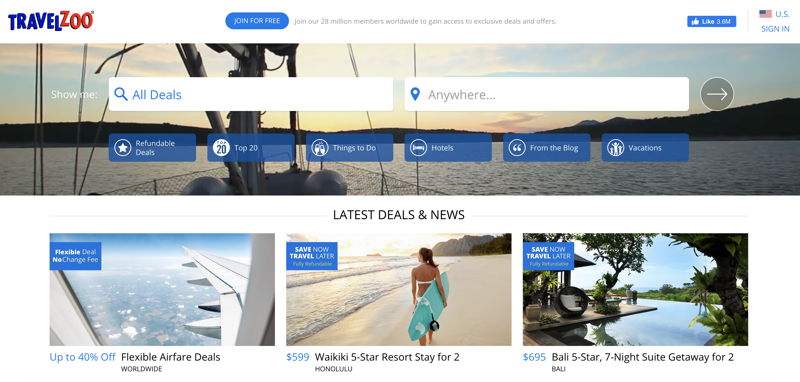 Unique feature: Discounts on hotels, cruises, airfare, and vacation packages.
Region: Worldwide, but primarily US
Loyalty program: None, but TravelZoo does have a referral program.
Did you know? TravelZoo also offers spa and entertainment discounts - you just need to look for them!
Best Sites to Book Unique Accomodations
Why stay in an ordinary hotel room when you can have a truly one-of-a-kind experience? Browse these sites to find everything from cabins to castles and treehouses to tipis - often at cheaper prices than standard hotels. Who knows, you might even meet new friends too!
Airbnb
Though Airbnb wasn't the first website to offer vacation rentals, it definitely made more people consider switching from hotels to rental properties. Airbnb hosts offer a huge variety of spaces, including apartments, homes, treehouses, tiny houses, private rooms, and more. Because many Airbnbs don't offer the same services as hotels (like daily housekeeping), you can find some great deals, especially in big cities. But not all Airbnbs are cheap - prepare to pay hundreds of dollars per night for a castle or a beachfront villa!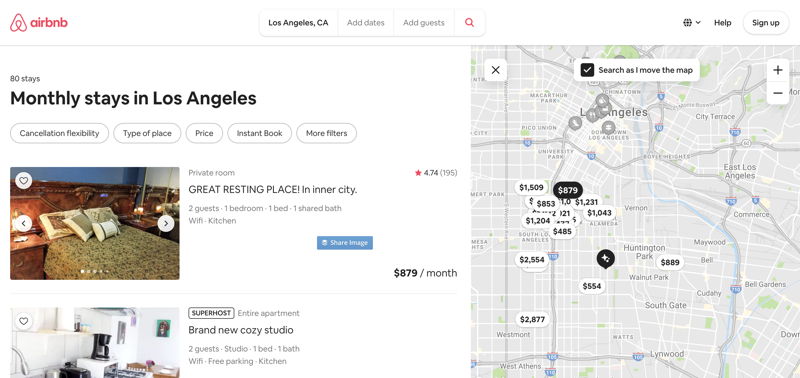 Unique feature: Airbnb encourages hosts to provide exceptional hospitality to their guests, even rewarding top hosts with "Superhost" status.
Region: Worldwide
Loyalty program: None
Did you know? You can pair your accommodation with an Airbnb Experience, which are host-led tours or activities like cooking classes, walking tours, or bike expeditions.
Vrbo
Originally called "Vacation Rentals By Owner," Vrbo focuses on traditional vacation rentals, like homes and condos. You won't find any cheap shared rooms here, but you can still find some great deals, especially if you're staying for a while. Some Vrbo property owners offer weekly or monthly discounts.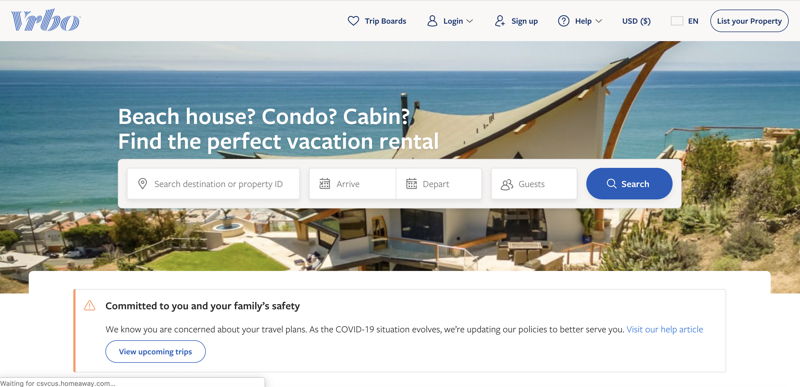 Unique feature: You can filter Vrbo's search results by Property Type, so you can narrow down your search to cabins, bungalows, or chalets, just to name a few.
Region: Worldwide
Loyalty program: None
Did you know? Vrbo and its sister site, HomeAway, are now part of the Expedia Group.
Hipcamp
If you want to get out in nature, Hipcamp might be your new favorite site. Instead of hotels, this site lets you book more than 300,000 camping experiences that range from BYO-tent campsites to RVs, cabins, and yurts. Listings are created by hosts, so you can enjoy the same personal touch and connection that you can find on Airbnb.
Unique feature: The Hipcamp of the Year lists highlights the top-rated campsites in every state.
Region: United States
Loyalty program: None
Did you know? You can invite your friends to join Hipcamp and earn a nice referral bonus!
Upcamp
Looking to score a spot at a sold-out campsite? Upcamp will alert you instantly if your dream campsite receives a cancellation. When you get notified, you can book the campsite on the campsite's own booking page. Upcamp is only available on a mobile app for now, which is easy to use and showcases some beautiful photos!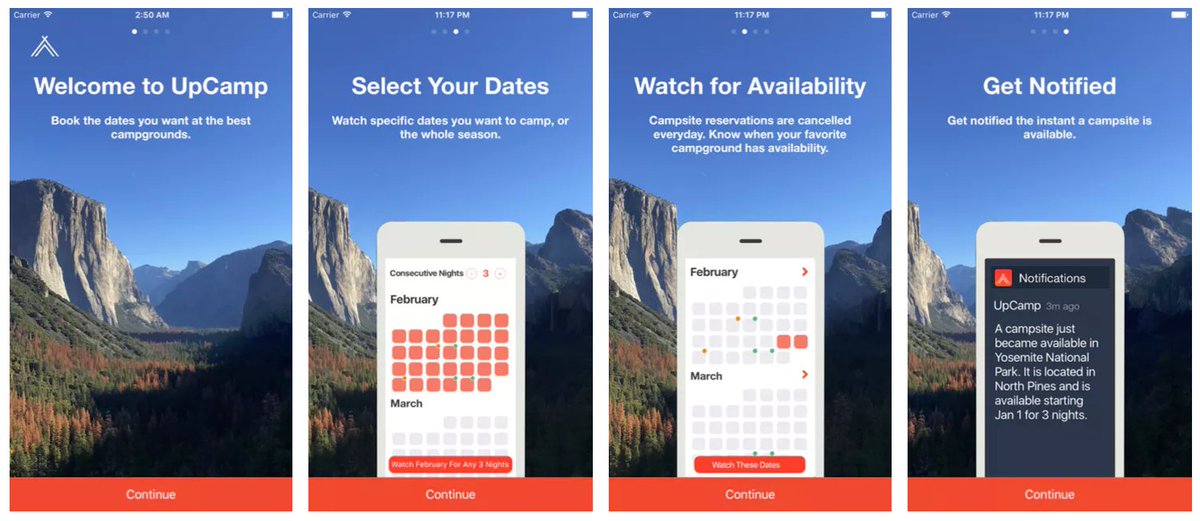 Unique feature: Availability alerts for thousands of campsites around the country.
Region: United States
Loyalty program: None
Did you know? You can choose to receive alerts for specific dates or a range of dates.
Couchsurfing.com
Travelers looking to save money and meet people can join events and crash on extra beds, couches, and air mattresses in hosts' homes in over 200,000 cities around the world - for free. Couchsurfing.com uses a review and profile system to build trust among its 12 million members, and it's not uncommon for hosts and couchsurfers to become lifelong friends.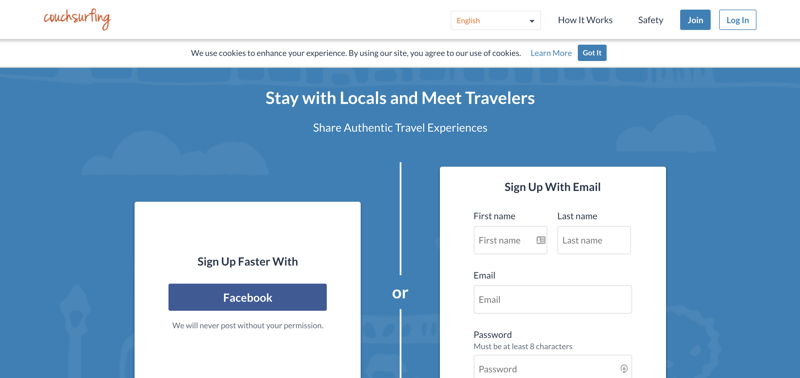 Unique feature: Emphasis on community and building personal connections.
Region: Worldwide
Loyalty program: None
Did you know? Couchsurfing.com members have organized over a half million events.
Getaway
Craving an escape from the hustle and bustle of city life? Getaway's tiny houses are conveniently located in rural locations within driving distance of major cities like New York City, Boston, and Los Angeles. The cabins offer plenty of modern conveniences so you can enjoy the outdoors without roughing it too much. They include private bathrooms, kitchenettes, and A/C and heat, plus a huge window that occupies an entire wall.
Unique feature: Every cabin has a self check-in system.
Region: United States
Loyalty program: You automatically get an 8th night free after staying for 7 - no membership program sign-up necessary.
Did you know? Getaway donates to Feeding America for every booking made.
Ready to hit the road? With these money-saving hotel booking sites, you can save cash on your accommodation so you can splurge on a delicious meal, a bucket list tour, or a new smart suitcase. Did we miss any cool sites? Let us know about your favorite!