What is Sabre? The Company Building Travel Tech Since the 1960s
By Jordan Hollander
Last updated October 12, 2022
4 min read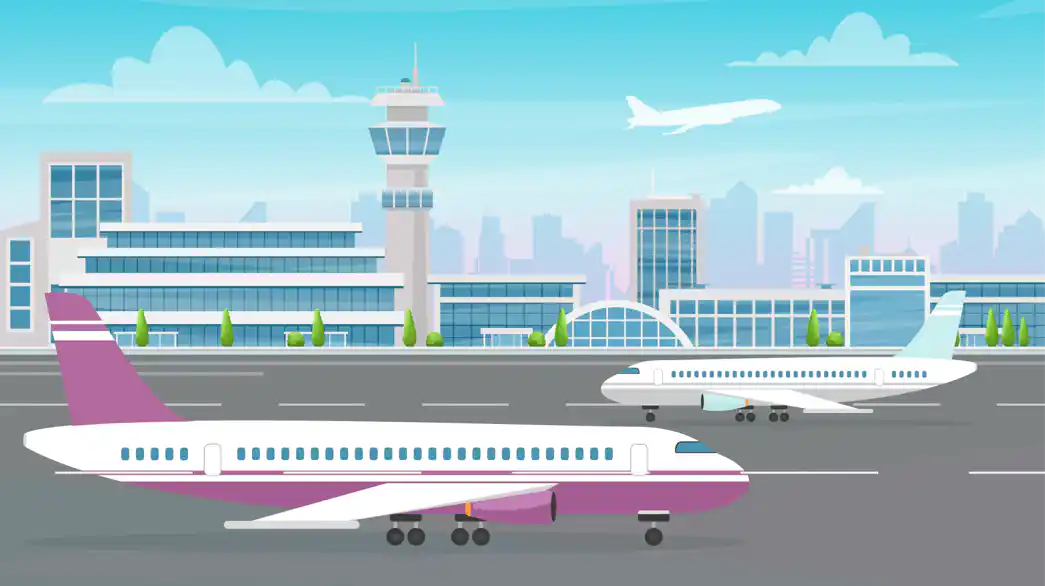 As a hotelier, you may have heard of Sabre Corporation– the major NASDAQ listed travel technology company based in Southlake, Texas offering GDS and property software (Synxis). You've also probably heard that Sabre Corp's investors have been a bit disappointed of late with the stock down nearly 70% in the last 5-years and are looking to unlock value by unloading the hospitality solutions business (i.e. Synxis) to drive efficiencies in the core business.
But how much do you really know about the organization and the technology solutions its contributed to the travel industry over the years? For instance, did you know that Sabre is actually an acronym, meaning Semi-Automated Business Research Environment? While it's interesting to learn about one of the industry's top technology pioneers, Sabre's story can also provide inspiration if you seek to make your hospitality business more tech-centered and innovative. We'll trace Sabre's path from ideation to market leader and explore how the company stayed ahead throughout big changes in the travel world.
Sabre's Early Years: the 1960s
Before any type of travel technology, and decades before widespread use of the internet, airline reservation agents based in different offices issued flight tickets manually and stored ticketing information on pieces of paper. As you can imagine, this system was less than efficient, and it led to all sorts of confusion, service issues, and over- and under-selling. The idea for a system that would hold airline seat reservations was born on an American Airlines flight in the mid 1950s when the president of American happened to sit next to an IBM sales representative; they struck up a conversation that would change the course of the travel industry.
In the early 60s American Airlines and IBM worked together to create the first-ever airline passenger record system using technology built by MIT. This system would enable American's reservation agents in any office to book tickets and see accurate availability in real-time. By 1964 Sabre's reservations automation system was fully operational, and the system proved to be a solid solution to the widespread ticketing problems. In the wake of this success, IBM built its own system, Programmed Airline Reservation System (PARS), to sell to other airlines, which triggered a domino effect. Within a few years, every major airline used an electronic reservation system. These early systems came to be known as Customer Reservations Systems (CRS), and eventually morphed into what we know today as Global Distribution Systems (GDS).
Innovation in the Air Industry: the 1970s
After adopting systems to automate the ticketing process, airlines themselves became much more efficient, but travel agents were still reliant on manual processes (like calling an airline reservation agent) to book airfare for their clients. Seeing this opportunity in the market, Sabre and American Airlines started to explore how to make Sabre accessible to travel agents. At the same time, advances in computer processing power made it possible for Sabre's system to handle an increasingly large volume of fares, reservations, and communications. In 1976 Sabre installed the first terminals at travel agency offices, enabling travel agents to tap into the same system that American's own reservations agents were using, so they could see real-time seat availability and book tickets directly.
Deregulation and Competition: 1980s
In 1978 the US Congress passed the Airline Deregulation Act, thus eliminating federal control over airfares and routes. The airline industry leapt into a period of rapid growth and increased competition because airlines could now leverage dynamic pricing. But dynamic pricing meant that fare schedules became more complicated; the Sabre system had to increase its bandwidth to be able to manage 36 million fares and 1 billion fare combinations. During the 80s Sabre also launched its first iteration of its online B2C platform, called EasySabre, which allowed travelers to use the new World Wide Web to book air, car rental, and hotel reservations. Sabre also debuted its first revenue management system in the air industry during this exciting decade.
The Internet Age: the 1990s
For all of Sabre's existence so far, the organization consisted of an IT team that sat within American Airlines. Recognizing that the team and product had massive potential, the Sabre Technology Group was formalized and was led by one of the first female CEOs in the technology world, Kathy Misunas, in 1993. A few years later, in 1996, American's parent company, AMR Corporation, officially spun off Sabre as a public company.
During the same years, as the internet grew in popularity among consumers, Sabre leveraged its Global Distribution System technology to launch an online platform where customers could book travel: Travelocity. The site soon grew to have over 1.6 million registered users. In addition to tapping into the B2C market, Sabre also expanded to the Asia-Pacific region with a customized version of its reservation system, and the company also began to power reservations systems for US Airways, the second major US airline to use Sabre's technology.
Sabre Goes Public: the 2000s
The new millennium brought big changes to Sabre, starting with a full separation from AMR, as Sabre became a fully independent public company in March 2000. Sabre's innovation continued with a new airfare shopping engine, which allowed airlines to wean off legacy mainframes and use algorithms to find the best fares. Sabre consolidated various technologies into one SabreSonic Customer Sales and Service platform, which included a more user-friendly interface, airline partnering capabilities, online inventory and booking tools, and deeper insight into passenger profiles. Sabre developed strategic partnerships with Delta Air Lines and Lufthansa, and it strengthened its position in APAC with a deal to provide a first-of-its-kind crew management software for Singapore Airlines. In addition, Sabre launched the Aerodynamic Traveler suite, which provided support for airport curbside check-in and self-service check-in kiosks. Another milestone in the 2000s was the acquisition of SynXis Corporation, a leading property management system for hotels, and the renaming of the business to Sabre Hospitality Solutions.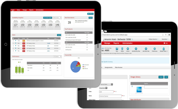 THE PITCH
RATINGS
BEST FOR
96
HT Score
Hotel Tech Score is a composite ranking comprising of key signals such as: user satisfaction, review quantity, review recency, and vendor submitted information to help buyers better understand their products.
Learn More
SynXis Central Reservations (CR) is a comprehensive, easy-to-use rate, inventory, and reservations management solution. Available in eight languages, SynXis CR enables you to enforce unique, fine-tuned distribution strategies supporting your business goals.

SynXis Central Reservation (Sabre)
Hotel Reservations Systems
THE PITCH
RATINGS
96
HT Score
SynXis Central Reservations (CR) is a comprehensive, easy-to-use rate, inventory, and reservations management solution. Available in eight languages, SynXis CR enables you to enforce unique, fine-tuned distribution strategies supporting your business goals.
Learn More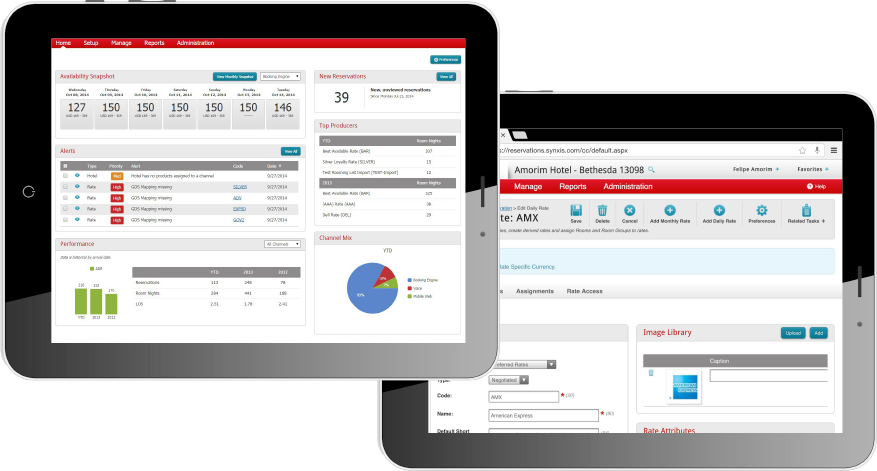 ×
Sabre in the Present Day
Despite near ubiquity in the airline and hotel industries, Sabre is facing the challenges of legacy tech trying to compete with the latest innovations. Today, 43% of global hotel brands use Sabre products (across both GDS and hospitality solutions, and the total number of hotels using Sabre technology surpassed the number of hotels within the five biggest brand portfolios.
What will the next decade hold for Sabre as it faces the challenges of keeping up with modern tech on legacy architecture? The future is very uncertain and we are in a defining "make or break" moment for the company.  If the company can strategically build and buy the right products, it can leverage it's ubiquity and scale to reinvent itself going into the coming decades.  If not, the outcome could be perilous.