Sabre SynXis CRS: Is it Right for Your Hotel Group?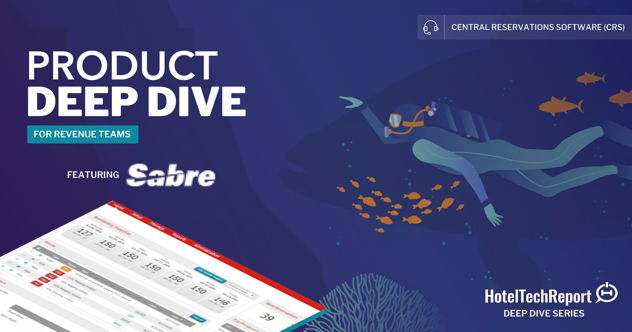 There are 3 core technologies in the hospitality industry : the property management system, the central reservations system and the CRM. In this article, we'll deep dive into one of the most popular CRS platforms amongst hotel brands - Synxis by Sabre.
In a 2019 press release, Sabre Hospitality Solutions announced its completion of the Wyndham migration, closing out the years-long process after on-boarding La Quinta's 900 properties. Wyndham's 19 brands now operate with SynXis central reservations, joining the 40,000 properties across 160 countries that use the SynXis platform to manage their hotel reservations.
You shouldn't just choose a system because it's used by a big brand like Wyndham. Oftentimes tech companies build custom functionality and give impeccable service to massive enterprise clients that might not be applicable to independents or even smaller chains. That doesn't mean you shouldn't use these solutions either - it just means you need to look at your hotel's specific needs and requirements to make an educated decision.
In this review, we'll help you start to evaluate whether Sabre's SynXis CRS aligns with your property's objectives -- and how the central reservations piece fits into the rest of the SynXis Platform. Whether you're looking for ways to boost travel agent revenue or more efficiently manage online travel agent hotel bookings - look no further than the CRS.
What SynXis CRS does: The platform proposition for direct bookings
In today's hospitality technology marketplace, platforms are everywhere. Vendors want to be able to provide a comprehensive portfolio of complementary products that still leaves flexibility for a la carte usage.
One of the main selling points of SynXis is that it can be molded to your property or brand's needs, and can scale to accommodate emerging priorities. For example, you can start with one piece of the platform, such as central reservations, and then layer others over time. Or, you can drop the entire platform into your operations and transform your workflow.
Sabre buckets its SynXis platform into four discrete objectives: driving direct bookings, optimizing distribution mix, managing the business, and increasing guest loyalty. This article focuses on the first part of this platform: driving direct bookings with SynXis CR central reservations and its associated Booking Engine, Digital Experience, and Voice Assistant. The central reservations tool manages reservations and rates; the booking engine drives direct bookings on desktop and mobile; the Digital Experience designs digital experiences for hotels; and Voice Assistant allows hotels to provide integrated voice support via Sabre call centers.
SynXis Central Reservations (CR) is a rate, inventory, and reservations management solution that enables a finely-tuned distribution strategy individualized at the property level. Of course, it also doesn't hurt to use a solution from a major player in the distribution space -- there's a level of familiarity that hotels can expect from a solution provided by one of the major GDS. As laid out in the graphic below, the SynXis CR solution functions as the connectivity engine that powers a property's revenue.
Who SynXis is for: Customers and Uses
SynXis is built for scale. This structure means that the platform is best suited for mid-to-large scale brands and properties with more complex operations. Smaller independents will be better served with cloud-based central reservation systems built (and priced) for their needs.
Since SynXis is available in 8 languages, another ideal customer and use case is for a brand with international properties. Sabre has regional HQs in Montevideo, London, and Singapore, as well as field offices in most major cities, which means that your hotel is likely to have at least a regional support team. That's a helpful thing to know for properties that prefer a global support team to a smaller vendor footprint. Having said that, at the time of writing, Sabre's customer support rating on Hotel Tech Report is 3.8 out of 5 which is lower than comparables such as TravelClick iHotelier CRS (4.3) and Travel Tripper Reztrip CRS (4.7).
For Quality Reservations, a brand with 280 hotel properties, SynXis' global scope was a key differentiator when evaluating technology partners, says Quality Reservations' Managing Director Carolin Brauer:
"We needed a strategic partner that had the ability and knowledge to leverage travelers' shopping and booking preferences while offering greater international reach and found such a provider with Sabre Hospitality Solutions. All without losing the regional variations in customers' preferences when maximizing online bookings for each of our hoteliers."
After deploying the SynXis central reservation system, as well as the booking engine, Quality Reservations saw 20% increases in bookings and room nights, and a 32% jump in revenue. For brands of a certain size, there's clearly a benefit to SynXis global scope. Let's look at some of the most essential features, followed by a candid look at SynXis' online reviews.
5 Essential Sabre SynXis Features
Integrated revenue management controls
SynXis CRS has very rudimentary revenue management capabilities built in, so you don't need another vendor to optimize rates but you are advised to use one as firms like IDeaS, Duetto and Atomize specialize in rate optimization and profit maximization. SynXis offers real–time rate and inventory information across all channels, from a single system of record that these distributes rates effortlessly across over 400 online channels through direct GDS/IDS/switch connectivity. Given the fast pace of online channels in international markets, these types of integrated rate controls help hoteliers be more responsive to changing market conditions -- without the latency of a third-party integration or manual processing. And, with advanced revenue management strategies, such as Length of Stay Pricing, Dynamic Packages, Loyalty Program, Seasons, and Predictive Inventory, you can take control of revenue right from the CRS.
Optimized for tablets
Many hotels are doing away with complete desktop systems at the front desk, preferring the slimmer footprint of tablet computers. The SynXis CRS system is optimized for tablets, allowing all of the same functionality. The UX is equally functional, enabling staff to touch and tap through the system.
OTA channel activation wizard
Managing OTA connectivity can be a hassle. Activating new channels can take weeks, and then there's time to test the connection to be sure everything works as it should. SynXis offers an OTA channel activation and management wizard from within the CRS.
While this feature requires a Channel Connect agreement with Sabre, it's a handy addition to the CRS that greatly reduces time and pain associated with independently managing your distribution channels. Channels can be added, removed, and edited from a single screen, so you can individualize distribution with less stress and headache. The Channel Connect feature connects to nearly 600 OTA channels, allowing you to manage pricing at the channel level.
Refreshed design and updated UX
Sabre has made great strides over the past couple of years on the UX front. The dated legacy design is nearly fully sunsetted in favor of a modern, card-based user interface that's easy to navigate and much easier on the eyes. No longer does the software look like a nightmare from the days of 90s legacy software -- an important point for hotels looking to avoid alienating younger staff with outdated technology. Great design improves the staff experience, so staff can get the information they need and complete the tasks required to maintain a consistently great guest experience. Despite these improvements, users on Hotel Tech Report rate Sabre Synxis CRS usability and design slightly lower than comparable products at 4.2 out of 5 versus a 4.3 for Travel Tripper Reztrip CRS and 4.6 rating for TravelClick iHotelier CRS (view side-by-side ratings comparison).
Dynamic packages
Incremental revenues can be the silver bullet that helps you hit your revenue targets. The SynXis CRS has a simple setup for packages, which allows your team to build unique packages that can then be sold right in your website's booking flow. Packages can be attached to a specific rate plan or room type so that you can build a menu of appealing add-ons for guests.
Once the packages are created and pushed live, guests will be offered new options as they check out. This is where the value of the platform comes into play -- you'll need SynXis Booking Engine to fully take advantage of these dynamic reservation add-ons. You can see how that would look below. If you'd prefer not to have guests book these add-ons during check out, you'll see additional options in the Booking Engine.
SynXis CRS pricing
Like any platform, pricing depends on which solutions are used across how many properties. Here are a few key points on pricing when it comes to SynXis:
As you can see, pricing is a major impediment for hotels of a certain size. SynXis really thrives in larger environments where it can provide the cost savings and productivity boost that justify its higher cost.
Cons of Sabre Synxis (According to Users)
For quick reference, here are a few areas for improvement, as perceived by both our expert opinion and candid SynXis user reviews shared on Hotel Tech Report. There's also some interesting nuggets unearthed from the always-rich TalesFromTheFrontDesk on Reddit.
"I guess our night guy didn't know to call SynXis and have them take us offline on the 3rd party websites, and it just kept piling up. He would cancel, the rooms would look open again, and it was a loop. From stories of guests so far this morning, he had a lobby full of disgruntled guests without a place to go all night."
Another HTR reviewer mentioned manual involvement when discussing adding new features: "[I'd like] access to more items to do on your own as opposed to waiting for customer service to do it for you."
Conclusions: Should you consider SynXis?
Overall, Sabre's SynXis is a powerful platform with ambitions to stretch across departments. For larger properties, corporate hotels, and multi-brand groups, the scope and scale of this ambition aligns with their needs. Having said that, products such as Reztrip and iHotelier have gained a ton of ground on Sabre and are versatile alternatives for both small independents and large hotel groups alike. There's also an ongoing investment to improve Sabre Hospitality Solutions' University training portal, which includes videos, progress trackers and printable guides for sharing tips with colleagues. These efforts will help reduce on-boarding time and keep everyone up-to-speed on the technology.
For smaller and to some extent mid sized properties, proceed with caution and really push the sales team to put down in writing how they intend to value your business with customer support guarantees and trainings. You'll be a small fish in a big pond, and that's not always the best place to be with a mission-critical system like a CRS.
All that being said, you absolutely must have a CRS! It's an essential piece of managing a hospitality business in a digital world. So, for those who can afford it (and are able to navigate the corporate environment of a massive vendor), there's a strong ROI proposition from Sabre. The cost isn't cheap but if you have both the budget and the internal buy-in, then it's worth it.
Remember that the front desk can be a busy place -- there's always another guest to serve, another issue to handle. The key is to select software that staff want to use each day, that's easy to use, easy to train on and has top notch customer support. The CRS should function without fail, effectively and accurately distributing inventory to the right channels at the right prices, and then slingshotting reservations into the PMS seamlessly. When staff spends hours each day staring at a screen, be sure that the tool removes barriers and eliminates frustrations -- and doesn't become a source of frustration itself.
The question that remains is how Sabre will help you effectively on-board the new solution, and keep your team engaged and willing to give it enough patience and attention. A successful rollout of any new tech requires a partnership between client and vendor -- so be sure that you're confident in that partnership before signing that contract!