What is HSIA? Understanding High Speed Internet Access for Hotels
By John Allen
Last updated February 17, 2021
4 min read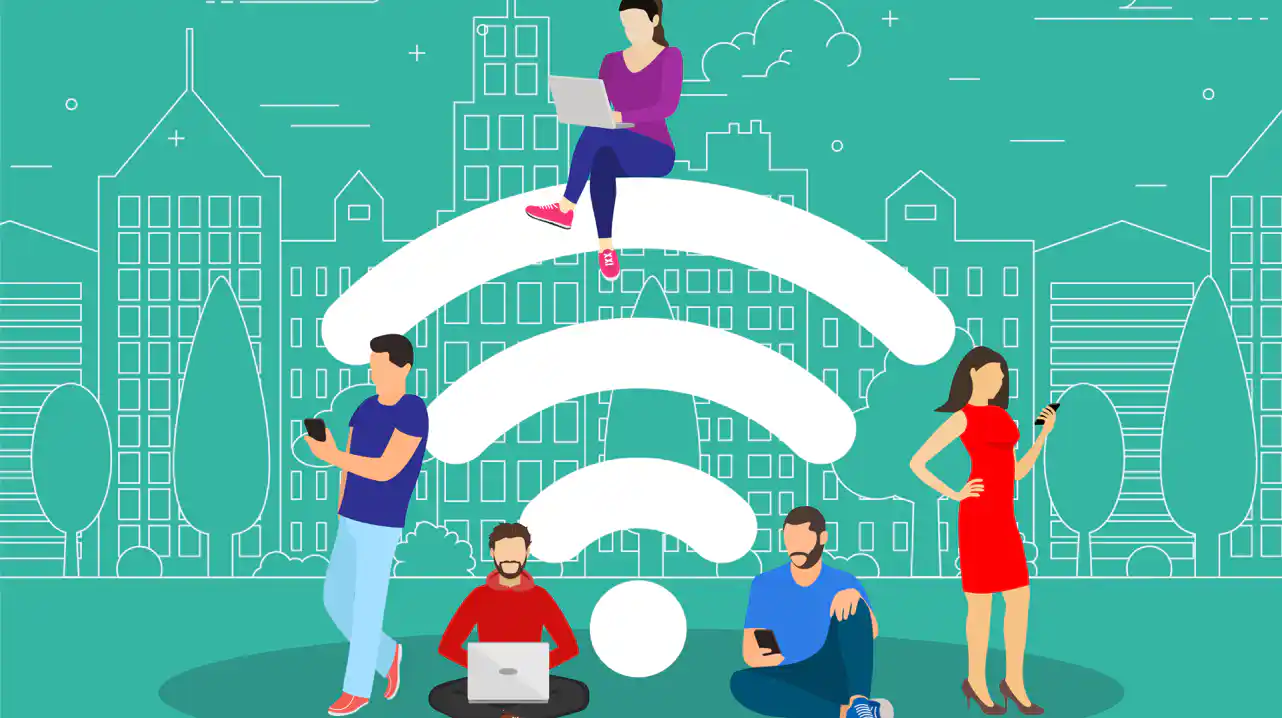 High Speed Internet Access (HSIA) is an essential investment for any modern hotel. A mix of wired and wireless internet service coverage throughout guest rooms and common spaces are needed to deliver both guest satisfaction and staff efficiency in the hotel industry.
Every hotel technology from electronic locks, internet access, TV and even staff collaboration software depend on stable, fast and reliable internet throughout your property.  It's important to ensure that your business phone service isn't put under strain by a sudden influx of customers.  The hospitality industry and hoteliers in general have two main goals - deliver incredible guest experiences and optimize business efficiency.  Without effective HSIA, your property is unlikely to succeed with either.
There are a lot of things you need to consider when installing HSIA in a hospitality venue, and we'll walk through a few of them below.
HSIA is Fundamental to the Rest of Your Hospitality Technology Stack
A strong WiFi network with sophisticated bandwidth management capabilities is absolutely critical for successful hotel management and it's not just about the guest services side.  There are obvious reasons why internet connection is so critical to a great hotel experience in today's economy.  How would business travelers conduct business without it? How would they watch TV or access Netflix through IPTV like Marriott did in their partnership with Enseo?  How would they access guest WiFi for even basic needs like internet browsing?  During the COVID-19 pandemic it has become more important than ever to ensure great in room entertainment experiences while guests have fewer places to go with restaurant, retails and other closures.  The less obvious but just as important reason that HSIA is important in hotels is to keep staff connected via collaboration software including concierges, front desk agents and housekeepers.  Another user group of HSIA is back office workers like revenue managers, finance managers and marketers who often have on property offices and need access to real-time data to make business decisions.
Hotel WiFi Must Be Scalable
Installing the internet for a home is simple - you know exactly how many people expect to use it. With a work environment, it's a little harder as you have to scale up based on the number of hotel guests and staff on property at any given time. Designing a set-up for hotels is much more complicated, as you'll have a high, variable number of users accessing across potentially hundreds or even thousands of smartphones and other devices.  Guest expectations don't change when your hotel reaches full occupancy and they'll still want fast internet so you need to make sure that your approach to delivering high-quality HSIA solutions is scalable.
With 80% of people deeming internet access as important, you can expect the majority of your customers to make use of it. However, that number will vary from season to season, and you need to be able to account for that. Having a scalable system in place that can accommodate higher numbers as needed is vital.
HSIA Requires Security that's Not Present in Consumer WiFi Networks
Again, home and work networks are similar in that you can provide a password to everyone and know that only they'll be able to access it. A hotel environment throws up a lot more challenges. People are not permanent residents, so you'll constantly be giving out your password to new individuals. Luckily, there are a few ways to increase security.
Separate Guest and Staff Networks
Your staff and hotel systems should not run on the same network as your guests. Ideally, your systems (like your televisions, CCTV, electronic locks, etc.) should run separately to staff, too. 
This is an easy way to make sure that any security breaches by guests don't affect the business - particularly important for avoiding data breaches. It has the added benefit of ensuring your guests don't impact your business use - so that important acd software will be unhindered by whatever the man in room 945 is doing, for instance.
Restrict Certain Sites
You can also restrict certain sites. You don't want to be too strict here, as your guests will expect to be able to access the internet in the same way they can elsewhere. Especially business guests, who may need to host content online or perform other more complex tasks.
However, keeping an eye on current threats and employing web filtering can help avoid malware or viruses making their way on to your system. Just make sure you state you're employing this in the terms and conditions when people sign up.
Update Your Passwords Regularly
By updating your password regularly, you can avoid people who aren't guests at your hotel learning it. This reduces the chances of people using it inappropriately, and has the added benefit of lowering bandwidth use.
Tiered Access & User Management is Critical
Deciding how to cover the expense of this network is important, too. Do you want to charge a flat fee, provide it for free, or use tiers? Tiers is probably best, but with the basic level being free.
As you can see, nearly half of all business travelers and a quarter of leisure travelers count free wi-fi as important. By providing a base level for free, you'll satisfy most of these customers. The base level should be good enough to check emails, social media, and browse favorite sites. 
You can also offer paid access to higher tiers, where guests can have access to more bandwidth. That means they'll be able to join conference calls, use VPNs, and download files. You might even want to create a 'gamer' tier for people bringing their consoles.
If you have the free wi-fi as a separate network to the paid wi-fi, you'll be able to avoid the issue of a few guests slowing down the internet for the rest.
Cloud Management
All of the above points have one thing in common - they require a level of dedicated system management. The cloud is one of the most popular new technologies with good reason. It makes things far more accessible than they otherwise would be.
By hosting a management system in the cloud, you can handle bandwidth allocation, troubleshoot issues, and control logins from anywhere you need to.
Support Services
Whatever provider you choose, you need to ensure they provide 24/7 support. Even if you have an onsite IT department, there'll be some problems that can only be fixed at your provider's end. By making sure they can fix issues around the clock, you can reduce potential downtime for your guests. 
Guest Portal Page
It's worth setting up a guest portal page for logging in. Not only can you use this to be stricter on how people sign in - requiring details like their email address, not just a wifi password - but you can use it to advertise as well. As well as the basic login portal, you can include:
Introductory video content

A link to the terms and conditions of internet use

Details on current promotions

Self-help support for internet questions
The guest portal page is a great place to test out unique marketing ideas, so avoid treating it as just a login, and instead see it as a new landing page equivalent.  Check out this interview with Ruckus Networks former hospitality leader Ted Watson to learn more about HSIA considerations in hospitality.