What to Look for in a Hospitality TV
By Jordan Hollander
Last updated January 26, 2022
7 min read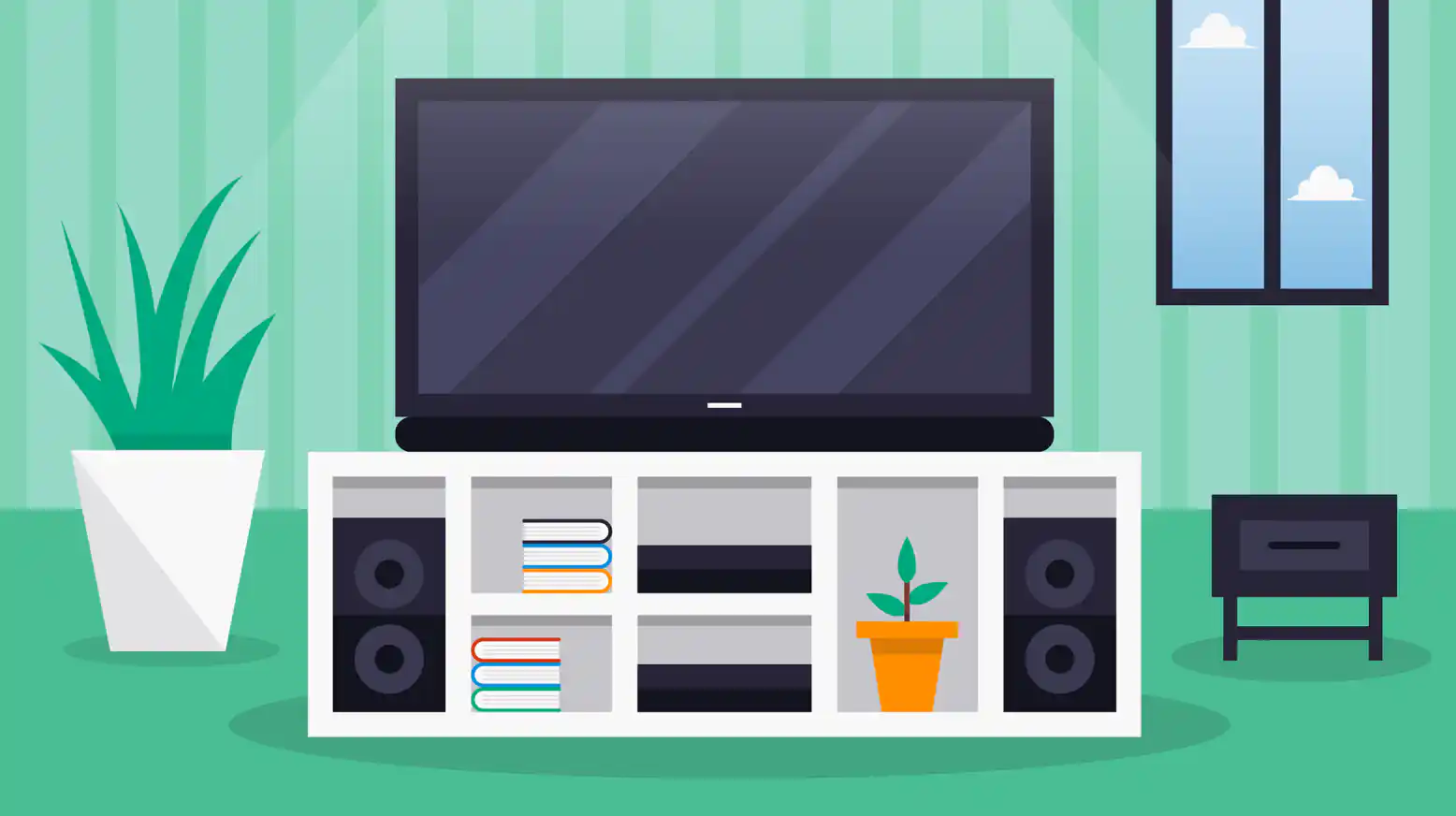 The humble hospitality tv has long been derided as clunky and outdated. And rightly so: too often, hotel TVs were relics of the past, never aligned with the tech that most guests had in their own homes. The reason why? Hardware used to quickly become outdated and it was really expensive.  Today consumers can get slick LCD TVs cheap and those TVs can update software in real time.  This makes it a great time to invest in new hospitality TVs if your property is stuck in 1999.
Hospitality TVs are more than just channels, they are smart hubs for guest experience, branding and communications. From controlling lights to streaming content and ordering room service, the hotel TV has adapted alongside guest expectations. Today's guests are used to having top-notch tech at-home and have begun to expect more from the hotel experience. They expect far greater control over their experience -- and the tech-enabled guest room necessitates a single point of control.  
So how can you give guests what they want? It's time to upgrade your hotel entertainment system.
For hoteliers, there's a lot at stake. It's a long-term investment decision that has a direct impact on the guest experience: Hospitality Tech's 2019 Guest Engagement Technology study found that 72% of guests would return to a property when the tech they want is available. The right entertainment options are also important to guests: 40% of those same respondents said that Smart TVs and content streaming were a top consideration when choosing a hotel. What screen size is optimal? Should TVs be leveraged as a form of in room digital signage?  Do they want to control the TV with their mobile device?
With such a major decision, which touches both hardware and software, we highly recommend going through a formal Request for Proposal process that allows you to engage vendors directly  so you can have 100% confidence that the decision you make is the best one for your property.
We know it's intimidating --  but it doesn't have to be. We've broken down the various components of the decision, first looking at what the hotel needs, followed by the guests expectations and the best hardware and top hotel software to guide you through this high-stakes decision process. It's a big one but we've got your back!
What To Look For in a Hospitality TV and Guest Entertainment System
First and foremost it's important to understand the difference between consumer displays and commercial displays. While you could certainly go to a store and buy a bunch of smart TVs for your property, you may also want to consider the benefits of a hospitality-grade commercial tv solution.
Displays that are ideally suited for hotels
Customizability. Look for a system that allows you to do things like control access to specific features, customize menus, add personalized welcome greetings, manage content easily and generally adapt to your property's needs as they evolve. Ideally, the in-room TV helps market your on-property amenities to bring you more incremental revenue. 

Interoperability. If you're not planning on ripping out an existing system (or building one for a new property), you'll need to make sure that the system is compatible with existing infrastructure.

Infrastructure. Streaming entertainment takes up a lot of bandwidth on WiFi. And even serving content through a hard-wired system requires infrastructure. So whether you are providing a mostly bring-your-own-device (BYOD) experience or a hybrid one that includes in-room entertainment options, you need to be sure that your system can deliver an interruption-free experience, even when your hotel is sold out. So, if you're going with a cloud-based solution versus hosted on-premise, be sure that your property's internet infrastructure can handle the constant streaming of entertainment. 

Connectivity. If guests are going to be casting content from their devices to the TV, it needs to be easy. Carefully consider the steps guests need to go through to take advantage of BYOD. 

Sound. Even the most crisp display can be ruined by poor sound. Be sure that your speakers are strong enough to deliver a good audio experience as well.
For reference, check out Hilton's Connected Room Platform, a personalized platform for guests to interact with various in-room technologies. It comes from a big brand (and thus isn't necessarily affordable for all categories) but shows you the potential of aggregating entertainment and in-room functionality into a single platform for guests.
What Guests Want From Their In-Room TVs
In-room entertainment has become a major factor in the guest experience. Guests in different types of hotels have different demands, but nearly 75% of guests use in-room entertainment, and 28% said it is "very or extremely important" to their overall hotel experience. Guests prioritize modern in-room hotel technology so much that they would be willing to forgo amenities like a business center (34%), a fitness center (27%), spa (24%), or room service (15%).
Whether via hotel-provided devices or their own, guests also want access to the entire hotel experience at their fingertips. For in-room technology specifically, most guests wanted to use TVs provided by the hotel (69%) versus their own devices (31%).
Another guest survey from Oracle put personalization in focus, with 64% of those surveyed saying they would share their entertainment preferences so that the content could be pre-loaded in the room upon arrival. This aligns with the macro trend of personalization, as in-room entertainment is a visible and desirable place to add a "home-like" personal touch to the guest experience. 
Guests prefer streaming their own content on different devices, depending on where they're from.  Platforms like Monscierge's Apple TV for hospitality are becoming increasingly popular since they enable guests to stream their own content.  Apple TV for hospitality has dedicated guest functionality like automatically logging out accounts upon checkout via PMS integration and displaying hotel information and branding on guest TVs.
To distill this down, there are three core "wants" from guests: flexibility, control, and ultimately, simplicity.
Flexibility. Give guests the flexibility to browse live TV, choose on-demand content, stream content from apps like Netflix, Hulu and HBO, or use their own devices to cast their own content to in-room TV.

Control. Personalization is easier and more accurate when you provide the technology for guests to control and curate their own experience. Ideally, this technology works seamlessly across devices and channels to provide a single point of contact between guests, the hotel and its technology.

Simplicity. Guests just want the technology to work flawlessly. As we all know, hotel operations are rarely that smooth.  Even so, we have to offer a simple, unfussy entertainment solution that anyone can figure out in a couple of minutes max. Tech that's stress-free and easy to use its good tech!
As guests demand that hotels invest more on the in-room experience, you'll need to look carefully at how fast your WiFi is, how easy it is to connect devices to in-room TVs (Bluetooth and more HDMI ports), and generally what your property's target demographic expectations are. In a world where more U.S. households subscribed to a streaming service than traditional TV (69% vs 65%), your hotel must keep up with how consumers prefer to consume content.
Choose Your Hardware: Hospitality TV Vendor Overviews
 There are three primary hardware players in hospitality tv solutions:  Samsung, LG, and Phillips. Each offers different categories of television with varying viewing experiences and picture quality, from HDTVs (high definition) all the way to high-end 4K displays (ultra HD).
Samsung Hospitality provides commercial-grade displays that can be used as lobby signage, F&B menus and in-room LED TVs. The company also has hotel versions of its Galaxy tablets, which can be used for check-in or in-room as a master remote control for the TV and other room tech.

LG Hospitality LG has something the others don't: the CLOi, a robot porter that ferries guest luggage to and from their rooms. It's a digital amenity that can certainly differentiate the guest experience! 

Philips Hospitality has a two standout features for its hospitality TVs: simplified drag-and-drop system management and its Ambilight "immersive viewing experience" that splashes light on the wall behind the TV. It also uses Android, which makes it easy to add apps and develop interactive entertainment experiences.
Choose Your Content Software: Vendor Overviews
Once you select your commercial grade TVs, you also need to have a way to get content on your displays. You have two options here, which can be used independently or together:  vertical entertainment, which are complete in-room entertainment platforms often accompanied by set top boxes, and streaming providers.
Vertical Entertainment Platforms perform multiple functions for hotels. First, there's the interactive guest room entertainment with live TV and  "over the top" native apps for streaming services such as Hulu, HBO and Netflix. Platform functionality can usually be extended guest messaging software, local destination recommendations, and info on other on-property amenities, such as spas and restaurants. Many also offer a hotel WiFi solution. These are usually priced as separate products but work together seamlessly across property.   Some of the hardware OEMs have their own software for hospitality such as Samsung Lynk which allows for centralized TV management from a single end point.
Monscierge's Apple TV for Hospitality has customized Apple's hugely popular streaming service for hotel and vacation rental use cases.  Display property information and branding on the home screen, automatically log guests out on checkout and even facilitate guest requests all while enabling them to access their favorite streaming services.
Streaming and Internet Providers offer a combination of cloud-based streaming and internet services. The larger companies mostly offer access to internet and cable TV content, and really lean into the value proposition of being a secure, capital-efficient platform for providing both on-property connectivity and content.
The big players in providing both internet and TV services are: 
For limited-service hotels, boutiques, vacation rentals and others looking to offer entertainment that's both affordable and guest-centric, streaming devices such as Google Chromecast, Apple TV and Amazon Fire TV give guests access to premium content (with a signed-in account) and the option to stream their own content to the in-room display. 
HBO and Netflix have entered agreements with major brands like Marriott and Hilton, as well as with several vertical entertainment platforms to give guests access to those services in-room. Guests can either sign in to see their own content options or use the service for free without logging in.
When Selecting a Hospitality TV Vendor it's About Hardware + Software
One final consideration is whether or not the hardware and software is built in a way that is at least somewhat future-proof.  You should get a good five years out of your hardware, and your software should come from a vendor that offers frequent updates according to the latest trends in entertainment and guest expectations.
One major shift -- perhaps accelerated by the COVID-19 pandemic -- is towards virtual reality content. The tech has been "emerging" and "just around the corner" for years but as more people experience it from the comfort of their own homes, they may eventually begin to expect some sort of VR-enabled experiences at hotels. Definitely a trend to monitor!
"64% of hotel operators were likely to use VR to provide on-property entertainment." -Oracle Hotel 2025
As we've seen time and again, traveler expectations can evolve slowly or change quite rapidly. Seek out systems that adapt to changing needs. Investing in a new hotel entertainment system isn't for the faint of heart. It's expensive. To make this expense more digestible, look for a system that is at least mostly future-proof for the next five years. The vendor should be able to support the technology as it stands with software updates, so that you can extend the life of your in-room technology for as long as possible -- without sacrificing the guest experience.