Is Arise Travel the Hotel Industry's Secret Weapon Against the OTAs?
By Jordan Hollander
Last updated January 26, 2022
9 min read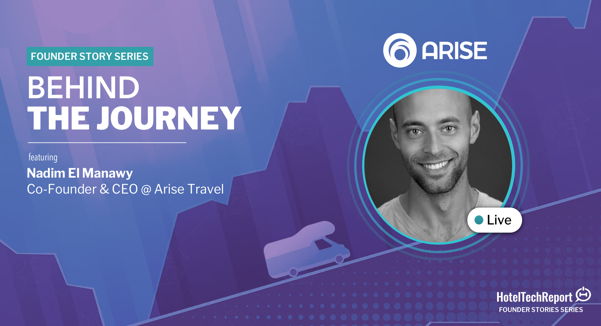 Arise Travel is an early stage startup that most hoteliers haven't heard of today but the firm's technology could be the answer to the seemingly never ending direct booking wars if things go according to plan.  The firm was founded in December of 2017 by two early (former) employees at cloud property management system provider Frontdesk Anywhere who got loads of experience dealing with intermediaries while building the business.
Every industry has intermediaries and those intermediaries deserve to get paid for driving business to their partners.  Before we jump into how Arise can help build healthier (and more equitable) relationships between OTAs and their hotel partners let's take a quick 10,000 foot view of where the relationship sits today.
Why haven't the OTAs been broken up yet?
The problem with the OTA-hotel dynamic is mostly a result of consolidation that has surprisingly not been addressed effectively by most antitrust authorities.  The reason that antitrust authorities haven't addressed this issue is likely because the duopoly actually benefits consumers (by delivering lower prices for accommodations) and many of the world's most powerful antitrust authorities have mandates to protect consumers rather than businesses.  
Here's a quote directly from the U.S. Department of Justice Antitrust Division website about the group's mandate:
"Competition in a free market benefits American consumers through lower prices, better quality and greater choice. Competition provides businesses the opportunity to compete on price and quality, in an open market and on a level playing field, unhampered by anti competitive restraints."
As such, it is unclear that the Booking/Expedia duoply (which is estimated to control ~80% of the market today) will ever be broken up given the focus on consumer protection.
Arise shifts the focus from direct bookings to lower commissions
Historically, most of the companies that help hotels gain leverage against OTAs today have been focused on driving new direct bookings.
The general idea is that by helping hotels increase their mix of direct bookings - these hotels will pay lower absolute commissions in the short term and also in theory should be able to negotiate lower commissions over the long haul.  The earliest companies to play in this space were Triptease, Stay Wanderful and Hotelchamp.  These direct booking platforms help hotels optimize their website performance to increase conversion and effectively maximize their funnel rather than bring new prospective guests into it.  More recently, The Hotels Network and 123Compare.me have jumped into the fray.
Similarly, digital marketing agencies began positioning around direct bookings with firms such as Screen Pilot, Travel Tripper and TravelClick leading the pack.  Ultimately the goal of any great hotel digital marketing agency should be to drive bookings at a lower cost relative to OTA commissions.  In addition to the benefits of website optimization based direct booking platforms, digital marketing agencies help bring new prospective guests into that funnel through digital marketing on paid channels such as Google, Facebook, Email Marketing and Instagram.
So tech companies have gone a long way to help hotels gain leverage with the OTAs by driving direct bookings via digital marketing, website optimization, etc.  While this is a great approach, Arise Travel has a surprising way to end the direct booking wars - and the team wants to do this without a single shot fired.
What is Arise's strategy to combat an OTA duopoly?
While Expedia and Booking have approximately 80% of the OTA market, there are many other stakeholders in the accommodation supply chain.  The total retail value of accommodations globally hovers around $570B and $200B of that gets passed to the hotel industry (Statista).  Booking and Expedia revenue for all business units combined (incl. airline, activities, etc.) are ~$25B which shows that even though they have huge OTA market share, they actually have modest shares of the overall intermediary markets.
So who else is in this intermediary market? Some examples include: traditional travel agencies, corporate travel businesses, smaller OTAs and OTA affiliate partners.  Arise wants to help hotels fight the OTAs by mixing in more cost effective 3rd party bookings.
When a hotel today forecasts a period with high demand, they'll often use their channel manager to shut down distribution in what are called "closeout dates."  Closeout dates include peak times like big conferences coming to town, city wide events, etc.  That sounds reasonable, right?
Wrong.
When hotels activate these closeout dates they are intentionally leaving bookings on the table today to save themselves for lower commission bookings tomorrow.  Then, as occupancy begins to rise, hotels are able to increase rate which is why they're ok to leave those bookings on the table.
In super simple terms, let's say a hotel will pay 20% to the OTA and 0% incremental for direct bookings (because many direct costs are fixed).  The reason they shut down OTA inventory is because they believe that the rate increase they can command tomorrow will not justify the distribution cost today.  
Arise Travel founder Nadim El Manawy believes that billions are being left on the table and thinks that commissions should be dynamic just like room rates.  Everyone knows that revenue management software is essential to running a profitable hotel business.  If you charge too much - you lose bookings. If you charge too little - you leave profit on the table.  Revenue management systems help hoteliers make sure that they can walk that fine line to maximize profitability and Arise Travel can have the same effect on 3rd party commissions.
Supercharge Your OTA Channel Manager
Arise automatically downloads closeout dates from your channel manager where your hotel is leaving bookings on the table.  Your revenue manager can then go into the Arise Travel dashboard and input commission rates that they'd be willing to sell hotel rooms for during those periods.  Rates and desired commissions then get pushed to Arise Travel's network of intermediaries so hotels can sell rooms to prospective guests on 3rd party channels without commission negotiations or even the need for a traditional contract.
Let's say, for example, that The World Cup is coming to your city next summer so you don't want to allow Expedia bookings at 20% commission knowing that you'll fill your hotel regardless.  You can't renegotiate with Expedia but you can now login to your Arise Travel dashboard and notify intermediaries like small OTAs and corporate travel agencies that you'd be willing to sell rooms for a 7% commission during those times.  You can even set variable commissions on a per room type basis, by rate code, day of the week and even by channel. Eventually the technology will make this all automated through integrations with top rated revenue management systems.
Those intermediaries can then accept those terms and list your rooms for booking on their channels with automated rules.  The big value prop for these intermediaries is that they can now sell accommodations that aren't available on Booking and Expedia - this helps them differentiate and ultimately grow their businesses.  You can now get rooms booked for a reasonable commission while driving up rates during this peak period. Consumers win by accessing your inventory in more places, distributors win by getting access to unique inventory and you win by maintaining reasonable commissions and selling your inventory more quickly.  Arise's technology handles all commission reconciliation and payouts automatically to save your team time. The entire payment and service history can be viewed at any time providing ultimate transparency into your channel management strategy.
If Arise Travel can get big enough, it will eventually pressure Expedia and Booking to accept variable commissions that are market based.  While Expedia and Booking may see short term headwinds from a concept like Arise Travel hitting scale, this is ultimately bringing much needed fair market dynamics and transparency to the industry which will lead to healthier hotel-OTA relationships and more innovation.  Nadim has a massive vision for the industry and he needs the help of our global hotelier community to jump on board with what we at Hotel Tech Report believe is a "no brainer." We recently sat down with Nadim to chat about his background, the future of hotel distribution, what's next for Arise Travel and more.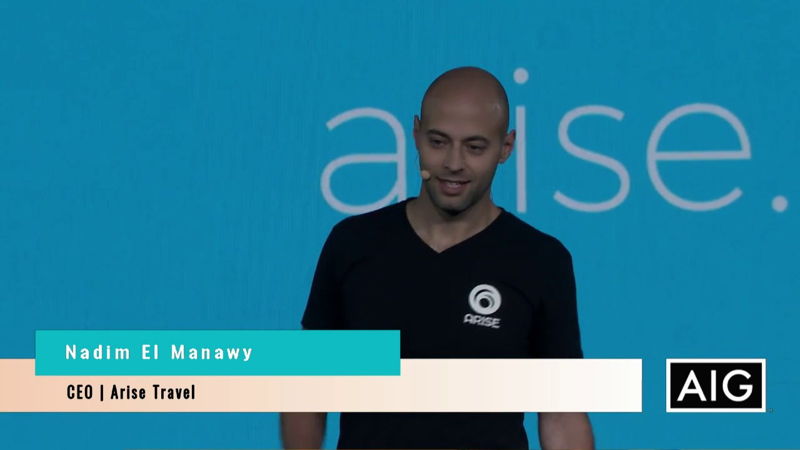 Hotel Tech Report's exclusive interview with Nadim below
What was your background prior to starting the company?
Before co-founding Arise, I led sales and partnerships for 4+ years at a cloud-based property management system company in San Francisco called Frontdesk Anywhere. Prior to moving to the Bay Area in 2011, I worked in Shanghai and grew up in Belgium.
What made you decide to jump in and disrupt the travel distribution space?
I met Alex Lamb, my co-founder in this business, at Frontdesk Anywhere where we were the second and third employees. Alex lead the engineering team there for 4+ years.
Being in the PMS business, we became very familiar with how things work on the operational side at hotels, but we also had to work with many players in the distribution chain such as channel managers, GDS and wholesalers. We got to see how things are patched together behind the scenes today.
Many of the hotels we worked with were very vocal about how a few online travel agencies were controlling their distribution and how much they were paying in commissions and fees. We also saw how the fragmentation of the PMS space and old technology used by existing intermediate networks was making it difficult for travel companies to gain access to hotel data and efficiently transact with hotels.
We starting thinking about how we could use emerging technology to fix many of these problems, allowing new travel companies to grow faster and help move the industry forward.
Who was your first customer?
One large player in the corporate travel space (we can't name the company yet) is taking a chance working with us in order to solve some of the problems and inefficiencies they face today. Our experience with hotel distribution technology gained over the years when building and maintaining a cloud PMS combined with our knowledge of distributed ledger technology and how it can be applied to travel distribution is what made them want to work with us.
What is there so much excitement about Arise Travel as a disruptor?
We build technology that helps hotels gain more control over the inventory they share with their partners. Our distributed ledger technology lets hotels enforce rate parity at the point-of-sale and dynamically adjust their commission rates based on demand, significantly increasing hotel profitability.
Who is one mentor that has really helped you scale the business? 
I need to mention two people who have been very helpful since the beginning.
Jing Zhou, who was at Hyatt for many years leading e-distribution for Asia Pacific, has been sharing her knowledge on hotel operations and distribution strategies. She has helped us stay focused when building our technology to make sure it fits with hotels needs.
Varsha Rao, who was head of Global Operations at AirBnB for many years, has tons of experience in building and scaling businesses. Her constant ideas and advice on ways to start and grow the business have been extremely helpful.
What's one big misconception that hoteliers have about distribution?
Many hoteliers believe that they are powerless to change the distribution technology they're dependant upon. Most hoteliers are quick to complain but because they don't view distribution technology as a core competency, the idea of investing resources into something they've never taken ownership of before seems daunting.
This mindset may have been reasonable in the past, but not anymore. Distributed ledger technology will show hotels that updating their distribution technology is possible with very little IT investment and without affecting their operations and current distribution channels.
What's the most surprising thing you've learned about hospitality distribution since founding the business?
That most innovative technology being worked on focuses on the travel search and booking process, but technology that can improve the traveler experience after booking is held back because many of these services have to rely on outdated distribution technology to function.
If you could partner with any vendor in hotel tech, who would it be and why?
AirBnB. Our technology creates a shared source of truth for hotels and OTAs, making it possible to automate commission reconciliation processes.  With this automation in place, it becomes feasible for hotels to start setting variable commission rates for the inventory they send to OTAs. Instead of closing entire channels during high demand periods, hotels can lower their commission rate to maximize their profitability.
We can help AirBnB grow its hotel business by accepting variable commission rates from hotels, giving them access to desirable inventory that is currently unavailable to other OTAs using a fixed commission model.
Where do you see Arise in 5-years?
Most of the intermediaries that survive of rate arbitrage and don't bring real value to hotel distribution will disappear. We believe the efficiency and trust that distributed ledger technology can bring to the industry will drive down the commissions paid by hotels for bookings.
I'd hope most hotels, including independent, will be benefiting from the control and efficiency our technology will bring to their online distribution. I'd expect many players involved on the supply and on the demand side to be using our technology.
Do you have any new products or feature launches?
Variable commissions hotels fully control and payouts are automatically handled.
Starting with high demand periods, hotels can decide how much they are willing to pay in commissions for any given date, room type and rate.
Today hotels pay fixed high commissions to OTAs and at times of high demand often take the risk to close those expensive channels as they are confident enough they'll drive enough direct bookings to fill their hotel.
Hotels no longer have to do that as they can now set variable commissions that they are willing to give OTAs on those high demand dates. We provide the transparency and control to hoteliers and we automate the commission payouts so it doesn't add any more work for hoteliers.
We work with hotel channel managers and switches. To get going hotels can contact us or also check with their service provider to see if they are already connected to Arise.
Is there anything that the community can do to be helpful for you?
We'd love for people involved in hotel distribution on either the supply or demand side to talk to us. The more people that understand and get comfortable with the idea that upgrading distribution infrastructure isn't such a daunting task, the faster everyone will be able to benefit from it.
Advances in Distributed Ledger Technology actually make distribution less complex than the processes in place today.
What's one piece of advice that you have for any entrepreneurs looking to get into the hotel tech space?
Make sure there's a clear need for your solution in the space and if so, have a very good understanding of all the current players, how they work together and all the moving pieces that shape today's hotel tech space.