Guest Room Tablets and the Future of the Guest Directory
By Gregor Herz
Last updated January 26, 2022
3 min read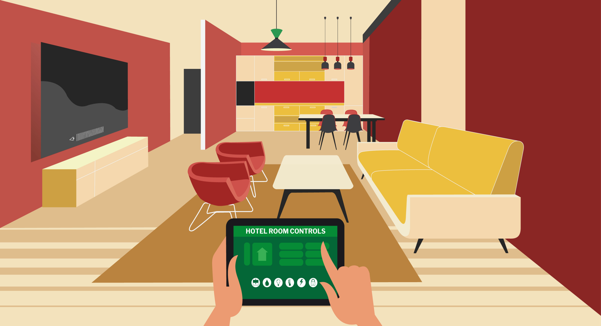 Modern hotel stays are characterized by modern experiences for guests. One of the most impressive ways of digitalizing the hotel experience for guests is to introduce digital hotel guest directories to replace the traditional paper-based directory. In this article, we'll highlight why and how digital guest room tablets will catapult your guest directory into the modern age.
The problem with paper-based guest directories
Guest directories have been used by hotels for decades. They provide hotel information, room service menus, and information about the surrounding area. There's no doubt that they're a vital component of the hotel experience for guests, but paper-based guest directories come with a host of problems. 
Firstly, they're impractical for modern hotels. If the menu changes, or there's a change in the information the hotel wants to provide for guests, hotel staff need to reprint new in-room collateral and then go from room to room replacing old information in the guest directory. This leads to outdated information in the hotel rooms and unsatisfied guests.
Secondly, there's the environmental aspect. Many modern guests are well aware of the impact their vacation has on the environment, and traditional hotel room guest directories seem like an unnecessary waste of paper, ink, and plastic.
Lastly, there are major limits to how well traditional guest directories connect with guests. Guests are required to either call down to reception to book tables at the restaurant, order room service, or book spa treatments. In a modern world where guests are used to doing everything at the touch of a button, it's literally easier and more convenient for them to order take out via UberEats or book a table at a local restaurant through Opentable than at the hotel. For this reason, many hotels lose out on loads of potential business.
The hotel app vs. guest room tablet debate
Hotel apps.  Before we delve into the benefits of using guest room tablets as the main platform for your guest directory, we should broach the debate of hotel apps vs. guest room tablets. Many companies provide digital guest directory solutions through mobile apps. The benefits for hotels are clear—there's no need for hoteliers to invest in in-room hardware such as guest room tablets.
However, there are limitations to the success of mobile apps that hoteliers should be aware of. Placing your guest directory on an app puts the accessibility control in the hands of the guests. They can choose not to download the app, they can delete it if they no longer see any benefit, and they can also switch off notifications from the app. Most importantly, this solution requires your guests to actually own a smartphone—something that not everyone has access to. These reasons mean that hotel apps don't give your hotel's digital guest directory good visibility.
Guest room tablets.  Guest room tablets, on the other hand, provide 100% accessibility because guests can use them whether they own a smartphone or not. They are also independent of the guest's accessibility control—there's no need for guests to download an app and they can't change their accessibility options (however many guest room tablet solutions do offer a "do not disturb" option for guests who wish not to be bothered by notifications).
Guest room tablets provide an ideal solution for digital guest directories. Many solutions also come with apps or in-browser mobile solutions to complement the main in-room solution. These are mainly for when guests are out and about but still want to access information about the hotel or make bookings while not in their room.
Modern guests expect modern solutions
One of the most obvious reasons to switch to a digital guest directory is that most of your guests will already be accustomed to using digital solutions in everyday life. For those under 35, the idea of needing to call down to reception to ask for further information or make a booking might even seem old-fashioned. Additionally, providing your guest directory in a digital format will encourage them to book with you, helping to increase sales from in-house outlets.
Guest directories on a digital platform also enable you to do so much more than paper guest directories. You can provide extensive information on the room service menu, allow your guests to order at the click of a button, and even open a chat function that enables them to communicate with your staff on their own terms. They can find all the information they need on an elegantly designed, interactive interface that doesn't require them to flick through old dog-eared sheets of printed A4.
Providing this extra functionality will not only reflect well on your hotel but will also improve the experience for guests at your hotel by emphasizing the "hassle-free" elements of their stay. When it comes to vacationing, guests expect nothing more than for everything to go smoothly at the hotel. Guest directories on digital platforms enable this and can be the starting place for your hotel's digital revolution.
Taking back control of guest feedback 
Another major benefit of the digital guest directory is the opportunity to offer your guests the chance to provide feedback through the digital guest directory. For many hotels, this possibility has been taken away from them by review platforms such as TripAdvisor. Using push notifications through your digital guest directory to offer guests the chance to review their stay, during their stay, is a great way to improve the guest experience while they're still at the hotel. 
This way, you can turn possible 3 or 4-star reviews into guaranteed 5-star ratings. In an online world, customer ratings hold a lot of weight for business success. Taking control and driving positive customer ratings using a digital guest directory will give your business a boost in the future.
Digital guest directories in a digital world
Digital guest directories such as SuitePad will become the new normal in the hotel industry. It's a matter of when not if. Early adopters will benefit more than anyone else from switching to a digital guest directory as they will impress their guests with a modern experience, provide better upselling opportunities, and receive positive feedback.
With the digital revolution taking place in the hotel industry, the digital guest directory will provide the perfect starting point for any hotel that wants to modernize its guest experience.