Hotel Blogging: Simple Strategies for Marketing Success
By Jordan Hollander
Last updated January 26, 2022
8 min read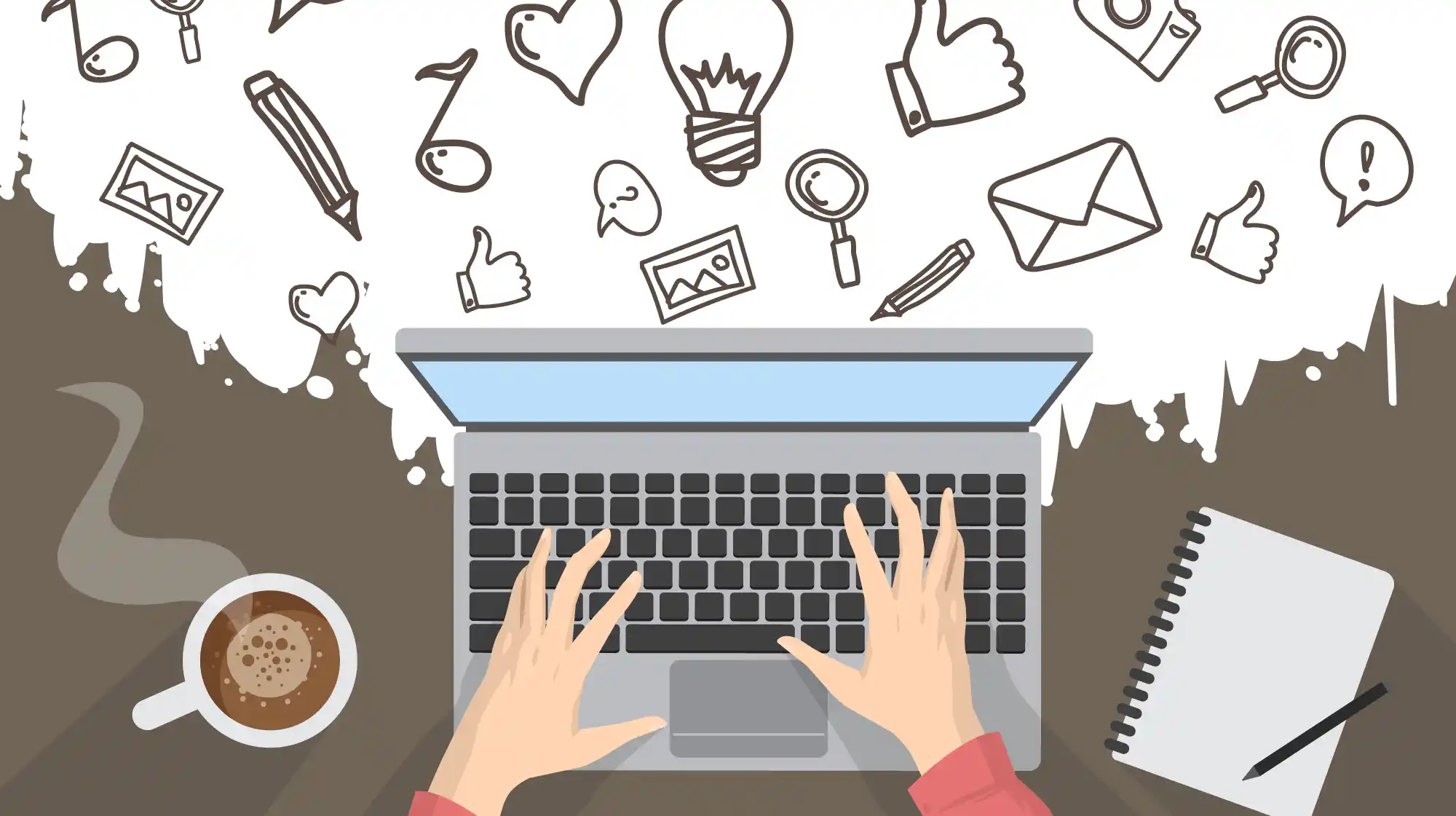 Are you tired of having a boring hotel blog that gets no traffic?
You know there are opportunities to increase traffic to your hotel website, but probably don't know where to start.
Is hotel blogging the best hotel marketing strategy to grow organic traffic?
Do you even need a hotel blog?
In this article, we're going to answer these questions and give you hands on hotel blogging ideas to kickstart your growth.  We'll then review 2 case studies and show you what these hotels do well, then give exact tips to get even more traffic that you can use for your own hotel blog.
Let's dive right in.
The guest experience doesn't begin at check-in anymore; with engaging blog content, hotels can start offering value to guests before they even start thinking about booking a room.  By the time these guests start considering which property to book at, you've already got a leg up on the competition.
By leveraging local expertise and relevant recommendations, hotel blogs can reach thousands of potential guests in ways that OTAs simply cannot. However, a blog might not be necessary for every hotel right now.
Perform a SWOT analysis of your hotel's overall marketing strategy. If blogging fits within your hotel's overall needs and objectives, then it may be time to invest in the following best practices and content ideas to create an exceptional hotel blog.
But creating a blog is only half of the journey; partnering with a digital marketing agency like NextGuest Digital will provide the expertise and exposure necessary to put your blog in front of the right readers.  A hotel digital marketing agency like NextGuest will even help develop content for your website that is purpose built to bring in prospective guests.
Does your hotel even need a blog?
A 21st-century hotel must have a website, social media profiles, and a blog - right? Not so fast. Though a blog might seem like a necessary part of a hotel's online presence, no benefit comes from blogging for blogging's sake. In fact, cranking out a multitude of posts may do more harm than good without carefully choosing topics and producing high-quality content. When it comes to hotel blogs, choose quality over quantity - or choose not to have a blog at all, such as the Maven Hotel in Denver, which dedicates resources to other marketing channels, like Instagram.
Compelling hotel blog content shouldn't be robotic and needs a personal tone.  Great hotel blogs showcase unique characteristics of their hotels, offer tips about the area and highlight influencers that resonate with the hotel's brand. After creating a great blog post, the next step is to share it with the hotel's target audience, whether by social media, an email newsletter, or in other publications. If a hotel's marketing team is confident that they can uphold a high standard of content and distribute it to an audience of readers who are likely to book rooms, then the hotel might enjoy benefits like increased website traffic and conversion, better performance in the search results, broader brand awareness, and greater guest loyalty.

The Maven's website was designed by NextGuest Digital
What makes a great hotel blog?
Just as revenue management seeks to sell the right room to the right guest for the right price, a hotel's blog content should also try to deliver the right content to the right guest at the right stage of the booking process.
The first step in building a great hotel blog is to determine who your ideal guests are and create guest personas unique to your property. Guest personas start with high level naming conventions like families, business travelers, or bachelorette parties - but that's only the start.  Great personas contain rich actionable psychographic and behavioral traits. They should read as describing a single person and deeply encapsulate their motivations and mindset.
Once you've nailed down your blog's audience, then you can provide specific recommendations and or stories that would be most relevant to them.  Many marketers have trouble with this because they may be in a back office or even in corporate. Don't stress though, use this as an excuse to get out from behind your desk and go mingle with guests in the lobby.  Have open ended conversations with them for a couple hours just casually talking about their trips and you'll come up with dozens of hotel blogging ideas.
Hotel 48LEX in New York City, a NextGuest Digital client, publishes blog articles like "How to Ride the NYC Ferry Like a New Yorker" and "What to See at the Bryant Park Winter Village" that are hyper-relevant to their target audience.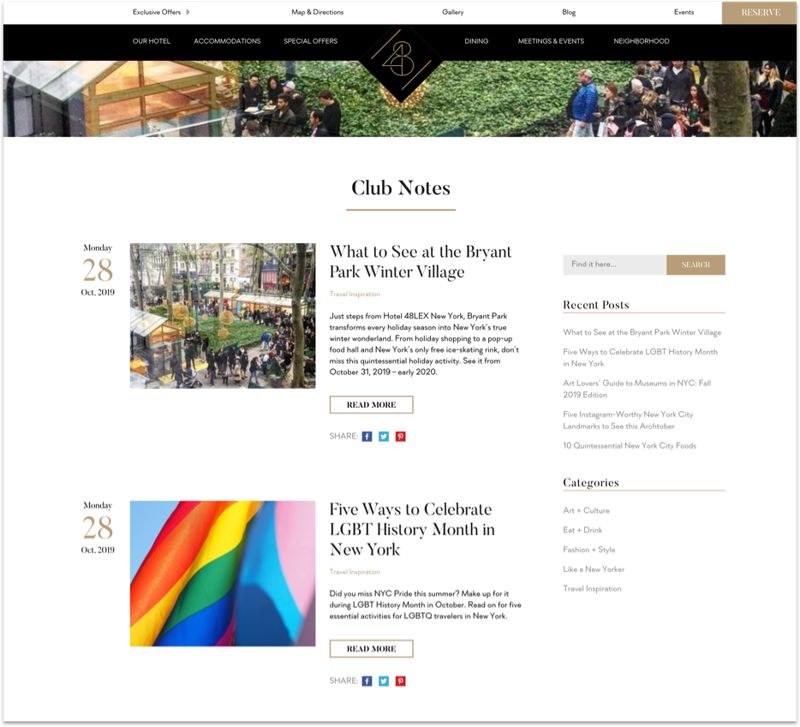 48Lex's blog has rich content for LGBT, Sports Fans, Families and more
Specificity is key to a great hotel blog. Rather than speaking in general terms about the hotel and the market, a blog gives you the opportunity to showcase exactly what makes your hotel or market special. Using concrete details and descriptive words, you can illustrate unique decor features, recommend things to do in the neighborhood, or even tell about a fascinating bit of history from the hotel's past. These specifics help your post become engaging and memorable.
Mix up your content with these unique hotel blogging ideas
Set your blog apart from the rest with one-of-a-kind articles that readers will remember. The blogosphere is full of "10 Things to do in [insert city name here]" posts, so take a different approach and you'll be rewarded for being unique.
Film video blogs of area attractions and activities
One of the best ways to develop engaging content for potential guests is to collaborate with existing ones, and one of the best ways to generate traffic is to post articles about popular area attractions. People search for "Golden Gate Bridge," for example, around 360,000 times per month, which shows that potential guests want to know about your market's top attractions and activities. What better way to help them picture a future trip than using video from a real guest's visit!
Encourage guests to film their experiences by offering free tickets to major attractions if they submit their footage, then you can incorporate the footage into rich, fresh, and authentic content about the area. Furthermore, blog pages with more informative content tend to perform better on the search engines than thinner articles do. If you develop a highly useful and comprehensive page about an area attraction, it will generate better traffic than a simple paragraph about the attraction. Complement the footage with descriptive text that answers questions or addresses apprehensions travellers might have.
Compile statistics or create infographics about the local area
Hotels have access to a pool of guest data via post-stay surveys, and this data can be quite interesting to local destination marketing organizations or travel publications. Turn your standard guest satisfaction survey into a dynamic research tool by adding survey questions that you can incorporate into a compelling blog post. Perhaps ask guests about which attractions they visited or what the purpose of their trip was. Using this data, you can create infographics or charts that other industry publications might want to link to, which will generate additional readers, build brand awareness, and add to your blog's backlink profile.
Interview Instagram influencers
Just getting started on social media? No problem! Rather than waiting for your follower count to grow, get your hotel in front of thousands of social media users immediately by partnering with Instagram influencers. Search through the profiles of popular restaurants or trendsetting hotels in town to find out which influencers resonate with your hotel, then reach out to them and collaborate on a feature for your hotel blog. Perhaps they can provide curated restaurant recommendations or uncover some local hidden gems. Once you've posted the article, be sure to share it with them so they can then share it on their social media channels.
Looking for more content inspiration? Add these creative ideas to your hotel blog's pipeline: 
Make sure your hotel blog's technical aspects are up to par
Even if your content is the best in the world, readers will have trouble finding your blog or staying engaged until the end of the article if the website's technical aspects fall short. From website design to search engine optimization, make sure to build a solid technical foundation so your content can really shine. Follow these tips to ensure your blog is easy to find and read:
Real life hotel blog case studies & analysis
Eager to see how these strategies work in the wild? Check out these fantastic hotel blog articles, learn why they work and learn what can be done by hotel marketers to get improved results: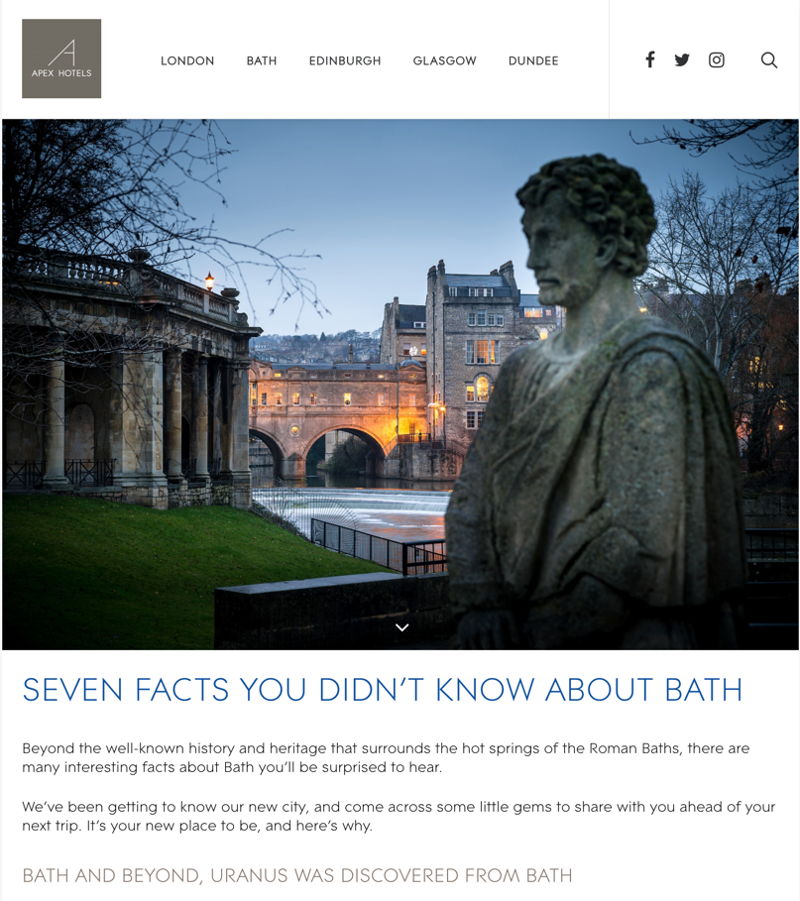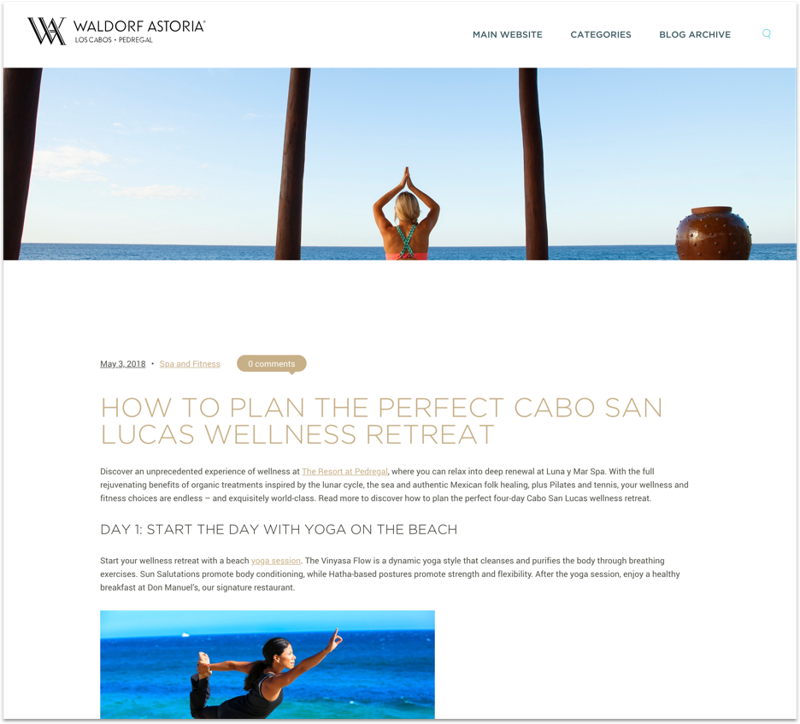 Remember these keys to hotel blogging success
As with any big project, building a great hotel blog takes time, but investing in your online presence can yield impressive results. Focus on quality content rather than quantity, and ensure that your content is unique, engaging, and relevant to your ideal guest - starting with a headline that just begs them to click. A blog is an excellent opportunity to show off your hotel's personality and value proposition, so working with a digital agency that understands content and search patterns is crucial to securing the readers you want. Let the experts at a firm like NextGuest Digital handle top hotel software needs like email marketing, SEO, blog post distribution, and more while you focus on creating hospitality experiences that guests will want to write about!
Are you a hotel marketer who's too busy to blog?
Browse our list of top rated hotel digital marketing agencies to find a partner who can grow your web traffic today.