SWOT Analysis Examples in Small Business (+Hotel SWOT Analysis)
By Jordan Hollander
Last updated August 09, 2022
7 min read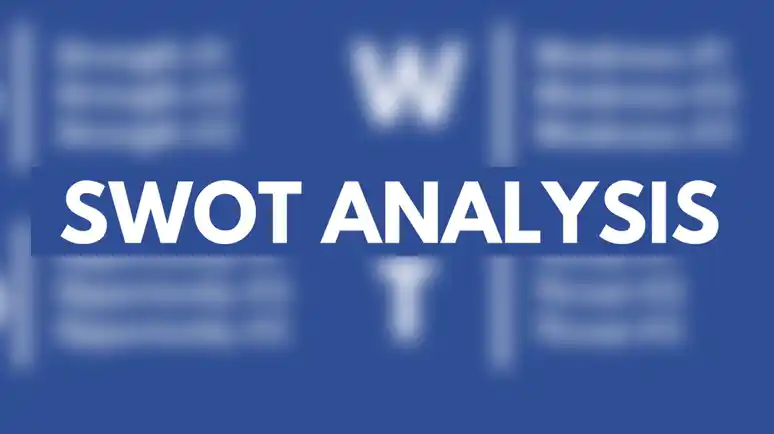 In this article we'll cover the basics of SWOT analysis and give examples on how small businesses can leverage this business strategy to grow their bottom lines with a specific focus on the hotel industry.  Rest assured that hospitality industry SWOT analysis isn't just for consultants and with a bit of focus is totally something you and your team can knock out within a few hours.
Too often, hotel managers switch software reactively or because their existing solution broke down.  This is the equivalent of waiting to hire their next team member until the entire existing team has quit. Rather than be reactive, managers should proactively analyze their hotel businesses to identify weaknesses and opportunities then align hotel software procurement around those goals.
Rather than deploy new software as a bandaid to a broken system, a reaction to a negative review, or an impulse purchase influenced by marketing campaigns - you should perform careful analysis to decide where you can make pre-emptive investments before such problems arise.
Smart technology procurement starts with a rigorous SWOT analysis. SWOT is a tool that helps assess your businesses' unique opportunities in the context of market trends and get a better sense of where to improve operations before making a purchase. SWOT can help your hotel align its technology investments with key business goals and needs.
Great strategic planning starts with analyzing both external factors and internal factors.  The SWOT matrix helps facilitate better decision-making by leveraging your business' competitive advantage and internal strengths to create an action plan that identifies new opportunities for sustained growth.
Use your SWOT analysis to get a snapshot of your hotel's strengths and weaknesses before investing in software that helps you mitigate risk or capitalize on market opportunities.  Once you understand where you've been and where you want to go, you can then find the right tools and partners to help you get there. Here's how to get started.
What is a SWOT Analysis?
A SWOT analysis is a framework for evaluating the strengths, weaknesses, opportunities, and threats to your hotel business. The methodology originates from researchers at Stanford in the 1960s and 70s and has since become common practice at Fortune 500 companies and startups alike. 
A SWOT can be used on an organization-wide level, or for individual projects within a team. Most businesses use a SWOT analysis to determine if the project or campaign is aligned with the broader organizational benchmarks. For example, a company might perform a SWOT to assess if an online advertising campaign will be worth the investment in comparison to other ongoing initiatives.
SWOT Analysis Example
SWOT is an acronym for strengths, weaknesses, opportunities, and threats. By identifying these elements around a particular business decision, you can make a more informed choice that uses resources wisely and leads to better outcomes.
"Strengths" refers to the tangible and intangible advantages your hotel has at its disposal. This could include your stellar employees, your brand reputation, or your hotel's location.  What are your company's strengths?

"Weaknesses" refers to elements that hold back your hotel from growth or optimal performance. Understanding your internal weaknesses involves some critical self-evaluation: weaknesses may include budget limitations, lack of in-room technology, poor online reviews, lacking certain facilities or an outdated website. 

"Opportunities" refers to things you could do to increase bookings, improve guest satisfaction scores, or boost your profits. Research about market trends and look to guest reviews for ideas of where you can open up new streams of revenue or reach new markets. 

"Threats" refers to anything that poses a risk to your hotel. Airbnb, for some hotels, is considered a threat.

List out every strength, weakness, opportunity, and threat you can think of, both externally and internally. This will take a fair amount of market research, a deep dive into your hotel data and an investigation into your hotel's past performance but the work will be well worth your time.  As the old adage goes, "to a ship with no harbor, no wind is the right wind". A proper SWOT analysis gives your hotel a harbor and guiding light which will save both time and money in the long run when contrasted with making reactive decisions.
Next, transfer your elements into a grid-like matrix with four quadrants, one for each category. This format offers a clear snapshot of where you can adjust, invest, and play to your strengths. "Ideally, there are two stages of action you should take upon completing a SWOT analysis," writes one expert. "First, you should attempt to match your strengths with your opportunities. Next, you should try to convert weaknesses into strengths."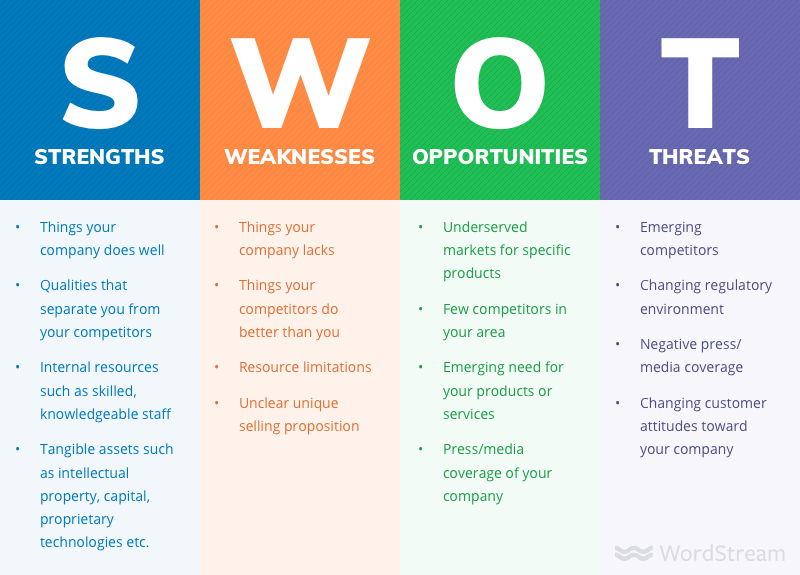 Here's an illustration of how to implement SWOT in your business from Wordstream
Hotel SWOT Analysis Examples and Step-by-Step
Many small business owners think that SWOT analysis is important only for larger corporations but that couldn't be further from the truth. SWOT can be impactful in every aspect of life and even your personal life. All progress starts with a foundation of self awareness: knowing what you're good at and what you're not, understanding your unique selling proposition, etc. The first half of the SWOT analysis (the SW) helps orient around your internal capabilities. The second half (the OT) helps identify market opportunities to be exploited. By identifying market opportunities and exploiting them by leveraging your strengths you will outperform the competition.
One of the most challenging parts of conducting the SWOT is identifying your hotel's weaknesses. Start with these metrics to understand where your hotel's strengths and weaknesses lie, and then brainstorm tactics that can turn weaknesses into strengths. Include the following KPIs in your SWOT analysis.
1. Revenue per Available Room (RevPAR), Average Daily Rate (ADR) and Occupancy. 
Use STR reports to get the industry benchmarks with data from 63,000 hotels across 180 countries. If the data shows your property is behind the compset on occupancy, for example, you might want to consider using a metasearch management software to maximize reach on metasearch websites and increase occupancy moving forward. More bookings on channels like TripAdvisor or Trivago means less reliance on these third-party sites that diminish your revenue. Metasearch management software can manage TripAdvisor, Google Hotel Ads, Trivago, and Kayak all in one intuitive dashboard. It gives you the power to increase the value of each guest booking.
2. EBITDA margin
Your hotel's EBITDA margin adds back depreciation and amortization to operating profit and then takes that figure as a percentage of revenue. It's an acronym for earnings before interest, taxes, depreciation, and amortization. Compare your EBITDA margin to others in the industry through industry trend reports from brokers like CBRE and JLL.  If your margins are above market averages you are in a great spot, if they're below average you'll need to diagnose the root causes and develop strategies to frame this weakness as an opportunity.  If margins are low but RevPAR and ADR are strong relative to the compset you've likely got a cost drain in your P&L. How does your staff composition look in relation to the local compset? What is your distribution mix?
3. % of bookings made directly
Direct bookings are more profitable than bookings that come through a third party site or OTA. Get your KPI by asking your digital marketing agency for the percentage of bookings that come through your hotel website. Compare that statistic against Phocuswright and Kalibri Labs benchmark reports to see where you stand. If your business mix schews more towards OTA bookings relative to broader segment data then you might want to consider revamping your website or search marketing efforts. You might also want to leverage a tool like RezGain Channel Manager to manage rates and room availability on hundreds of channels and ensure that you're consistently offering the best possible rate on your hotel website.
4. Online reviews and rankings
Look to hotel review sites like TripAdvisor or Trivago to see where you rank against your competitors. If you're hurting for five-star reviews, remedy this weakness using reputation management software that aggregates reviews from OTAs, social media, and metasearch to show hoteliers what their guests are saying. The dashboard uses an algorithm that adapts to reviews over time, suggesting keywords to use in targeted marketing campaigns and providing insights on areas where your hotel might improve.  The first step to improving customers satisfaction at your hotel starts with analysis of internal and external review channels.
5. Website traffic
Diagnose your website traffic using tools like SEMRush, Similar Web, Alexa. The more traffic your hotel website receives, the more likely it is that you can convert to (profitable) bookings.  Analyze your website traffic in relation to hotels in your compset.
Put this data into context by gathering data in terms of market share amongst your compset.  For this analysis you'll want to select a larger compset than typically used for revenue management.  You'll want to pick 15-20 hotels with similar market segmentation in your direct vicinity.  If your hotel's web traffic is below average, you'll need to improve this metric.  Dive deeper to determine whether it's an SEO (search engine optimization), social referrals or paid acquisition problem.  The tools mentioned above will show approximate amounts of organic traffic. If your traffic is weak you'll want to focus efforts on improving your website structure and producing higher value content.  Have your marketer create technical SEO landing pages around popular local attractions or consider creating blog content around popular live events and conferences.
Once you've cleaned up your hotel website's SEO it's time to analyze search marketing and display remarketing.  Use the tools mentioned above to gather spend data and ask yourself whether you're investing enough in paid acquisition. Paid acquisition and advertising is highly complex, so don't try this on your own - you'll want to work with an experienced practitioner and digital marketing agency partner and ideally one who has experience in your local market.
Not sure whether these metrics are indicative of strengths or weaknesses? Use last year's results, or compare your data against competitors to see where you stand. For new investments, compare your budget forecast to the costs of adding a hotel technology tool. Instead of simply throwing money at the problem, invest with a vendor who can pinpoint exactly where you need to improve.
What next? Tying it all together
The SWOT analysis leads you to understand where you need to remedy weaknesses and play to strengths. Analysis should begin with a deep dive into goals, competencies and historical performance.  Layer onto this analysis with tactics to help turn weakness to strength and threats into opportunities. Tactics are often based on a reallocation of resources or human capital and the Swiss Army Knife of hotel strategy is technology.  Identify which software categories can help meet your goals then once you know what software you need, identify all the vendors who can help. Some hotels prefer specialists with single-point solutions; others prefer vendors like RateGain who can provide solutions all across the guest journey. No matter which path you take, make sure you carefully consider your hotel's position before making a procurement.
On the surface SWOT seems simplistic to most learning the concept but it's actually quite complex when executed properly. The main benefit of SWOT is that it gives your business a framework to review your company and external market conditions in order to realign your business strategy and maximize results.
SWOT results can be extremely overwhelming after a brainstorm session with your team. Score each opportunity based on: (a) Feasibility - how likely is it that you can succeed given your strengths and weaknesses) and (b) Impact - i.e. if you succeed, how impactful will that success be on business results. Once you've scored based on feasibility and impact you should sort order and prioritize the highest expected value opportunities then start with the biggest opportunities first and work your way down the list.
SWOT analysis will help you prioritize decisions and resource allocation to run a more efficient hotel business. By prioritizing resources more effectively you'll drop more to the bottom line. By checking any business decision against the priorities that you develop in your SWOT analysis you will save time and internal conflict because every decision will have a clear evaluation rubric - this is especially important when shifting focus or resources between departments.