Hotel Checklists: How They Train Your Staff To Be More Productive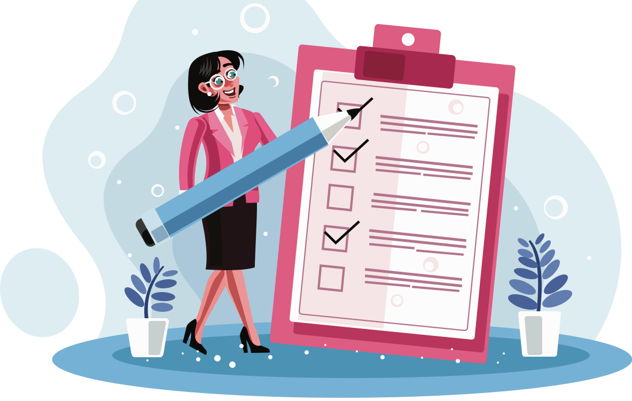 In some industries, checklists are the difference between life and death. During the Apollo 11 mission to the moon in 1969, the team of astronauts considered their extensive collection of detailed checklists – covering everything from flight plans to data cards – their "fourth crewmember." In Scotland, the 2008 requirement that hospitals complete a Surgical Safety Checklist during high-risk surgeries led to a 36.6% drop in the post-op mortality rate.
Science has proven time and time again that checklists have a direct impact on productivity, time management, memory, and focus. While hotel checklists don't have the same life-or-death implications as these other examples, they are a vital tool for improving staff performance and overall hotel operations. Hotel operations software like HotSOS has evolved from old-school paper checklists (put your hotel sustainability hat on!) to be more transparent, efficient, and organized for hotel teams working around the property. What's the psychology behind hotel checklists that makes them so powerful? How should your hotel be using checklists to motivate your team and improve operations?
The Psychology of Hotel Checklists
There are a few reasons why hotel checklists are powerful motivators for your team.
First and foremost, checklists define goals in strategic, manageable steps. Anyone who's ever attended a business seminar knows the importance of setting SMART goals – that is, outcomes defined as Specific, Measurable, Attainable, Realistic, and Time-bound. Software organizes your checklists within SMART parameters to show your team that these bigger goals are achievable through small, manageable steps. "Breaking down your projects into smaller, bite-sized pieces helps you stay motivated and positive throughout the process," writes one expert.
Why are smaller tasks more motivating than big-picture goals? When we experience a feeling of achievement, no matter how small, the brain releases a chemical called dopamine. Dopamine is connected to the feeling of pleasure, learning, and motivation. Checking a task off a list is all it takes for the brain to release a small amount of dopamine – which in turn motivates us to check more items off the list.
Not all items on a checklist are created equal, however. Psychologists have found that tasks must be challenging in order to trigger the dopamine response. Small goals must be meaningful not only to work toward your SMART goal, but also to generate a sense of satisfaction that keeps your team motivated. If you consider checklists in your personal life, for example, taking out the trash each week doesn't lead to the same feeling of accomplishment as hanging a new frame or building a backyard swing set. Keep this in mind while designing your hotel checklists.
What Hotel Checklists Does Your Staff Need?
Running a hotel's daily operations means keeping tabs on lots of moving parts at once. Today's cloud-based hotel checklist software aligns your team no matter where they are on the property. These checklist tools are a way to improve every guest touchpoint, from housekeeping to restaurant inventory. Checklists standardize the guest experience and build loyalty by establishing a level of trust between the guest and the brand. Over time, the aid of hotel checklists can increase positive reviews.
There are a number of different types of checklists in hotels, such as:
General property checklist: to assess if the staff has all been trained, all hotel areas are up to brand standards and to evaluate guest rooms for comfort and cleanliness.

Room checklist: to assess that rooms are clean, damage-free, and that furniture and decor are all in good condition. This checklist should be used before check-in and after check-out.

Housekeeping checklist: to assess if the housekeeping team is in uniform, and to assess if all areas of the hotel are clean, sanitized, and presentable to guests.

Bathroom checklist: to assess that bathrooms are cleaned, and to assign which items and fixtures need to be scrubbed. Also, include inventory for things like shampoo and conditioner.

Inventory checklist: to assess whether your property is fully stocked with hotel supplies, food and beverage for the on-site restaurant, and complimentary items.

Hotel Maintenance checklist: to keep track of ongoing and occasional maintenance such as power washing, plumbing, electrical work, fire protection, security systems, and deep cleaning.
These are just a few examples of the checklists hotels can use to improve their service and organize their teams to run a tight ship. Other checklists, like a spa and health club safety checklist, hotel concierge checklist or restaurant health inspection checklist, should be added depending on what your specific property has to offer.
How detailed should your checklists be? It's a balance between meeting the demands of your customers and keeping your team motivated. Remember the psychology behind checking off tasks: items should be meaningful to trigger a feeling of accomplishment but not too large that they require significant thought.
How to Facilitate Hotel Checklists
The Apollo 11 team filled their spacecraft with wall-to-wall written checklists; but, that probably won't work for your hotel team. Hotel operations software facilitates checklists with teams at work on different parts of your property, keeping everyone aligned and making sure no task falls through the cracks.
Tools like HotSOS connect employees through a single platform to manage tasks and delegate throughout the day. Individual checklists can be set up for room inspections, daily to-do lists, and more; managers can delegate clearly, adding transparency to the hotel's operations. One hotel's Director of Operations reports, "The information flows very easily between the departments in a quick view; everyone knows what is happening in the hotel."
When you set up a hotel checklist, make sure the tool or platform you use is set up to reflect the guest experience. Walk through each step in the customer journey and design your checklist accordingly: what does the check-in process look like? What does the guest see when they first enter their room? When can they expect room service to arrive? The best hotel checklists will anticipate a guest's needs and categorize services to align with customer touchpoints as a way to clearly assign tasks to different team members.
Bottom line: make sure the tasks on your checklist are achievable, but still provide the feeling of a job well done to keep your team motivated, productive, and goal-oriented. Use hotel operations software that has integrated checklist functionality to keep your team constantly in sync no matter where they are on property. Checklists with small measurable goals and software that helps your staff easily track their progress inevitably helps improve guest satisfaction scores by ensuring nothing falls through the cracks between shifts or gets lost in communication.