16 Key Features to Look for in a Hotel Housekeeping Software
By Luka Berger
Last updated January 26, 2022
5 min read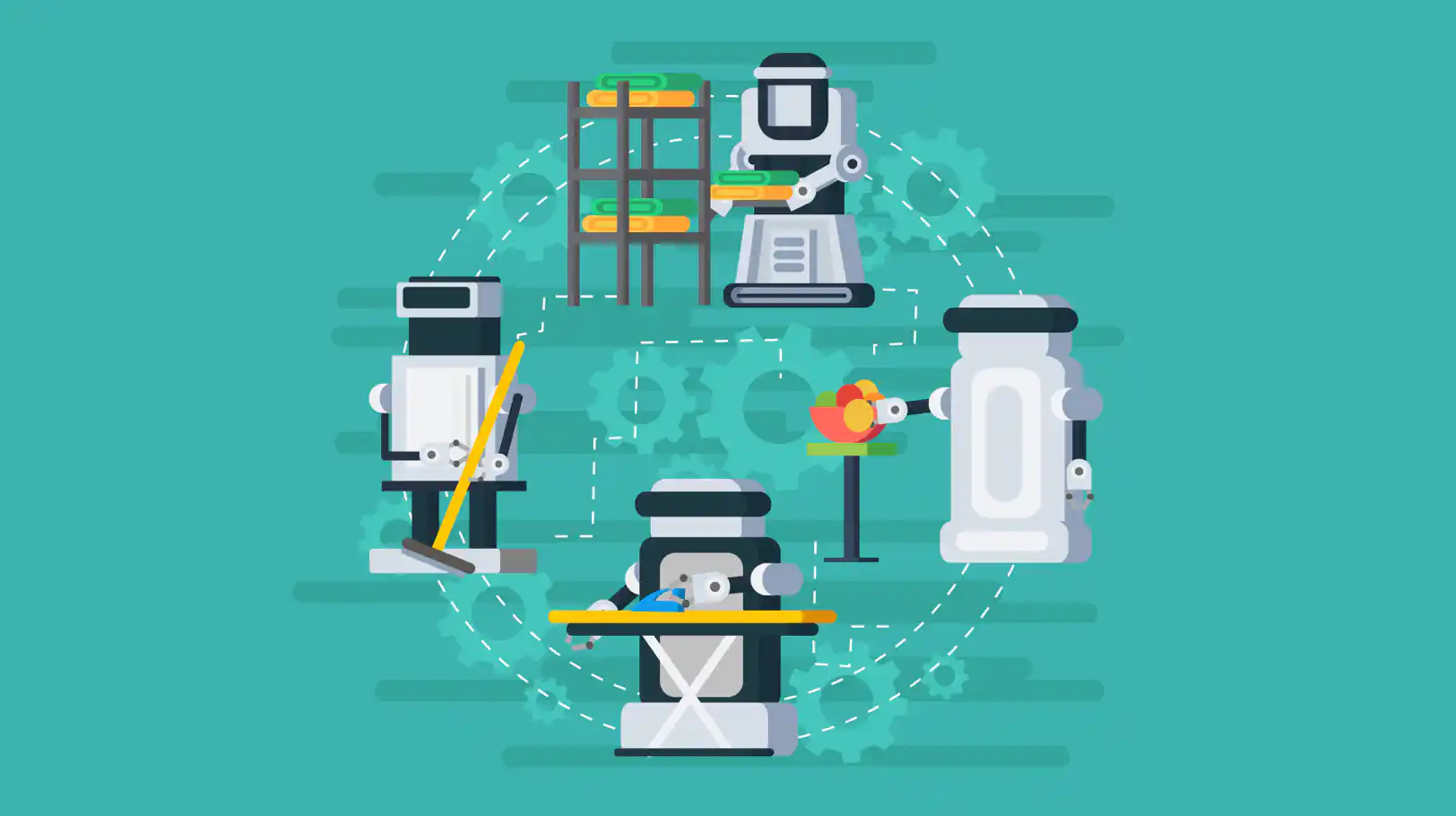 When choosing a new hotel tech solution, Housekeeping software is definitely a more complex and delicate one. It impacts a department that represents the most significant operating costs center and at the same time has an impact on the most critical service quality of a hotel - cleanliness. Furthermore, staff members that use housekeeping software might not be as tech-savvy as others, which means the chosen solution must be highly user-friendly. The key here is to find housekeeping software that, in the first place, caters to housekeepers to make their job easier while also delivering all needed KPIs for the hotel and its management. With that in mind, let's look at 16 key features that your chosen housekeeping software has to offer.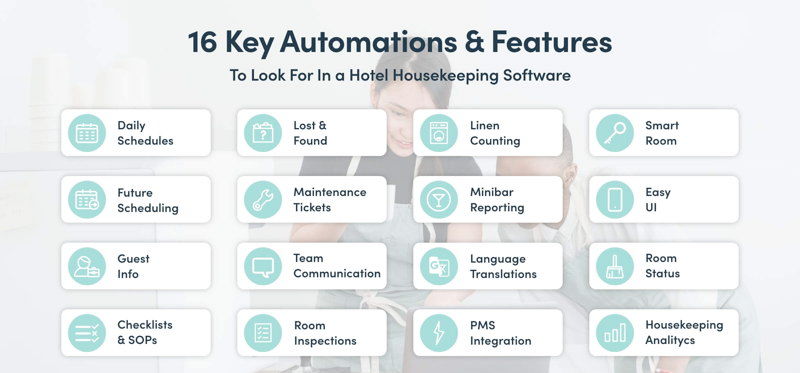 1. Automated daily housekeeping schedules: Creating daily housekeeping schedules is the first task every housekeeping manager has to do in the morning. It is also one of the most time-consuming tasks that can take up to 1h and 30 mins per day. To make a daily room cleaning schedule, housekeeping managers must juggle different room types, occupancies, guests, and their extra wishes. Then they have to distribute all that complexity in a way that makes sure that housekeepers have their work cut out equally between themselves. It is a task that can be simply automated and executed in only a second by good housekeeping software, saving up to 100% of the time.
2. Future scheduling of housekeeping staff and their schedules: The housekeeping department is one of the most significant contributors to the costs side of the P&L so having your housekeeping schedules optimized and planned out for the future is vital. Good housekeeping software will have this covered and will enable you to automatically schedule housekeepers and daily schedules as far in the future as you have booked reservations.
3. Real-time updates about reservations and guests: Real-time updates about changes to reservations and guests are essential pieces of information that housekeepers need. If guests move between rooms, shorten or prolong their stay, check-in or out of a room, all of this needs to be promptly communicated to housekeepers. This way they are not losing time by moving around the hotel figuring out which room they can clean next. More importantly, they are disturbing guests with the famous SOP that goes: Knock, knock, housekeeping.
4. Training pictures, checklists, and video SOPs: If you want to maintain high standards and quality of your housekeeping team's work, you have to equip them with knowledge. Pictures, digital housekeeping SOP's and checklists are three of the most important and effective training tools you can provide your housekeepers with. Again, good housekeeping software will provide all of these tools, making it easy for your housekeepers to double-check if they have completed all necessary tasks to the highest standard.
5. Lost & Found management: Guests forget things all the time. That means that hotel staff, especially housekeepers, have to manage lost and found items all the time. Recording, storing, managing, and updating information about lost and found objects can be very time-consuming, or it can be effortless through a housekeeping software tool.
6. The ability to easily report maintenance issues: Your housekeepers are the absolute crucial source of information for promptly catching and fixing maintenance issues in hotel rooms. The difference between making it easy or hard for housekeepers to report these issues can mean the difference between a happy and unhappy guest. But also the difference between high and low (preventive) maintenance costs. Quick and easy maintenance issue reporting is one of the absolute vital features your housekeeping and maintenance staff need to get within housekeeping software.
7. Team communication for daily updates and extra tasks: Like in any other organization, a hotel team (including the housekeeping department) needs to communicate to stay updated about ongoing daily events and do their work efficiently. On top of that, housekeepers need to deliver many ad hoc guest service requests, like extra towels, pillows, birthday gifts, etc. A real-time task management and team communication feature covers this area perfectly, and it needs to be a part of the chosen housekeeping software.
8. A pre-arrival housekeeping room inspection: This is the most important quality assurance measure for room cleanliness and consequent guest satisfaction. A detailed room inspection can easily have over one hundred steps to check to ensure the room is spotless. Digital checklists make all the difference here. When something needs fixing, the housekeeping software will send an automatic task to the responsible person without the need to make extra notes or phone calls. The best part is that every inspection you do is automatically transformed into detailed, actionable analytics to improve staff training, processes, and the overall quality of work.
9. Automated linen counting: In case your linen management approach relies on counting the number of linens and towels that have gone to the washing room, you have to look for an automated linen counting feature. It is one of the easiest and most effective ways to make this process more accurate and efficient and save your housekeeping team a lot of time (up to 2 hours per day)
10. Minibar reporting: Another feature that drives efficiency and saves costs is enabling your housekeepers to post minibar consumption directly to the guests' accounts. It fastens the information flow about minibar consumption, makes it easy and more efficient to restock the minibar, and, most importantly - lowers the value of the lost postings. It is also one of the fastest and easiest ways to gain analytics about your guests' behavior and preferences related to your minibar menu.
11. Integrated language translations for staff communication: The bigger the hotel, the bigger the number of different nationalities in the housekeeping team. The challenge that comes along with this is that housekeeping managers do not have a way to communicate with their housekeepers, who often don't speak the local language. So having an integrated language translation feature that translates any task or message into the housekeeper's native language is an absolute must for any modern housekeeping software solution. 12. PMS integrationIntegrating housekeeping software and a Property Management System (PMS) is probably one of the most value-adding integrations in the hotel software industry. The PMS provides housekeeping software with regular updates regarding reservations and guests, enabling housekeeping teams to maximize their performance. The other way around,  housekeeping software is the source of updates on all things daily operations, feeding these back to the PMS system and the front office team. It's an integration that enables the whole hotel team to stay up to date and operate more efficiently.
13. Smart room integration: If you have an intelligent system in place that lets you know when a guest is in the room, if a window is open, or even more information, then make sure your chosen housekeeping software can integrate with it. Data like these can mean that your housekeeping team will further optimize their daily work process and ensure guests are never disturbed.
14. Housekeeper oriented user interface (UI): Housekeepers are often not the most tech-savvy people because their job position does not include a lot of technology. That's why it's so important that the housekeeping software they use is as simple as possible. It should make their work easier and save them time. Too often, housekeepers have to do extra steps just to update a room status. But if the chosen solution is not catering to housekeepers, they won't know how to use it, or worse, they will not want to use it. That means your hotel won't get all the benefits from the software and there will be a lose-lose situation. Keep your housekeepers in mind and make sure your housekeeping software has the most easy-to-use interface that makes their lives easier.
15. Room status updates: When all the work is done - mark the room as clean. Or as inspected. Or any other status if you might have a multi-step cleaning process. Of course, it is a default feature of any housekeeping software.
16. (Actionable) Housekeeping analytics: Housekeeping analytics is not just about knowing how long it takes to clean a room. They need to provide detailed information from all possible angles to understand your housekeeping department's actual performance. For example, how long it takes to clean a room doesn't tell you a lot if you also don't know how many guests were staying in that room, where they were from if they had small children with them, or used extra amenities. Also, who was the housekeeper cleaning the room, what were their most frequent cleaning mistakes? And then you need to receive all of this information in the form of proactive and precise reports, enabling you to understand which of your staff need more training, what amenities are requested more frequently, who is not doing his job, and essentially - how well your operations are performing.