Hotel Market Segmentation: A Step by Step Guide
By Jordan Hollander
Last updated March 02, 2023
4 min read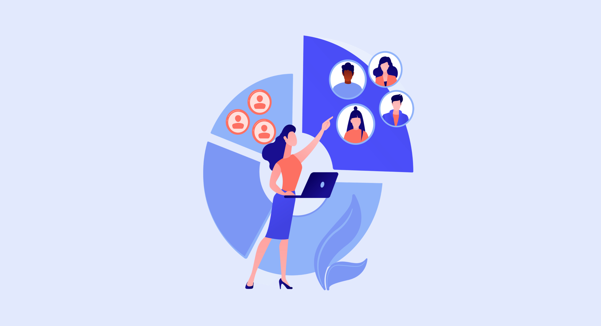 Who are your most profitable guests? When do they book, and why do they choose your hotel? Where should you spend marketing dollars to attract more of them? You can answer all of these questions if you have a deep understanding of your hotel's market segmentation. If you want to grow RevPAR, increase direct bookings, and improve guest review scores, then understanding market segmentation is a crucial part of your revenue management strategy. Once you know who your current guest segments are and how they layer into your RevPAR and profitability goals, then you can build a market segmentation strategy that aims for the optimal balance between segments. How do you get there? Follow our guide, and we'll show you how.
What is hotel market segmentation?
Market segmentation is a methodology to identify groups of guests at your hotel who share similar characteristics, such as trip purpose, booking channel, length of stay, party size, stay dates, and more. The simplest way to segment your guests is into business and leisure buckets, but you don't need to end there. If your hotel gets both individual corporate travelers and corporate travelers who book in groups, you could split the "business" segment further. Similarly, you might split your "leisure" segment into couples, families, and solo travelers. Booking channel is another way to segment your guests, so it might make sense for your hotel to have a wholesale segment or an OTA segment, since guests who book through those channels may have different characteristics and preferences compared to guests who book direct.
Why is market segmentation important for hotels?
Over time, monitoring and studying the changes in segmentation can help you understand shifting market dynamics. For instance, if occupancy is down in a given month, you can dig deeper to find that perhaps occupancy is actually flat across all segments except for group, which leads you to find that an annual conference that usually brought a nice chunk of occupancy was canceled. As a result, you might need to focus on non-group segments to make up the difference. 
In addition, knowing which segments align with your hotel's offerings can help you fine-tune your marketing efforts, amenities, and services. If your hotel gets a lot of high-rated reservations booked by couples traveling for leisure, you can work to maximize production of this segment with romance-focused promotions and by adding couples services at your spa, for example.
How to set a market segmentation strategy
Now that you see the importance of market segmentation, let's explore how you can identify your segments and craft a market segmentation strategy that will help you meet RevPAR and profitability goals.
Identify your segments. The first step in creating a market segmentation strategy is to identify the segments you're currently getting. Most hotels start by looking at transient, business, group, corporate, and wholesale segments. You might also have a promotional segment (guests who book special rates on your website) or an "other" segment that include barter rooms, comps, and overbookings from other hotels. Within these large categories, you can use data from your reservations database or revenue management system to find more characteristics of these segments, like their average booking window, preferred room types, stay patterns (like weekdays vs. weekends), and price elasticity.
Determine which segments are most profitable. Once you've pinpointed the segments that make up your guest mix, you can take the exercise a step further to calculate the profitability of each segment. It can be tempting to think that the segment with the highest ADR is the most profitable, but that might not be true. Guests who pay lower rates but book direct and generate a lot of ancillary spend might actually be more profitable than the guests who pay BAR rates on third-party sites. These more profitable segments are the ones you want to model your market segmentation strategy around, since getting more of these guests will impact your bottom line.
Find gaps and opportunities. Review your historical data, compset data, forecasts, budgets, and market event calendar to figure out if there are opportunities to capture more of certain segments or to tap into new segments. For example, if the convention center down the street is expanding, and you want to grow your group segment, then you might have a good opportunity to attract more groups. Or if your compset seems to always outperform your hotel on weekends, then maybe you aren't getting your fair share of transient leisure demand.
Set pricing strategies that work toward your ideal segmentation. Now you can get into the tactical pieces of your market segmentation strategy. One essential component of setting a marketing segmentation strategy is to build different rate plans for different segments. This way, you can sell rates that match each segment's willingness to pay on every date. For instance, business travelers might be less price-constrained on weeknights because their travel dates aren't flexible and their company is paying. However, transient leisure guests might be more price-sensitive on weeknights, so if you want to layer in this segment when you have gaps in business demand, you might need to consider a promotional rate or something to sweeten the deal. The variety of rates necessary to achieve segmentation goals can vary dramatically by property; a resort in a vacation destination might have several different types of leisure, wholesale, promotional, and OTA rates, but very few corporate rates. On the flip side, a convention center hotel might have a slew of negotiated and group rates, but little in terms of tour operator or leisure.
Continuously monitor segmentation reports. How do you know if your segmentation strategy is working? You'll need to measure your production by segment against your budget. In your PMS, RMS, or business intelligence tool, you should track ADR, occupancy, RevPAR, and any other relevant metrics by segment so you can see how your strategies play out and where you might need to make some adjustments.
Market segmentation is a crucial part of a holistic revenue management strategy for any hotel. But to maximize the impact on your RevPAR and profitability, it's worthwhile to take some time to research and analyze your segments and to brainstorm ways to fill gaps or attract new segments.
Market segmentation is an essential strategy for hoteliers to optimize their pricing, revenue management, and marketing efforts in the hotel industry. It involves dividing the hotel market into specific groups of people with similar characteristics, needs, and preferences, allowing hotels to tailor their offerings to their target audience.
To get started with hotel market segmentation, hoteliers need to identify their target market, which can be business travelers, leisure travelers, group business, or any other consumer groups. They can use demographic, psychographic, and geographic factors to create effective segmentation strategies.
Pricing strategy is another critical aspect of hotel revenue management. Hoteliers need to consider price sensitivity, length of stay, lead time, weekdays, cancellation, and occupancy when setting their pricing strategy. They can also offer discounted rates, negotiated rates, and the best available rate to increase occupancy and total revenue.
Hotel revenue management strategy can also be optimized by managing distribution channels and booking channels effectively. Hotels can use OTAs, travel agencies, tour operators, booking agents, PMS, GDS, and their hotel's website to reach their target audience and increase their occupancy and total revenue.
Hotels can use social media, CRM, online reviews, and Google Analytics to develop effective marketing campaigns and enhance guest experience. Hotels can also optimize their forecasting by considering the length of stay, booking channel, and lead time, allowing them to make informed decisions about their pricing and marketing strategies.
Get started building a market segmentation by identifying your target market, setting a pricing strategy, optimizing their revenue management strategy, managing distribution channels, and enhancing your marketing efforts. By implementing effective segmentation strategies, you can increase occupancy, total revenue, and customer loyalty, leading to new business and growth in the hospitality industry.