6 Ways to Make the Most out of INTELITY's Hotel Management App
By Jordan Hollander
Last updated January 26, 2022
6 min read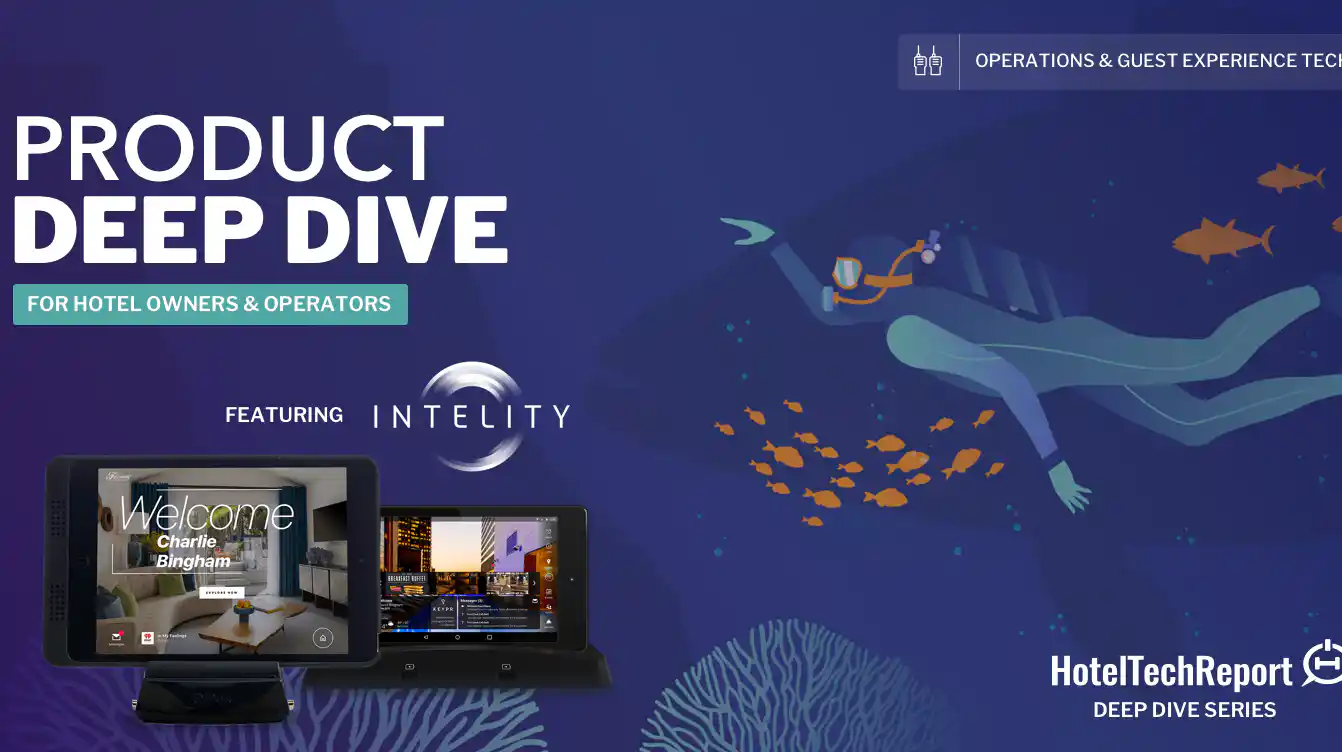 The INTELITY platform is an extensive enterprise guest experience engagement and staff management platform for hotels, casinos, cruises, and luxury residential brands. It's especially powerful for multi-property brands with complex operations. The platform empowers both guests and staff to manage the guest experience efficiently, accurately, and across devices.
In recent "client wins," tech-focused micro-luxury hotel brand YOTEL selected INTELITY's as its "brand standard." This is a testament to the strength of the INTELITY platform, as Yotel sets the bar high for providing a tech-enabled guest experience that relies on digital efficiency to keep a lid on room rates. YOTEL CEO Hubert Viriot elaborated further, highlighting the role technology plays in today's finely-tuned and highly-optimized hotel:
"At YOTEL, it is important to us to make the customer journey as seamless as possible, saving our guests and staff valuable time so that they can get on with what is important to them. It is for that reason that we will be introducing INTELITY as a brand standard across all YOTEL properties."
Why did a company known for its "pioneering use of technology" in the hotel industry" choose INTELITY as it's guest experience technology provider? Let's answer this question by looking at the ways hotels make the most out of INTELITY's multi-faceted guest engagement platform.  
#1: Improve the guest experience by leveraging staff productivity tools
Hotels must have a reliable, consistent process for managing tasks, such as housekeeping and maintenance, as well as handling incoming guest requests. Sticky notes and spreadsheets lead to confusion, double-work, and mishandled requests. One of the top ways that hotels benefit from INTELITY is by compiling back-of-the-house tasks into one single system. This unified dashboard provides a quick view into a task or request's history, so everyone can see who's responsible and what's been done.  
INTELITY's staff management platform offers a cross-device dashboard that includes work order and task management, as well as real-time data analytics to monitor for bottlenecks. With this functionality available on both desktop and mobile, staff are untethered from the desktop and can roam freely as situations arise.  
Do this: Work with each department head to create a new operations manual that defines new processes, and includes staff training. Also, set your benchmarks and assign accountability to meet (or exceed!) those targets.
#2: Empower guests with self-service to reduce wait times and boost satisfaction
A full-featured mobile app centralizes a guest's digital experience. It gives them a place to turn to for information and requests and it facilitates mobile check-in. According to mobile key provider OpenKey, the ability to skip the front desk reduces wait times and lobby traffic by 20%, which makes guests happier and frees up staff. This is why the brand chose INTELITY, elaborates YOTEL CEO Hubert Viriot:  
"An app gives guests the ability to not only skip the front desk but have ready access to hotel services, facilities and information as and when they need it."
To make the most of the platform, put INTELITY's capabilities in the hands of guests. A mobile and web app allows guests can focus on enjoying their time on-property and in-destination. Guests enjoy easy and convenient access to staff via mobile messaging, and staff are more readily available to assist via the back-end dashboard. Some hotels, such as boutique hotel brand Lifehouse's Miami location have even gone as far as replacing in-room guest phones with its app that allows guests to communicate with staff via voice and messaging.
Do this: To encourage usage, promote the app across all guest touchpoints: social media, on-property, and especially in pre-arrival emails. And then make the app relevant and useful to guests by keeping your mobile app's content updated and ensure rapid response times for in-app communications.
#3: Use guest messaging to eliminate barriers between staff and guests
Rather than forcing guests to visit the front desk, or call housekeeping, it's all about simple, straightforward guest messaging. INTELITY guest messaging puts guest requests right in front of relevant staff so that problems can be solved and requests answered quickly.    
To fully eliminate these barriers, guests communicate in real-time with staff via the messaging solution. This portion of the platform directly connects operations teams and guests through SMS, as well as in-app messaging services, like Facebook Messenger. Guests communicate on whichever channel they prefer, and then all these channels are combined into a single interface.
All guest communications route to the appropriate channel on the INTELITY platform, connecting the guest-facing elements to the relevant staff dashboard. Streamlined guest communications boosts productivity and accuracy when handling incoming guest requests. No more missing a guest request, or dropping the ball on responding. All of this is cross-channel and cross-device.
Do this: To make the best use of the messaging solution, combine it with the back-of-office platform, which creates tickets for guest requests. Reward staff for prompt responses and celebrate wins by praising exemplary interactions.  Lastly, make sure to receive opt-in prior to messaging guests.
#4: Digitize room service and concierge to increase non-room revenue
Guest expectations around technology have evolved. The INTELITY platform offers three components of a tech-enabled in-room experience: voice, personal device support (guest mobile), and guest tablets. When combined, guests have full control over how they personalize their rooms: whether via tablet, voice, or analog dials, guests can adjust temperature, open blinds and interact with the TV. Tablets can also be additive as a concierge touchpoint, empowering guests to craft an in-destination experience that suits them.
Tablets can be a value-add for boutique and luxury properties. It's the details that make experiences in the higher-end categories stand out -- the ability to drop blinds or pick specific channels from the tablet makes it much simpler to engage with the room.
A digitized room service menu also makes it much easier to order food and beverages. Guest can avoid a phone conversation and ensure accuracy of the order, all from the in-room tablet. At the Boston Harbor Hotel, 80-90% of guests use the in-room tablets, which led to 16.4% more in-room dining revenue, as well as a 90% drop in costs for providing in-room newspapers.
Do this: Room casting, tablets, and voice technology need strong Wi-Fi, so be sure that your hotel's infrastructure is capable and flexible to support peak demand.
#5: Give guests instant answers with voice technology -- and encourage more incremental spend
Guests prefer engagement tools that don't require making a call to the front desk. Voice-activated technology, such as Alexa and Google Assistant, have introduced a new interface for hotel rooms. Using voice technology, guests can access instant information about your hotel and the surrounding area, as well as control the lights and temperature.
Voice can also be a "butler on a budget." Brands like St. Regis, for example, use butler service as a luxury differentiator. As you give guests more control over their experience, voice can deliver more bespoke service, such as calling up a car from the valet, promoting upcoming events, and encouraging incremental spending through dining, spa, and activity reservations.
With multilingual capability, voice assistants can also help international guests feel more comfortable with personalizing their own stay. For hotels with significant global business, this is a major value add to welcoming those guests.
Do this: The technology is still relatively new, and each hotel has its own voice commands. Promote your voice assistant to guests, so they understand its capabilities and benefits.
#6: Update menus and other content quickly to eliminate poor service and reduce printing costs
Running low on a few items in the kitchen? Need to adjust menu pricing and description to reflect an ingredient change? INTELITY's content management solution means that availability across food and beverage operations can be updated on-the-fly. From a single dashboard, management can sync changes immediately across all channels: web app, in-room tablet, and mobile app. Instantly, there will be no more ordering out-of-stock menu items, preventing disappointment and awkward service moments.
The beauty of this solution is that you don't need to reprint menus for each guestroom or proof-read many revisions of a printed menu. Typos can be fixed right away, and F&B staff can be more creative with specials and other promotions that would have required costly printed collateral updates.
Do this: Review content across all customer touchpoints regularly. Even if it seems like nothing has changed, a regular review process (quarterly or monthly) may reveal new opportunities to market the hotel's amenities better.
#7: Invest in digital keys to give guests flexibility and reduce frustration
Upgrading your properties infrastructure to handle digital keys isn't cheap. Yet many guests -- especially those loyal to the major brands -- are beginning to expect digital key locks. Combined with the mobile app, digital keys give guests more control and flexibility. The ability to access a room without a magstripe key means that hotels can offer remote check-in, so guests can skip the front desk.
Digital keys also reduce the common frustration of having a magnetic key stop working after accidentally placing it near a credit card. When a guest returns to the front desk to reactivate a key, hotel staff must take the time to fix the issue -- and defuse a potential confrontation. It's an unpleasant experience for everyone involved; integrating INTELITY's digital key into the guest experience saves hotels money and gives guests the control they expect.
On the operations side, there's a predictive analytics upside to digital keys. Hotels can learn about guest behavior to better match staff resources to demand. Mobile check-ins and check-outs mean that housekeeping can reduce turnaround time, and close the gap between hotel systems that don't communicate with each other in real-time.
Do this: Train front desk to mention the digital key capability. Not all guests want to download an app for every hotel, so it takes intelligent on-property messaging to highlight this convenient feature.   
#8: Get automated reports so you know what's happening -- even if you're not on property
There's already plenty to do when it comes to running a hospitality business. Running reports and customizing Excel spreadsheets is not always the best use of time. With its platform focus, INTELITY provides a real-time pulse of the business. Set reports to run automatically and receive up-to-date information on your computer or mobile so you can act on that information, Whether you are on property or not.
Do this: Share the reports with the right people. Set the right permissions to allow key staff leads to learn and improve operations based on these reports.