OTA Insight is a New Breed of Hotel Tech Company
By Hotel Tech Report
Last updated January 26, 2022
6 min read
Last year OTA Insight passed the 40,000-property mark and, perhaps even more impressively, the firm grew to that base in less than 7 years since its founding. The company has become so significant in the rate shopping and market intelligence space that major competitor RainMaker even recently put out a press release encouraging clients to shift from its RevCaster product and migrate on to the OTA Insight platform - not something you see every day.
Sean Fitzpatrick is a relatively recent addition to the OTA Insight team, having taken the CEO role in July of 2018; however, Fitpatrick is certainly not new to hospitality technology. Prior to his current role leading OTA Insight, Fitzpatrick spent 5 years at restaurant software provider HotSchedules where he eventually rose to the COO position in 2016. While at HotSchedules, Fitzpatrick worked with hundreds of hotel F&B outlets and therefore had significant experience in the hotel software arena prior to taking the role at OTA Insight.
An examination of the HotSchedules story sheds light onto recent developments at OTA Insight. HotSchedules began as a niche product offering, scaled rapidly then added new product lines to meet the needs of its massive client base. HotSchedules began as a labor management system then added product lines in recruiting, inventory management, eLearning and task management software for restaurants.
OTA Insight has already grown beyond its original Rate Insight product having added new product lines with its Revenue Insight business intelligence solution and Parity Insight product line to help hotels better manage distribution costs and reduce reliance on OTAs.
"Our mission statement is to empower the hotel industry to make better revenue and distribution decisions." ~Sean Fitzpatrick, CEO, OTA Insight
Fitzpatrick elaborated on the OTA Insight mission:
"If you break the mission down a little we provide easy-to-understand dashboards with actionable insights, powered by the freshest and highest quality data in the industry."
Perhaps the most exciting piece of the OTA Insight story is the firm's ability to serve both brands and independents. Historically there has been a gap between the technology used by independent and branded properties but OTA Insight has proven that these two customers aren't mutually exclusive. There is a new breed of hotel software company that equally serves both chains and independents and OTA Insight is leading the way. This is a critical step for the industry as it opens up markets which ultimately allows tech companies like OTA Insight to invest in innovation to levels that were previously unheard of. We sat down with OTA Insight chief Sean Fitzpatrick to talk about his storied career in hospitality tech, discuss the future of hotel tech and vision for OTA Insight.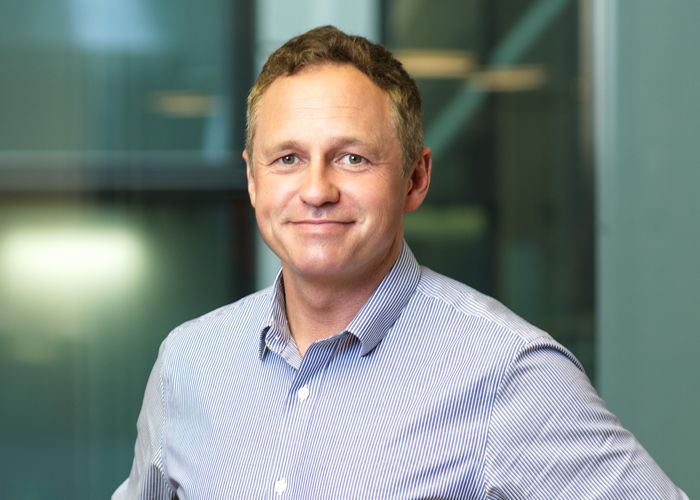 OTA Insight CEO Sean Fitzpatrick
Tell us about your career in technology prior to OTA Insight.
I've had a passion for technology from a young age. I started coding when I was 9 or 10 years old and left school at 16 to join a start-up developing business and market intelligence products for the investment community. I was an engineer by day and studied business at night-school so it was a grueling four years but a huge learning opportunity. After qualifying from college, I decided to leave Ireland to 'see the world' and spent the next few years traveling and working in some amazing early stage and more established tech companies.
My career in hospitality technology really started six years ago when I met the founders of HotSchedules, an Austin-based restaurant tech company. I was really inspired by their vision to disrupt an 'old school' industry and we scaled the business to serve over 160,000 restaurants and 3 million users.
What specifically excited you about OTA Insight?
It was an amazing journey with HotSchedules so when I met Adriaan, Gino and Matthias, the founders of OTA Insight, I sensed that same passion and jumped at the chance to join the OTA Insight team.
Our mission statement is to empower the hotel industry to make better revenue and distribution decisions. If you break the mission down a little we provide easy-to-understand dashboards with actionable insights, powered by the freshest and highest quality data in the industry and backed by an incredibly passionate and committed 24/7 customer care team.
We serve 10 of the 10 top global brands, single property independent hoteliers and everything in between. Last year we passed the 40,000-property mark and we have customers in 168 countries around the world but the hotel industry is vast so we've a long way to go.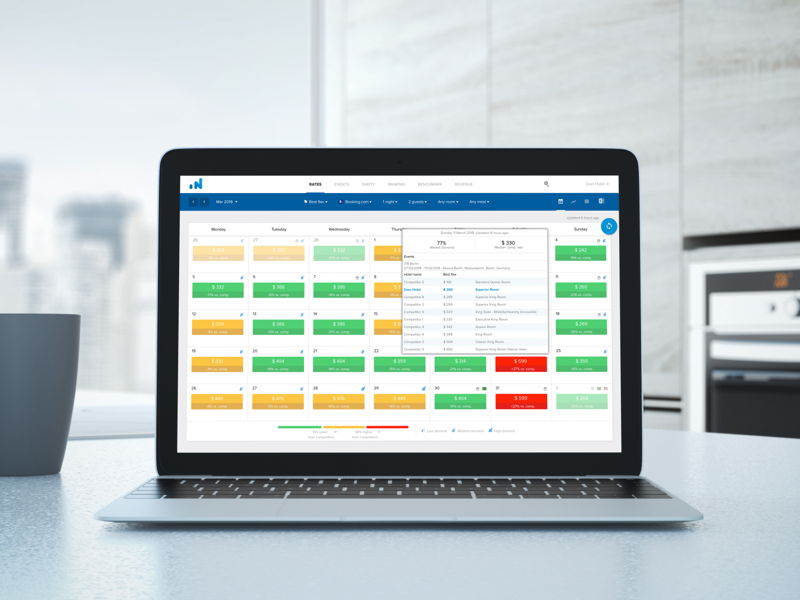 OTA Insight's core Rate Insight product delivers actionable intelligence in a clean and modern UX
When did you first become interested in hotel software?
We had thousands of hotel F&B customers at HotSchedules so I hosted a number of hotel-specific focus groups and advisory boards. This gave me a good insight into the complexity of running a successful hotel operation but also the similarities with the restaurant tech landscape - a huge industry dominated by a lot of legacy on premise or homegrown systems, crying out for the next generation of cloud providers. It's incredibly exciting to see a new wave of innovation disrupting the industry and I feel lucky to be part of it with OTA Insight.
How would you characterize the learning curve moving from restaurant tech into hotel tech?
It's a steep learning curve because there are some nuances that make hospitality technology unique from other industries. For example, it's B2B but with a very small 'B' where your target users are generally time-starved and running incredibly dynamic businesses within the four walls of their hotel. The customer journey and experience needs to be near seamless or you can churn customers faster than you acquire them.
I was surprised by just how data-driven the industry is, in particular the Revenue Manager community. They assimilate a huge number of data points to make very dynamic decisions that have a profound impact on their bottom line. Hospitality is first and foremost a people and service-based industry but it's amazing how many data geeks are hiding in plain sight!
What makes 'hotel tech' different than just 'tech'?
The hotel industry is going through a period of huge and irreversible transformation, a lot of it being driven by competition for customers' dollars and data. The innovation cycle may have been sparked by the OTAs but it's increasingly driven by hoteliers who are aided by the next generation of tech providers.
You hear a lot of buzzwords in the industry like 'personalization', 'artificial intelligence' or 'open APIs' but fundamentally hoteliers are leveraging technology to do what they've always done - get to know their customers intimately so they can deliver a personalized experience across the entire customer journey.
'Tech' in many other industries focuses on process optimization or automation often at the expense of the customer experience. In 'travel tech' the customer is very much in the driving seat.
Do you think it's harder for hotel tech companies to raise capital relative to general tech companies?
No, in fact quite the opposite. If you look at the general criteria for tech investors - a big addressable market, historical underspending on technology and business model disruption - then the hospitality technology vertical represents a huge opportunity.
However, investors are looking for the right kind of investments, i.e. companies that have a good product market fit, growing in a healthy way with a clear path to profitability.
What's the single biggest opportunity that hotels are missing today?
It may sound a little self-serving but there's still a huge opportunity in data and analytics. Good data enables better marketing, better pricing and better distribution. The data analytical tools that were once the preserve of larger, more sophisticated operations are now available to independent hotels. These tools enable really impactful decisions to increase revenue and improve profits - who doesn't want that?
How will the hotel technology landscape be different in 5-years?
One of the most practical, pressing challenges for the industry is data integrity and connectivity across systems and networks. There's also a lot of legacy technology to refresh, introducing additional data migration and integration headaches.
Hotel systems will need to integrate to deliver on some of the more ambitious business strategies so after years of investing in tech, we're seeing hotels spend more time and energy ensuring their systems play well together.
A lot of the new technology providers are committed to open APIs, so we expect to see a more open and integrated landscape over the next five years that will fuel the next wave of innovation.
Do you think that branded hotels have better or worse technology than unbranded properties?
It's not a case of better or worse, just different. Branded properties have access to robust technology platforms that are tried and tested at scale. Unbranded properties can benefit from technology platforms that are maybe a little more bleeding-edge. Most of the new cloud-based technology providers (like OTA Insight) are providing systems that serve the needs of both segments, so the traditional lines are blurring.
What's one piece of advice you have for engineers and entrepreneurs who are interested in starting a tech company that serves hotels?
It's tough to succeed in the hospitality tech business but it's an amazing industry. Have a clear mission, listen to your customers and be humble - good things will happen.
What's one podcast, newsletter or book that you recommend hoteliers read if they'd like to eventually move into tech?
Assuming they're jumping into a tech start-up, I'd recommend "The Hard Thing About Hard Things" by Ben Horowitz because it's full of pragmatic advice for working through the tough problems faced by most tech companies.
What is your favorite hotel in the world?
I'm a big fan of the historic hotels in each city because they often play an important part in local history and have tons of backstories. One of my personal favourites is the Shelbourne Hotel in Dublin, founded in 1824.
What is one thing that most people don't know about you?
I come from a family of 12 children: 10 sisters and one brother. I learned a lot about the art of negotiation and compromise around our family dinner table.
Related Article: Eight Roads Ventures backed OTA Insight is picking up where STR leaves off