Payment Processing: Here's What You Need to Know in Plain English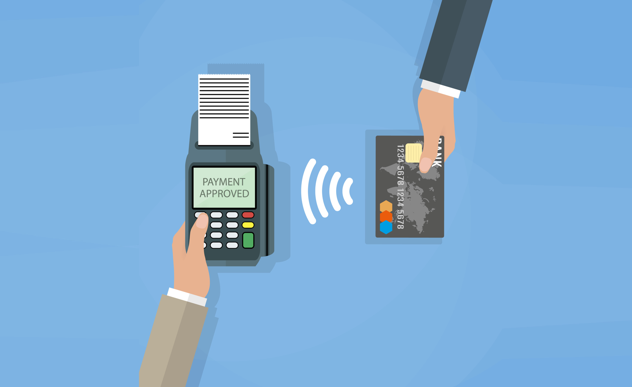 You might be thinking that it's not the most exciting topic in the world, but payment processing is an important factor in your hotel's overall financial health, especially as more guests pay with credit cards. Whether you're setting up a payment processor for the first time, considering switching to a different system, or just taking stock of your hotel's operations, we'll show you how to make payment processing as easy and affordable as possible. Imagine cutting your costs just by switching to a new payment system! In this article, we'll define what exactly payment processing is, explore the vendor landscape, and offer some advice for choosing the right systems for your hotel.
What is Payment Processing?
Back in the days when cash was king, payment processing was as simple as opening the cash drawer and handing back change. These days, especially in hotels, credit cards have surpassed cash as the preferred method of payment, which brings new challenges and complexity.
For a hotel, receiving money from a credit card transaction isn't as straightforward as receiving cash, and it's also more expensive. When a guest swipes their credit card at the front desk or uses your online booking engine, the bank or association that issued their card must issue credit to cover the purchase. This credit comes with a set of fees, called interchange. Hotels cannot access the funds straight away; a payment processor, like a middleman, actually receives the money, then charges the hotel a markup when the funds are paid out.
Because the fees vary depending on the type of card and the bank that issued it, payment processors charge hotels flat fees ($0.15 per transaction, for example), percentage fees, or a combination of both. To make sure you're paying a reasonable amount for credit card processing, it's important to understand the fee structure.
Merchant Account vs. Payment Gateway
We hear a lot of confusion about the various types of systems that hotels can use to process payments. Depending on their financial services needs, businesses can choose between comprehensive payment solutions, standalone merchant accounts, and third-party payment gateways to handle credit card payments. Wondering what the differences are?
In short, a simple payment gateway allows your hotel to charge credit cards. It's the link between the hotel and the credit card issuers. When a guest books a room online, for example, they'll enter their credit number, which allows the payment gateway to communicate with their bank, and upon approval or denial of the transaction, the payment gateway will circle back to finish the transaction.
When the transaction is complete, the funds need to go somewhere. Some businesses opt for immediate deposit into a bank account, while other businesses use a merchant account. While a merchant account is not a bank account, it acts as a sort of "holding area" for funds so that they can be easily refunded and so that balances can be deposited into a bank account in bulk on a regular schedule. For hotels, merchant accounts can make a lot of sense, because they allow for easy refunds if a guest cancels, and they can orchestrate bank transfers on a regular cadence to make things easy for your accounting team.
If using a separate payment gateway and merchant account sounds taxing (pun intended), there's a third option: an all-in-one payment solution that offers both a payment gateway and merchant account.
A Brief Overview of Online Payment Processors
If your hotel has a website that accepts online reservations, then you'll need an online payment processor to allow your hotel to collect funds online. Payment gateways, also known as payment service providers, make charging cards a breeze, but they aren't free. You have to spend money to make money, right? Fees vary by system; for example, Stripe charges 2.9% plus $0.30 on each transaction, no matter what kind of card is being charged. Other systems, like PayPal, for example, charge an increased fee for American Express cards and international cards.
Just like the property management system landscape, you have a plethora of payment processors to choose from. Each one has their own pros and cons, so we recommend doing some research instead of opting for one just because it's popular. Here are some of the top online payment processors:
Authorize.Net

Stripe

PayPal

Braintree

Amazon Pay

Square

BlueSnap

WePay
As with any type of sensitive data, hotels must be careful to keep their financial information secure and compliant with PCI and PSD2 regulations. Some payment processors offer resources to help you stay compliant, and the systems constantly adapt to changes in financial technology, like accepting digital wallet payments, for example.
When choosing a vendor, you might be tempted to just go with the cheapest option. However, we recommend researching a few more factors so you can choose a system that's truly right for your business. Don't forget to look into these criteria:
Monthly fees and transaction fees

Countries and currencies supported

Card types accepted

On-form payments or redirects to another site to complete payment

Mobile payments

PSD2 compliant
With a little research, you can find a payment service provider that's right for your hotel.
Payment Processing for the Hotel Industry
Do you know exactly how much you're paying for each credit card transaction? If you don't have access to a variety of processors, you could be paying exorbitant and unnecessary processing fees. Don't want to pay fees that you don't need to pay? If you use a popular PMS, such as Oracle OPERA, then you likely already have access to several processors. If you don't use a common PMS yet, then you may want to consider switching to avoid getting gauged by payment vendors who know you have no other options.
Using a payment processor that's integrated with a PMS can streamline many operational tasks. For example, Oracle OPERA's integrated payment solution makes it easy to run pre-authorizations (for incidentals, for example), release authorizations, complete purchases, issue refunds or reversals, void transactions, and more. Imagine if your front desk team needed to switch to a different system every time they placed an authorization on a card during check in; a PMS with payment processing integrations like Oracle OPERA makes your front desk more efficient.
Integrated payment processors aren't just beneficial to the front-of-house. Back office tasks like issuing invoices, paying vendors, and collecting membership fees can be handled more easily when all of your systems communicate easily. And when the payment processor can communicate with your PMS, you can pass details like check-in date and folio number through with the transaction, so guests and banks have full clarify as to what the charge was for.
Key Takeaways for Choosing a Payment Processor
Even though selecting a payment service provider may not seem like a major technology, remember that you will pay more in processing fees than for any other technology. In this case, doing your homework can really pay off. Compare vendors to find not only the best price, but also the best value, because a system that costs slightly more but is completely PSD2 compliant could save you a lot of headache down the road - not to mention reducing the risk of a security breach.
In addition, using a popular PMS is critical to ensuring you have access the right integrations. A widely used system like Oracle OPERA has connections with a variety of payment processors so you can always take advantage of the best rates. Payment processors might not be the most exciting part of hotel operations, but saving thousands of dollars by switching to a better system certainly is.