Preno Review: Hotel Management Software that Puts Independent Properties on Autopilot
By Jordan Hollander
Last updated October 28, 2022
4 min read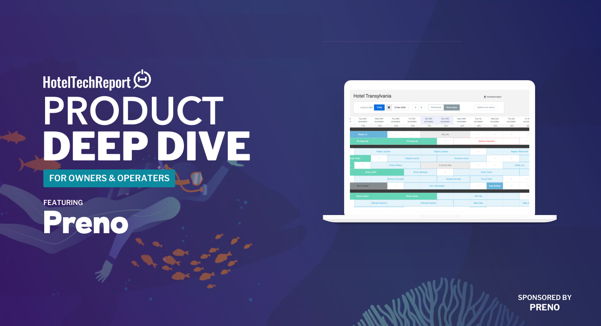 It's not always easy to choose a property management system (PMS) when there are a variety of options out there. But picking a PMS is one of the more important and impactful decisions you will have as a hotel manager. The right technology can help you achieve your business goals, and the wrong system can add tedious (and often stressful, unnecessary) work for your accommodation - which might result in a less than ideal guest experience.
In this article, we'll walk through the features and functionality of Preno's hotel management software that is helping independent hotel operators automate time-consuming daily tasks.  In addition to Preno's core property management system that is perfect for independent hoteliers, Preno's all-in-one hotel software suite also includes a channel manager and booking engine.
Preno's Automations are Designed to Save You Valuable Time
Let's take a look at the various modules that owners, managers, and staff would use on a daily basis.
Reservation Management
The reservation page is intuitively designed and straightforward; on this page you can see all information pertaining to a given reservation, like the guest's name, contact info, payment method, and communication history. The interface is clean and easy to read, meaning that even a front desk agent with no experience will be able to learn the system in 20 minutes - with free training provided.
Payments and Accounting are a Total Breeze with Preno
Also on the reservation page, you'll find secure credit card information and payment history associated with that specific booking and guest. When a guest books on your property website using Preno's booking engine, credit card info will flow into Preno via a powerful integration with preferred payment gateway app 'Stripe' Guest credit card details will be safely and securely stored on their individual profiles.  For security, all details are encrypted via the Stripe API, and storage is fully PCI compliant, meaning that guest data can never be leaked or lost.
Unlike booking engines that simply pass the credit card number through to the PMS, the integration with Stripe automatically validates the card so that the guest cannot use an expired or invalid card. Multiple credit cards can be stored on the same guest profile, which comes in handy when a guest charges their room rate to a corporate card for the room but uses their personal card for incidentals, for example. Cards can be stored against guest profiles for returning stays, ensuring an excellent guest experience. 
From the reservation page, you can click a button to automatically generate a nicely formatted invoice, thanks to a leading integration with accounting software Xero. This feature can save time and ensure accuracy as it's not necessary to log into a separate system to generate invoices and double-handle data.
When funds are collected as a deposit, Xero classifies the funds as a current liability on your balance sheet, which allows accounting staff to easily see how much revenue is actualized versus just taken as a deposit - this also ensures that taxes are paid at the right time.
Calendar View Options
Preno offers a wealth of view options, to view your hotel dashboard and calendar:: by reservation status, payment status, repeat guests, and groups. Each of these views provides valuable insights for front desk staff at a glance.
The "Group" view highlights all reservations associated with a group. The "Guests" view marks all repeat guests with a star.
The "Payment Status" view shows which reservations are fully or partially paid, plus which ones have not been paid at all. Also highlighted are those who have invoices against their account.
Reservation Creation
Hotel staff can quickly create a new reservation by clicking on an available date on the calendar. When entering the guest's name, Preno will highlight potential matches from your guest database so that saved guest profile data, like contact and payment info, can be used again. This historical data is valuable, and Preno can import up to 3 years of reservation history if you switch to Preno from different software.
If you receive many group bookings, Preno has features that support splitting and merging reservations with a couple of clicks. This is a super cool and unique feature we haven't seen in many other PMS systems. Splitting a booking allows you to assign individual rooms within the same booking to their own invoice. For instance, if a corporate travel manager booked several rooms for employees traveling for a conference, but the employees need receipts with their own names on them to get reimbursement, the booking can be split. Conversely, Preno can combine separate reservations into one bill, for instance, if several family members book their own rooms but one person is responsible for payment.
Real-time Housekeeping Coordination with Just a Few Clicks
On the Housekeeping dashboard, you can see clean rooms prioritized by time and urgency – starting with turnovers, then departures, stayovers, arrivals, and special requests. The room status is shown in real-time, housekeeping staff can mark a room as "clean" from any device and it will show live updates on the grid.  Preno also enables bulk room status updates in case a room attendant wants to finish a floor and mark it as complete to save time, for example.
Preno logs all room status updates, so you can see the change history of a specific room.
Easy to Use Rate Management Interface
The rate module allows you to create and edit rate plans and add restrictions to certain rooms types and/or dates. You can enter rates manually in Preno or in a connected channel manager.  Preno has its own channel manager and also supports integrations with SiteMinder and Staah. Preno also has its own channel manager to streamline vendor billing and relationships.  If you'd prefer not to manage rates manually, Preno integrates with the revenue management system RoomPriceGenie.
Preno supports several restrictions, including minimum length of stay, closed to arrival, and closed departure. Closed to arrival and closed to departure restrictions can be used to control check-ins and check-outs on high-demand dates - a feature that more basic property management systems might not support. It's also possible to create derived rate plans, such as promotional rates, which automatically apply a discount to your base rate.
Intuitive Reporting for Real-Time Insights
Preno has a variety of reports that allow you to not only view historical and on-the-books performance, but also to input your own goals to monitor progress. For example, on the Revenue report, you can enter your target revenue for each month of the year, then you can track how you're pacing toward those targets. You can set custom data ranges and customize certain reports to export and share or analyze the data further.
Additional reports show production by source (OTAs, corporate accounts), reconciliations, and chargebacks (available through Preno's integration with Lightspeed POS).
Preno is a Powerful Hotel Management System for Independent Operators Who are Tired of Manual Administrative Work
Preno is a solid property management system for small to medium sized boutique hotels with on-site management. The system works best for hotels with up to about 250 rooms and the fact that Preno has developed an all-in-one suite enables hoteliers to consolidate vendor relationships and software expenses.
Preno has an abundance of tutorial videos and help center articles to guide you.  Preno is a great choice for hoteliers who are looking to upgrade a legacy system to something more modern, or for properties who want a reliable rock solid partner but don't need the laundry list of features that come with expensive systems designed for large multi-property enterprises. Preno is so good that they don't even lock clients into contracts. You can get started today and literally cancel whenever you'd like. So what are you waiting for?
This content was created collaboratively by Preno and Hotel Tech Report.