QR Code Menus: A Step-By-Step Guide for Hotels & Restaurants
By Jordan Hollander
Last updated February 16, 2023
5 min read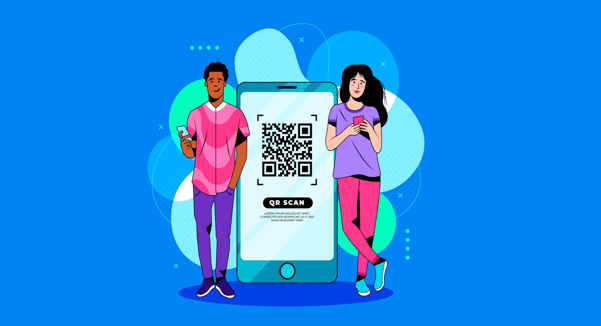 Searching for ways to engage with guests in the post-pandemic world? Looking to streamline your restaurant operations? Or just curious to dig into the data and learn more about your customers' ordering behavior? QR code menus offer solutions for all of these needs, and they're rapidly growing in popularity in all types of hospitality businesses, from hotels and restaurants to concert venues and sports arenas. Perhaps you've even used a contactless menu as a customer! QR code menus bring a lot of benefits that physical menus don't provide, so you might be wondering how you can implement them in your own business.
The restaurant industry (and hospitality in general) has undergone a massive digital transformation in the wake of the pandemic but these are not short lived trends - they are long term shifts in how we do business.
This article offers everything you need to know about QR code menus; we'll explain the upsides and downsides, and walk you through the implementation process. By the end of this article, you'll be ready to launch your own QR code menu strategy.
What is a QR Code Menu?
Let's start by defining what exactly is a QR code menu. A QR code menu is a digital menu which you can access by scanning a QR code with your smartphone. When you scan the QR code, your smartphone will open a webpage where your menu is hosted. Many restaurants place QR codes directly on tabletops, on small paper cards, or on plastic placards. A hotel could display a QR code on the front desk or somewhere in every guestroom. Each QR code directs to a unique webpage, so, for example, you could configure one QR code to direct to your lunch menu and another to direct to your dinner menu.
Unlike traditional paper menus, digital QR code menus can offer functionality besides simply showing menu items, such as the ability to pay or submit feedback. And these digital menus can deliver a slew of benefits for restaurant owners, managers, staff, and guests that make them a nice upgrade from paper menus.
Key Benefits of QR Code Menus
Why would a restaurateur forgo paper menus for QR code menus? Let's explore the most compelling benefits that these tech-enabled menus can provide.
Easy to modify: One reason that restaurateurs love working with digital menus is that any menu changes can be completed with just a few clicks and published immediately. Run out of a menu item? You can simply hide it from the digital menu. Need to fix a typo? No need to reprint the menus. Want to adjust pricing based on day of week and meal period? That's all possible with digital menus. 

Beautiful and strategic menu design: In addition to seamless changes, QR code menus are designed to be as easy to read as possible, and you can take advantage of promotional tools that let you highlight specials or recommended pairings.

Safe and contactless: In light of the pandemic, customer preferences have shifted overwhelmingly toward contactless options, and restaurant menus are no exception. Customers don't want to touch the same paper menu that other guests have just handled. QR codes let your customers access the menu while only touching their own smartphone.

Cost- and time-savings: When your staff don't need to print and organize paper menus, they will have more time to interact with customers or take care of other side work. In addition, QR code menus enable quicker turnover of tables since 

More eco-friendly: Are your guests conscious of their impact on the environment? Unlike paper menus which must be thrown away after use or anytime the menu changes, digital menus have no environmental consequences. 

Faster service: In a quick-service restaurant setting where customers order at a counter, or at a busy bar, QR code menus can enable customers to browse the menu at their own pace without needing to interact with a server first. Eliminating the need to ask for a menu can accelerate the speed of service.

Collection of customer data: Some digital menu platforms come with a suite of analytical features. You might be curious to see how much time customers spend on each menu page, or perhaps you want to test a few variations of photos, formatting, or menu descriptions. Digital menus can offer insight into customer behavior in ways paper menus cannot.
Considerations for QR Code Menu Decisions
It's important to note that QR code menus are not the perfect solution for every business. Before deciding to switch away from paper menus, you'll want to think carefully about some possible downsides. First, in some restaurants, paper menus are part of the experience. A Michelin-starred establishment might want to continue using high-quality paper menus while crafting a romantic ambiance with no smartphones in sight. In this case, QR code menus would actually detract from the experience. In addition, if your restaurant guests aren't very tech-savvy, or if your restaurant doesn't have a strong cell signal, then QR code menus might cause more problems than they solve. In addition, be mindful that introducing any new feature, like digital menus, will require training and at least a few days to get accustomed to the system, so you probably don't want to launch your QR code menu during peak periods.
How to Implement QR Code Menus
If the benefits of QR codes sound appealing to you and you're excited about using them in your venue, you're probably wondering where to start. Let's outline the process to implement QR code menus, starting from the beginning.
Decide what functionality you need. QR code menu platforms range from simple to complex. Is your restaurant a no-frills counter-serve joint that only has a few menu options? Maybe a simple QR code menu would be best. Or maybe your restaurant has several different menus for different day parts, and you're interested in as much analytical muscle as possible. Then you might want to opt for a cutting-edge digital menu system with all the bells and whistles that offers integrations with your other on-site software. Do you need a POS integration, PMS integration or just mobile wallet and credit card processing checkout.  Different mobile ordering systems serve different use cases.  Regardless of the dining experience at your establishment you should be thinking about digital menus as a strategy and not just an online menu PDF.

Understand your budget. How much do you want to spend? The most basic QR code tools are free, or you can pay a monthly subscription or small percentage of sales for more robust functionality.  With free QR code menus typically  you get what you pay for (or don't).  PDF food menus typically mean that you can't save cost on labor, can't monetize through highly profitable digital upsells.  In most use cases more premium partners have very strong ROIs - just look at what industry sweethearts like Sweetgreen, Dominos and Starbucks have been able to do by investing in digital.

Choose a system. Once you've decided what you're looking for, it's time to choose a software vendor. If you're going the low-cost "cheap and dirty" route, you might opt for Eater.Menu or HappyTable. For more sophisticated mobile ordering technology with integrations and checkout/payments via contactless QR code menus, you'll want to look into Bbot, Crave, and RoomOrders. Each system has a slightly different user experience, so we recommend taking advantage of some free demos to try a system before you buy it.

Create your menus. Now for the fun part! You can now start building your digital menus. You'll want to add menu item descriptions, pricing, and upload photos if the system allows. You might want to create separate menus for different meal periods, drinks, desserts, and more. Some systems let you highlight special offers or seasonal menu items, so you can leverage some marketing tactics. Other systems might simply prompt you to upload a PDF menu.

Train your staff. Before putting your QR codes into the wild, you'll want to train your staff so they are familiar with the system and can help guests use it. For example, if a guest is less tech-savvy, your staff should be able to help them access the menu. In addition, you can train managers on the process for making updates to the menu.

Display your QR codes. Customers can only scan your QR codes if they can find them, so you'll want to show the codes in convenient, obvious spots, like on tabletops or inserts within plastic displays.

Modify your menu as needed. After launch, anytime you need to make menu changes, you just need to update the digital version.
Eager to bring QR code menus to your hotel, restaurant, or venue? There's no better time to give customers a safe, contactless, and user-friendly way to access your menu.