How to Write a Restaurant Business Plan (2023 Step-by-Step Guide)
By Jordan Hollander
Last updated November 29, 2022
14 min read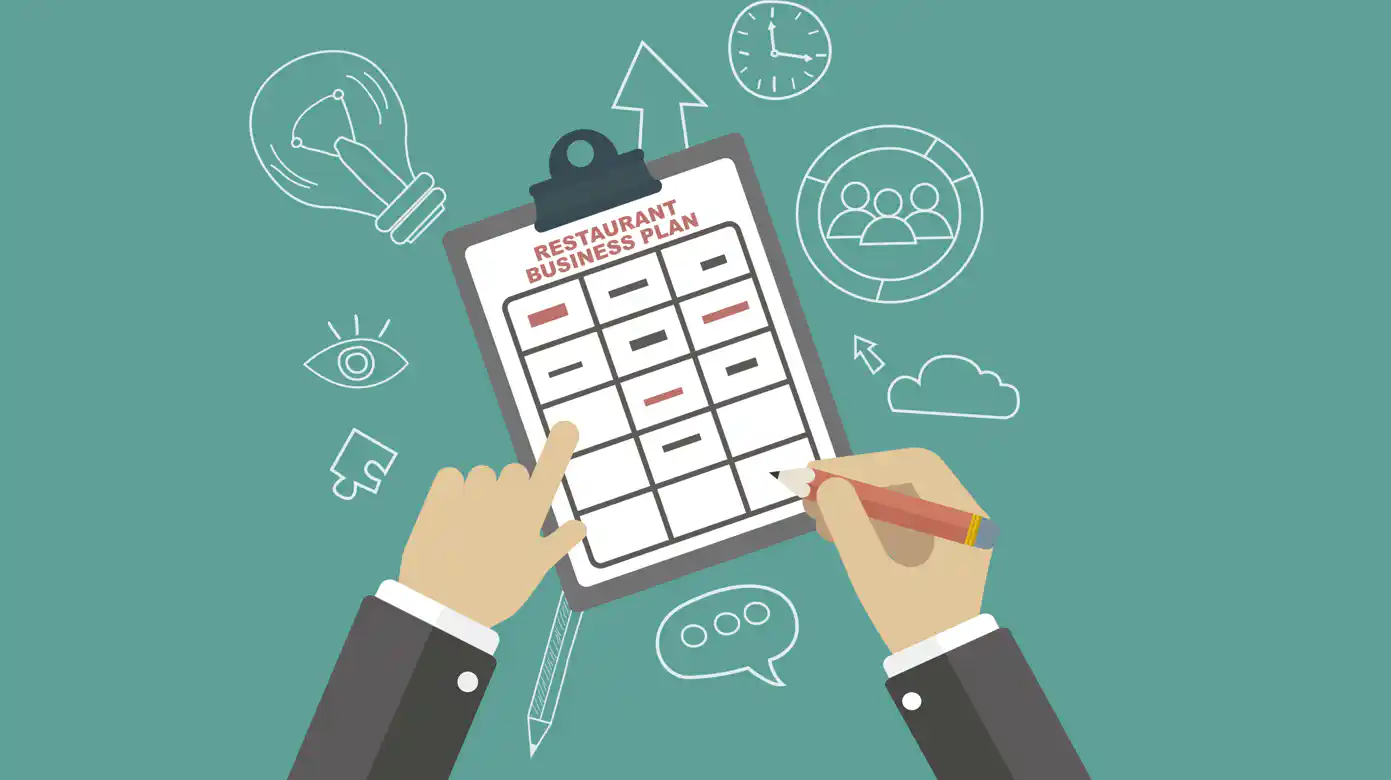 As we move into the final stretch of COVID and summer approaches it's never been a better time to start a restaurant for newcomers.  Delivery services like DoorDash and Uber Eats are providing new revenue streams and there's an unprecedented amount of pent up demand for human interaction and social experiences.
The restaurant industry can be tough but like any business, it's got both ups and downs. But it's also one of the most rewarding, especially for those with a deep passion for food and the art of hospitality.  The first year of your new food restaurant will be the hardest of all - but this guide will help fortify your launch.
In both boom times and downturns, a proper restaurant business plan is an important piece of a successful business and your roadmap to success whether you're launching a fast food concept or a fine dining restaurant. The business planning process will help you further define your concept and sharpen your approach so that you can stay focused during build out and maintain competitiveness after opening. New restaurant owners should be especially committed to this process so that they can learn as much as possible about the industry and their potential concept --  and be prepared for the road ahead.
Yes, it takes a bit of work and time investment to write a compelling business plan. But that's the whole point! Whether this is your first restaurant or your hundredth, a great business plan structures your concept to give it the greatest chance of success.  To put yourself in the best position to achieve your dream of owning a restaurant -- or building an empire -- here's everything you need to write a winning restaurant business plan.
A great restaurant business plan doesn't need all 10 components; however, if you omit one of these you should be able to explain to investors why you chose not to include that section.
1. Cover Page
Why You Need A Restaurant Business Plan
First and foremost, your restaurant business plan should answer the question: "Why does the world need this specific food-service concept -- and why now?" The planning process helps you refine the concept, clarify priorities and catalyze the opportunity within the context of the broader market.
Beyond that primary objective, the business plan functions as a blueprint for building your vision. It's a framework for moving forward that keeps you on track and prevents you from drifting away from your vision. That drift can be significant: you'll make hundreds (if not thousands!) of decisions during the build-out and pre-opening phases, each of which can contribute to gradual drift absent a clear and shared framework.
Your restaurant business plan is not just a critical operational tool. It's also a sales and marketing asset. The average restaurant startup cost varies by concept and geography, but ranges from $1,808 per seat for casual quick serve with smaller footprints to over $6,000 for high-touch fine dining and larger establishments. With that kind of money on the table, you need to do your homework, create a realistic and comprehensive business plan and show investors that you know what you're doing.
"You have to show any potential investor that you have an actual plan, you know what you're talking about, it looks professional, and you're not just screwing around." Charles Bililies, owner of Souvla
Above all, remember that the majority of restaurants fail within the first few years. It's an incredibly challenging business! Your plan should address this head-on and emphasize any unique competitive advantages that insulate your business and make it more resilient. Investors will be looking for these types of competitive moats that can make or break a restaurant!
What You Need To Include In Your Restaurant Business Plan
Restaurants aren't the place to use the Lean Startup framework. There's no Minimum Viable Product. We're talking about a physical space that can't easily be adapted to serve new customers or do new things. You're quite literally limited by the dimensions of your space and the types of equipment you've installed in your kitchen and bar areas.
That doesn't mean that you can't evolve your business over time; on the contrary, it's important to build that flexibility into your plan and how you design your space. You just need to be confident and what you're doing because it won't be easy (or cheap) to change directions if it doesn't work out! And that confidence should come across throughout your business plan -- your confidence in your product gives investors confidence too.
Every statement you make should be backed by data (including the reason for choosing your concept and target market) and all challenges should be called out. Alongside data and research, honesty and directness go a long way in a restaurant business plan. 
Cover Page
Make a great first impression by putting your logo front and center. Don't have a logo? Your plan may suffer because the logo gives potential investors their first impression of your concept and its marketability -- as well as a basic test of your professionalism and vision for the concept.
You'll also want to add your contact information and any relevant social media handles that can  provide more background as potential investors do their due diligence. 
Executive Summary
The Executive Summary or company description introduces your concept and provides a brief overview of what's to come. Resist the temptation to over explain or cram everything in. It should fit on a single page! The objective of the summary isn't to give investors everything they need to make a decision; it's to capture their attention so that they want to read more.
We recommend the "6 Ws" framework that underpin the Lean Six Sigma management technique. Briefly answer the following questions, using bullet points to make it easy to digest:
Who We Are: Introduce yourself and any partners, as well as any key hires already attached to the project and your chosen business structure. 
What We Sell (And To Whom): The concept and the target customer segment
When: The timeline for the plan, from build-out to pre-opening to opening.
Where: If you already have the location selected, show this information. Otherwise, offer a brief explanation of target neighborhoods.
Why: Your vision for this concept and highlight your hopes and dreams for the future. Is it expansion? Franchising? Sticking to a single location?
Close out the executive summary with a high-level financial summary, including estimated pre-opening costs and gross revenues in the first three years. 
Team
This section is all about what makes your team the rockstars that are going to execute this vision! Using brief bios (with photos) of management, operating partners and key hires, you'll carefully construct the narrative around why this is the right management team to not just bring this concept to life but to build it into a profitable business. Keep it brief but impactful by focusing on the most relevant experience for this specific concept.
The Restaurant Concept
This is arguably the most important section. It's your chance to showcase your vision,  expertise and unique approach. In it, you'll share the inspiration behind the concept,  what types of food will be serving, the service style, and a sample menu. The objective of this section is to clearly explain what's unique about your restaurant and what makes you the one to bring this concept to life.
Be sure to include the following:
A mission statement. Mission statements certainly can come across as fluffy and high-level. If that's the case with yours, you're doing it wrong!  your mission statement should encapsulate what you hope to accomplish with your business, and give you a North Star to guide your decisions. A well-crafted mission statement can do wonders at keeping you focused --  especially amidst the avalanche of decisions to make during build out. Here's a list of restaurant mission statements to get the juices flowing.
A sample menu. This menu is extremely important for three reasons: first, it's a tangible representation of the concept and what you plan to serve. Second, the menu informs the design of the kitchen and bar areas; without a menu, you can't select kitchen equipment and thus can't accurately estimate the cost of the kitchen. Finally, it should show that you have adequately costed out your menu items (using what's known in the industry as menu engineering) to ensure the viability and profitability of the concept. Bonus points if you can show the estimated profitability per item within the sample menu!
The draft Shake Shack menu, as scribbled on a napkin by Danny Meyer. The legendary restaurateur keeps the sketch framed in his office next to a sign "The bigger we get, the smaller we need to act."
Concept design. At the very least, include an architect's rendering of the space.  Even if you don't have a specific location selected, this helps investors visualize the concept and its atmosphere. Take some time to explain the service style and how the guests will experience the space. It never hurts to get into the weeds here: the types of glassware, the lighting, the seating choices.
Concept location: If you already have a location selected, explain the nuts and bolts of the build-out phase, especially any costly renovations such as adding a hood venting system. Add as much detail as possible about the specific location, including photos, blueprints, etc.
Startup costs. A quick overview of what it will cost to open your first location. You'll provide a more detailed look at startup costs in the Financial Plan section.  You'll include things like restaurant software and technology in this costing.
Finally, we recommend doing a SWOT analysis of your concept, which is an honest appraisal of its  strengths, weaknesses, opportunities and threats. Good investors are not easily swayed by smoke and mirrors, so use data/research to back it up! Answer the following questions in your SWOT to round out this section.
Strengths: What makes your concept stand out?
Weaknesses: Where could you potentially fall short?
Opportunities: What makes this the right time, the right team  and the right location for this concept? 
Threats: What is the competitive landscape that may hinder your success?
Market Analysis
In this section, you'll make the case for why this concept is filling a hole in the market.   The key here is to do your research. Instinct and expertise only go so far at convincing investors that this is a sound investment. You need to drive home the opportunity using as much research and data as possible --  especially when it comes to high risk investments like restaurants.
Industry Analysis. Start with a high-level overview of the current market trends when it comes to restaurants at the macro-level. Keep it brief; restaurants are inherently local so these wider trends aren't as useful as the local market ones.
Local Market Overview. Next, zoom into your local market to highlight the opportunity in the city and neighborhood that your restaurant will occupy. Do a thorough analysis of the area's competition, as that heavily influences your success or failure. You need to be very clear about what differentiates your restaurant from others in the area so that consumers have a clear reason to patronize your restaurant over others. You'll need a crystal clear differentiator in a cluster of similar restaurants. Images work well here, as do graphs and other relevant visuals.
Guest Segmentation. Be specific about what types of people will frequent your restaurant. Use personas to show a deep understanding about who your target consumers are and why they would frequent this restaurant. You'll want to tie this segmentation into your earlier Market Overview. For example, if there are new developments in your restaurant's neighborhood that could contribute additional demand from a specific demographic, mention that.
When it comes to research sources, you have a few options. The National Restaurant Association not only has nationwide data (such as the 2020 State of the Industry report available free to members) but also has local chapters that can assist with market-specific information.
Your local Chamber of Commerce and/or Economic Development agency can provide local market statistics around regional growth and even neighborhood-specific data.
Neighborhood associations are also useful sources of information -- not to mention eventual allies for your new restaurant. 
Operations Plan
Once you've established the concept, and how it fits into the local market, it's time to detail your plan to build and operate the restaurant.
Staffing. Your personnel plan should clearly lay out how many staff members you anticipate needing for daily operations. You'll also want to include any other talent that will influence your success, such as  your attorney, accountant, bookkeeper, architect, designers, general contractor and/or marketing consultant. Briefly introduce them and highlight any relevant accomplishments or expertise.
Training. How will you train your staff? Make a clear plan that outlines not just pre-opening training but also staff training for regular operations. Remember that turnover in restaurants is quite high, so you want to have a very complete Employee Handbook and Training Plan that aligns with your service standards.
Suppliers & Vendors. To show preparation and organization, identify your chosen suppliers and vendors. The list should include (but isn't limited to) the following: POS, payment processor, printers, kitchen/inventory management system, accounting, staff scheduling and labor management software, payroll processor, food safety, digital marketing agency, website builder, and delivery, if applicable.
Crisis and Business Continuity. Recent events have reminded us all about the power of planning. Extra credit for those who include a section around planning around businesses continuity in crisis situations: staff illness, food poisoning, natural disasters, and unexpected economic headwinds could all potentially impact your business. Some may only attack your reputation while others threaten your very existence. Preparation is key.
Marketing Plan
A restaurant is only as good as its marketing. Ok, well, that's not entirely true -- the food, service and ambiance matter too! After all, the most delicious food, the most exceptional service, and the most inviting ambiance mean nothing if no one walks through the doors.
Marketing can also be a clear competitive advantage over competing restaurants. So, if that's the case with your restaurant -- and it absolutely must be if you are planning to open in an area with fierce competition -- make that case here.
Elements of a successful marketing plan for a restaurant include:
Website. Potential guests often use search engines to find restaurants. In fact, "restaurants near me" is  an extremely popular term. Your website is your calling card for those guests.  It also helps those who add a reservation or NovaSure restaurant to find your address. Your website should be easy to use and put the essential information up front: the address and the menu. 
Organic Social Media. Restaurants are one of the easiest business types to market on social media -- the content is always rich, colorful and engaging! Foodies can be found all over social media and the platforms are naturally built for the images and videos that restaurants create. Demonstrate your grasp of the power of social media by showing how you intend to use this free marketing platform. Or mention your impressive digital marketing agency that will help you build your brand online by finding and nurturing a community of passionate followers.
Paid (Digital) Marketing. Organic visibility is only one part of your marketing strategy.  You must supplement that work with strategic paid digital marketing that amplifies your message and gets your restaurant in front of people deciding where to eat.  Your digital marketing may include: Search ads, social media ads, and potentially Yelp/TripAdvisor. Certain types of restaurants also do well on radio and TV. 
Loyalty. It's so much easier to keep a customer once you have them. What's your restaurant strategy for building a loyal customer base and not relying on paid advertising to get people to the doors? Outline strategies for getting online reviews (and improving your ratings), building a database of customer information for regular promotions (such as email newsletters) and  encouraging your best customers to show their experience with friends to build word of mouth.  Loyalty programs can help bring back happy guests in higher frequencies but if guests don't have a great experience at your establishment - a bad first impression can turn loyalty into an uphill battle.
Public Relations. It's not realistic to just expect that your restaurant will capture the attention of journalists once it opens. You'll need a detailed PR strategy that puts your restaurant in front of relevant local food press and national food press. Another great way to build PR and give back is to engage with community events and charity galas.  best intimate events give you a chance to meet your customers face-to-face outside of the restaurant and so your commitment to the community. 
Financial Plan
Restaurants require a lot of upfront investment. From rent to insurance to permits, printers and POS terminals, there's an endless list of expenses. Even if you're acquiring an existing property, it's not a cheap business to start up. As you create your budget, refer to the Uniform System of Accounts for Restaurants, the gold standard restaurant accounting. Not only will it show you how to set up your own books but it may also give you an idea of common expenses you may be overlooking.
Although these projections are created long before you open for business, they still matter greatly. A thoughtful approach, backed by explanations for the numbers, highlights your professionalism and expertise to investors.
Start up costs. Include anything and everything required to get you to opening day: build-out costs, equipment cost, licenses and permits, architects fees, rent, insurance (business interruption, liquor liability, general liability) and labor (pre-opening management salaries and training new staff prior to opening). On top of the total startup costs, add at least a 10% buffer for contingencies, or unexpected cost overruns.
And don't forget working capital -- You should assume that you won't fully break even until a year too, and have enough working capital to sustain your business as you work toward profitability.
Profit and Loss (P&L). Combine your revenue forecasts with your costs to show your potential for profitability over the next 3-5 years. Include both your fixed costs (things that won't change often, such as rent and insurance) and variable costs (things that change such as labor and food costs).
If you're not comfortable with numbers, lean on your accountant for help. There are also vendors that offer business plan creation software that greatly simplifies the complexities of financial projections. The right software can make a world of difference. It will track your business progress over time to benchmark against projections --  and save you time from spreadsheet hell!
Additional Analysis. In addition to the other analysis, include a break-even analysis and cash flow projections. These detail what it will take to get to break even (where your revenue covers your expenses) and show your expected cash flows (and that you'll be sufficiently capitalized to make it through the early years of the restaurant).
Investment & Capital Required
Close it out with a clear breakdown of the investment required to get this restaurant off the ground and support its operations until it can sustain itself through cash flow -- and ultimately profit.
You have to be careful to avoid directly asking for an investment, as that could be seen as a solicitation for investment. Every country (and locale) has its own Rules regarding how and where companies can solicit investments. So be very careful to abide by those rules and avoid breaking the law in your jurisdiction.
One way to go about doing this is to break down how you would use the potential capital. It can be as simple as the following:
Total Capital: $400,000
Build Out Cost: $300,000
Contingency: $30,000
Initial Inventory: $20,000
Marketing: $10,000
Working Capital: $40,000
Restaurant Business Plan FAQs
To close out this guide to writing a restaurant business plan, here are answers to common questions. We hope these help you as you start the long but valuable process of building out a plan for your new restaurant concept!
Why do I need a restaurant business plan?
The business plan process puts structure around your idea and makes it more marketable. Since restaurants are not simple or cheap to start up, it's likely that you will need investors. Structure and marketability will come into handy as you talk to potential investors (such as family, friends, and angels). if you're seeking financing from Banks, then you will be required to have a plan that goes into very clear detail on all aspects of your business, especially the financials.
If you find yourself balking at the thought of building out an entire plan, at the very least you should do the One Page Business Plan. While we don't recommend these short plans for Investments as complex as restaurants, they may help you collect your thoughts
What are some sources for researching my restaurant idea?
Successful restaurants are rarely built on hope and instinct. Putting some third-party research into your plan will help you sell the idea. And talking to potential customers will help you show why your idea is filling a gap in the market. Here are a few resources:
National Restaurant Association (U.S). The NRA has nationwide data (such as the 2020 State of the Industry) as well as has local chapters with market-specific information. If you're outside of the United States, look to your country's own association for additional information.
Local organizations. Many cities and communities have Chambers of Commerce and/or Economic Development agencies that exist to facilitate new business activity. Reach out to these entities to see how they may help you with research and other support. 
Google Forms. It's never a bad idea to talk to potential customers. You can do this face-to-face or send out a survey with a free tool like Google Survey.
Neighborhood associations. Restaurants are community businesses. Engaging the local neighborhood association will not only introduce your concept to potential customers, but it will also give you critical insights into your restaurant's neighborhood.
Where can I find restaurant business plan templates?
There are several business planning software tools that allow you to both build your business plan from a template and model your financial projections.   Restaurant business plan samples can also help speed up your planning. There's a major time savings to using software that includes financial modeling; without it, you're stuck with a spreadsheet that doesn't always adjust to any changes. It's just much easier and a better experience when you can easily change numbers and see the impact of various scenarios. A quick search for restaurant business plans give you options to evaluate.
Why do restaurants fail?
There is no way to sugarcoat it: owning and operating a restaurant is a difficult enterprise. There are easier ways to make money! More often than not, restaurants fail due to two things:  owner/operator burnout and undercapitalization. Since restaurants are such intense businesses, it can be exhausting over time. In addition, the razor-thin margins of most restaurants means that they need a healthy capital cushion to weather head winds. Other common failures include a poor location, bad food/service (and resulting reviews), unscrupulous owners (tax evasion) and poor cost management (out-of-control labor and food costs).