The Rise of Mobile Ordering: From Trend to Core Hospitality Technology
By Jordan Hollander
Last updated October 28, 2022
7 min read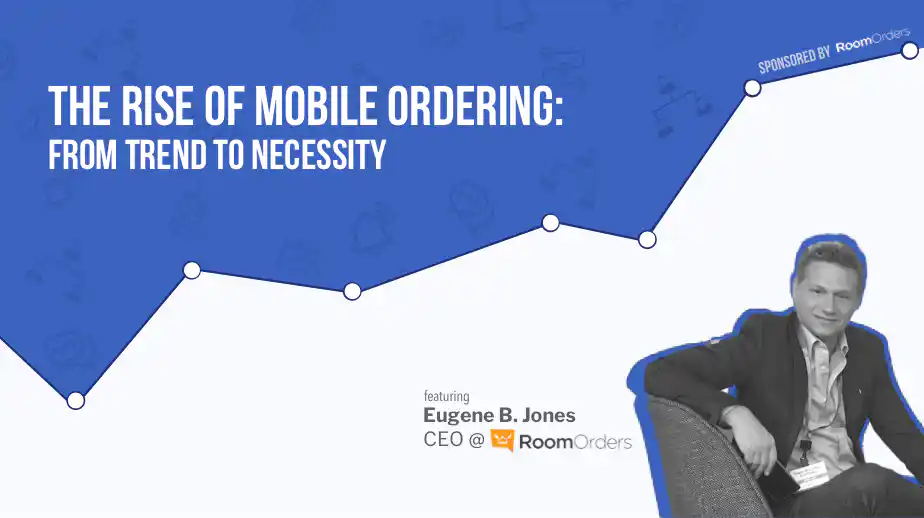 It's more convenient than ever to dine out or order in, thanks to the proliferation of food delivery apps and technology that makes ordering and payment a breeze. In fact, 80% of Americans have used food delivery apps before, and about 60% order food via an app at least once per week. Ordering food from your phone is becoming widely accepted in all facets of the hospitality industry, aligning with a shift toward the "low-touch economy," the contact-free trend that accelerated as a result of the COVID pandemic. As more people want a contactless experience, and as people become more comfortable with technology in the hospitality space, mobile ordering will be an integral part of the future of the hotel and restaurant industry.
Traveler preferences have evolved since the beginning of the pandemic, shifting toward contactless, on-demand services. These changes extend beyond hotels, as more people have become accustomed to food delivery, video calls, and even virtual fitness classes as socially distant substitutes to in-person interaction. The contactless trend appears to be here to stay. Retailers have adopted contactless payment terminals, supermarkets offer contactless grocery pick-up, and many hotels now offer contactless check-in and on-demand housekeeping service to limit physical touchpoints. At hotels, guests also want the ability to order food without speaking face-to-face with restaurant or room service staff and to be able to enjoy it while they work remotely in the lobby, under the shade of a cabana, or in the privacy of their guestroom.
RoomOrders was founded in 2017 to provide this convenience for guests, and the company was originally designed to digitize room service operations at the Hilton Boston Downtown. Success in Boston led RoomOrders to expand to hotels across the world, working with brands like Marriott and Accor in addition to Hilton. RoomOrders is now in over 300 leading hotels and resorts across the US, Asia, Africa, Europe, and Oceania. At the onset of the pandemic in early 2020, the RoomOrders team saw an opportunity to bring their technology to not only hotel room service operations, but also to hospitality businesses ranging from restaurants to health and beauty centers, convenience stores, and tourist attractions to meet the desire for contactless service.
As RoomOrders CEO Eugene Jones says, "mobile ordering is moving quickly from a trending sector to a booming sector." Tech-enabled options are becoming increasingly popular, and rather than being viewed as a novelty, a tech-forward experience is an expectation. Customers are also becoming more savvy. Consumers in the F&B space are accustomed to ordering everything from their mobile devices whether it's a new pair of Nike shoes, their groceries, or even a Tesla.  It's only natural that these guests expect room service on their smartphones, too.
With mobile ordering, a customer can browse the menu, place an order, and pay on their smartphone without the need for in-person interaction with staff.
"Imagine the possibility of ordering a refreshing drink while relaxing by the pool...without having to get up to approach a bar to order," says Jones.
But mobile ordering isn't for everyone. Jones recognizes that some guests relish the in-person interaction or don't feel comfortable placing orders on their smartphone for a variety of reasons. The good news is that "guests have the option to order the old way or the new way, leaving customers with the ultimate freedom of choice." Even when you implement mobile ordering, you can serve customers the way they want to be served.
Mobile ordering doesn't just benefit customers - it's good business: increased revenue, more efficient and helpful staff, and higher guest satisfaction.
Hotel businesses that partner with RoomOrders often report increases in overall revenue and average order volume. Why? RoomOrders eliminates friction in the ordering experience, so it's easier than ever for customers to purchase food and drinks. Without mobile ordering, customers might decide not to order from your outlet if they see a long line or if they can't flag down a server. Mobile ordering removes these obstacles and makes ordering effortless. Plus, the RoomOrders interface allows you to configure upsell options, specials, and tagging that make your menu items more compelling. Someone who might have skipped a side dish or dessert might be convinced to try it when they see it as a recommended pairing with their entree.
In addition to highlighting the potential for revenue growth, Jones debunks a common misconception about mobile ordering systems. In our interview, he says "a digitalised hotel is not necessarily void of human labor, it actually frees up humans to be more hospitable." The futuristic idea of a hotel run by robots isn't going to be the future of your hotel with mobile ordering. The opposite is true; by letting technology handle menial, repetitive tasks like taking orders and running payment, your staff can focus on more important work, like building meaningful relationships with guests. Menu updates are seamless with a digital system like RoomOrders. Without a mobile ordering system, staff would need to reprint menus every time a menu item changed. RoomOrders allows you to make menu updates with just a few clicks so you can always keep your menus up-to-date and accurate.
Overall, mobile ordering helps you deliver a better guest experience. It makes the ordering process more efficient at your restaurant, and, as Eugene discusses in the interview, it can also give guests an alternative to a potentially frustrating experience like waiting on hold for room service. Ultimately, guests who have a better experience at your hotel spend more and are more likely to return which is why this once trendy technology is becoming a global staple.
Eager to learn more about mobile ordering? Read our interview with RoomOrders' CEO Eugene Jones below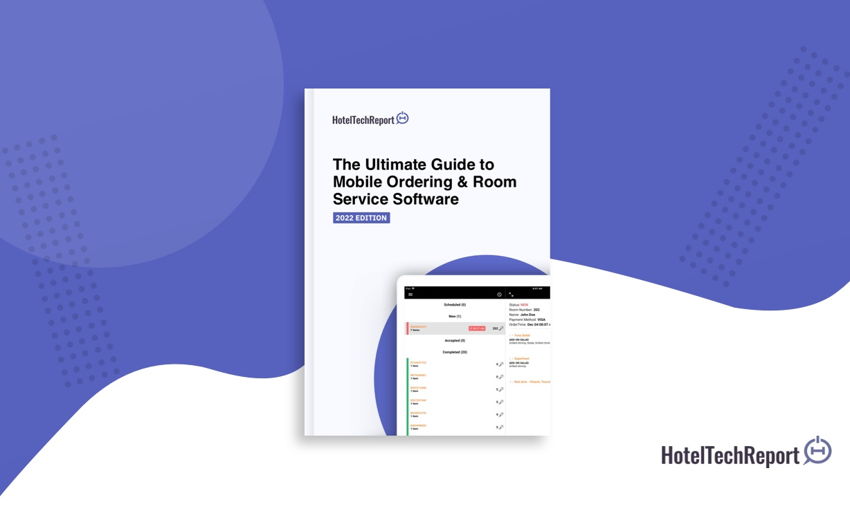 This content was created collaboratively by Hotel Tech Report and RoomOrders.
Tell us about the founding story behind Roomorders.
In a nutshell, RoomOrders was founded in 2018 after one of the co-founders Haris Dizdarevic, who is an IT expert, sat with his restaurant owner friend in the Boston Hilton and suggested the hotel could digitalise its operations with self-service ordering by guest mobile phones.
We were arguably the pioneers of QR code ordering in hotel rooms and this was a major move from fixed phones. However, QR code ordering has opened up new revenue streams by expanding ordering and payment opportunities outside bedrooms to the entire hotel or resort complex, as well as neighbourhood by connecting with community vendors. During the corona crisis, we realised digital ordering via QR codes or NFC tags could be done from anywhere outside hotels as well, from poolsides to beaches, rooftop bars to golf courses and neighbouring vendors, from restaurants to health and beauty centres, supermarkets and tourist attractions.
Why has mobile ordering been growing so rapidly in your opinion?
Apart from opening up new revenue streams, your hotel will have an edge over rival destinations by restoring confidence in health and safety as a digitalised, low-contact hotel offering self-service ordering and payments via guest smartphone. Today's guest expect on-demand service and integration with surrounding vendors allows QR code ordering and payments of almost anything from anywhere on the hotel or resort site.
I think Asia, which has totally skipped credit cards and where people no longer have a use for wallets, is indicative of the future awaiting us. When I see the corona QR passports and vouchers, it is obvious that mobile ordering is inevitable and that everything will be digital, powered by lightning broadband communication. I think we will be ordering from holograms appearing in thin air...  It will be like snapping fingers to be served in an instant!
Many hotels believe that QR codes and pdf menus are a "good enough" solution for contactless ordering.
Contrary to that belief is documented reality that guests hate downloading pdfs or any apps and feel teased if they cannot order as well as pay after seeing digital menus. The beauty of digital ordering platforms is that guests have the option to order the old way or the new way, leaving customers with the ultimate freedom of choice
How should hoteliers feel about automation of routine tasks?
There is always the danger of technology replacing human touch in hospitality and this can be seen as a positive in terms of cost savings for hotels during tough times, yet a loss for social interaction and engagement - something we have traditionally enjoyed as consumers. However, a digitalised hotel is not necessarily void of human labor, it actually frees up humans to be more hospitable,entertaining or helpful in the process of delivering excellent guest experience.
How can hoteliers distinguish between mobile ordering software solutions?
Mobile ordering is different to room service as mobile ordering is remote and unrestricted, it can be done from anywhere across a hotel or resort, rather than just a hotel room. Room service on the other hand is limited to just a room and the guest experience confined to a room.  Imagine the possibility of ordering a refreshing drink while relaxing by the pool, or a finger-food snack, without having to get up to approach a bar to order or even pick up orders. Our research shows orders skyrocket throughout the whole day, especially hot days, in this particular scenario.
Hotels can't be, or have, everything for guests, so RoomOrders is connecting hotel guests with surrounding vendors of all sorts of products and services on or off-site, expanding the guest experience by bringing anything, anywhere to their feet wherever they may be around the hotel or resort.
What has been the impact of COVID on the state of mobile ordering?
COVID has been a double-edged sword. While it has suspended business for many hotels, particularly during lockdowns, it has also increased the urgency of digitalization, particularly contactless service, ie QR code ordering and payments. Mobile ordering is moving quickly from a trend sector to a booming sector, and in that respect we see it as a bigger revolution than food delivery - which is basically restricted to fixed addresses and extremely expensive.
I think Covid-19 has sped up the dawn of a new age, the fourth industrial revolution. Everything will be digital and accessible remotely, starting with our jobs. The adoption of new technology, particularly QR code ordering and payments will move from a trend to boom sector and like Asia, we will no longer carry credit cards or wallets. Our mobile phones will be a lifeline, the centre of our world and essential to survival. Accessing our phone as fast as possible will be key, so QR codes may be replaced by something faster, but right now it seems RoomOrders will be busy improving people's lives by fast ordering and secure payments. I honestly cannot see a hotel or resort without RoomOrders or a competitor service.
Are there misconceptions amongst hoteliers in this emerging category?
It's true, hoteliers think it's expensive, when it is actually free, zero capital investment. Other fallacies include preconceptions that guests want human contact with waiters or that older people are technophobes. The reality is that newer generations want immediate glorification, on-demand service. Amazon and food delivery has changed their expectations, to the point of even compromising quality for efficiency. Seniors are actually the fastest growing segment of adopters of social media, Sure they were a bit slower, but when they sense that old methods are fading, they adapt just as easily as other groups, provided that the experience is intuitional, or in other terms, easy.
Are there any stories that stick out to you where RoomOrders delivered outsized impact for clients?
Just before the pandemic, I arrived on a late flight into Las Vegas to speak at a conference about the threats facing hospitality in the digital era, and I was really hungry. As the hotel didn't provide room service in the evening, I picked up a flyer and ordered pizza delivery by phone. I had to go outside, passing restaurants in the casino lobby and there were about 20 or so others waiting for their delivery too, even though it was past midnight already, There was so much confusion, it was a horrible guest experience that gave us the idea to not only integrate all the surrounding restaurants of a hotel, but other vendors too. It also gave me fodder for my speech, which offered RoomOrders as a way to combat the threat of aggressive food delivery services preying on local restaurants and hotel guests. The last year has demonstrated without dilemma that we have deeply entered the era of contactless ordering and payment