RMS Hospitality Cloud: What You Need To Know About Its Hotel Management System
By Jordan Hollander
Last updated January 26, 2022
7 min read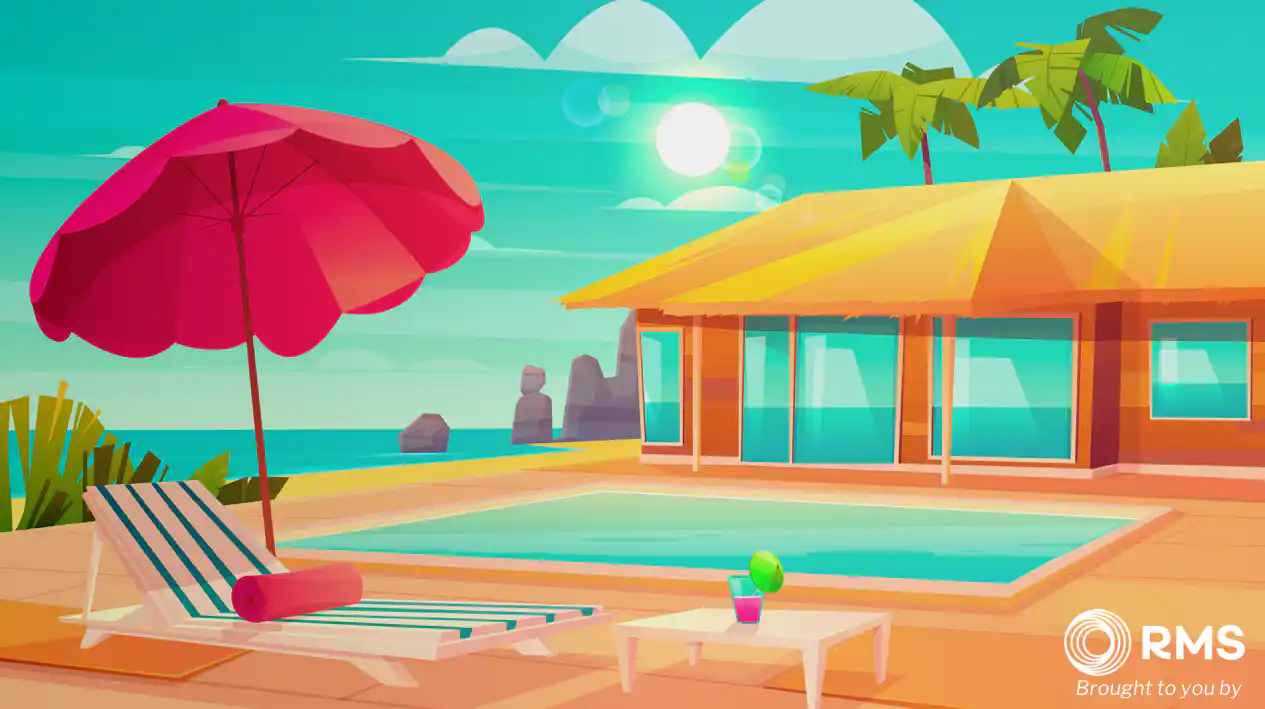 The global hospitality industry has enjoyed a decade of consistent growth. And, whether or not this growth continues, hotels must be prepared to preserve profits in the inevitable downturn. Part of this preparation/preservation involves having the right technology in place to weather the next dip in global demand, technology that's versatile enough to provide multiple functions in a single package at a reasonable cost.
Technology is no longer built for one specific task — to help drive revenue, for example — but instead aims to help hoteliers work smarter and more effectively, and to help them provide a better guest experience. -Jason Freed
The most mission-critical technology for any hotel is the software used to manage operations. This is the software that reaches across the operation to connect departments and facilitate efficiency and profitability. With the right hotel management system, hotels are able to more effectively allocate resources, expand their distribution visibility, and maintain service standards -- which leads to a virtuous cycle of a better guest experience, more reviews, and more bookings. That type of loop is a helpful momentum-builder in good times and bad.
What RMS does: All-in-one, cloud-based hotel management solution 
RMS is a cloud-based hotel management solution that brings together everything a hotel needs to operate a hotel profitably and efficiently. This includes:
Each of these modules work together by sharing data in real-time so that hotels operate at peak efficiency and profitability. That seamless collaboration is one of the main reasons for using a single hotel management solution: no expensive integrations or messy workarounds; it all just works.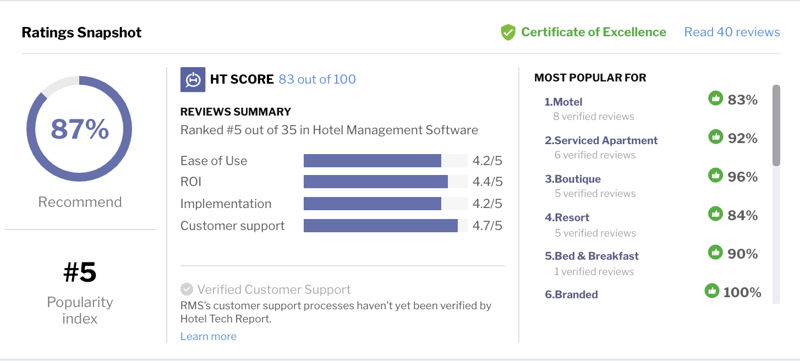 Read reviews of RMS Hospitality.
Who RMS is for: Properties of all sizes
There are two flavors of RMS: Pro and Prime.
RMS Pro is ideally suited to multi-property portfolios and larger hotels, motels resorts that have more complex needs. These are properties that generally want some measure of customization to align their hotel management technology with the unique needs of their operation. 
The all-in-one hotel management system from RMS syncs across devices.
Prime, which was introduced in 2019, is a streamlined version of its hotel management software that's geared towards independents and boutique hotels. These single properties are usually smaller with less complex operations and prefer tech solutions that are quick to onboard and affordable. They definitely don't want to pay for functionality that they won't use, or face a steep uphill battle when integrating a new technology and training staff. With the addition of RMS Prime, hotels of all sizes can find a hotel management solution that meets their needs.
One unique aspect of RMS is that it also serves other lodging categories, offering management software for marinas, campgrounds, and RV resorts. Each of these categories has specific needs that the software accommodates, such as creating detailed boater profiles for marinas, managing different site types for campgrounds, and interactive maps for RV resorts.
Why RMS: Notable Features For Hoteliers
Customizable Loyalty Program
Loyalty is a major force in hospitality. Consumers are willing to spend more to stay at their preferred hotel brands: for business travelers, it's a $27 premium and for leisure travelers it's $23. Unfortunately, even though guest rewards can be a revenue-driving marketing tool, launching a loyalty program can be a complicated and pricey prospect for hotels.
RMS is trying to reduce that burden with its Guest Rewards module launching in early 2020. The module empowers RMS customers to create their own rewards programs and encourage guest loyalty by awarding points for each stay. These points can then be redeemed for future stays. Enrollment is simple and straightforward: staff can enroll existing guests into the loyalty program with a hassle-free, one-click experience. Redemption is also easy: with direct integration into the booking engine, guests can redeem points without having to jump through additional hoops.
The RMS Rewards Module allows hotels to launch campaigns with loyalty-based incentives.
Hotels can then use smart segmentation of rewards members to drive business priorities. For example, creating marketing campaigns that offer double points or half-price reward redemptions to incentivize specific segments of past guests to book or redeem rewards. This type of segmentation is essential to building a successful loyalty program, as different segments have different motivations. Hotels must be able to target their loyalty marketing efforts accordingly -- especially as consumers are willing to spend more to stay at their preferred brands.
Integrated housekeeping management and POS
With stress in the workplace rising and talent shortages making headlines, hotels must be mindful of both controlling labor costs and empowering teams with the tools that improve work life. RMS' all-in-one approach to hotel management offers:
Housekeeping management. Room status and housekeeping work assignments are handled right within the PMS. While this is a standard feature in property management software, each software handles it differently. RMS centralizes everything in a Housekeeping Portal, so that managers can allocate tasks and staff can complete tasks in the same interface. The Portal is also mobile-capable so staff can update room status for up-to-date status reports accessible from anywhere.
Point-of-sale management. The integrated POS management makes it easier to generate ancillary revenue. Staff can process sales and returns, as well as charge guest accounts directly to avoid manual folio nightmares. There's also an inventory component so that you don't necessarily need separate inventory tracking software.
Both of these modules have the added benefit of making more money for hotels. Whether it's by flipping rooms more quickly for upsells or generating more revenue from guests, these tools are also potential boosts to the bottom line.
Guest portal with mobile check-in and automated marketing
Guests can check-in anywhere they like, from any device. This speeds up the check-in process and prevents lines from backing up in the lobby. Self-service allows guests to self-select; those that prefer in-person interactions will continue to check in at the front desk and others can skip the front desk. When guests are empowered to craft their own experience, they are generally more satisfied. And satisfied guests lead to more positive reviews and a better online reputation. 
And it's not just mobile check-in. The guest portal features the ability to message a property, add names to a reservation, and to update the expected time of arrival -- such instant self-service functionality is fast becoming an expectation for all hotels, as 90% of consumers prefer doing business with brands that answer questions immediately. In addition to the online chat via the guest portal, RMS supports SMS texts, with all communications centralized in a single dashboard view so that staff can easily follow each thread, regardless of who is working the shift.
Hotels can also increase upsells via the guest portal. RMS has "automated self-service technology" that doesn't require additional investment in upselling software. Upsells and other offers can be displayed at different points in the check-in process, both in the guest portal and via the customizable email marketing automation tool that's integrated into the RMS system.
Dynamic Pricing Engine
With RMS, dynamic pricing isn't only reserved for major brands with standalone revenue management tools. Hotels can maximize profits and occupancy through a dynamic pricing engine that's plugged directly into the booking engine. Rather than static rates that don't adjust to demand, rates are adjusted based on how a predetermined occupancy levels. You set the desired occupancy and the rates fluctuate depending on property- and market-level demand signals. Rates automatically go up as demand increases and go down when demand drops.
The RMS Dynamic Pricing module also allows hotels to set expiration dates on specific rates. This is useful for marketing campaigns that feature time-limited rate promotions. By setting a timeframe for that special offer, you won't suddenly discover a bunch of underpriced bookings because a special rate from a previous promotion was never turned off. 
Smart Printing
As one RMS reviewer expressed frustration with printing folios (lamenting going through the "the BS to print a receipt"), RMS offers Smart Printing. The functionality addresses the very real frustrations of setting up printers with proper routing. For properties with multiple POS, there's greater complexity in routing each print actions to the preferred printer. This routing can be especially beneficial for faster night audits and more organized group checkouts.
In only a couple of clicks, RMS Smart Printing reduces that complexity by allowing:
(1) Smart routing to define which print jobs go to which printers, so folios print at the front desk and reports print in the back office.
(2) User-level printing rules so a user can be logged into multiple devices but only enable Smart Printing on one device and not all devices. 
RMS: Pros and Cons According to its Customers 
RMS has 20 verified customer reviews, nearly each of which has a direct response by the RMS team. That responsiveness makes sense, as the most common thread mentioning the stellar customer support. It's something that was mentioned in nearly every review, with words like "excellent," "awesome," "patient," "kind," polite and "knowledgeable." As far as implementation, one reviewer said that "the assistance in setting up the system was great," and another thanking "the support team for working through tricky implementations."
Even so, there's room for improvement, with one user lauding the quality of support but also saying that "the knowledge base could be improved. It would also be nice to have a user forum, where users could help each other out." The dual-edged sword of a deeply customizable system was also mentioned by one reviewer, who said that RMS is a "powerful software that is customizable and has a lot of options...this is both a strength and a weakness. Strength for being able to customize, but weakness for complexity."
Some other pros and cons per verified RMS user reviews:
Pros:
Great support: "very appreciative of the Tech support assistance" that's "courteous, timely, patient in assisting our staff" and accessible: "There is always someone to assist when I have a question (and I had a lot of questions)." 
Interface: "The system is easy to use"
Easy group reservations: "the ease of doing group reservations and being able to manipulate existing reservations right from the booking chart."
Cons:
Data sync: "Some of the synchronization issues have been challenging" with a lack of "True two way connections."
Country-specific printing issues: "In Canada tax receipts are just a copy of the folio and can be printed at any time. There is no need in this country to go through the BS to print a receipt."
Accounting: "The owner accounting portion needs work."
Integrations: "I would like to see more integrations with other products like Google Data Studio."
Next Steps with RMS
For hotels requiring customization, it will take a conversation with an account manager to determine the next steps. The conversation will help the team understand your property's specific needs and the best path to a successful implementation. For smaller properties, RMS Prime can be implemented quickly and with little downtime. In both cases, the 24/7/365 RMS support team strives for a smooth transition, as evidenced by reviews highlighting "informative as well as creative" support with "experienced troubleshooting skills" for any implementation issues that arise.
No matter what happens economically, the power of technology is that it frees staff from mundane, repetitive tasks that make work miserable, says hotelier Jonathan Tisch:
"We need to ask, how can technology free-up our team members from more mundane tasks and allow them to focus their energies on high value-added service that only humans can deliver." With that freedom, hotels are able to boost efficiency while also preserving -- or even enhancing -- service standards.
This content was created collaboratively by RMS Hospitality and Hotel Tech Report.