8 Products to Help You Replace Booking.com's Rate Manager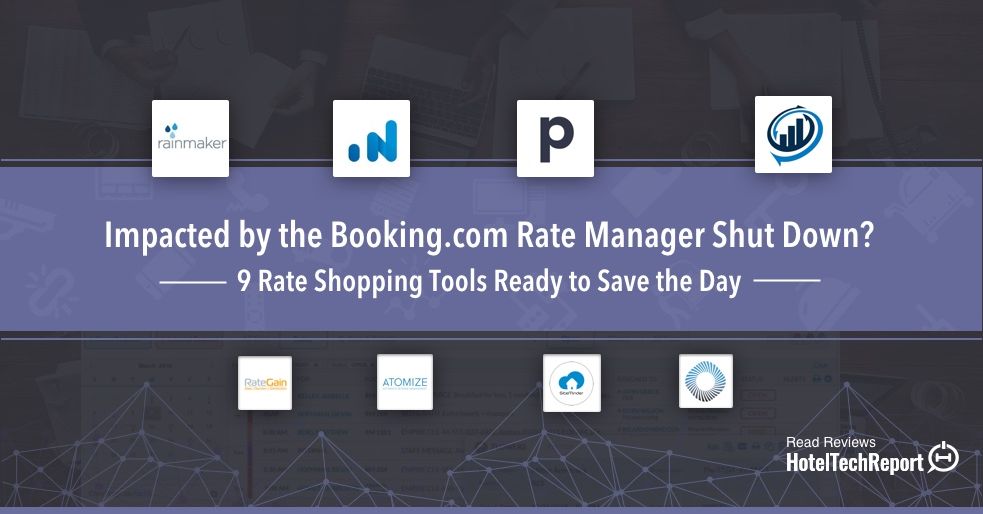 Booking.com is closing it's rate manager tool according to a report from NextGen Opti and if true it will leave hoteliers everywhere clamoring for new platforms that can work within a similar budget and functionality so we put together a list of platforms that you should check out. Don't stress, this could actually be a good thing - do you really want to let Booking.com make your pricing decisions and use that data to drive more OTA bookings at high commissions?
Relax, Hotel Tech Report has got you covered with good and cost effective alternatives to Booking.com's Rate Intelligence products.

GoldenEye: For a Seamless Integration with AxisRooms' Award Winning Channel Manager
The AxisRoom business was built to solve historically complex distribution problems for hotels with sophisticated technology that is both state of the art and easy to use for hoteliers. They won the competitive Channel Management category in the 2018 HotelTechAwards so you know their products are worth a look. With GoldenEye hoteliers can derive insights by observing competitor pricing patterns, manage rate parity, analyze online ranking on each channel at the city or micro-market level and benchmark each room type against the competition for an apples-apples rate comparison.

Rate Insight: Powerful Technology from the Company Who's Taking the Market by Storm with it's Recent $20M in Funding
OTA Insight delivers innovative, easy-to-use technology solutions to maximize online revenue for hotels of any size. OTA Insight's rate shopping platform is a solid alternative to Booking.com's rate intelligence product and takes the stress out of driving occupancy with competitive pricing so you can focus on guest experience. OTA Insight helps you with rate intelligence, rate parity, demand and events tracking, ranking and review analytics - all with the goal of keeping an eye on your market and the local competition.

HQ Plus: German engineering is always a safe bet
HQ plus offers hotel revenue managers a cloud-based competitor analysis tool monitoring price developments, area demand and events in real-time. They support hotels in strategic pricing decisions keeping them a step ahead of their competition.

Rate Shopper: Market Intelligence from a Company that Builds Products for Every Hotelier's Needs
RateGain has Rate Intelligence and Competitive Intelligence tools to help your hotel stay ahead of the competition. They help hotels with pricing strategy by providing them data in an easy to absord and intuitive UX platform. They use data from more than 500 sources to empower clients with real time, historical and forecasted future data. Rates include mobile, geo-based, member rates and rates to track VAS inclusions like wifi, airport traffic, and more.

Lybra Tech: Lead by Data Scientists and ex- Booking.com Backgrounds
Lybra Tech Hotel Revenue intelligence is a fast growing company which wants to democratize the use of Big Data giving driven access to information to expedite decision making and to uncover market opportunities. 100% connected with both hotel PMS (property management system) and channel manager to offer the best experience in terms of time saved and data accuracy.

Atomize: A New Innovative Player in the Market that Can Automate Your Revenue Management Workflow
Hotels typically either spend too much time trying to identify the optimal price point for available rooms or they simply do not because they realize it is too complicated. For a typical hotel that offers 5 room types with 4 available options (with or without cancellation & breakfast) with the intentions to update its prices once an hour one has to perform more than 64 million price updates a year - no more words needed to be said. Atomize is the remedy to this and offers hoteliers to increase their revenues by automatically setting the right price at any given moment, for every room and booking type, through state of the art machine learning algorithms. Real-time data from competitors, web-searches, and the PMS are continuously optimized to help hotels predict and optimize revenue.

Pace: A London Based Revenue Management Startup Worth Checking Out
Imagine knowing what every booking curve will look like ahead of time. Pace gives you the ability to forecast booking curves for each night, room-category and segment. This means that you are alerted to unusual patterns as soon as they happen and can respond immediately

OutPerform: An Affordable Player with Diverse Solutions to Replace Booking.com Rate Manager
Today, Hotels have to analyze, predict, optimize and eationalize lots of Data in real time, and then distribute their rooms to an ever growing number of sales channels and dynamically manage the best price to sell them at. Now as a Hotel Chain, or individual Hotel you cannot "simply throw out all your Software and Hardware with the bath water"​, Next-Gen-Opti Solutions help you build real flexible solutions for the Hospitality Industry. We take away your dependencies and give you a healthy measure of independence.

Rate 360: Tried and True Solution from an Industry Powerhouse
TravelClick's Rate 360 product will smooth the transition from Booking.com's rate intelligence tool for those who expect corporate professionalism of a large corporate partner. Rate 360 is a comprehensive rate intelligence tool enabling hoteliers to evaluate all aspects of their market and competition through a single intuitive interface. Get fast answers to critical questions affecting rate decisions. Analyze rates by what matters most. View rates versus the comp set on any date or month. See how prices have changed and where they're going in the future. Set pricing alerts that let you respond to changes in the marketplace.

Prophet: Simple and Cost Effective Market Intelligence from SiteMinder
Prophet is a real-time market intelligence solution that takes the guesswork out of pricing rooms. SiteMinder is always a safe bet for cost effective and intuitive software that will get you up and running quickly. This might be the closest comparable product to that you've been using with Booking.com and BookingSuite's rate intelligence tool.

RateBoard: Fully Automated Rate Recommendations with a Clean UX
Rateboard combines high quality technology with experienced revenue managers to increase the average rate and to improve revenue and profit. They put together tailor made solutions for the individual needs of every hotel so clients can achieve their set goals. For European hotels that need some extra firepower in their RM departments RateBoard is a solid option.