8 Uses for Digital Signage in Hotels Right Now
By Hotel Tech Report
Last updated January 26, 2022
4 min read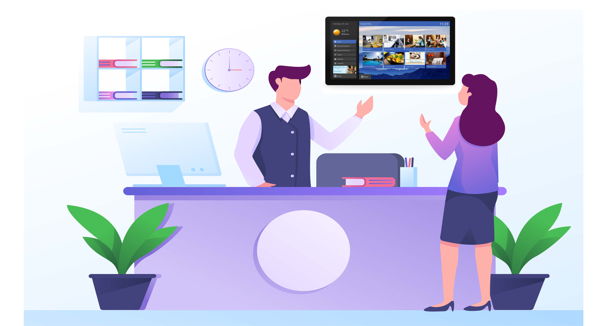 As a hotelier you obsess about the guest experience because you know it's really all that differentiates your property from the hotel next door. You focus on design, amenities, staff training, the list goes on.
But there's one thing you're likely to overlook.
Hotel digital signage can help your property deliver a five-star stay for every guest from the moment of arrival. Digital signage from vendors like Monscierge can do everything from displaying menus to providing map directions to printing boarding passes. Digital signs blend concierge curation and self-service in an easy-to-use, stylish menu that makes it easy for guests to enjoy their stay. Here's how to best leverage digital signage at your property.
You only have 27 seconds to make a first impression and that impression will inform the rest of that guest's experience on property. A great first impression can create a halo effect on the entire experience.
The Palm Jumeirah has a 24-hour arrival lounge for guests and Aria Las Vegas offers a similar experience for VIP check-in. Not every hotel has the space or resources to invest in these kinds of experiences but digital signage kiosks, digital displays and video walls are a cost effective way to differentiate the customer experience at your hotel no matter the chain scale and it's incredibly easy to implement. At it's core, digital signage must be interactive, provide guests with real-time information and have a robust yet easy to use content management system. With cutting-edge solutions, your guests should easily be able to interact with digital signage screens and your staff should be able to easily update content. Once you've found a solution that meets your digital signage needs, here are some ways that you can maximize impact.
1. Expedite Check-in
Check-in is a make-or-break moment for many properties: a bad check-in experience leads to negative reviews that can be hard to recover from. Digital signs smooth out the check-in process by offering auto check-in or by helping guests find the information they need without having to monopolize the attention of your front desk team.
Many digital signage solutions offer automated or self-check-in. Guests can operate the touch screen to check-in, drop their bags, and go off to explore. This takes some of the pressure off your front desk team at peak transition times.
Solutions that don't have self-check-in still help reduce wait times. Guests can resolve questions themselves without waiting in line to ask the front desk, thereby shortening wait times for those checking in. One case study from Monscierge's digital signage software claims to have cut down front desk wait times by 20% or more. "It is an effective way to communicate with guests, and the lobby touch screen is useful for providing guests with a self-serve information point, which has more information than we have time to cover in a standard check-in too," writes one Hotel Tech Report reviewer says of Connect Signage.
2. Curate Local Experiences
Your concierge faces a similar challenge as your front desk staff: during peak hours, they are often overwhelmed with requests for tour bookings, restaurant recommendations, wayfinding directions, and more. Digital signage can alleviate some of the pressure on your concierge by delivering personalized travel recommendations at the touch of a button. Monscierge reports that amongst digital signage content weather and maps are two of the most popular menu items guests choose to interact with; local recommendations drive almost 70% interactions. Interactive digital signage improves the user experience by enabling guests to choose their own adventure and learn more about the digital content that's most relevant for them. Set up your digital signage to highlight bookable tour operators, sightseeing highlights, and restaurant recommendations that guests frequently ask for.
3. Master Social Marketing
Hotels have long benefitted from visual marketing on platforms like Instagram and Facebook. Digital signage platforms offer a new tool for guests to share their experiences. Use social postcards to upload images from your property or your location. Guests can customize and send digital postcards through the interactive menu using social media or email. It's a fun, authentic way to organically promote your property and destination with little to no marketing overhead.
4. Manage Events Easily
Digital signage can help streamline event management and keep attendees from getting lost and confused. Add signage outside event rooms, conference rooms, and throughout the property to help guests find their next lecture or meeting room. Add venue names and event descriptions to help the event stay on-schedule. Customize welcome messages, provide directions, and provide WiFi access to attendees to prevent the front desk from being overwhelmed. Digital signage tech like that from Monscierge is specifically designed to make hosting a conference easy with features that integrate with your existing event systems and a centralized content management platform with plenty of advertising opportunities.
5. Promote Ancillary Services
Digital signage provides a way for guests to discover new features at your property via digital menu boards that highlight hotel amenities. Highlight ancillary services with video, high-res images, and guest testimonials. Run promotions through your digital signage that guests can book directly through the interactive screen. You can also offer a new avenue for guests to sign up for your rewards program by unobtrusively promoting the program in the touchscreen menu. Create your own recommendations for guests to explore all the amenities available at your property.
6. Open a New Marketing Channel
Seeking a new revenue stream? Add revenue to your budget by turning your digital signage into an advertising channel. Interactive displays offer a way to work with local businesses for sponsored recommendations or specific campaigns. In addition to up-selling items at your property, you can display rotating advertisements using Monscierge's Connect CMS management tool. "Pairing super useful content alongside advertising will mean that viewers don't feel like they're being bombarded. At the same time, advertisers receive high returns on view rates," writes one digital signage expert.
7. Provide Travel and Emergency Information
In the event of an emergency, your screens can be used to disseminate information quickly. Update digital signage throughout the property to tell guests where they should go, what they need to do, and updates as the situation progresses. Likewise, in the event of a global event that might interrupt travel plans – Coronavirus, for instance – keep guests apprised of flight cancellations or delays at the airport. Digital signs are useful even if there's bad weather in the area causing flight delays. Make sure to find a solution that guests can understand: Monscierge provides more than 26+ languages available automatically.
8. Upgrade Your Lobby Decor
Digital signage provides tons of services, but it's also great decor. When not in use, set your digital screens can play a YouTube playlist, local news station, or travel blog. Depending on where you set up your screen, you may add a specific looping video: outside the spa, for instance, you can show a video of a tranquil waterfall or running water. Set the display to sports highlights where people are waiting for a seat at your restaurant. Digital signage is valuable real estate: the worst thing you can do is leave the screen blank.
Looking for a digital signage provider at your hotel? Check out our list of the 10 Best Providers of Digital Signage for Hotels in 2021.