Eleanor: The App that Powers Guest and Staff Experiences at Leading Resorts
By Jordan Hollander
Last updated August 28, 2023
4 min read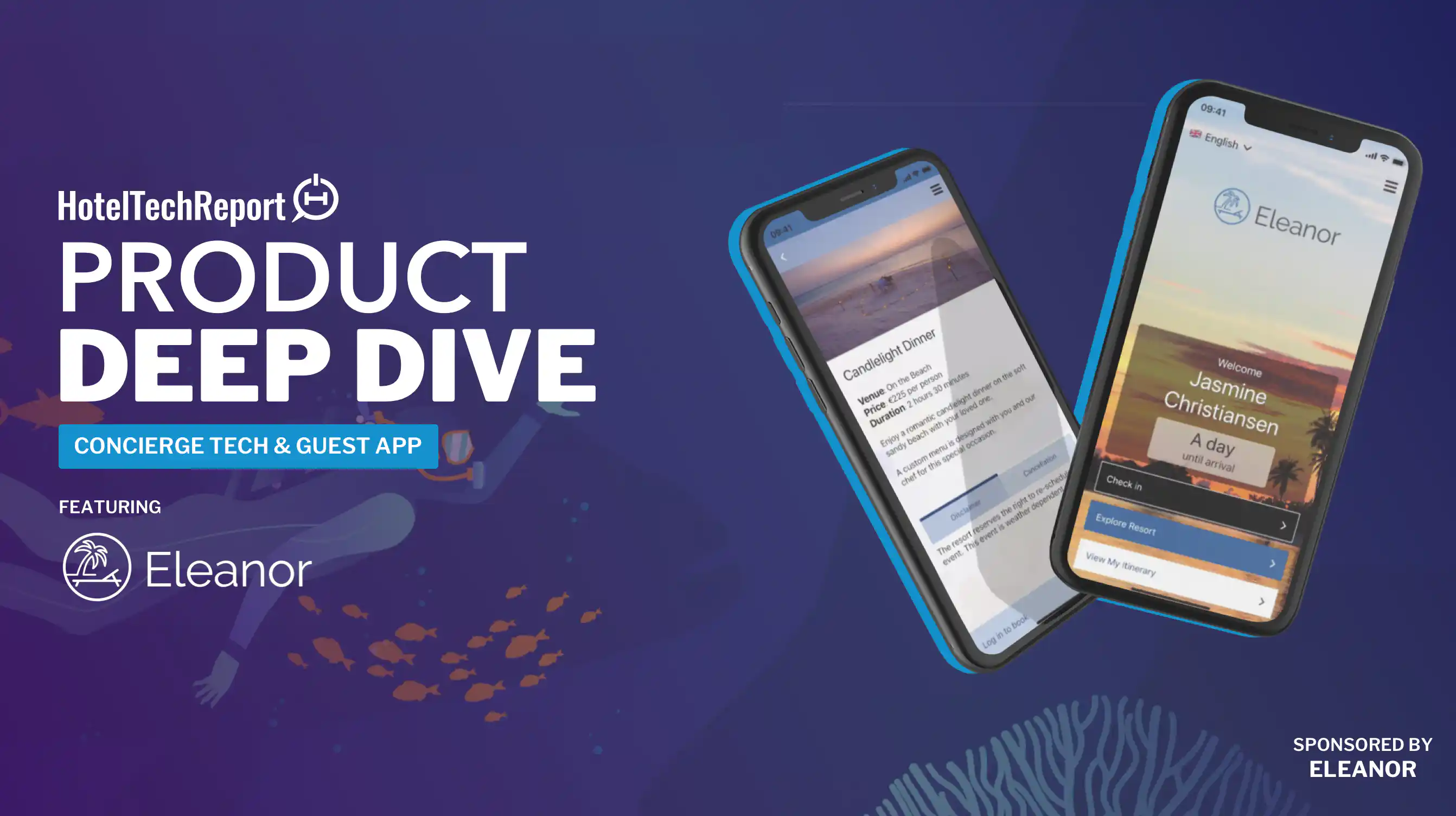 How do your guests book experiences, spa services, or dive adventures at your resort? Do they sign up with a pen and paper at your concierge desk, or can they reserve a spot from their smartphone, from the comfort of their bed or pool chair? With well over 80% of travel bookings made online today, it's clear that travelers crave the convenience and instant gratification of online bookings. Your guests can probably book their guest room online, but what about all the activities they'll do when they arrive on property?
Transitioning to an online booking process for tours, activities, and spa services might seem daunting, but with software like Eleanor, a cutting-edge app that supports all sorts of experiential bookings, the shift can be nearly effortless. Not to mention, switching to a digital booking system can reduce the risk of manual errors, streamline operations, and even boost ancillary revenue. In this article, we'll do a deep dive into the functionality, specs, and pricing of Eleanor so you can make an informed tech-buying decision at your resort.
Eleanor's Features and Functionality
You might be wondering, what exactly does Eleanor do? What features does it offer my staff and guests? Eleanor's suite of features is flexible enough to work well for both exclusive spa retreats and large resorts with all the activities like diving, boating, and golf – and everything in between.
Eleanor's features include:
One central interface to book and manage all recreational activities, F&B experiences, spa services, and tours and excursions

Capture forms to collect guest preferences, dietary restrictions, and more

Upsell offers to capture incremental revenue

Real-time guest feedback requests

In stay and pre departure surveys

Message template scheduling to automate some communication with guests

Reporting that shows booking volume, revenue production, trends, and more

Guest-facing mobile app that supports online check-in, itinerary planning,messaging, common requests

Web app for use on a tablet or kiosk

Additional spa-specific features like managing availability of therapists and appointment scheduling

Multi-language and translation support (great for properties that attract international guests!)

Tasks and guests requests, removing the need for a separate software for managing tasks and requests across various departments including housekeeping and maintenance.
A Great User Experience for Resort Staff and Guests
For both staff and guests, Eleanor offers a user-friendly interface with clear navigation. Staff can use Eleanor on both desktop and mobile. The staff-facing home screen has tabs that quickly take you to your calendar, bookings, guest database, reporting, and more. In addition, your team can control the photos, descriptions, and pricing for your activities, tours, packages, and anything else you want to make bookable in the app. The 7 day a week Eleanor support team also offers these updates for you, included as standard within the package.
On the guest-facing side, Eleanor works especially well on mobile. Guests can download your hotel's unique app from the app store, which is basically a white-labeled version of the standard Eleanor app. You can customize the look and feel to reflect your brand standards, including use of your hotel's logo and photography. When guests log in with their confirmation code and check-in date, they are greeted by name and can complete online check-in, reserve and purchase activities, and browse information about your property. Guests who are already on-site will log in with their guest room number and date of birth, but the app features are the same once they're logged in.